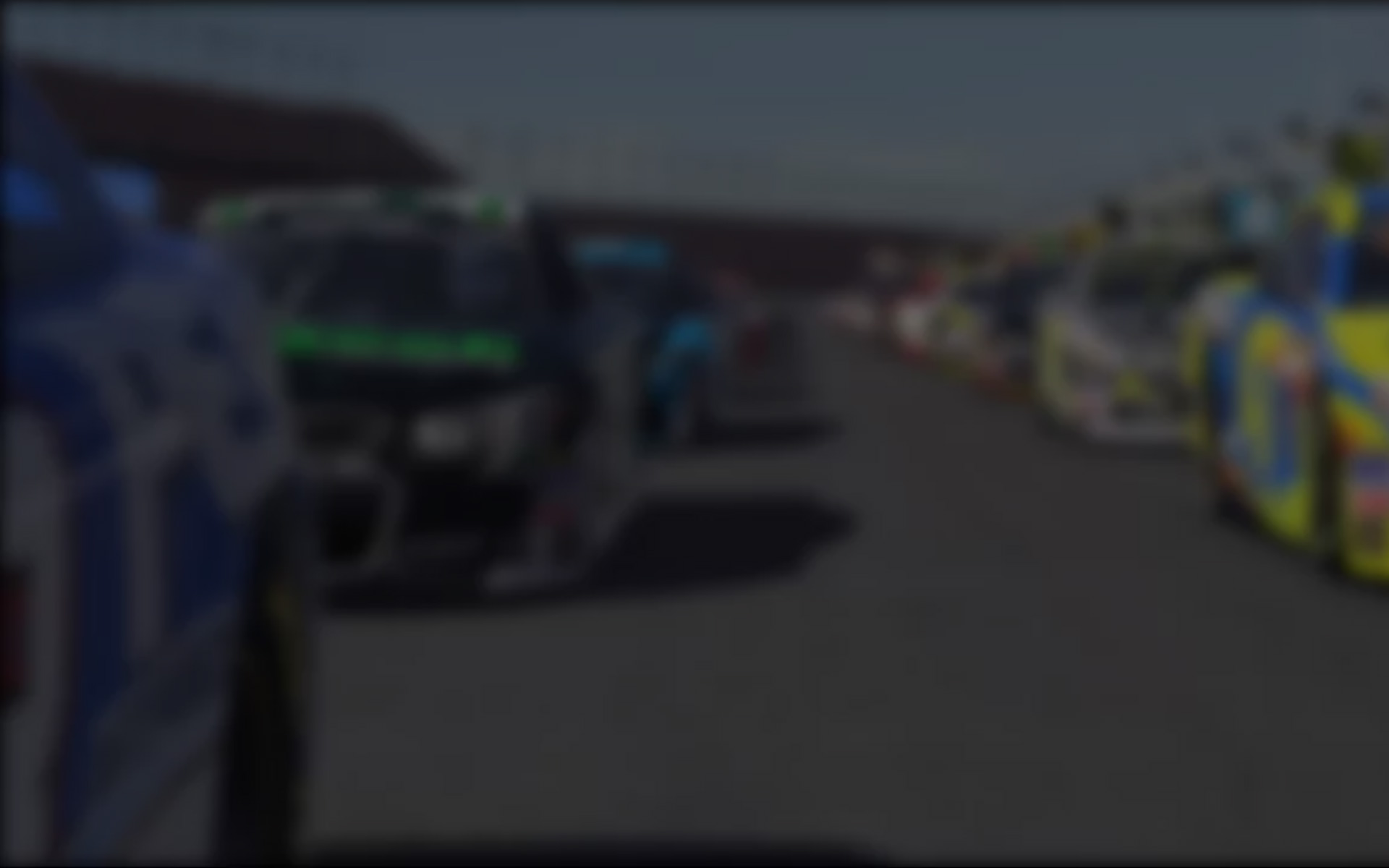 If there's a sense of déjà vu to Alex Simpson's 2013 Season 1 campaign in the iRacing.com Grand Prix Series there's a reason.  Coming-off a 2012 S4 that saw him finish one step off the series podium behind the formidable trio of Vasily Zaitsev, Martti Pietilä and Daniel López, a check of the standings at the mid-point of the current season finds Simpson . . . P4 . . . trailing Olli Pahkala, Javier Soto and Rocco Barone.
Not through lack of effort, mind you.  Manager/driver for Apex Racing, the 32 year old from Bedford (as in Bedfordshire, UK not Massachusetts, USA) has started an impressive 23 races this season, and has a lone win, along with five top five finishes and three poles, for his troubles.  Mind you, his average finish – P5 – matches that of the points-leading Pahkala.   It's just that his season has been punctuated by so much mis-fortune that Simpson notes on the Apex web site, "I have even seen someone use the phrase 'I have been Simpson'd' after being taken out."
Let's hope the term 'Simpson'd' will have a different connotation by the end of the season and, after even a modest mid-course correction in fortune, Simpson will be on one of the top three steps of the iRacing.com Grand Prix Series rostrum.
Q: How long have you been sim racing?
A: I'm pretty new to sim racing compared to some, December just gone, marked my one year sim racing anniversary. Before that I played around on the consoles for about a year at Apex Racing League on different titles.
Q: What attracted you to iRacing?
A: A couple of my league friends tried the service and after some arm twisting and peer pressure I thought why not and gave it a try over Christmas.
My biggest gripe with any racing game or sim when online is clean racing. Straight away I was happy to see the service put so much behind the concept of clean racing with the SR system. Apart from the odd mistake here and there drivers really do take care to stay out of trouble and just enjoy the racing.
It's fair to say that iRacing is just my cup of tea!
Q: What are favorite iRacing cars/tracks?
A: I'm and open wheel man when it comes to road racing, currently you will find me in the FW31 most weeks. I'm a huge fan of the car and really enjoy the series and community that run it. That said I have a soft spot for the IndyCar and without the countless races done in the fixed series I would not be anywhere near the pace I am today. It's a great car to learn some of the basics you will need for the FW31 and I really recommend anyone wanting to work their way up to the Williams, pops in to the Dallara series for a season or two on their way up.
As for tracks, Interlagos . . .other tracks that are on my top five would have to be Spa (naturally) Watkins Glen, Road America and my home track Silverstone.
Q: What do you like most about iRacing?
A: That's a tough one to answer; I don't think I can nail it down to just one thing. iRacing to me is much more than just something you play now and again. It's like many others my hobby and I really enjoy the fact that not only is there a service/career path that you can enjoy. It continually moves forward whether it's with updates or some community member bringing out some new add-on that enhances the experience.  I would have never of thought 18 months ago I would be sat in a sponsored racing rig (thanks GT Omega) with triple screens, formula style hot swap wheel and my crew chief /racing engineer (Hi Dad) talking strategy to me on the radio, while he spectates and keep and eye on the race and car telemetry.
Q: What would you change about iRacing?
A: I would say things like, introduce a track model that rubbers in, weather system, but from what I have read it looks like these things will be coming so I'm happy to wait.
I only have one concern; that is the dirty air effect on the FW31 on this current build. I would like to see that reduced back to a level that doesn't affect our ability to have close hard battles with other drivers with similar pace.
Q: How many hours a week do you spend on iRacing?
A: I would say between 10-12 hrs a week driving and working with my team mates at ApexRacingUK, with a further 3-4 hrs streaming and commentating on the ARL-TV GP260 Star Mazda and V8 Supercar Series.
Q: Tell us about the paint schemes on your helmet/car(s).
A: My helmet is based on Jenson Buttons 2012 Japan Grand Prix design, which works well with my sponsors. The 2013 skin (preview) was designed by Sergio Roda Junior in the Black, Red and white theme of GT Omega Racing, my team's main sponsor.
Q: What other sim racing activities (Forza, Gran Turismo, rFactor, etc.) do you do?
A: I would like to have some spare time to run some casual races on other sims but with my businesses, plus ApexRacingUK, ARL-TV and Apex Racing League I just don't get the time.
Q: What are your favorite video games?
A: I don't play much else but when I do it's something like Battlefield and normally after a shocking race 😛
Q: Do you do any real world racing? Has iRacing been of any benefit?
A: I used to race 1/10th RC cars from the age of seven for about 10 years. What started off as bit of fun turned into a serious hobby competing in national championships. The experience of those years has helped my iRacing in setting up the cars. Much of the same principles apply and while everything is scaled they still have the same effect.
Q: What is your most memorable iRacing moment?
A: First race of the Season 3 iGPS  at Mid-Ohio, I went two wide for about four corners with my now ARUK team mate Jesper Pedersen, super clean and about a foot between us for the whole battle. Yep I held onto the position 
"Not only am I a geeky sim-racer but I love Sci-Fi too!"
Q: What is the iRacing moment you'd love to forget?
A: The rest of that season, by far the worst I have had in any series or League. I think I had 16 races of 24 where I was hit off or caught up in some first lap incident.
Q: What car/track would you like to see iRacing add to the service?
A: As a massive F1 fan I would love to see an update to Williams, 2011 or 2012 spec please. The track I would like to see that is not already signed is Hockenheim. It has such a great rhythm and flow with overtaking opportunities.
Q: What person, living or dead do you most admire?
A: I'm a huge Nigel Mansell fan, watching him through the 80's and 90's in F1 was filled with highs and lows and by far the most exciting in the sport. A true competitor that would fight to the last but always knew where to draw a line. I was so happy when he won the championship.
Q: What's your favorite real world racing series?
A: F1 all the way.
Q: Name the title of the most recent book you read.
A: Eldestby Christopher Paolini.
Q: Name of your favorite movie/TV show?
A: Movie?  StarWars. TV Show?  StarGate.  Yes, not only am I a geeky sim-racer but I love Sci-Fi too!
Q: How many of your close friends are iRacing members?
A: I have a fair few great and close friends on iRacing some of which have come from close racing on here and others from being part of Apex Racing League.
Q: Has competing with iRacers all around the world influenced your opinions/outlook on life/world events? How?
A: No I don't think so but I do think it's great that people can come from all around the world to take part with fellow sim racers and get to know one and another. I sure know a lot more about world events due to talking to my teammates than I would have otherwise.
---
You may also like...
---