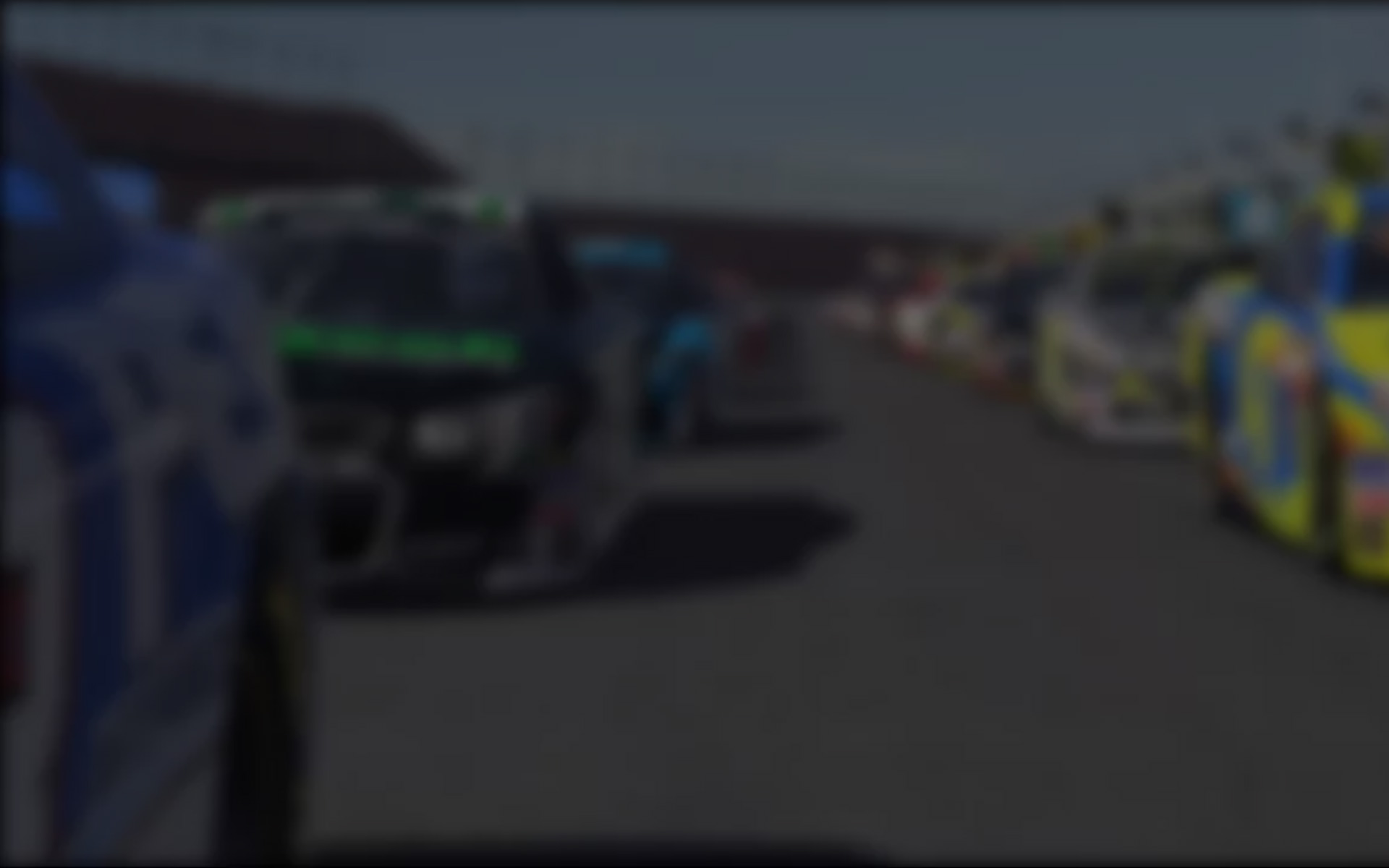 For a self-described "old, broke, washed-up, wanna-be racer," Bill Brown isn't doing too badly.  The 30-something Floridian holds-down top ten positions in Division One of both the iRacing.com Street Stock and SK Modified Series and, at the time of this writing, stands P15 in the NASCAR iRacing.com Late Model Series, again in Division One.  And while he's not an imminent threat to knock Klaus Kivekäs, Hugo Luis, Greger Huttu and Jesse Nieminen from top spots in the iRacing World Championship Series Road Racing, the Panama City resident did collect a Mazda MX5 win at Lime Rock last season and recently followed that up with a fifth place finish in an NVIDIA Cup race at Okayama International Circuit.
All this, as Brown notes in his profile, for less than he used to spend on a single set of race tires . . .
Q:    How long have you been sim racing?
A:    I've been sim racing for eight months. I wish I had started a long time ago, now that I know what it is all about and also with the platform iRacing provides.
Q:     What attracted you to iRacing?
A:    The realism and variety of cars/tracks attracted me to iRacing. The community kept me here. I first took a couple laps on iRacing at the NASCAR Hall of Fame. I was hooked immediately. When I got home from my trip I researched the PC requirements and upgraded my old PC with a graphics card and memory to run iRacing. Once I started racing here and met a lot of the people racing here, I am hooked for life. This is a great sim, with great cars and great people involved. The fun I have here has replaced and exceeded the fun I had when I raced real cars.
Q:    What are favorite iRacing cars/tracks?
A:    My favorite cars on iRacing are the Street Stock, Late Model and definitely the SK Modified. The SK feels the most like real cars I have driven on short tracks.
As far as tracks go, all the short tracks are my favorites. My two favorite though are Oxford and Stafford Speedway. I like them the most because I think they separate the men from the boys.
This is the first season I decided to run full seasons in anything and try to finish high in points in both races and time trials. I'm running the full seasons in Street Stock, Late Model and SK Modifieds. So far I'm doing okay. Overall, I'm top five in street stock, top 20 in late model and top 10 in SKs in races and in time trials I'm top five or six in all three series. It has been challenging since before this season I had only raced on 1/3 of the tracks these cars run on. So each week I have been spending time working on set ups and sometimes I don't have my stuff together till the end of the week. I'm looking forward to next season with the experience I have gained this time around. I also enjoy racing the NASCAR cars on the superspeedways.
I race on Wednesday nights with NEOSCA.org in their superspeedway series. It's a blast. We race Daytona and Talladega, and we race the Silverado, Nationwide and Cup car. It's a great group of guys and this season every race is broadcast on RTV.
"The fun I have here has replaced and exceeded the fun I had when I raced real cars."
Q:    What do you like most about iRacing?
A:    The same things that attracted me to iRacing: the realism and the community. The iRacing sim does a great job of simulating real racing. The look and feel of the cars is amazing. I'm not sure it could feel any more real, considering I'm sitting in a computer chair looking at a monitor. The community here is great. Most of the racers here are great, fun to race with, helpful and when in doubt the forums always provide great information and entertainment also. I race with a lot of the same people every week and have a great time.
Q:    What would you change about iRacing?
A:    There's not much I would change about iRacing. I would like to see more special events though. I love the fact that we have the Daytona 500, the Indy 500 and other special events. I would like to see something like this every week of the season. There is a lot of potential in this area. I mean the tracks and cars that are currently on iRacing can make up a lot of big events. For example an Oxford 250 would be great. I also thought the FL vs. Carolina challenge was a lot of fun. More events like that would be great.
Q:    How many hours a week do you spend on iRacing?
A:    I spend about 10-12 hours a week on iRacing. I wish I could spend more time than that. I know I could use some more time testing and working on set ups.
Q:    Tell us about the paint schemes on your helmet/car(s)
A:    My paint schemes change as much as my socks do!  A few months ago I discovered painting cars and I have gotten pretty good at it. My NASCAR cars all have Tony Stewart paint schemes and I admit to sometimes racing with my lifesize Tony Stewart cardboard cut out 'spotting' for me from behind my chair. My Late Model, Modified and Street Stock currently have Red Bull paint schemes, but I'm already thinking about my next theme for those cars. (Especially after his "spotter's" experience during the Infineon Sprint Cup race! –Ed)
Q:    What other sim racing activities (Forza, Gran Tourismo, etc.) do you do?
A:    iRacing is the only sim or online activity I participate in.
Q:    What are your favorite video games? Other hobbies?
A:    I don't play many other video games. I do go freshwater fishing a lot. I love to spend a day on the lake with my dad catching bass.
Q:    What is your most memorable iRacing moment?
A:    My favorite iRacing moment happened during Week 13 at the end of last season. I'm definitely an oval racer, but I had been practicing and ran a couple races in the NVIDIA Cup. Well this last Week 13, I won my first road race at Lime Rock Park. I did it in proper fashion too. I just ran a consistent, clean race and I was fast at the end of the race.
Q:    What is the iRacing moment you'd love to forget ?
A:    I don't have any iRacing moments I'd like to forget, maybe the couple times I have been dumped by drivers that must have really needed that win.
Q:    What car/track would you like to see iRacing add to the service?
A:    Five Flags Speedway, Penscacola, FL and Super Late Models. I think these would be a great addition to the iRacing sim. If these both are ever added, add Snowball Derby to my wish list of big events on iRacing.
"I admire my wife the most . . . when I met her I knew right away I would spend the rest of my life with her."
Q:    What person, living or dead, do you most admire? Why?
A:    I admire my wife the most. We are recently married, but when I met her I knew right away I would spend the rest of my life with her. She is beautiful and a beautiful person. She makes me and everyone else she is contact with smile. She reminds me of how the world should be and how everyone should treat others.
Q:    What's your favorite real world racing series?
A:    My favorite real world racing series are any Super Late Model races. I go to the Snowball Derby at Five Flags Speedway in Penscola, FL every year and several other late model races during the year. I raced Late Models a few times the last year I raced and they are great cars to drive. I just enjoy all short track races. Everyone that is at home watching NASCAR or driving oval cars on iRacing should attend a short track race. You will see some great racing with real racers.
Q:    Name the title of the most recent book you read.                                                                                                                                                            A:    The last book I read was DW: A Lifetime Going Around in Circles. The next book I plan to read is In the Blink of an Eye.
Q:    Name of your favorite movie/TV show?
A:    My favorite movie is Walk the Line the story of Johnny Cash. I just love the story the movie portrays of Johnny Cash's life. I'm not sure how accurate it is, but I like the story.
Q:    How many of your close friends are iRacing members?
A:    Only one of my close friends has joined the iRacing service since I joined and he has enjoyed it. As I keep racing I am making new friends here and when I go to watch real races now I will always look for people I may know in the city to try and meet some iRacers.
Q:    Has competing with iRacers all around the world influenced your opinions/outlook on life/world events? How?
A:    Competing in iRacing with sim racers from all over the world makes you think when something happens somewhere. If you race with someone a few times a week and then something happens, like the tornados a couple weeks ago, when you don't see someone you wonder if they were affected by it. Then you hear stories about people that iRacers know that were affected. It brings it home more.
---
You may also like...
---