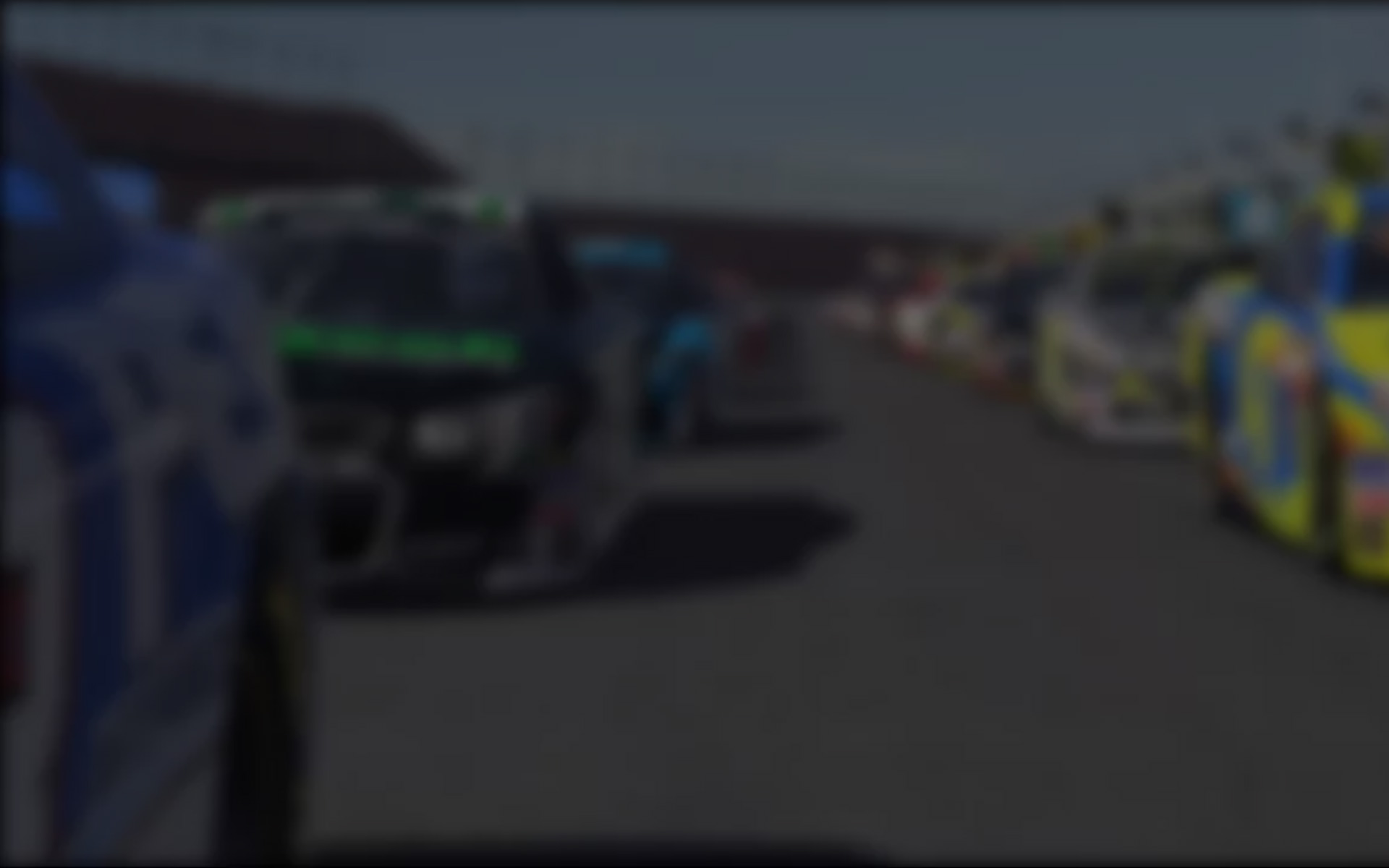 Although Brandon Six is a long-time iRacer, since joining the service in 2009 he "only" has one championship to his credit – the 2011 NASCAR iRacing.com Class A Series Divison 2 title.  That looks set to change this season, as the Pennsylvanian is out to a commanding lead in of the NASCAR iRacing Class B Series.  With four wins and ten top fives to his credit, he is more than 300 points clear of Brandon Buie in the standings.  True, there's a long way to go until the final checkered flag waves on Week 12, but Six certainly knows how to win – witness his 100+ iRacing victories; and finish — witness his career mark of placing in the top five in 40% of his oval starts.
Those are all good numbers, but the numbers for 2013 – a winning percentage approaching 20% and a top five finishing rate well over 50% — suggest Six is getting better all the time . . . and well-placed to add another gold loving cup to his virtual trophy case.
Q: How long have you been sim-racing?
A: I've been sim-racing for about 12 years now. I started sim racing on NR2003 when I was seven years old.
Q: What attracted you to iRacing?
A: Justin Thompson sent me some pictures of himself on iRacing and I thought it looked cool, so I decided to give it a try and every since then I've been on Iracing.
Q: What are favorite iRacing cars/tracks?
A: My favorite car on Iracing is the Gen6 car and my favorite race tracks are Iowa and Bristol.
Q: What do you like most about iRacing?
A: I like — love — the way the cars drive and handle compared to other sim racing games.
Q: What would you change about iRacing?
A: I would get rid of the fast track and change it to a monthly promotion.
Q: How many hours a week do you spend on iRacing?
A: During the summer I'm on iRacing for about 25-35 hours a week. During the rest of the year I'm on 10-20 hours a week.
Q: Tell us about the paint schemes on your helmet/car(s).
A: My paint schemes for the A-car, B-car and the truck will have my team logo on it with a black base with yellow stripes throughout the cars. I'd also like it thank Alan Elwood for painting my schemes.
Q: What other sim racing activities (Forza, Gran Turismo, rFactor, etc.) do you do?
A: I play Project Cars every now and then.
Q: What are your favorite video games?
A: I like to play Call of Duty, Madden, Grand Theft Auto and much more.
Q: Do you do any real world racing? Has iRacing been of any benefit?
A: I don't do any real world racing but down the road I would like to get in to it.
Q: What is your most memorable iRacing moment?
A: My first big SOF win at Bristol.
Q: What is the iRacing moment you'd love to forget?
A: I was leading a race at Chicagoland in the truck and I ended-up spinning the tires on the restart and taking-out most of the field.
Q: What car/track would you like to see iRacing add to the service?
A: I would like to see iRacing get the dirt Late Models and, of course, I would like to see some dirt tracks.
"I like anything that has to do with racing."
Q: What person, living or dead do you most admire?
A: I admire Kevin Harvick because I watched him come up through the ranks in his NASCAR career and because his driving style is similar to my driving style.
Q: What's your favorite real world racing series?
A: I really don't have a favorite real world racing series because I like anything that has to do with racing.
Q: Name the title of the most recent book you read.
A: I don't like to read any books expect when it's related to weather.
Q: Name of your favorite movie/TV show?
A: My favorite movie is The Fast and the Furious; favorite TV show is Burn Notice.
Q: How many of your close friends are iRacing members?
A: I have four of my close friends on iRacing and they're all on my team.
Q: Has competing with iRacers all around the world influenced your opinions/outlook on life/world events? How?
A: I have become more ambitious to do things in the real world.
---
You may also like...
---