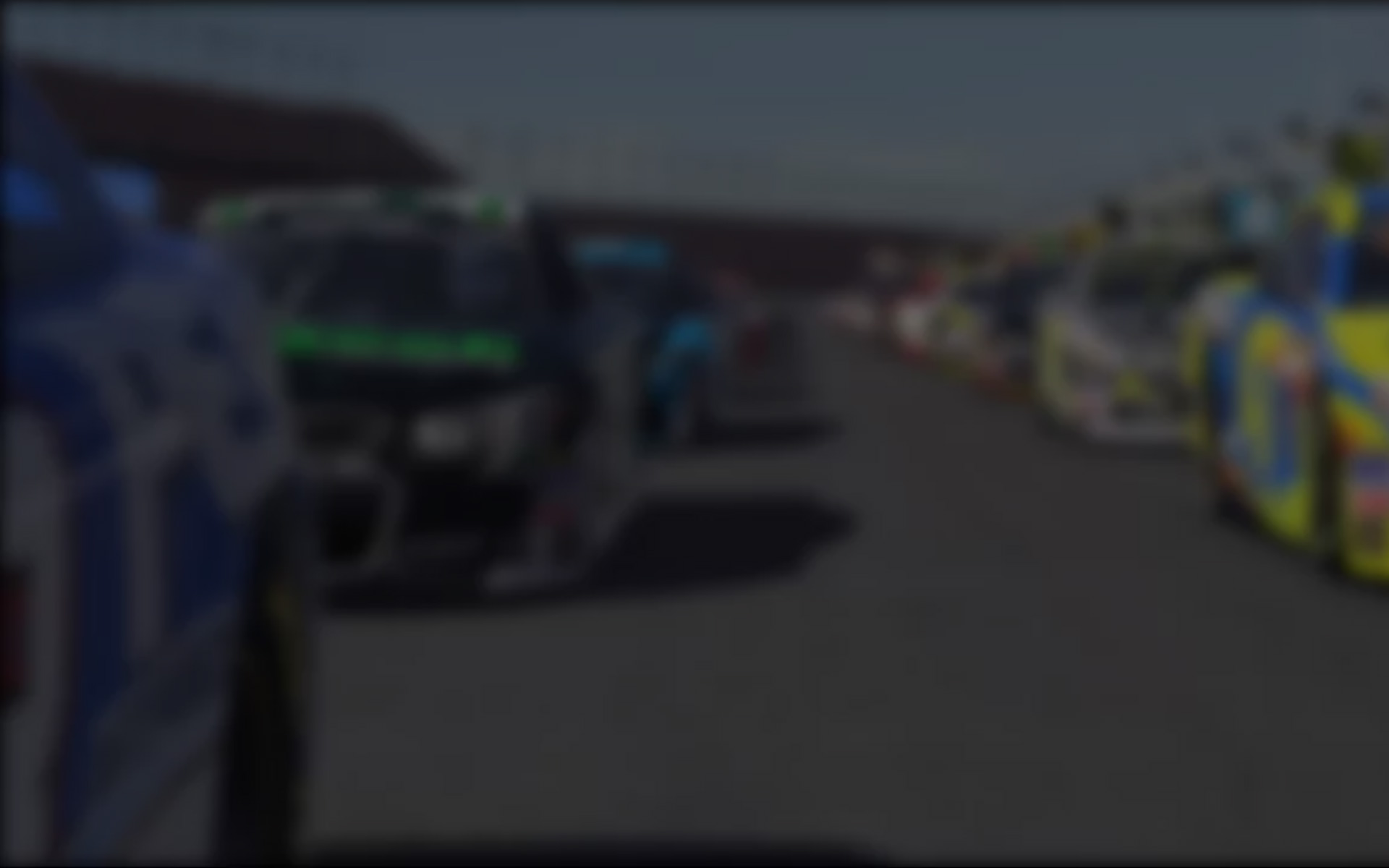 Bryan J Miller practices what he preaches, both when he says his favorite quote by a TV character come from Park and Recreation's  Ron Swanson who says,"I learned a lesson. Never half-ass two things . . . whole-ass one thing" and when he says his own motto in iRacing is "I make the 'SLOWstice' go 'FASTstice'!
One look at the Season 1 inRacingNews Challenge results will attest to the validity of both those statements.   One would certainly say Miller "whole-assed one thing" when he started 180 iRNC races in a single season.  And the fact he won 160 of those starts pretty well confirms his claim that he makes the "'SLOWstice' go 'FASTstice.'"
It would be equally true to say that, at age 26, Miller has already lived an interesting life.  The Sacramento resident worked in retail management for seven years while his wife Aubrey finished her degree and their son, Si, outgrew the diaper phase of life.  Last year he went back to community college to pursue his passion – theoretical physics –and plans to transfer to UC Davis this fall with the ultimate goal of attaining his PhD.
All that on his plate and  Bryan still found time to run 180 races and finish third in the iRNC last season?  What will he do for an encore?  Well, he's already off to a good start in the iRNC in Season 2 (standing P3 after the first week).  What's more he's leading the Solstice class of the Grand Touring Cup.  Could Miller whole-ass two things in Season 2?  Stay tuned . . .
Q: How long have you been sim racing?
A: I have been seriously sim racing for just over a year. Before I found iRacing I was a huge fan of the Gran Turismo titles. I have played racing games pretty much exclusively since I was in grade school, but I had no idea there were racing simulators like iRacing.
Q: What attracted you to iRacing?
A: My uncle introduced me to iRacing. Since then I haven't looked back.
With iRacing you get a level of realism that's unmatched by other games and sims. Plus the iRacing community is the best around, the skill and professionalism of my fellow iracers produces the best racing experience possible.
Q: What are your favorite iRacing cars/tracks?
A: I am a huge fan of the Pontiac Solstice. In the iRNC series I really enjoy all four of the Summit Point variations. Outside of the iRNC, I love taking the Williams FW31 for a spin around Spa-Francorchamps.
Q: What do you like most about iRacing?
A: The competition. All the guys and gals I race with every week are awesome, and they have helped me become a much better sim racer. Without them iRacing wouldn't exist.
Q: What would you change about iRacing?
A: I would keep the same number of official races, but limit the amount of point paying races so that racers going for the championship are forced to race together. I did 180 races last season and only raced the overall winner of the championship once.
Q: How many hours a week do you spend on iRacing?
A: A little more than I should . . . . On slow homework weeks and can easily put in more than 16 hours.
Q: Tell us about the paint schemes on your helmet/car(s).
A: I'm currently not running anything special. I try and change up my colors every season or so. If I ever make a PRO license I'll spend some time creating a custom paint scheme.
Q: What other sim racing activities (Forza, Gran Turismo, etc.) do you do?
A: None. Since I've found iRacing I haven't felt the need to 'play' anything else. In fact, everything else feels unrealistic.
Q: What are your favorite video games?
A: I spend all my free time on iRacing and homework so I don't currently have any favorite video games.
Q: What is your most memorable iRacing moment?
A: The first time I legitimately beat Chris Hughson in the Solstice. It was at Summit Point (Short) in Season 4 of 2011. I was hounding him for a couple of laps and finally pulled off a beautiful 'over-under' pass in the Carousel. I was so nervous for the rest of the race, but I managed to pull a small gap and win. It was epic, even more rewarding than my 20th to first race I had in an MX5.
Q: What is the iRacing moment you'd love to forget?
A: I don't really have any. Sure, at the time of each incident I really wished it turned out differently, but stuff happens. It's best to just let it go and take the opportunity to learn from it for the next time.
Q: What car/track would you like to see iRacing add to the service?
A: I really want a decent AWD car. I don't really care what it is, a AWD version of the RUF being worked on would be cool, but even something like a Subaru Impreza WRX would be fun. As for tracks, I would love to see the Monaco Grand Prix street circuit added to the service, and I am eagerly awaiting the Long Beach street circuit.
Q: What person, living or dead do you most admire?
A: My Bride. It's amazing how talented she is and how hard she works. She's an amazing mother and she's my best friend.
Q: What's your favorite real world racing series?
A: Formula 1! 'The Iceman,' Kimi Raikkonen is my favorite driver.
"Never half-ass two things . . . whole-ass one thing."
Q: Name the title of the most recent book you read.
A Stubbornly Persistent Illusion. The Essential Scientific Works of Albert Einstein, edited with commentary by Stephen Hawking.
Q: Name of your favorite movie/TV show?
It's between The Big Bang Theory and Parks and Recreation. Ron Swanson from Parks and Rec is my favorite TV character of all time. "I learned a lesson. Never half-ass two things . . . whole-ass one thing" (Ron Swanson).
Q: How many of your close friends are iRacing members?
A: Unfortunately, just one personal friend, my uncle Shawn McFadden who introduced me to iRacing. However, I race with Chris Hughson, Andrew Cox, Scott Wilson, Eric Laval, and Allen Collins nearly everyday, and I would call them and many other iRacers good friends.
Q: Has competing with iRacers all around the world influenced your opinions/outlook on life/world events? How?
A: Well it sure has put into perspective the 'smallness' of our world. I don't understand why we can't stand more united and work together to solve major global problems.
---
You may also like...
---