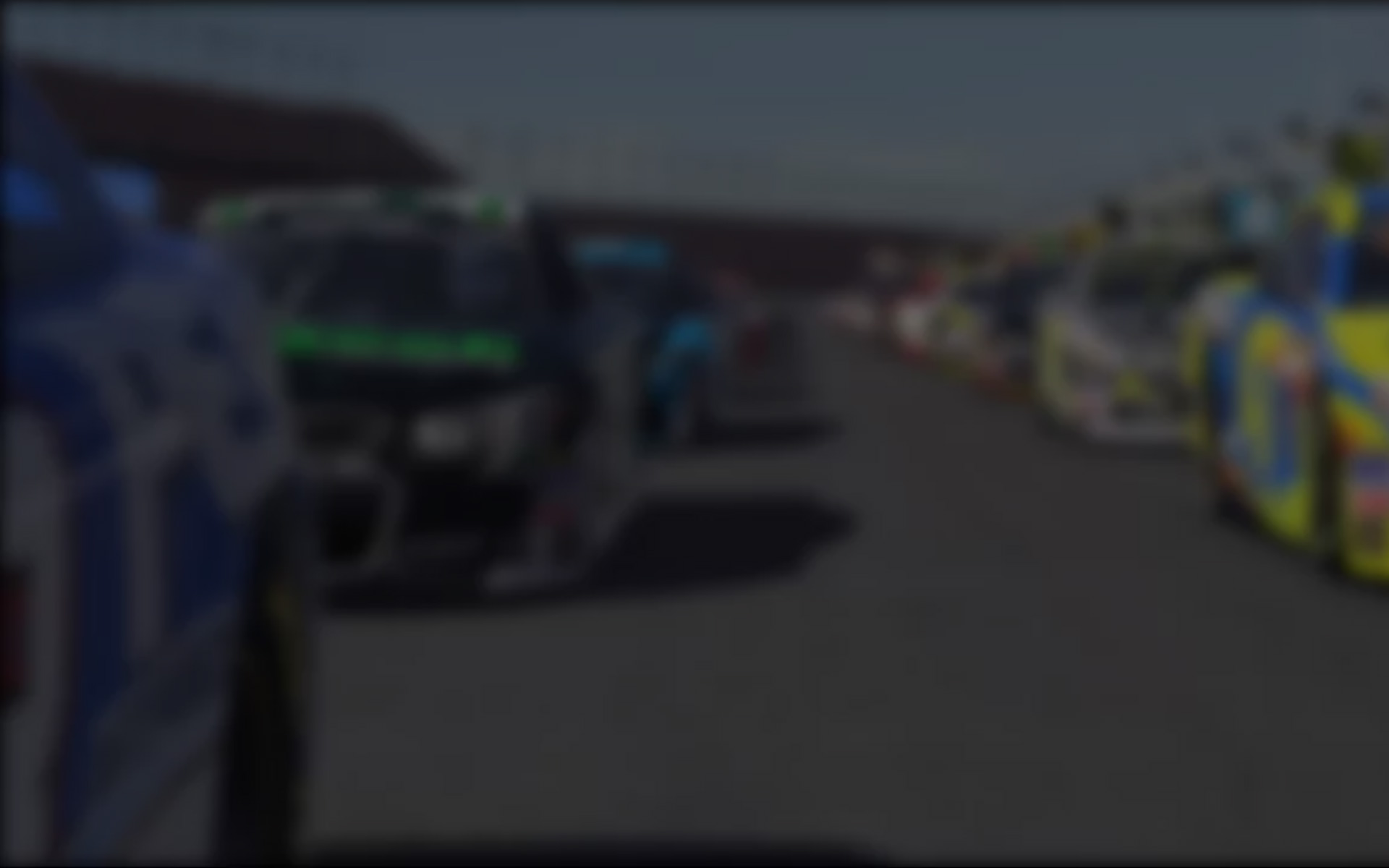 Can you teach an old dog new tricks?  Just ask Mitch Weatherly, a charter member of the Pong generation.  The resident of Dunwoody, Georgia was introduced to sim-racing at the ripe old age of 49 . . . and he's taken to it like a teenager to a smart phone.  Since joining iRacing in the fall of 2010, Weatherly has quickly developed into one of the dominant forces in the inRacingNews Challenge, taking a couple of divisional titles before scoring his first overall series championship this year in Season 1, topping Roope Turkkila for the SpecRacer Ford honors.  Although Weatherly is no stranger to other cars and series (he has wins to his credit in street stock, VW Jetta TDi and Radical SR8 to name a few), his true metier appears to be the SRF and the iRNC.  No surprise then that, midway through 2012 Season 2, Weatherly is out front of the Mr inRacingNews Challenge himself — Chris Hughson — in the SRF standings with five wins in six starts.  Not bad for an old dog . . .
Q:    How long have you been sim racing?
A:    I started sim racing during the summer of 2010 on the PC version of DiRT2.  After playing a bit with that title, seeing a great review on insidesimracing.tv, and visiting iRacing's public website, I decided to give iRacing a spin on October 30, 2010.
Q: What attracted you to iRacing?
A:    The realism that was evident from looking at iRacing's videos comparing real life laps to iRacing laps and the competition against folks who wanted to race cleanly.
Q: What are favorite iRacing cars/tracks?
A:    My favorite car is the SpecRacer Ford.  I own all the road cars and enjoyed every one that I've tried out.  Others that I have especially enjoyed are the Radical, Skippy, Mustang, Jetta, Riley DP, and the new Caddy.  I've just scratched the surface though.
My favorite track for racing is Charlotte Road.  It's not sexy and does not appeal to purists, but the racing there is always fantastic.  For pure driving pleasure, my favorites are Spa, Mid-Ohio, Suzuka, and Oulton Park.
Q: What do you like most about iRacing?
A:    The camaraderie that builds among the regulars in any racing series and the incredible international diversity of the community.
Q: What would you change about iRacing?
A:    I love iRacing as it is, and I am confident that the staff will continue to make it even better as time goes by.  I would also like to see changes, mostly to the scoring system.  There is not enough space here for me to provide details, but I would do the following:
(1) track a separate iRating for every car,
(2) assign all first time participants in a particular series to the Rookie division for their first season in that series, and
(3) tweak the method of calculating championship points.
For details on each issue or for good material to cure insomnia, you can visit the forums at the links provided.
Q: How many hours a week do you spend on iRacing?
A:    I spend an average of about 5-10 hours per week driving on iRacing and another 2-3 in the forums.  There have been some weeks in which I've spent as many as 25-30 hours.
Q: Tell us about the paint schemes on your helmet/car(s).
A:    I use white, gold, and navy blue on all my custom paint schemes, which are the colors of my college alma mater, Georgia Tech.  The first car that I ever painted was my SRF, and it's still my favorite, but I like my Radical scheme too.  I've never really figured out the helmet template, so I just paint it gold to match the cars.
Q: What other sim racing activities (Forza, Gran Turismo, etc.) do you do?
A:    Besides DiRT2, I own DiRT3, Richard Burns Rally, Codemasters' F1 2010, and a few others.  But, I really don't spend any time on any other title any more.  I enjoy iRacing too much.
Q: What are your favorite video games?
A:    Other than iRacing, I have spent very little time on other video games.  Over the years, I've enjoyed Pong (still have that console); Night Driver and Asteroids (mid-70s arcade games), Mist; Burnout, Wii Sports, and Monkey Ball with my three sons, and DiRT2. I'm terrible at all FPS's though; just ask any of my boys.
Q: What is your most memorable iRacing moment?
A:    My most memorable iRacing moment was dueling my three best friends in iRacing – Chris Hughson, Jerry Burkacki, and Tim Bone — at Summit Point early in Season 1 of 2012.  I started this race on the pole, but bobbled in Turn 1 on Lap 6, which let Chris pass me into the lead.  All four of us drove in a tight pack the entire race, and I was able to overtake Chris by getting a good exit from Turn 1 and going side-by-side in Turn 3 on Lap 10.  I held all three of them at bay for the remainder of the race, but the four of us finished inside a 2 second interval.  I've raced Chris, Jerry, and Tim more than anyone else in iRacing, and I have a losing record against every one of them.  Our races are much closer now than when I joined, and I owe much of any skill that I have to them.  They are consummate iRacing gentlemen and great racers.
Q: What is the iRacing moment you'd love to forget?
A:    Two stand out.  First, starting from the pole at Charlotte and turning left onto the Legends oval instead of Turn 1.  Doh!  Needless to say, I didn't finish P1.  Second, during a warmup for a league race, I spun and hit reset with my wheel turned left 360 degrees.  I didn't get the wheel centered before the start.  Imagine my surprise when I jumped straight left off the track when the lights went green.  If I recall correctly, I pulled that stunt from the pole too.
"iRacing is just one example of how the Internet makes it possible to get to know and become friends with people all over the world."
Q: What car/track would you like to see iRacing add to the service?
A:    The tracks I'd most like to see iRacing add are, in order of preference: Bathurst, Monaco, and Nurburgring.
As for cars, I am really excited about the already announced new road racing cars, the Lotus 49, Ruf, and McLaren.  I'd love to see the Subaru BRZ that just joined the Japanese GT300 series (or a near stock spec version for SCCA type racing).  If we can't get the BRZ, I'd love to see a race prepared touring car, perhaps a Renault Megane, VW Scirocco, or a Chevy Cruze WTCC car.
Q: What person, living or dead do you most admire?
A:    Albert Einstein – science with a soul.
Q: What's your favorite real world racing series?
A:    Before I started iRacing, I paid very little attention to motorsport.  Now, I enjoy watching F1 and the Australian V8 Supercars.  Of those two, I would say the Aussie Supercars are the most entertaining to watch.  If we got any real coverage here in the States of the European touring car series like the WTCC, BTCC, or DTM, I'm sure I'd enjoy those too.
Q: Name the title of the most recent book you read.
A:    Speed Secrets – Professional Race Driving Techniques by Ross Bentley.  Go figure.
Q: Name of your favorite movie/TV show?
A:    My favorite TV show is Fringe.  I also really like Nova and John Stewart (The Daily Show).
Q: How many of your close friends are iRacing members?
A:    None really since my brother let his membership lapse.  He recently moved to a new apartment and has no room to setup his equipment.  I keep telling him he needs a new place or a smaller bed.
Q: Has competing with iRacers all around the world influenced your opinions/outlook on life/world events? How?
A:    Definitely yes.  I continue to be amazed by how small the world is becoming and iRacing is just one example of how the internet makes it possible to get to know and become friends with people all over the world.  When you get to know folks around the world, you begin to realize how similar everyone really is.  Making these connections has definitely motivated me to broaden my view of the world.
---
You may also like...
---