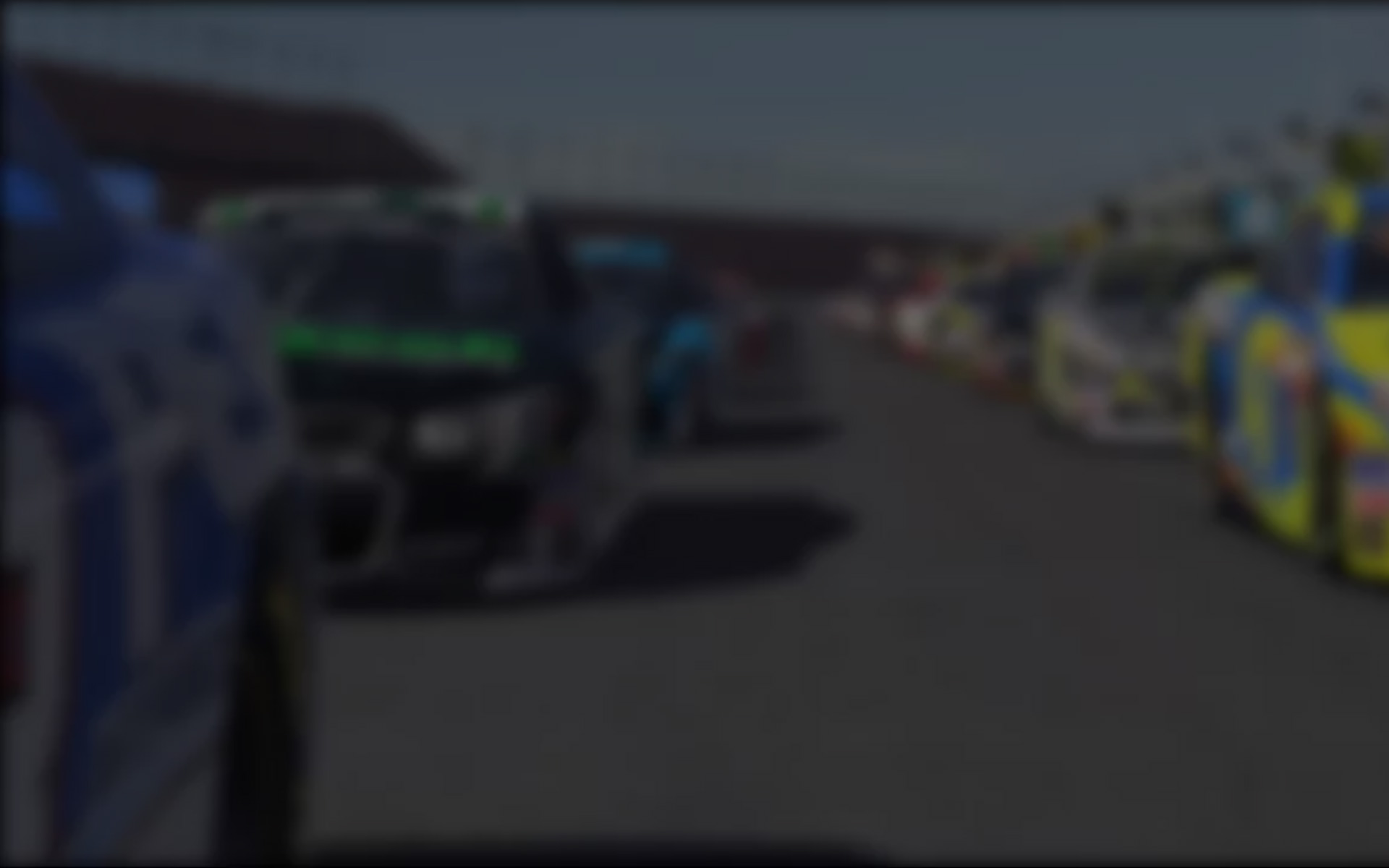 Scott U'Ren is a young man who knows what he likes.  When it comes to sim racing that would be iRacing.com and, specifically, the iRacing V8 Supercar Series.  That's not to say he doesn't occasionally try his hand at other cars and other series, but it is to say that, since August, he has participated in just four practice sessions driving anything besides his Ford Falcon.
Practice may not make the Melbourne-based U'Ren perfect, but it makes him pretty good.  Good enough to have finished P4 in the fiercely competitive 2011 Season 3 iRacing V8 Supercar Series on the strength of a dozen top fives (and two wins) in 14 starts; good enough to currently stand fifth in the Season 4 points race behind Madison Down, Rens Broekman, Mitchell McLeod and Cal Whitmore.  And watch out if and when iRacing adds a wet weather feature to the sim.  U'Ren's favo(u)rite read?  The Art of Racing in the Rain.
Q:    How long have you been sim racing?
A:    I recall driving the Indianapolis 500 sim at the end of primary school. I was always on it! Had the PC on turbo mode to give it up to 60Mhz above the regular 45. I think that must have been late 1996.
Q:    What attracted you to iRacing?
A:    I came to iRacing from Live for Speed (LFS) looking for more realism. I was drawn by the laser-scanned tracks, and when I saw the community building and the structure of the racing, I really haven't turned back!
Q:    What are favorite iRacing cars/tracks?
A:    I had a great time in the Skip Barber car and went well in the Star Mazda in season 3 of 2009, but I really can't go past the Ford Falcon V8 Supercar at the moment. The car can be a dog, but when it's set-up well, you can have a lot of fun and satisfaction from driving it.
In terms of tracks, I particularly like Mid-Ohio. I love the car going light over the crests and it always produces some good racing for the V8's. It's followed closely by Suzuka and Spa!
Q:    What do you like most about iRacing?
A:    I like the way the races are constructed using driver skill/result ratings and the community. We have a great group of guys in the Aus/NZ club and there's always some competition around to give you a close race!
Q:    What would you change about iRacing?
A:     I'd like to have to click the registered driver's helmet to have the list up. The list gets in the way sometimes and can get really annoying! I'm also looking forward to the day it has a built in skin-sharing utility. LFS was fantastic for sharing skins amongst racers!
"We have a great group of guys in the Aus/NZ club and there's always some competition around . . ."
Q:    How many hours a week do you spend on iRacing?
A:    At the moment, I can only manage about 4-5hrs a week. Too many things going on through the rest of the week!
Q:    Do you do any "real world' racing? If so, do you use iRacing to practice or prepare for your real world races? If so, how?
A:    Sadly no, I'd love to, but other plans are taking priority at the moment.
Q:    Tell us about the paint schemes on your helmet/car(s)
A:    I like the colour yellow. It helps you be seen I think and so I make an effort to get it in there somewhere. In being part of the Tatts.com Racing Team with Mitch McLeod, the rest of my helmet and my car is in its blue colours!
Q:    What other sim racing activities (Forza, Gran Tourismo, etc.) do you do?
A:    Not many… I play around with GT5 on my PS5 whenever I want to just go around carelessly… but I find other games have something lacking in physics, so I can't really take them seriously.
Q:    What are your favorite video games?
A:    I load up Minecraft every now and then for some time-killing outside driving, and I just got x-plane 10, so I can see myself flying around somewhere soon!
Q:    What is your most memorable iRacing moment?
A:    If I had to pick one, it was being offered to join the nFinity Racing team this year. I was so happy that my driving had caught the eye of someone and it's really helped me open my mind in setting up a car!
Q:    What is the iRacing moment you'd love to forget?
A:    There was a race at Zandvoort early this year, and the V8 series was starting to attract some good competition. I joined the race but had a new keyboard and accidently switched to a different window! I got back and somehow the start sequence had de-syncronised with the server! I ended up being a parked car in the middle of a field, then proceded to cause chaos when trying to take off!  I now make sure I do nothing else when setting-up on the grid!
Q:    What car/track would you like to see iRacing add to the service?
A:    I know Dave Kaemmer has mentioned it in his blogs, but despite the leck of some serious endurance racing, I'd love to see Bathurst or the Nordschleife added to the sim. Car? bring on a Porsche 911 GT3!
Q:    What person, living or dead, do you most admire? Why?
A:    Ayrton Senna. A man of such devotion to his sport and his skill. I've always lacked a bit of dedication in what I do to focus on it, and he is the man who took it to the extreme. He was extremely successful for it and I keep searching for the thing in life in which I can do the same.
Q:    What's your favorite real world racing series?
A:    Formula 1. It's a bit of a TV drama just with cars. Some daring guys and egoes mixing in a high stakes game of speed, skill and technology. Throw in some politics and the reactions are a bit like someone sleeping with the other's girl!
"Having a global community really helps in getting a broader view of yourself in a world-wide point of view."
Q:    Name the title of the most recent book you read.
A:    The Art of Racing in the Rain. I loved that book! Sometimes I do wish I was a dog, just watching and listening to something great…
Q:    Name of your favorite movie/TV show?
A:    I find myself always quoting Shrek! I hardly watch TV or movies… I do stop for a while when I see an engineering doco on though.
Q:    How many of your close friends are iRacing members?
A:    About half… but I don't really have many close friends.
Q:    Has competing with iRacers all around the world influenced your opinions/outlook on life/world events? How?
A:    Absolutely! I'm always fascinated about how someone from England views an event as opposed to an Aussie or a Norwegian. I'm hoping to move over to Europe for a short while and it's interesting to see what everyone has to say about the Euro situation at the moment… for example.
Having a global community really helps in getting a broader view of yourself in a world-wide point of view. That said, I don't think it beats actually going there, but unfortunately not all of us have that opportunity!
---
You may also like...
---