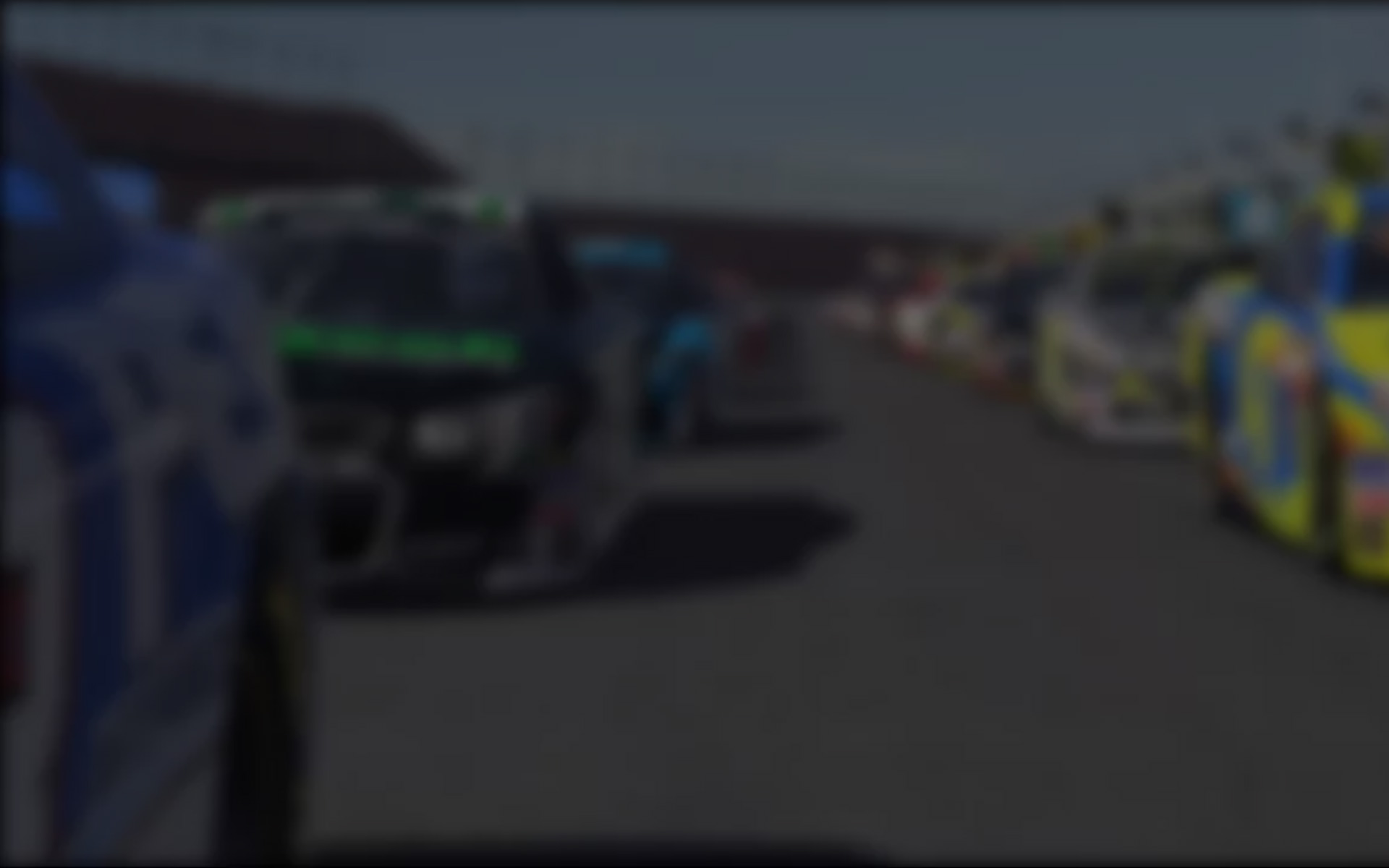 There are more parallels between the online racing of iRacing.com and the "real" racing of NASCAR than just precisely-modeled cars and tracks and well-organized sanctioning bodies.   Jeff Gordon, Kasey Kahne, Ryan Newman, Tony Stewart and a host of other NASCAR stars cut their racing teeth in the USAC ranks driving quarter midgets, midgets, sprint cars and Silver Crown cars rather than stock cars.  Likewise, NASCAR iRacing.com Series World Championship competitor Vinnie Sansone has a sim racing portfolio that is replete with race wins and championships in the iRacing.com Sprint Car and Silver Crown Series.
But in addition to the virtual pavement of iRacing's short tracks and speedways, the Illinois-based Sansone also knows his way around the dirt tracks of the Midwest, some of which were the springboard(s) to the careers of Messrs. Gordon, Kahne, Newman and Stewart.  In fact, as you will learn, Sansone came to iRacing not as a sim racer looking for the ultimate in online racing, but as a real world racer looking to hone his skills on virtual pavement.  He enjoyed the sim racing so much, he's still at it even though he's stepped away from his "real" racing efforts; and doing rather well as attested by fact that he holds-down second place in both the iRacing Sprint Car and Silver Crown Series and has a four top twenty finishes while running a limited schedule in the 2011 NiSWC.
Q:    How long have you been sim racing?
A:    I started racing sprint cars on Ratbag's Dirt Track Racing: Sprint Cars game back in 2000. I also had the Papyrus Nascar titles, especially 2003 season, but that was all offline, linking a few computers together and goofing around with friends. First time experiencing head-to-head online racing was here when I joined iRacing in Aug. '08.
Q:    What attracted you to iRacing?
A:    I think it was late '06 or in '07 i stumbled upon the announcement of iRacing.  Up to then, I had only mods for dirt late models and sprints on rFactor and Nascar Racing 2003. I was at the stage of looking for something more realistic and the next big thing to come out. I forgot how exactly, but ended up at a post on a forum somewhere and clicking a link that led me to iRacing's home preview page at that time. I saw the list of cars they had planned for when the sim would launch, and saw the sprint car listed. I was just getting into running USAC sprints in Illinois and Indiana at that time, and thought using this training sim, as it was being advertised then, might help me if I ever got the chance to go on pavement. If not for that, I think I would have ignored iRacing and most likely not have considered joining, or at least not near as soon as I did. Shame it took until three years later to finally run the sprint cars (haha) but they have been all I expected and a blast.
Q:    What are favorite iRacing cars/tracks?
A:    Naturally to me it is the sprint. Silver Crowns and the Impala Cup car are also fun to drive. I prefer the higher horsepower to weight ratio cars because I perform the best in those types of cars with my better results in them, and find them the most enjoyable to drive and race. I guess that kind of goes hand in hand. Until I am forced to, you won't find me running any late model, truck, or nationwide races.
Growing up on the short tracks, I enjoy those the most. Irwindale, Bristol, South Boston, Richmond, and Stafford are ones that stand out to me.
Q:    What do you like most about iRacing?
A:    There's now a few things that keep me subscribed to iRacing now. With the sprints now out, that's one of the reasons. But i would say the bigger thing and that I like the most is the same reason why I raced in real life: I love to race. The strong competition and battles for position on the track, I get that same feeling here on iRacing and especially in the NASCAR iRacing.com Series World Championship races.
Q:    What would you change about iRacing?
A:    Hard to say, cannot really think of anything to necessarily change. I think just like all the other iRacing members, wish to add more features to the simulation.
Q:    How many hours a week do you spend on iRacing?
A:    Running the iRacing Sprint Car and Silver Crown series full time, and with all the practicing for the world championship, easily 10-15 in a given week.
Q:    Tell us about the paint schemes on your helmet/car(s)
A:    Every one of my iracing cars are orange and blue. They were my dad's racing colors and I was raised up into them. Same story goes with my number 80. The suit and helmet I made to closest resemble how my real helmet and suit appear. The only cars I have custom painted on iRacing are the Sprint, Silver Crown, and Impala Cup car. The Sprint and Silver Crown are a recreation I made of a design a friend made for me. They use my father's self-employed repair shop as the main sponsor logo.
The Cup car is my own design I made to represent the guys that currently employ me at Florissant Auto Paint in the world championship races. With the addition of our own numbers, I recently altered the car and added some orange to make it feel more like my own again.
Q:    What other sim racing activities (Forza, Gran Tourismo, etc.) do you do?
A:    The only other one I have done is help BOZ racing develop their Sprint Car mod for rFactor. It felt good to get back on the dirt tracks.
Q:    What are your favorite video games? Other hobbies?
A:    I used to do all the EA sports games and have Madden tournaments, but when iRacing came out, haven't gotten one since. The only game I still play using Rock Band on my ps3 to play the actual guitar.
Racing has always been my main hobby, but I also played goalie in roller hockey when I was younger, and I recently moved to ice hockey and get together with friends to play on occasion.
Q:    What is your most memorable iRacing moment?
A:    I have had lots of great races with the guys in the Silver Crowns and Sprints, but for me two races stand out.
One is the first year of the iRacing Pro Series oval race at Bristol in 2009. I qualified on pole, ahead of Josh Berry for the first time ever, and since then the last (haha). I led the most laps and was in position for the biggest sim racing win I would ever have to that point. But a late race yellow and left berry last on the lead lap after recently getting his lap back from a green flag stop.  He took tires and came back through the pack to get the win. I ended-up third and that is still my best complete race performance and finish in the pro series.
The other is surviving the bumper tag race at New Hampshire in the World Championship race Round 10 in 2010. I started 34th and was nowhere close on speed, but took lots of two tire stops, avoided some key wrecks, battled and held-off Ray Alfalla for a seventh place finish. My best result in the series to date.
Q:    What is the iRacing moment you'd love to forget
A:    I would not say wanting to forget it, but the moment that comes to mind to be a regret is a situation I got into with Jameson Spies in the first year of the Pro Oval series. We had an altercation at 'dega (and) I went as far posting pictures on the forums to prove a point — which I wish I had not done. I got over it by running the next week at Michigan. Spies was in my race, we even battled back and forth for sixth or so most of the way. Stayed clean for that race and ever since he and I have raced with nothing but respect.
Q:    What car/track would you like to see iRacing add to the service
A:    In general, I would hope to add dirt tracks and USAC dirt sprints. But just thinking on the pavement side of things, I would add USAC midgets to go along with the Sprints and Silver Crowns. As much as I want to see more local short tracks, I have moved Gateway to the top of my list. Being in my backyard, it's the track that forced my Quarter Midget track out and made us relocate and build a new one.  Now that it's longer hosting events, it would be neat to see it preserved in complete accuracy here on iRacing.
Q:    What person, living or dead, do you most admire? Why?
A:    Not so much as admire, but as for a person it has to be my dad. He got me into Quarter Midgets when I was five, and we raced together all the way up the ranks to Sprints. He taught me how to do everything, showed me what it took to do things right, and how to conduct myself.
Q:    What's your favourite real world racing series?
A:    I follow most of the USAC stuff, and all of the series that I still have racing buddies racing in like the Powri Midget Series, ASCS 360 sprints, and MOWA sprint series. NASCAR series as well.
Q:    Name the title of the most recent book you read.
The only recreational reading i do is when i get my Sprint Car & Midget magazine once a month.
Q:    Name of your favorite movie/TV show
A:   Shawshank Redemption
Q:    How many of your close friends are iRacing members?
A:    I just recently got one to come on and race every now and then, but since I have joined here, met lots of other cool guys to talk with that i would have otherwise never known.
---
You may also like...
---