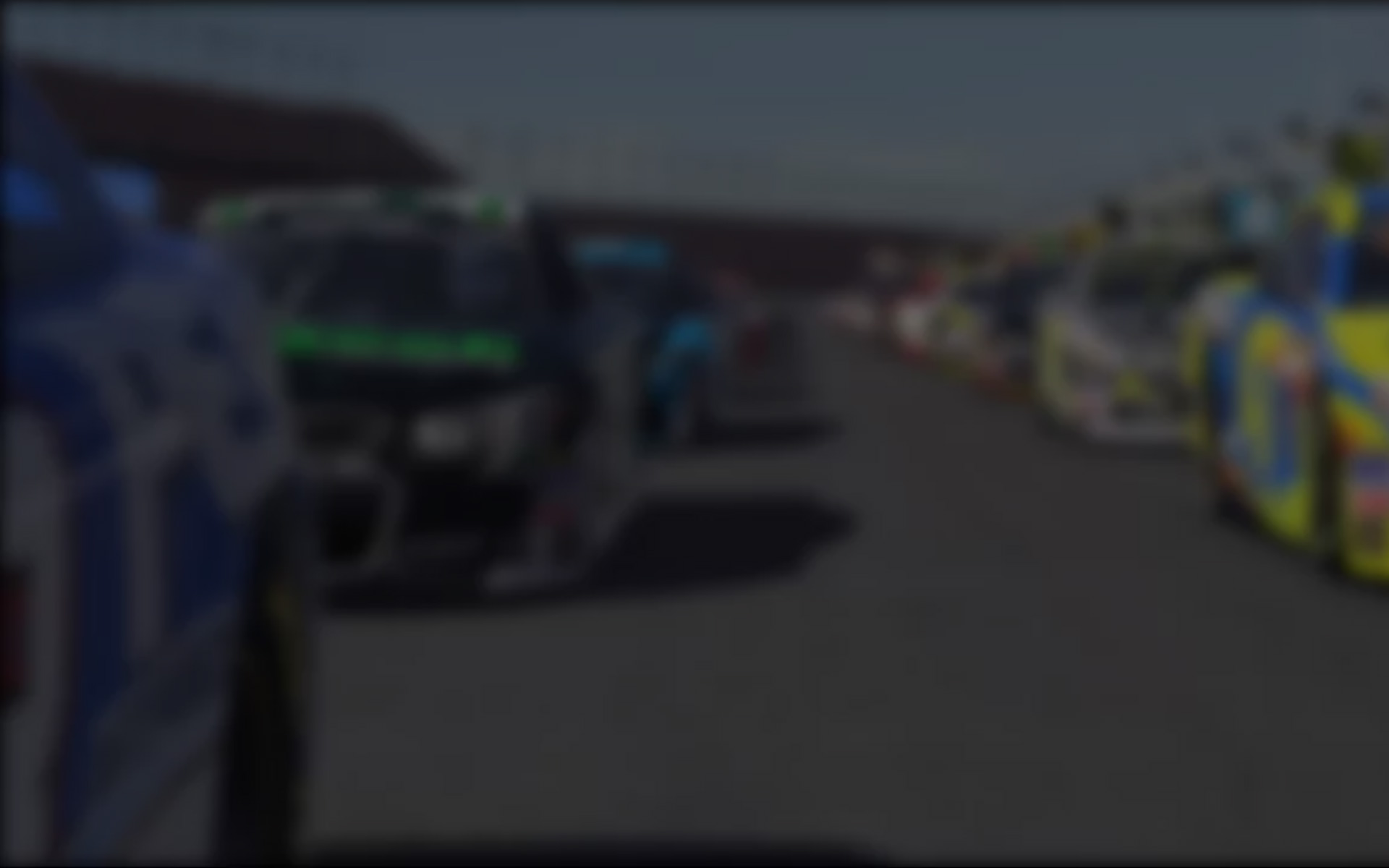 At first glance, it might appear that F1 driver-turned iRacing director of partner relations Divina Galica is virtually alone when it comes to the distaff side of iRacing.  Not so.  While the overwhelming majority of iRacers are men, scores of women compete on the service . . . none more enthusiastically than Leila Wilson. Fully embracing the challenge of online racing, this self-described "crazy Californian chick" has gravitated to the rough & tumble world of Silver Crown and Sprint Cars, having placed in the top 20 overall in both the iRacing Silver Crown and Sprint Cars series in the past two seasons.  Nor is Wilson limited to Sprints and Silver Crown, witness a Tour Modified win and podium finish in Late Model in 2012 S4 and Mazda MX-5 road course wins.
A self-taught musician specializing in game-music, Wilson cites her professional influences as Yasunori Mitsuda, Motoi Sakuraba and David Wise, among others. In short, Leila Wilson is not your average iRacer . . .
Q:     How long have you been sim-racing?
A:     Offline, I started way back when, with Papyrus' Indy Car when I was just a little girl. I didn't race my first race online, though, until a few years ago.
Q:     What attracted you to iRacing?
A:     I had played a lot of sims and racing games, and none of them seemed anywhere near as well-organized or as professional as iRacing.
Q:     What are favorite iRacing cars/tracks?
A:     On the car end, my very favorite car is the Sprint Car. It was the car I wanted to race way back when I first signed up, and the community is great! I also really like the Skip Barber, both Modified divisions, the Street Stocks and the V8 Super Car!
As far as tracks, on the oval end, I'm definitely partial to short tracks for the most part. Langley, Lanier, Irwindale, Oxford, Thompson, South Boston — pretty much, if it's under a half mile, I love it.  I'll admit to being fond of Milwaukee, too, though. On the road side, Mid-Ohio, Sonoma, Okayama, and nosfferJ — so far. I need to be buying more of those!
Q:     What do you like most about iRacing?
A:     Almost any hour of the day (or night, if you're a night owl) you can find someone, somewhere, racing something. No matter if you just feel like watching other people race, or you're really 'Jonesin' to jump in a Legends Car race at 3 AM, you'll find something to do here.
Q:     What would you change about iRacing?
A:     Not a whole heck of a lot. I hear daily racing is coming up next season, and that was one thing I was hoping for! I think the only thing I'd really like to change is for there to be some kind of fan subscriptions, so friends could watch races really cheaply, or for free to try before they buy. It'd be really cool, too, if we didn't have to own content to spectate races with said content in it… another case of try-before-you-buy. Of course, that probably presents a litany of other issues, but if those could be worked out in some way, that would be just plain awesome.
"Almost any hour of the day (or night, if you're a night owl) you can find someone, somewhere, racing something."
Q:     How many hours a week do you spend on iRacing?
A:     If I had to think about it… probably way more than is healthy. I think there's some addiction going on here.
Q:     Tell us about the paint schemes on your helmet/car(s).
A:     I've always been partial to that really annoyingly bright yellow/green color you see on a lot of stock cars. I liked to put that on my cars and helmet (and gloves) when I first started, so I could let other drivers know to watch out, because I was new. For some reason, that stuck. I like to have my cars (especially stuff based on local tracks, like Late Models, Street Stocks and their ilk) to look 'as raced,' so the Late Model has replaced fenders and a replaced hood, and the street stock's got one side on it from the junk yard, and it's got tape all over it.
Q:     What other sim racing activities (Forza, Gran Turismo, rFactor, etc.) do you do?
A:     None, really. I wanted the best, and I got the best, and that's iRacing.
Q:     What are your favorite video games?
A:     Mostly old stuff from the '90s and early 2000s. I was a huge JRPG dork, and I always liked Sonic the Hedgehog back in the 16-bit days.
Q:     Do you do any real world racing? Has iRacing been of any benefit?
A:     A little bit. Nothing major though, I did a little karting and such a few years back, and a Legends car driving school. I think that's the only reason I didn't fall flat on my face the first time I raced in iRacing. I had a cousin who raced, and the family's always been in or around racing in some capacity.
Q:     What is your most memorable iRacing moment?
A:     The first time I realized that we can use the figure 8 at Irwindale and actually race on it. That's one of the main reasons I kept subscribing!
A close second… Okay, there was this race I was in with the Late Models at Bristol. I didn't want to do it, but a friend talked me into it. Turn Three, lap one, the leader spins, second place doesn't find his brakes, I'm third and slowing, and the fourth place car runs dead on into the back of me. The track gets blocked, and every single car in the field (no joke!) was flipping and spinning, I think everyone in there got a 4x at the least. It was hilarious!
"We're all on the same track together, in the same race – the human one."
Q:     What is the iRacing moment you'd love to forget?
A:     I've made a few pretty dumb mistakes, and taken risks I shouldn't have. I probably shouldn't forget those, though, so I don't repeat them! I remember I dumped my team mate out of the lead in a Class C street stock race because I got too hard into the corner. That's the one I'd like to forget most!
Q:     What car/track would you like to see iRacing add to the service?
A:     Stockton 99 Speedway in northern California. It's the most historic track left on this side of the country. It's basically west coast Langley, only you have to run the top in 3 and 4, and the bottom in 1 and 2 – plus, it has a working Figure 8! Evergreen Speedway in Monroe is another really great choice: nested ovals, a figure 8 and a road course, plus it's in the Northwest, which doesn't have any representation. I'd say Willow Springs, but you guys already have that covered! I can't wait for that track!!!
Q:     What person, living or dead do you most admire?
A:     That's a tough one. I admire many race car drivers and musicians.
Q:     What's your favorite real world racing series?
A:     The NASCAR Whelen All American series. I've always been a short track girl. The Lucas Oil Modifieds and the Spears SRL are great, as well.
Q:     Name the title of the most recent book you read.
A:     A Storm of Swords. I'm only halfway through it, though.
Q:     Name of your favorite movie/TV show?
A:     Criminal Minds and NCIS are tied as far as favorite TV shows! Much tougher to pick a favorite movie.
Q:     How many of your close friends are iRacing members?
A:     Most the friends I made through racing other platforms race on iRacing.
Q:     Has competing with iRacers all around the world influenced your opinions/outlook on life/world events? How?
A:     Not really. I race iRacing to get away from all the Real Life stuff. It's great to just strap yourself in, flick your brain over to 'race mode', and just concentrate on that for a while. No matter where we're from as competitors, we're all on the same track together, in the same race – the human one.
---
You may also like...
---