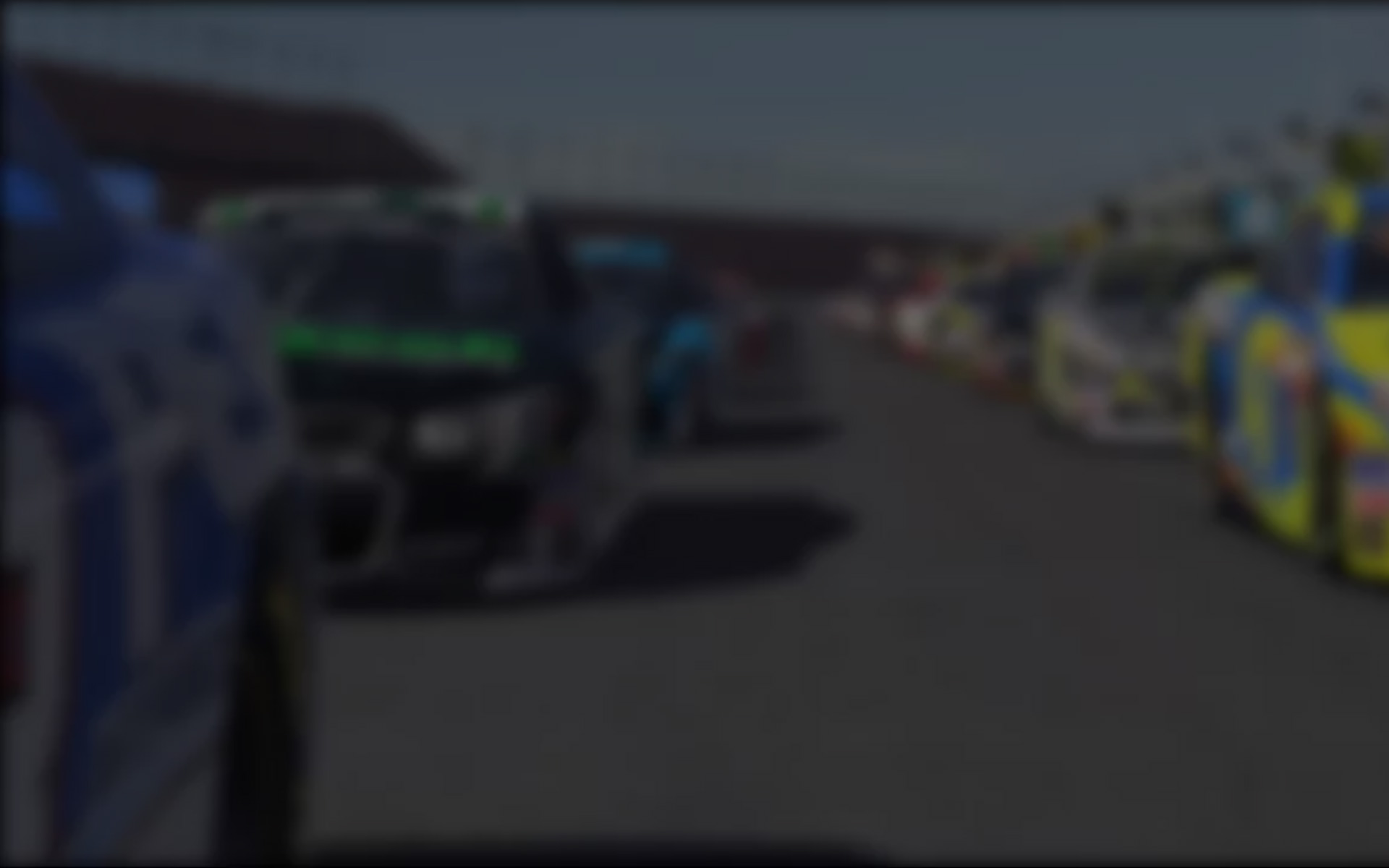 Versão em português abaixo
The green flag was waved for the "NASCAR Pro Series" of iRacing Brasil league on February 3rd, Monday. The series, which accepts the most qualified drivers, kicks off the start of the first season of the year.
The series keeps growing, offering a money prize for the first 15 drivers on the end of the year (after four seasons). The prize, of 5.000,00 BRL (almost 2.500,00 USD) will be proportionally split by them, a good motivation for the drivers.
Starting the championship, which have 10 online races on a weekly period, we had the inaugural at Rockingham, following a calendar mirroring the official series of iRacing to make it easier for the drivers' preparation. At total, 31 drivers were registered for the 150 lap race, broadcast live via Youtube.
The race started with the nº3 car of Igor Kops in the first pole position of the year, followed by Rafael Matta in second place. At the start, an accident involving six drivers at the end of the lines had not called out the yellow flag, confusing the drivers. On the second lap, drivers on the lead had encountered the involved cars on the incident and some of them crashed into it, making an even bigger wreck. Due to this situation, the host was canceled and the race was restarted.
On the new host, drivers had to repeat qualifying, so the original one was no longer valid. The new pole position went to Anderson Paes in car 18th, followed by Marcos Bicca in car 15.
At the start, this time without incidents and with the hosting working properly, Paes took his nº 18 Chevy to the lead, making some distance from Marcos Bicca, who needed to defend himself from João Carlos Nóbrega on car nº 2. Nóbrega overtook Bicca and Paes extended his lead but, unluckily for him, the first yellow flags comes out and puts everybody closer again. An accident between Marcos Resende (nº64) and Sergio Abella (nº129) was the cause. Resende lost control of his car exiting Turn Four and Abella, a Uruguayan driver, got involved, having some engine damage at Lap Seven. Marcelo Bianchi  (nº24), gets the first Lucky Dog of the race, coming at 23rd spot.
After the restart, Paes lost the lead to Nóbrega at Lap 19. He tried to take it back on the next corner but didn't make it and, in the process, only Matta overtook him. The green flag racing did not last for long and soon another yellow comes out at Lap 21, caused by drivers Murilo Augusto (nº46), Filemon Fábio (nº38) and Diego Resende (nº74).  Diego pushed Filemon while trying to overtake him, causing Filemon to lose control. Murilo then hits Filemon, damaging both of their cars. Most of the rest of the drivers decided to take advantage of the moment to go to the pitlane, with Marcelo Massa (nº17) staying on the track and becoming the new leader. Resende received a "stop and hold" penalty on green flag, given by the race control for causing the accident while Igor Kops, the original pole winner, lost his connection while the yellow flag is out.
On the second restart, Marcelo Massa made a bad launch on used tires and holds Anderson Paes who started in third position. Junior Borborema in the nº 42 car, on the outside line, takes advantage and dives in the lead of the race. Paes then overtook Massa and goes on the hunt for Borborema. Massa then couldn't hold-off the cars on new tires and put himself in trouble, hitting the wall and falling to 21st spot. Paes loses his position to the car nº 5 of Matta who moved into second place. On newer tires, Matta keeps pushing and overtakes Borborema (nº 42), becoming the new leader. Subsequently the nº 42 car lost pace and Paes stretched his lead.
At lap 42 a new yellow flag comes out, caused again by Resende when his damaged car hit the wall on the start of the back straight and took with the nº 54 of Renato Tamburini. Once again the other drivers made their way to the pitlane to take advantage of the caution.
A quick service in the pits put Matta in the lead again, leaving Paes on the second place for the restart. But it was Anderson making the best restart of all, to overtake Matta on the outside line before a new caution, the fourth of the day. Leandro Morissawa on the nº19 Ford does a self spin at Turn Two and damages his engine, having to leave the race. Nobody else was involved.
The green flag waved again at Lap 53, with Paes now on the lead and Nóbrega on the outside line on the 2nd spot. Paes made a good restart and put some distance to Nóbrega while, behind them, an accident with Sergio Calizário (4), Pedro Souza (3) and more drivers unfolded but this time there were no yellow flags.  Likewise, Lap 69 saw another incident with no yellow flags when nº44 of Luis Masironi pushed Anderson Perez (91) into the wall, severely damaging the front of Perez' car.
However, the fifth caution of the day did come out at Lap 84, when Uruguay's Diego Vazques was forced to slow down when the cars ahead of him went four wide and slowed.  Not braking in time, a surprised Vazques plowed-in to Renaton Piovesano's car 98 and —  again — the remaining drivers headed  to the pit lane.
Paes made a great restart on Lap 89 to keeps the lead of the race. But only six more laps later the 6th yellow flag flew after Caique Ribeiro (151) and Abella (129). Caique hits the wall and collected Abelle, inflicting still more damage to the Uruguayan driver's Ford Fusion.
Lap 99. Paes keeps the lead again away from João Carlos Nóbrega. Nóbrega comes up and overtakes Paes, who now have Rafael Hubie right behind coming at 3rd place. Hubie on the 21 car defends his spot from Leonard Pires (26) and Junior Borboream (42) for the following laps, keeping the fight on the top5 alive. Nóbrega leaves Paes behind.
With no yellow flags for a while, Leonardo Pires and Junior Borborema almost had the 7th caution coming after Borborema tried to overtake Leonardo, but nothing happens. The fight for the 3rd place keeps tight until Borborema finally overtakes at lap 130. But the last but one caution comes out when the driver of car 64, Marcos Resende, with 15 laps to the end, is hitted from behind by Luis Piccolo from car 92. All the drivers make their way for the last pit services. Anderson Paes goes out of the pitlane having the lead ahead of Nóbrega.
Restart and Nóbrega takes the lead of Anderson, with the Chevy nº 2. Junior Borborema follows up at 3rd place with Luis Piccolo in 4th and Leonardo Pires in 5th. One more yellow flag is caused at lap 140, after an accident with Marcelo Bianchi and Diego Resende. Bianchi, who had the 14th spot hits the wall and takes Resende with him to the inside wall.
The last restart have Nóbrega on the lead and Paes on the outside line, with five laps to the end, both of them coming side by side heading to turn 1, but behind them, Junior Borborema loses traction and goes off-track, losing the 3rd place that is now from Piccolo aboard the 92 car. Borborema falls to the end of the line.
Nóbrega spreads out and loses his lead to Paes, who overtakes him on the back straight. Paes then receives a bump and go from Nóbrega but keeps the lead, with 2 laps to the end. But Nóbrega does it again and pushes the 18 out of the lead, who goes off-track and come back at 5th place.
Nóbrega bumps Paes and heads to  the victory lane.
Leonardo Pires (26) also bumps the car at front of him, taking Piccolo out of the 2nd place and leaving him for behind, who loses a bit of control and makes contact with Pedro Souza (3).
Thus Nóbrega wins the race, with Leonard Pires coming second, ahead of Piccolo and Duca Lamego with Paes salvaging fifth place.
To watch the full race, check out the video at Youtube:
http://www.youtube.com/watch?v=xKRbN8nFNU0&feature=share
Liga iRacing Brasil Inicia Temporada de NASCAR
Na segunda-feira, 03 de fevereiro foi dada a bandeira verde para a "NASCAR Pro Series", categoria que a liga reserva para os pilotos mais qualificados, marcando o início da 1ª temporada do ano no iRacing Brasil.
A categoria, que vem crescendo cada vez mais, oferece premiação em dinheiro para os 15 melhores pilotos do ano (total de 4 temporadas) de R$ 5.000,00, divididos proporcionalmente entre os merecedores do prêmio. Fator que tem motivado mais pilotos Brasileiros a participar dos campeonatos.
Começando o campeonato que tem um total de 10 etapas, realizadas semanalmente, tivemos a prova inaugural em Rockingham, seguindo um calendário espelhado com o da série oficial do iRacing para facilitar o preparo dos pilotos. Foram 31 pilotos inscritos para a corrida que teve 150 voltas e transmissão ao vivo via streaming pelo Youtube.
A prova começa com o nº3 de Igor Kops marcando o melhor tempo na qualificação, se tornando o 1º pole position do ano, com Rafael Matta largando em 2º.  Na largada, um acidente envolvendo 6 carros no final das filas acabou não recebendo a bandeira amarela, confundindo os pilotos. Logo na 2ª volta os líderes acabaram encontrando os envolvidos no incidente e alguns se chocaram, formando um acidente ainda maior. Devido essa situação o servidor foi cancelado e a corrida teve de ser reiniciada.
No novo servidor, os pilotos tiveram de refazer a qualificação, passando a não contar mais os tempos anteriores. O novo pole position passa a ser então Anderson Paes, com o carro 18, seguido de Marcos Bicca no nº15.
A largada, desta vez sem acidentes e com o servidor funcionando corretamente, viu Anderson Paes levar seu Chevy 18 na ponta, abrindo um pouco de Marcos Bicca, que precisou começar a defender sua posição de João Carlos Nóbrega no carro 2. Nóbrega consegue ultrapassar Bicca e Paes inicia um distanciamento, mas sem sorte a 1ª bandeira amarela do dia surge e reaproxima todos novamente, após um acidente entre Marcos Resende (64) e Sergio Abella (129). Resende perdeu o controle de seu carro após a saída da curva 4, indo para fora da pista e Abella, do Uruguai, acabou se envolvendo e tendo problemas com seu motor logo na volta 7. Marcelo Bianchi no nº 24 recebe então o 1º lucky dog da corrida, na 23ª posição.
Após a relargada, Anderson Paes perde a liderança para João Carlos Nóbrega na volta 19, que tenta dar o troco na curva seguinte mas não consegue, evitando apenas que Rafael Matta (5) o passasse. A bandeira verde não dura muito tempo e logo outra amarela surge na volta 21, envolvendo os pilotos Murilo Augusto (46), Filemon Fábio (38) e Diego Resende (74). Diego acaba empurrando Filemon ao tentar ultrapassa-lo, fazendo-o perder o controle do carro. Murilo atinge Filemon e ambos tem seus carros danificados. Os pilotos decidem usar o momento para realizar serviços de pit. Marcelo Massa (17) fica na pista e passa a ser o líder da prova provisoriamente. Diego Resende é punido com um stop and go pelos diretores de prova por causar o acidente na volta 21. Igor Kops, o antigo pole position da noite, perde sua conexão e mostra que não era o dia dele.
Na 2ª relargada, Marcelo Massa larga mal com pneus usados e atrasa Anderson Paes que vinha na 3ª posição. Junior Borborema nº 42, que estava na fila de fora, aproveita e mergulha para a liderança da prova. Paes reage e consegue ultrapassar Massa indo para a caça de Borborema. Massa não consegue segurar a fila de carros com pneus novos e fica com problemas, acertando o carro no muro e caindo para a 21ª posição. Paes perde sua posição para o carro 5 de Rafael Matta, que fica em 2º. Matta continua avançando com pneus mais novos e ultrapassa Borborema, tornando-se o novo líder. O carro 42 perde rendimento e Paes também o deixa para trás.
Volta 42, nova bandeira amarela surge em Rockingham, causada novamente por Marcos Resende no já danificado carro 64. Marcos atinge o muro na entrada da reta oposta e leva junto com ele o piloto do carro 54, Renato Tamburini. Mais uma vez os pilotos se dirigem ao pitlane para aproveitar o momento.
Rafael Matta consegue um rápido serviço no pit e parte para a liderança novamente, deixando Anderson Paes em 2º para a relargada, mas Paes sai muito bem e ultrapassa Matta pela linha de cima. Os pilotos no entanto são impedidos nas disputas por mais uma bandeira amarela, contabilizando a 4ª do dia. Leandro Morissawa no Ford 19 roda sozinho na curva 2 e danifica o motor, tendo de abandonar. Ninguém mais se envolveu.
Bandeira verde na volta 53, com Anderson Paes na liderança e João Carlos Nóbrega na linha de fora em 2º. Paes faz boa relargada e toma distância de Nóbrega. Logo atrás, um acidente envolvendo Sergio Calizário (4), Pedro Souza (3) e outros pilotos é visto, mas sem bandeira amarela e a corrida continua.
Volta 69 e Anderson Perez (91) se choca com o muro ao ser atingido pelo carro 44 de Masironi, danificando bastante a frente do seu carro. A bandeira amarela não é acionada. Anderson Paes continua levando o chevy 18 na liderança.
Quinta bandeira amarela do dia veio na volta 84, com Diego Vazquez (43), outro piloto do Uruguai. Diego foi forçado a diminuir sua velocidade ao ver um 4-wide à sua frente, mas surpreendido pela desaleceração dos pilotos, não conseguiu reduzir à tempo e se chocou com Renato Piovesan do carro 98. Novamente os pilotos retornam ao pitlane.
Relargada na volta 89, Paes novamente larga bem e mantêm a liderança da prova. Mas apenas 6 voltas sob bandeira verde são vistas, com a 6ª amarela chegando após um toque entre Caique Ribeiro (151) e Abella (129) após Caique acertar o muro e voltar para cima do piloto Uruguaio, causando mais danos em seu Fusion.
Volta 99 e Paes novamente mantêm a liderança com João Carlos Nóbrega em 2º. Nóbrega avança e consegue passar Anderson Paes, que fica com Rafael Hubie logo atrás em 3º. Hubie com o carro 21 se defende de Leonardo Pires (26) e Junior Borborema (42) pelas voltas seguintes, mantendo a briga dentro do top5 acesa. Nóbrega aumenta a diferença para Paes e consegue se isolar na liderança.
Sem bandeiras amarelas por um tempo, Leonardo Pires e Junior Borborema quase causam a 7ª do dia em uma tentativa de ultrapassagem de Borborema, mas nada acontece. A briga pela 3ª posição continua limpa e acirrada, até Borborema efetuar a ultrapassagem na volta 130. Mas a penúltima bandeira amarela é causada pelo piloto do carro 64, Marcos Resende. Com apenas 15 voltas para o fim, Luis Piccolo do carro 92, acerta a traseira de Marcos que estava mais lento na reta oposta, acionando a amarela. Todos os pilotos correm para o pitlane pela última vez para a cartada final. Anderson Paes sai dos pits na frente de Nóbrega, liderando a prova novamente.
Relargada dada e Nóbrega se sai melhor que Anderson, levando o Chevy nº2 para a dianteira. Junior Borborema segue em 3º com Luis Piccolo em 4º e Leonardo Pires em 5º. Mais uma bandeira amarela é acionada na volta 140, após acidente de Marcelo Bianchi com Diego Resende. Bianchi, o 14º colocado, acerta o muro e volta em cima de Resende, jogando ambos para o muro de dentro.
A última relargada é dada com Nóbrega na ponta e Paes na fila de fora, faltando 5 voltas pro final, ambos saem lado a lado para a curva 1, mas Junior Borborema destraciona e acaba indo para fora da pista, perdendo seu 3º lugar que passa a ser de Piccolo no 92. Borborema acaba caindo para o fim da fila.
Nóbrega espalha e acaba perdendo a ponta para Paes, que o ultrapassa na reta oposta. Paes recebe um bump mas consegue se manter na ponta faltando duas voltas para o final. Mas novamente Nóbrega encosta em Paes e aplica outro bump, tirando o carro 18 da ponta, indo para fora da pista e retornando em 5º.
Leonardo Pires (26) também aplica a manobra do bump em Piccolo e sobe para a 2ª posição, deixando Piccolo para trás, que toca em Pedro Souza (3).
Nóbrega vence a prova, com Leonardo em 2º, Piccolo em 3º, Duca Lamego em 4º e Anderson Paes em 5º.
Para assistir a prova na íntegra, veja no youtube:
http://www.youtube.com/watch?v=xKRbN8nFNU0&feature=share
---
You may also like...
---