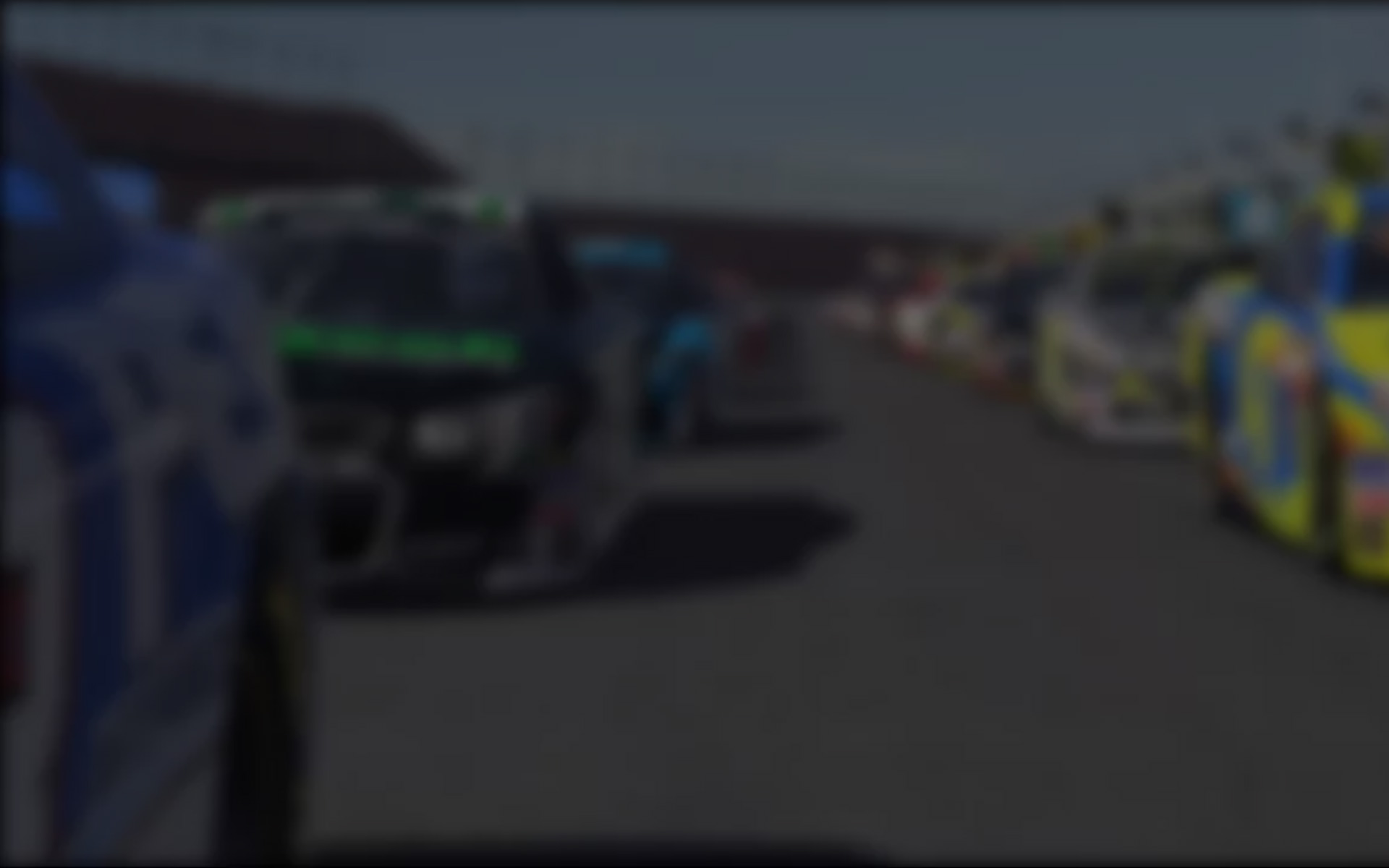 Versão em português abaixo
The second race of the major oval series of iRacing Brasil league, Nascar Pro, took place on February 10th. A total of 32 drivers were ready to race at Iowa, leaded by Igor Kops, who did his second pole position (and the first official one) and came on the front at the first of the 160 laps. On the outside lane, Paulo Júnior driving his Fusion 88 took the second place, putting twoFords at the front row.
Didn't took too much time for the 1st yellow of the race, called on the 2nd lap, after an incident with Diego Vazques on Fusion 43, who had a self-spin and hitted the wall, involving Marcos Resende on another Fusion (64). Marcos leaves the online race and Diego Vazquez heads to the pitlane to get the damage repaired.
Green flag came at lap 7, with Igor Kops on the lead and João Carlos Nóbrega driving the Chevy nº 2 at 2nd place, leaving Paulo Júnior with the 3rd spot. But again, race goes under caution at lap 10, after Ricardo Gonçalves Silva, on the Chevy nº 10, hitted the wall. Besides the crash not being very strong, Ricardo left the track and became the 2nd driver to quit, leaving the race with 30 drivers. Some of the drivers decided to have some pit services already done, changing tires, like Carlos Feruti on the 82 Chevrolet, the 1st driver to enter the pitlane. Roberto Vianna, driver of the Chevy 31, was the 1st lucky dog of the night, running on the 29th place.
Lap 22 and the 3rd yellow flag of the night is called. Rodrigo Lellis, running the Fusion 357 for the 16th place had contact with Marcelo Massa, who was also driving a Ford (17). The nº 357 hitted the wall, making his engine smoke. However, this was not the reason of the caution, but contributed for it, because Carlos Feruti, who just had his tires changed, slowed down after he saw the crash, getting behind Massa. Alex Montoanelli, who was ahead of Feruti, had avoided the accident going fot the inside lane, but made another one when he came back, hitting Feruti, who loses control of his car and crashs into the wall. Eli Rocha, on the Fusion 13, also crashed Feruti right after that, having to leave the race. The other drivers continued besides the damages.
Kops, still on the lead, took his stock car to the pitlane. Along with him, a line of cars follows for their first pitstop services. But for Marcos Bicca, on car 15, that was the chance to restart at 1st position, leaving Kops at 2nd. Bicca's strategy didn't worked well however, falling for the 6th spot right after the restart.
A good green flag stint happened, while Kops lead the way with Anderson Paes (18) now in 2nd, with João Carlos Nóbrega at 3rd.
The 4th caution, of a 13 total, came at lap 49. Once more, all drivers raced for the pits. Anderson Paes returns as the leader, leaving Kops at 2nd. This situation would last until lap 76, when Paes goes back behind Kops. At 3rd place, João Carlos Nóbrega had to fight Paulo Júnior, switching places sometimes.
Igor Kops left the lead for good at lap 101, when he had to enter the pitlane while green flag. With connection problems for almost all the race, Kops went from heaven to hell, falling to 21st place and leaving Paes with the lead at Iowa.
The drivers had the bigger stint on green flag between laps 100 e 129, which ended with a dramatic crash involving Rodrigo Lellis and Duca Lamego (6). At the moment that Anderson Paes would open the lap nº 130, Rodrigo and Duca had contact, causing Rodrigo Lellis to flip over, flying above Duca and almost hitting the leader.
The last restart of the night had Anderson Paes defending his 1st place against João Carlos Nóbrega one more time. Marcos Bicca now was 3rd with Paulo Júnior at 4th spot and the race goes green flag again, with 5 laps to go. But that would not be the last yellow of the night…
With 2 to go, an incident caused by a light contact between Murilo Augusto (46) and Renato Piovesan (98) made the race end under caution, while Anderson Paes leaded the way. Anderson became the Iowa winner, with João Carlos Nóbrega coming for 2nd, Marcos Bicca 3rd, Paulo Júnior 4th and Luis Antonio Piccolo finishing on the 5th place.
Watch the full race here: http://www.youtube.com/watch?v=I2fEEek_7tA
iRacing Brasil NASCAR Pro Series 2ª Corrida
A Nascar Pro Series, categoria principal de oval do iRacing Brasil, realizou no dia 10 de fevereiro, sua 2ª corrida. Foram 32 pilotos inscritos para disputar em Iowa, sob a liderança de Igor Kops, que com seu Fusion nº 8, fez sua 2ª pole (a 1ª oficialmente válida, devido o erro da 1ª etapa) e saiu na frente na corrida que teve 160 voltas. Na fila de fora, Paulo Júnior no Fusion 88 liderava no lado de fora, com o 2º lugar, feito que colocou 2 Fords na frente do grid.
Após a bandeira verde, a 1ª amarela veio na 2ª volta da prova, em um incidente com Diego Vazquez no Fusion 43, que roda sozinho na pista e atinge o muro, envolvendo Marcos Resende em outro Ford Fusion, nº 64. Marcos abandona a prova e Diego Vazquez vai ao pit para reparar seu stock car.
Relargada na volta 7, Igor Kops mantêm a liderança, com João Carlos Nóbrega no Chevy nº 2 agora na 2ª posição, deixando Paulo Júnior em 3º. Mas novamente a prova é interrompida na volta 10 após o piloto Ricardo Gonçalves Silva, no chevy nº 10, acertar o muro sozinho. Apesar da batida não ter sido muito forte, Ricardo abandona e se torna o 2º piloto a deixar a prova, que agora conta com 30 carros na pista. Alguns pilotos optam por já realizar serviços de pit, trocando pneus, como Carlos Feruti no Chevrolet 82, primeiro piloto a entrar no pitlane. Roberto Vianna, guiando o Chevy 31 na 29ª posição recebe o 1º Lucky Dog da noite.
Volta 22 e a 3ª bandeira amarela da noite é lançada na pista. Rodrigo Lellis, correndo com o Fusion de nº 357 pela 16ª posição, tem contato com Marcelo Massa, também pilotando um Ford (17), acertando o muro e fazendo seu motor soltar fumaça. O incidente não é a razão da bandeira amarela, mas contribuiu para a situação já que Carlos Feruti, que acabara de trocar seus pneus, reduz sua velocidade ao ver a batida logo à sua frente, fazendo com que ficasse atrás de Massa. Alex Montoanelli, que estava à frente de Feruti, havia desviado para a linha de dentro e decide voltar para a linha de cima, causando o contato que faz Carlos perder o controle e acertar o muro, sendo atingido também pelo piloto do Fusion 13, Eli Rocha. Eli abandona a prova, mas os outros pilotos continuam apesar dos danos.
Kops, ainda liderando a prova, leva seu stock car para o pitlane. Junto dele, uma fila de carros também decide realizar os primeiros serviços de pitstop. Mas para Marcos Bicca, no carro 15, foi a chance de relargar em 1º, deixando Igor Kops em 2º. A estratégia de Bicca, no entanto, não funcionou muito bem, perdendo a ponta logo na relargada e caindo para 6ª posição.
Um bom stint em bandeira verde se seguiu, com Kops novamente liderando e com Anderson Paes (18) em 2º, à frente do agora em 3º lugar, João Carlos Nóbrega (2).
A volta 49 viu a 4ª bandeira amarela da noite, de um total de 13. Mais uma vez todos os pilotos correram para o pitlane. Anderson Paes retorna à pista como o líder da corrida, deixando Kops em 2º. A situação ficaria dessa forma até a volta 76, quando Paes volta a ficar em 2º. Na 3ª posição, João Carlos Nóbrega enfrentava uma disputa com Paulo Júnior, trocando de lugar algumas vezes.
Igor Kops deixou de liderar a prova sem chance de retorno na volta 101, quando entrou no pitlane em bandeira verde. Enfrentando problemas de conexão durante quase toda a corrida, Kops foi do céu ao inferno, caindo para a 21ª posição e deixando para Paes novamente a liderança em Iowa.
Os pilotos tiveram o maior stint em bandeira verde entre as voltas 100 e 129, que terminou em um acidente dramático entre Rodrigo Lellis e Duca Lamego (6). No momento que Anderson Paes completava a volta de nº 129, Rodrigo e Duca se tocaram, causando o capotamento de Rodrigo Lellis, que voou por cima de Duca e quase atingiu o líder.
A última relargada da noite viu novamente Anderson Paes defendendo o 1º lugar contra João Carlos Nóbrega.  Com Marcos Bicca em 3º e Paulo Júnior em 4º agora, a corrida voltou à bandeira verde faltando apenas 5 voltas. Mas não seria a última bandeira amarela da noite…
Com duas voltas para o fim, um acidente causado por um leve toque entre Murilo Augusto (46) e Renato Piovesan (98) fez a prova terminar sob a bandeira amarela, enquanto Anderson Paes liderava. Anderson torna-se então o vencedor de Iowa, com João Carlos Nóbrega em segundo, Marcos Bicca em 3º, Paulo Júnior em 4º e Luis Antonio Piccolo em 5º.
Confira a corrida completa no link abaixo: http://www.youtube.com/watch?v=I2fEEek_7tA
---
You may also like...
---