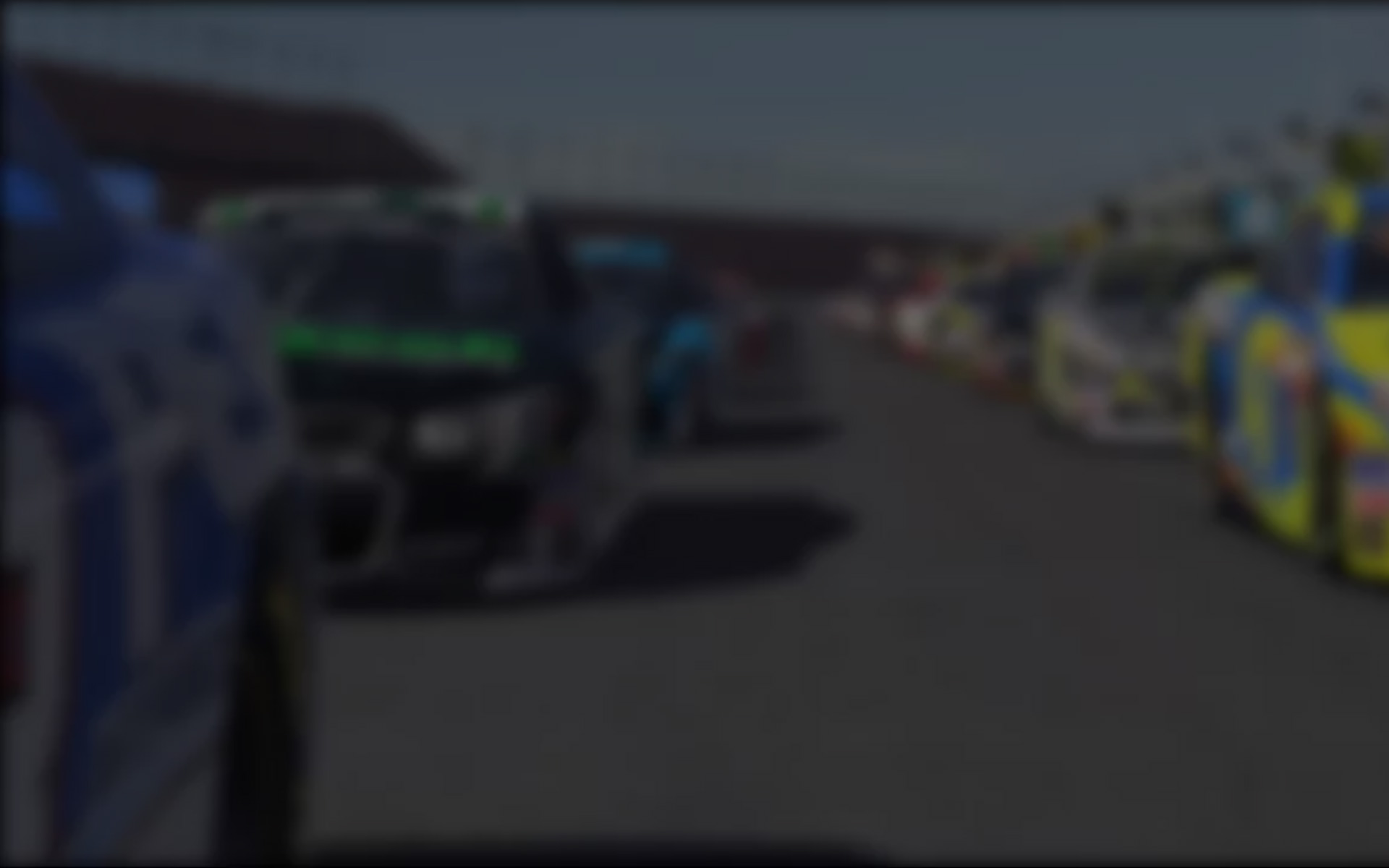 Welcome to the first of three articles wrapping-up the first quarter of the iRacing.com Global Challenge Series. So far we've seen over 1,600 drivers take to the track and race the KIA Optima and Cadillac CTS-V in at least one of the three opening weeks. In this article, we'll focus primarily on the KIA Optima Class, where the points race is heating-up from third place onward. We'll also take a look at two drivers and compare how they approach each week at the iRacing.com Global Challenge Series.
First I'll introduce Andrew Bakke, a driver from the United States who's worked his way to 20th overall in points. He's put together six straight podium finishes through three weeks of online racing. During Week One at Canadian Tire Motorsports Park (aka Mosport), he scored one win and three third place finishes. At Mazda Raceway Laguna Seca (Week Two) and Mid-Ohio Sports Car Course (Week Three), he started one race and finished third and second, respectively. From Washington, D.C, he's poised to make a move up the standings if his consistent results continue.
Next is Joe Junior, a familiar name on the KIA Optima forum thread from Jamaica. After a difficult Week One at Mosport that saw him land one podium finish in three starts, he has since gone on to win two races in a row. He ran away with his Week Two race, and won a more closely contested battle at Mid-Ohio during Week Three. He now sits in 12th place in the overall point standings at the end of Week Three.
I caught up with Andrew a short time after he scored yet another podium finish at Sonoma Raceway. Joe had just wrapped-up a practice session and agreed to sit down for an interview at the inRacingNews.com virtual round table.
JW: Joe I want to ask about your home country, Jamaica! What's the racing scene like over there?
JJ: Circuit racing in Jamaica is not very popular. We have one somewhat decent race track called Dover Raceway, and every now and again they will have some races there. Go-Karting used to be relatively popular and we've even had drivers from the US, Canada, and Brazil race there. Once per year there is a big rally racing craze. Every December we host a three-day rally where drivers come from all over the Caribbean (we've had drivers from England as well) and compete in about four different classes. We get caught up in our tiny racing scene but not much interest is shown to racing worldwide.
"My teammates often tease me that I'm the fastest Jamaican racer…because I'm pretty much the only one." – Joe Junior
JW: And what about virtual racing?
JJ: In terms of virtual racing, Jamaicans flock to Gran Turismo and Forza and a vast majority of our gamers use the Xbox and PlayStation. There are very few PC gamers and therefore sim-racing is almost non-existent in Jamaica. There are about five Jamaican drivers on iRacing.com and I'm probably the only active one. My teammates often tease me that I'm the fastest Jamaican racer…because I'm pretty much the only one.
JW:  Well we're definitely glad to have you on the iRacing.com service! I've seen that you're very active in the forums especially when it comes to the KIA Optima. What makes the car so enjoyable for you to drive? Were you torn between driving the Cadillac and the KIA?
JJ: I was kinda skeptical when it first came out. When I first tried the car I believe it was at Twin-Ring Motegi. After a couple of laps and trying a few setup tweaks that I saw in the forums, I was surprised at how much I was enjoying the car. I ran quite a few races during Week 13 and had fun at various tracks. The car was very good for close racing. At this point I decided that I had to run this car in the official season, so I wasn't torn.
JW: Very good. I want to ask the both of you about your seasons so far. Andrew, you're 20th in points, Joe you're currently 12th after Week Three. Less than 100 points separate third place from 23rd. Does this show how close the racing has been on the track so far in the iRacing.com Global Challenge Series for the KIAs?
AB: I think there's a noticeable speed differential, but there are a lot of fast drivers who either haven't started each week, or have been caught in incidents, whereas I've been off the peak pace yet incredibly consistent.
JW: I've heard that it's hard to build a significant lead in those races without another driver making a big mistake. Is that true?
JJ: Yes it's difficult because the races are short and the car isn't very fast. Therefore once someone is in your draft it will be difficult to get rid of them. The car can produce some intense trains.
JW: That being said, how confident do you guys feel here at Sonoma?
AB: I wasn't too confident going into this week, Sonoma is not my strongest track. In fact, this is one of my first race starts here. However, I managed to keep my podium streak alive by simple preservation of the car, including the almost weekly close call.
JW: Yes congratulations on that Andrew, your streak is now at seven straight podium finishes, and to do that at tracks where you're not too comfortable is impressive. Joe, what about you?
JJ: To be honest, I preferred both Laguna and Mid-Ohio to Sonoma. Honestly I'm not too confident here but overall I am getting more confident.
JW: Now, both of you seemed to show improvements during Week Two and Week Three, but what made Week One so difficult for you?
JJ: During Week One I was still getting used to the car. I was pretty comfortable in a race but I couldn't get it together in qualifying. I think twice that week when I had managed to find a good split race I ended-up starting relatively far back and had to work through the field.
"I try to focus on making my driving match what the car wants instead of trying to bend the setup to my will. That always ends-up slower for me." – Andrew Bakke
JW: So is it safe to say that you both have gotten a better handle on the car? Andrew you've been consistent from Week One, scoring podium after podium. It doesn't seem like you've had to adjust much.
AB: This is the first FWD car I've driven in sim-racing since Forza, so I've needed some adjustment, however for the most part I've adjusted pretty quickly. It was just a short adjustment period to remember to mash the gas in a spin and to learn what the car likes and doesn't like. I'm still struggling in the slow corners, but as I spend more time I'm more able to let the car roll through corners. I have zero fear of self-spinning. Like most of the club level cars, I spend little time on setups and try to focus on making my driving match what the car wants instead of trying to bend the setup to my will. That always ends-up slower for me.
JW: That's definitely good advice right there for drivers that may still be struggling with the handling of the new KIA Optima. I for one will take that into consideration when I run a few KIA races later in the season. Right now I'm primarily running the Cadillac Class. Joe, I think your results show that you've gotten a better understanding of how the car drives.
JJ: Yes I was slowly starting to get more and more familiar with it and started to make my own tweaks. At Laguna I managed to win a decent SoF race but at Mid-Ohio I once again struggled to find a good SoF race to get good points.
JW: Is that part of the reason why you guys only ran one race during Week Two and Week Three? Why not try to max out your point score for the week?
JJ: I really don't have a solid reason why I didn't race more in those two weeks. I was too lazy to practice and I just let the weeks slip by.
AB: I've been busy elsewhere, and I'm focusing on the Opening Knights miniseries taking place on the very first time slot of each week. I'm also not really in it to win the whole thing; so long as I'm enjoying racing I consider it a success. I've done the championship race once before in Grand-Am. It ended up just being stress for me rather than fun. I prefer to enjoy racing in the moment, because a close battle leaving me grinning ear-to-ear is worth more to me than struggling to find the SOF fields for a few points.
JW: I definitely appreciate you guys' honesty there. I think it's great to see different viewpoints about these topics. There are so many different kinds of racers at iRacing.com and it's really refreshing to hear their take on how they make the most out of their time on the service. Now Joe, I know you're trying to improve your points position indefinitely so I want to know your goals for this season. But first, can the both of you tell me what you would need to work on the most in order to improve your points position?
AB: Mostly picking-up the pace, and additional practice at tracks before the week begins. Once the race starts I feel I'm doing about as well as I can so long as I can match the pace of those around me.
JJ: I just need to race more often and don't be so lazy to practice. For the season I would love to get as close as I can to a top five points finish overall. Going to be difficult.
JW: I'm glad you both mentioned that big "P" word… practice. In my last article I wrote about how important it is to get good practice sessions in. It's key. We're winding down now guys, but talk about the quality of racing that you've seen in the KIA Optima fields.
AB: The KIA field has been excellent, with plenty of fast guys and tight racing. The car pairing can be a bit difficult at times, with the Cadillac being a bit more difficult to drive and not having such a significant straight-line speed advantage. In several races, the front-running KIAs catch the slowest Cadillacs, which is always a bit stressful. Otherwise, it has been solid touring cars, and it promises to only get better as we visit less twisty tracks and everyone gets a better handle on the cars and how the pairing behaves.
JJ: Week One at Canadian Tire Motorsport Park brought out some really strong drivers. The races that I joined were competitive and I saw a lot of close racing.
"The front running KIAs catch the slowest Cadillacs, which is always a bit stressful." – Andrew Bakke
JW: Now to close out, I want to ask you guys one last question. Moving forward in the season, what would you like to see changed to improve the iRacing.com Global Challenge Series?
JJ: I don't mind the short races, 25 minutes is fine for me but I do think the field sizes could be increased. It's currently only 20 I think so that means if there is an even 22 signups it will split with about 11 racers each, which isn't always fun.
AB: I would have liked to have seen a bit less strenuous of an opening few weeks in track selection. We've visited four of our toughest tracks right at the beginning, and starting with more high-speed tracks with long straights could have helped ease us into the series with a bit less friction. I know others have wanted a larger max grid, but I prefer the 20 car limit. With the two classes potentially overlapping, especially at super tight circuits, splits are almost required to keep the classes from interfering with each other.
JW: Very interesting difference of opinion there in regards to field sizes. Maybe we can see what the racers think on the forums about that. That's our time, and I want to thank you both for giving me some of your time for this interview. I wish you both the best for the rest of the season. Joe I hope you can get into the top five, and Andrew, I expect you to move up as well as you continue to gain more knowledge about the car.
In general, the iRacing.com Global Challenge Series is getting a lot of great reviews on the forum, and in the interviews I've had the drivers have liked what they have seen so far. I was pleased to hear both of these drivers emphasize the importance of practice in their efforts to improve their points position. Even though Andrew didn't express much enthusiasm in regards to making an effort to push towards the top of the rankings, I definitely feel that he won't like to lose any ground either.
Competitive, close quarters racing is fun racing for many drivers at iRacing.com, and for those looking for a fun car with close fields, the KIAOptima Class in the iRacing.com Global Challenge Series is definitely one to try. Just be sure to turn enough practice laps so you won't be the cause of that "weekly close call" that Andrew mentioned, or even worse, the "big one."
Action continues at Mid-Ohio during Week Three…
After Week Three, the standings are as follows:
1. Niccolo Cedrati (Div. 1) – 585
2. Dirk Reinhard (Div. 1) – 541
3. Lorenzo Leonetti (Div. 1) – 491
4. Jacob Fredriksson (Div. 1) – 481
5. Mate Lorinczy (Div. 2) – 478
6. Hugo Goncalves (Div. 2) – 467
7. Petri J Lempinen (Div. 2) – 465
T7. Aday Coba Lopez (Div. 2) – 465
9. Guillermo Catini (Div. 3) – 457
10. Steliyan Chepilevski (Div. 2) – 444
12. Joe Junior (Div. 1) – 434
14. Wojciech Swirydowicz (Div. 1) – 431
18. Kevin Parrish (Div. 1) – 417
20. Andrew Bakke (Div. 2) – 402
Niccolo Cedrati continues his dominance on the season, extending his lead over Reinhard to 44 points. Reinhard sits comfortably in second with a 50 point lead over third place driver Lorenzo Leonetti. Last week's top five contenders Swirydowicz and Parrish have both dropped out of the top ten, while last week's fifth place driver Danny Conlon has dropped outside the top 25. The tight points battle from third place back looks to continue as drivers still learn more about the cars, but one driver to keep an eye out for near the top of the standings is Petri J Lempinen of Finland. Of the top 25 overall racers after Week Three, he and points leader Cedrati are the only two drivers with an average finish of first place.
In my next article I'll sit down with some of the Cadillac CTS-V drivers to hear their take on the first quarter of racing here at the iRacing.com Global Challenge Series. The action is set to heat up as racing continues at Sonoma Raceway.
---
You may also like...
---