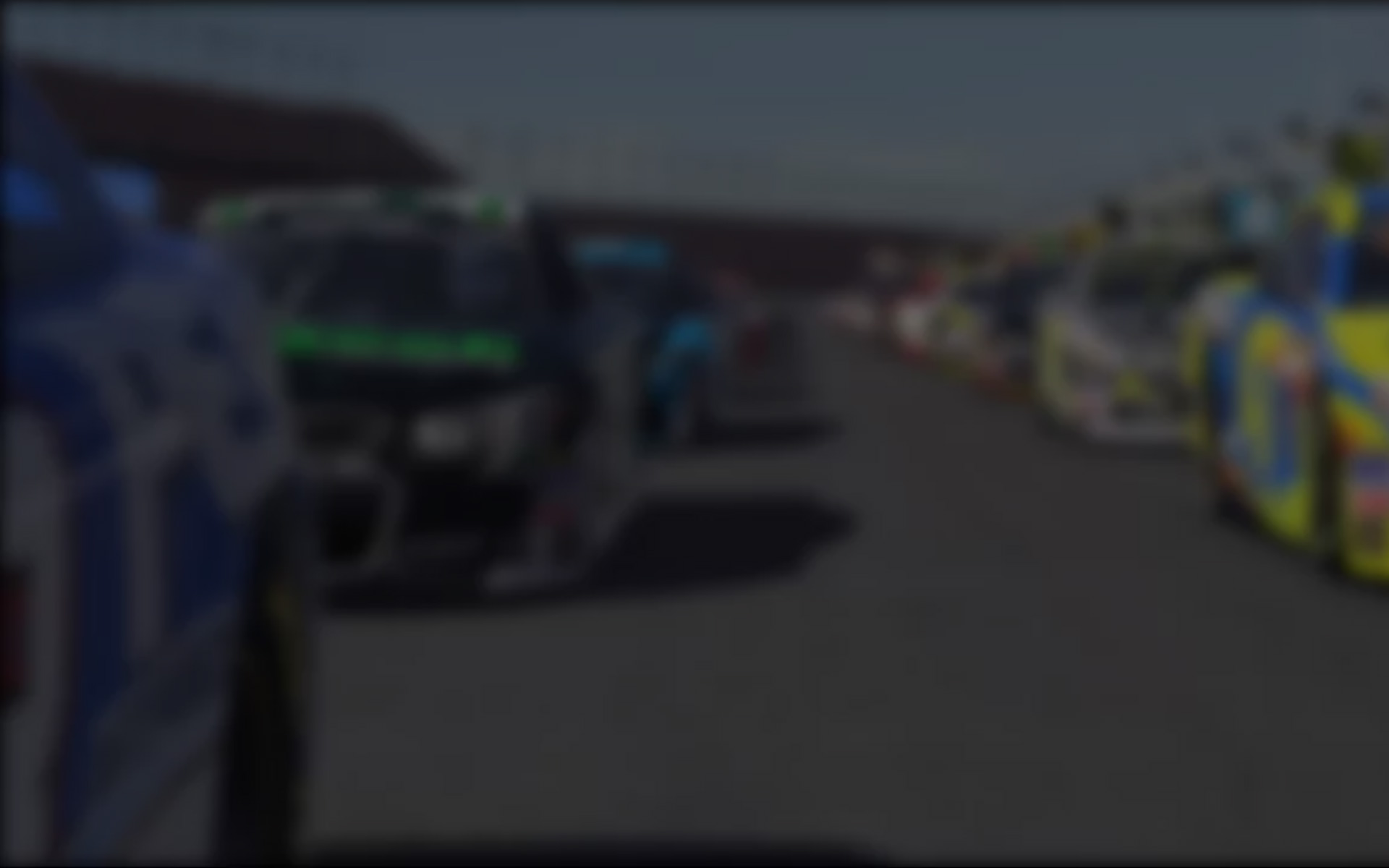 I have a confession to make.
When I entered into the world of professional sim racing on iRacing.com, my interests laid chiefly with racing ovals. By doing what every other iRacing rookie has done, I started off racing the Legends and Street Stocks; both of which I fell in love with (a love I still profess to this day). Being brought up on short tracks in life previous to iRacing, I kept primarily to the cars that frequent that area of motorsports, and matched them with tracks that correlated to the racing discipline. I had no intention of taking a race car – open wheeled or fender bound – and whipping it around a track that it wasn't fundamentally designed for.
Suffice it to say that within my first year here at iRacing, I learned a lot about motorsports in general, and my ignorance was brought to the forefront rather quickly. A year after I first started racing Legends cars on traditional short tracks in the iRacing service, I was churning laps around popular road courses with the same vehicle. Why? I was wrapping my head around the fact that internationally, Legends cars race on just as much road courses, as ovals, if not more often. Even in America, where oval racing tends to dominate the motorsports scene, the Legends Car World Finals are held at Sonoma Raceway, as well as commonly seen at tracks such as Summit Point, Road Atlanta, and the Infield Road Course at Charlotte Motor Speedway. With a quick search on YouTube, one can even find video recordings of Tour Modifieds blazing around Lime Rock Park.
During my recent research into motorsports and my own personal experiences on iRacing, I've learned quite a few things, but one important fact stood out from the bunch. While most cars are designed with a specific track or discipline in mind, the most important thing about race cars is that they're designed to race, no matter the trial. In the immortal words of a certain Walter Sobchak, "If you will it, Dude, it is no dream." For Alexandre Martini, bringing one of iRacing's most popular short track cars to a road course was the dream, and with the help of close to forty registered drivers, it has become a reality. In this iRacing League feature, the spotlight is on the Late Model Road Racing World Series, as Martini tells us about their new and exciting take on meshing oval cars with road courses in the sim racing community.
How did your league get started?
It may sound strange for many people, but the iRacing.com Chevrolet Monte Carlo SS Late Model has always been my favorite road racing car in the service. Since I don't race ovals, I'm not aware how it stacks up against other cars for those guys, but this is definitely one of the best simulations on road courses that I have driven since I started sim racing in 2006.
Back when the Oval Road Odyssey Series (oval-road-odyssey.com) was still active, I didn't have an opportunity to join them due to time constraints, but I always wanted to race the this car on road courses and just getting into some hosted sessions here and there was not really satisfying my needs. So I talked to some friends and we decided it was time for us to get together and start doing this the right way. Two months after developing the initial version of the series website and inviting some other guys, we had about 40 people registered to race in the series. There are some really fast guys driving here, and we have a pretty strong average strength of field in every race. For instance, the qualifying for the second round at Mosport had the first 12 drivers in the same second. And that was in a field of 17 drivers!
How long has your league been active in the sim racing community, and how long has your league resided on iRacing?
Oh, we are new in the hood. The series website launched on October, 2012 and our inaugural season kicked off on January, 2013. I hope we stay with iRacing for a long time!
What themes, whether it be racing or non-racing, does your league focus around?
We focus on good, old fashioned, stock car racing. That's pretty much what this car has to offer on road courses and that's what we strive for with our series.
How many series does your league sanction?
The real intention when launching the Late Model Road Racing World Series was not to have a league, but a single series that people who love the Late Model on road courses could join and have some fun. In that regard, we have one single series.
What days and times does your league hold races during the week?
We race on Sundays, every two weeks, at 22:30 GMT.
How many drivers, on average, come out to race with your league per week?
We have a grid of 40 registered drivers and the first 3 rounds featured grids of about 20 drivers. It would be cool if we had all 40 drivers on the grid every race weekend, but it's a known fact in the sim racing world that people have other priorities in life and their hobbies not always come first.
Anyway, as long as we keep an average field of 20 drivers through the season, we are definitely going to have fun in all races.
Are your races publicly or privately hosted?
All races are private and password protected, so that only registered drivers in the series and the broadcasting crew can have access to the hosted sessions.
Is your league open to all skill levels of drivers or does it feature skill restrictions (i.e. class ranking or iRating)?
We don't have any restrictions regarding skill level, although one of our main goals is to form a group of drivers who can race hard and clean in every situation they may encounter.
What point system, if any, does your league utilize for championship seasons?
Our points system is based on MotoGP, with championship points being awarded to the top 15 finishers. We also award one bonus points at each race for drivers who started on pole, gained most positions (hard charger) and led most laps.
Do you have prizes or trophies for winners in your league?
We currently have no prizes planned for the current season. The costs involved in managing, hosting and broadcasting all of the 20 rounds in the schedule are considerably high. I like to think that getting together and racing just for the fun of doing it is the best trophy people can get out of it. Everyone wins something in every race.
Giving out trophies and prizes for a driver's achievement is obviously an important part of racing. I hope that once we get established as a group of serious racers and after we get some good visibility in the sim racing scene (something in which inRacingNews is helping us with!), talking to and attracting some sponsors may become easier. Only then it will be appropriate to start focusing on this side of things.
Does your league broadcast races or hold special events (i.e. charity races, etc.)?
We have live broadcasts for all races in the schedule, but we don't hold special events yet. It's on our plans to do some of those in the future, though.
What is one memorable race or moment that happened in your league that is well-known with your members?
As we have been to only three race tracks in this season, we may not have many memorable moments yet, though I can tell you a funny one that happened to me in the last corner of the last lap of our second round at Mosport, and that surprised everyone.
In the closing laps of the race, my fuel prediction was saying that it would be really tight for me to finish the race with the amount that I took during my stop. I was coming for a good 6th place and, as I had a good gap to the following driver, Clifton Cockrell, I started saving some fuel on the straights and wishing that I could get out of it at least with a 7th place. In the last few corners of the last lap (the esses), Clifton was at my rear bumper and my engine was already running dry and coughing, so I thought it would be appropriate to let him by as soon as possible to avoid an accident, but he wouldn't take it. Later I found that he was also having problems with his engine, trying to avoid a blowup after over revving it for too many laps. What happened next is that my engine lost power exactly while I was entering the main straight and he couldn't avoid bumping me on the rear, turning me 180 degrees and sending me backwards towards the finish line. As I didn't have any more fuel left, the only thing I could do to finish the race was engage reverse and hope that any momentum I still had would propel me through the last 100 meters before the checkered flag. I lost three positions while doing this and ended up finishing 9th, but it was one of the most humorous moments I've ever had in sim racing! You can watch the broadcast for that moment here.
We have a very long schedule and a lot of highly skilled drivers in the roster, so I'm sure that a few more memorable race moments are yet to come!
iRacing has come a long way with helping leagues become more well-known within the iRacing community. What is one thing that you believe iRacing could do to further assist leagues and their admins?
Apart from this kind of initiative that tries to bring more information on existing league to the member base, I think that there isn't really one single thing that will make it all better for us. I believe that the continuous improvements that iRacing is doing to their simulation and to the member site are what is required to keep us racing here, be it in official or hosted series.
Improving existing features, like league management and spotter and crew chief support and adding new features like driver swaps, day/night transitions and dynamic weather will only add more to what is already an established and well renowned simulation title. I think that league managers already have a lot of what is required in place and ready to be used.
Interested in joining the Late Model Road Racing World Series? Check out their website, along with their Twitter account (@latemodelroad). Ready to race? Send an email to  register@latemodelroad.com with your name and preferred car number.
Want to create your own iRacing.com league or join a previously established one, like Late Model Road Racing? Check out iRacing's "How-to" video on doing just that, as well as checking out the Featured Leagues page. iRacing Leagues Spotlight will return in two weeks!
---
You may also like...
---