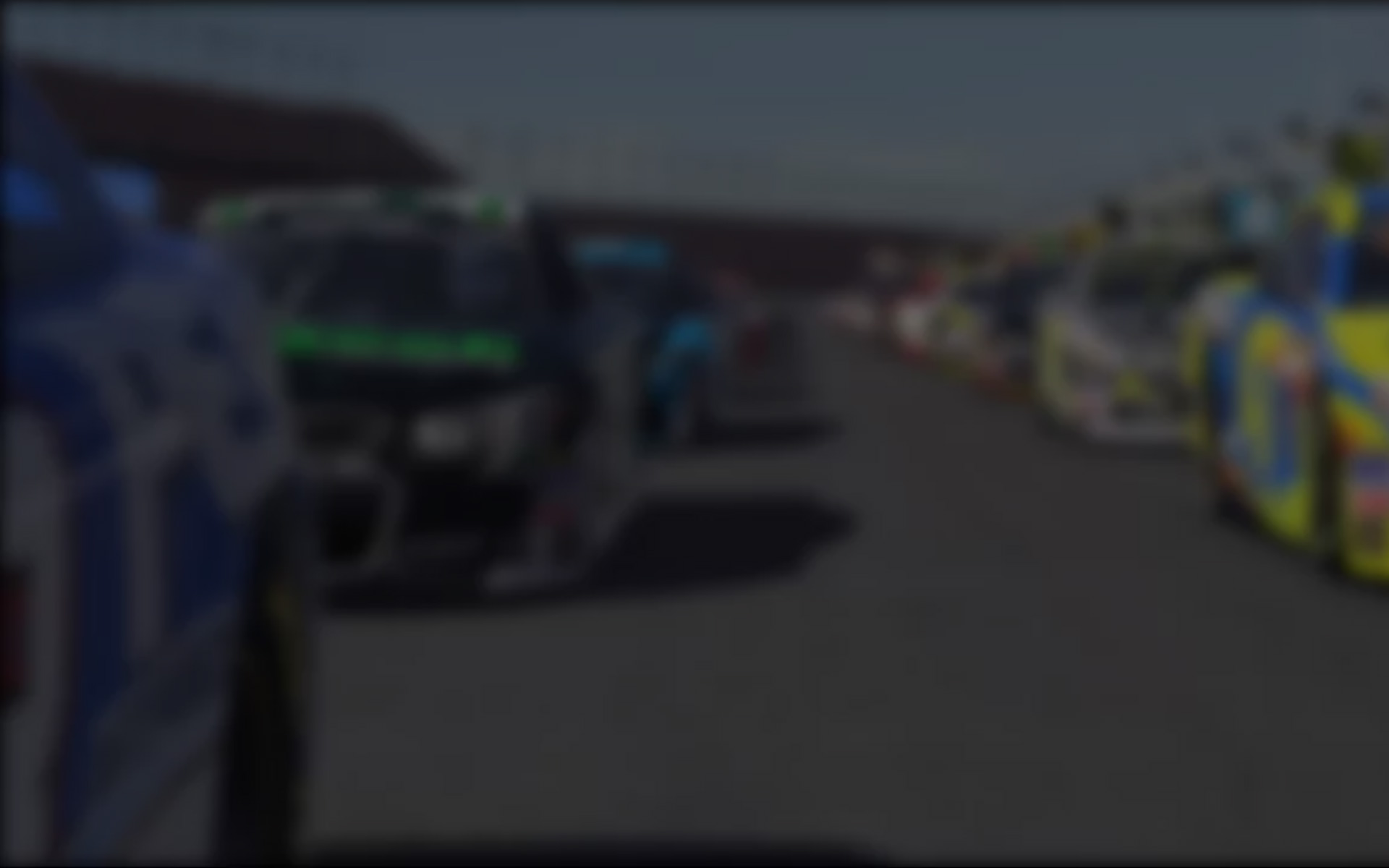 Dark Clouds over Normally Sunny California
And so the iRacing Pro Series Road Racing moved to Infineon Raceway this week and the top three of England's Richard Towler, Australia's Luke McLean and Canada's Shawn Purdy knew that a poor performance of online driving would see them either drop out of contention for the title or at least suffer dramatically diminished chances come the last race at Elkhart Lake next week. So the pressure was on and it would have been no surprise to see something give — as indeed it did, resulting in a little gloom and a little bad blood between two of these drivers. Everyone knows this series is "merely" a feeder for this year's impending iRacing Drivers World Championship – yeah right. It is clear this title meant much more to those in the fight for it after Sunday's race.
Saturday Race
Saturday had two of the big three in action with both Towler (pole) and Purdy on the front row, Bastien Bartsch and Artur Turcu on the second row and Daniel Almeida and Mauro Bisceglie on the third.  Bartsch and Almeida both had terrible opening laps with Almeida out of the race and Bartsch back in eleventh position by lap's end. The front row pairing held station, Turcu inherited Bartsch's third spot and Richard Crozier drove around Bisceglie for fourth with Chris Palmer slotting into sixth behind the latter.
By Lap Fourteen Bartsch had worked his way up to Palmer's tail, when Palmer had an off and thus surrendered his sixth spot.  On Lap Eighteen Bartsch successfully took fifth spot from Bisceglie. This charge continued and on Lap Twenty-three Bartsch would have fourth position from Crozier. Lap Twenty-eight saw Bisceglie have a few offs after seemingly having tire problems, losing fifth position to David Sirois as a result. Bartsch pitted for fresh rubber on Lap Twenty-nine and stormed home from eleventh to eighth.
Meanwhile, Purdy, who already had minor damage and slightly diminished pace from an earlier brush with a wall, had a moment in the last turn on Lap Thirty, this time hitting the wall hard. He was overtaken soon after on Lap Thirty-two by Turcu for second and on Lap Thirty-five he lost third position to the ever-charging, albeit recovering, Bartsch. This was all a huge blow to Purdy's title aspirations after keeping Towler honest over the opening 22 laps by being only 4.7 seconds back and ready to pounce should Towler have faltered just a little.
Did my Ben Cornett impression, wanted to see how those banana cars drove," said Purdy. "My first off I was able to almost keep it off the fence so the damage was minor. Cost me about a second a lap. I figured I could hold-off Artur, so I was taking it easy. Car was rotating to the right a bit more than usual. I got a one of those on the exit of the hairpin and over corrected slammed the pit lane wall, very hard…. That finished the car off.
"I did everything I could to keep it in a straight line at that point with nine laps to go. I just let Artur and Bastien pass as I didn't want to spin out in front of them. Car wanted to spin out on every right hander after that, and wouldn't turn left at all. (I) was five seconds off the pace so the last thing I wanted was to wreck one of them. I had good pace, I tried to go for it, and it ended in tears (hehe).  Rich had some pretty impressive pace too.  Nice job."
Just one lap earlier (Lap Thirty-four), Crozier had a lapse in concentration and his day was done, promoting Sirois to fifth position and Tim Holgate, who'd been running very solid in the top nine all day, to sixth place.
I'm in shock," Crozier said.   "Guaranteed fourth place (once I got past damaged Shawn), Matteo DNF, absolute godsend for the championship. Then, in a moment of utter brain fade, it all changed. STUPIDEST mistake I've made all season. Think I just kept the throttle trailed in too much and didn't turn in enough or something. All I know is, beached it up on the banking beyond the barrier and died."
But the day belonged to Towler who went on to win comfortably.
"The first race of the week went well, apart from the points!" Towler said.  "It wasn't enough, but overall I'm happy with the race. I have to thank Bastien for not mounting me in Turn One; I thought it was Redline attack. Shawn pushed pretty hard the first few laps compared to me, so I was hoping the car would come to me later on and that's pretty much what happened. Just after half way I think Shawn went off so I could just bring it home from there."
Final Standings:
1.    Towler (40 Laps) 267 points
2.    Turcu (-31.508s)
3.    Bartsch (-36.832s)
4.    Purdy (-51.213s) 224 points
5.    Sirois (-1:15.268s)
6.    Holgate (-1:18.685)
Fast lap: Purdy (1:25.895)
Sunday Race
Come Sunday's race and the most notable thing is that Purdy did not return for a second bite of the cherry after an ordinary result the previous day.  As for those in attendance, Towler would start from pole with main title rival McLean to his outside. Derek Wood and the returning Bisceglie were on the second row with Daniel Almeida (also doubling up) and Florian Godard back on the third row.
McLean had the better start and beat Towler to the first corner, critical moment at a track as difficult to pass on as Infineon Raceway and thus setting the scene for another classic between these series-long rivals. The rest of the top six was unchanged even after a few early moments amongst them, with Godard at one stage thinking about splitting Almeida and Bisceglie, and Wood giving Towler plenty to think about through the first few corners.
Lap Nine and Godard got a run on Almeida who had run wide through Turn Ten resulting in the former out-braking him into the Turn Eleven hairpin for fifth position. The hairpin was no favourite place for Almeida, with Davies cheekily getting his nose up the inside of him on Lap Seventeen resulting in contact at mid-corner. Almeida's car was momentarily unsettled and, as he backed of to recover, Davies drove past and into sixth place. Davies' fortunes took a nose dive on Lap Twenty when he lost it through Turn Eight and scraped the tire barrier, dropping him two spots as James Andrew and Almeida sped past as he rejoined the circuit.
The duel for the third step of the rostrum between Wood and Bisceglie was a good one but on Lap Twenty-four Wood momentarily lost the back end coming off the Turn Six downhill carousel and Bisceglie slotted-in to third place. A similarly good duel for fifth had developed between Godard and James Andrew and, starting Lap Twenty-eight Godard appeared to give way as they crossed the start/finish line, ceding the place to  Andrew.
Coming off Turn Ten a lap later, McLean ran a little wide and threw up some dirt in the face of Towler, who was right behind and also wide, as the battle for the lead in this race and this championship raged-on. Towler must have been encouraged by this, possibly thinking he had a run on McLean (which he didn't), as they approached the braking point for Turn Eleven. This led Towler, a good three car lengths back, to brake late and run straight into the side of McLean as the latter had begun to turn in. It looked as though Towler may have even hit the wall if not for hitting McLean first, so late was he on the brakes. McLean half spun and Towler drove off to take the lead. If that wasn't bad enough for McLean, he was also damaged after the contact and well-off the pace now, with Towler being unaffected, relatively at least.
"I felt I was better under brakes there all race so even though I was three car length's back I felt I could make a move and make it stick without hitting Luke," Towler said. "The first time I tried to make a move there Luke gave over a car width's more room, but this time he didn't; which further put me in a lane that was getting more and more narrow as we turned-in, which exaggerated the incident somewhat."
"I have had some epic close battles following Richard but not ONCE dived him or even touched him," McLean said.  " Twice Richard has collected me, once at Homestead and now here. So comparing my so called 'wrecker' season, I really have only made a couple big screw ups. Either way the result cannot be changed. It's a big pity as if the race finished properly and I got my win it would have been a completely open battle going into the last race. Now I have to win and something has to happen to Rich, so I will have to get lucky!"
The hairpin was still to play a role in this race right to the very end.  Davies fought back to catch Godard on the last lap, out braked him to the outside and made him lose traction "pinching" the exit as Davies drove around the outside to steal sixth place on the run to the finish line.  It was a sensational finish to a sensational race. Needless to say, a few angry words were exchanged post-race between Towler and McLean, with a lot of other series' drivers voicing opinions on their incident which has such a huge impact on the title.
Final Standings:
1.    Towler (40 Laps) 277 points
2.    McLean (-21.527s) 265 points
3.    Bisceglie (-31.113s)
4.    Wood (-33.794s)
5.    Andrew (-34.231s)
6.    Davies (-46.914s)
Fast lap:  McLean (1:25.981)
Weekly Wrap Up
Fast lap of the week (qualifying):  Towler (1:24.494)
Fast lap of the week (race):  Purdy (1:25.895)
Towler now increases his controversial lead in the series to 14 points on paper with battered and bruised McLean still in second, but now the previously lurking Canadian Shawn Purdy is a distant 43 points back from there. McLean does get a 5 point advantage due to the relative races to be dropped between himself and Towler so the real margin is just 9 points meaning, if recent trends continue, that the very last Sunday race, which is the last race of the entire season, may well decide this title. Slovakia's Tomas Kopnicky is now just inside the top 50 bubble and Italy's Aurelio Leonetti is a spot outside by just 5 points. So the intrigue is now joined by some controversy as the title fight heads to the awesome Road America at Elkhart Lake for its grand finale. Will it be Towler or McLean being crowned this time next week. See you then!
*                                                           *                                                        *
About the iPSRR
The iRacing Pro Series for Road Racing (iPSRR) is, in this inaugural year, a 25 week series with six drop races (i.e. a driver's best 19 results will count toward his season tally). In addition to crowning a seasonal champion, the iPSRR qualifies its top competitors for the 2010 iRacing Drivers World Championship for Road Racing which will be worth $10,000 in money and prizes for the champion. There is a parallel series for oval racing (the iRacing Pro Series Oval – iPSO). The top 50 drivers in each Pro series will compete in the iRacing Drivers World Championship Road Racing and iRacing Drivers World Championship Oval set to start in February of 2010.
iDWC (Road and Oval) winners: Trophy, Jacket, $100 iRacing credit and additional cash and/or prizes valued at $10,000 U.S. dollars.
iDWC (Road and Oval) second place: Trophy, Jacket, $75 iRacing credit and additional cash and/or prizes valued at $3,000 U.S. dollars
iDWC (Road and Oval) third place: Trophy, Jacket, $50 iRacing credit and additional cash and/or prizes valued at $1,000 U.S. dollars
iPS (Road and Oval) winners: Trophy, Jacket, $100 iRacing credit
iPS (Road and Oval) second place: Trophy, Jacket, $75 iRacing credit
iPS (Road and Oval) third Place: Trophy, Jacket, $50 iRacing credit
iDWC (Road and Oval) rookie of the year: Trophy, Jacket, $50 iRacing credit
iPS (Road and Oval) rookie of the year: Trophy, Jacket, $50 iRacing credit
---
You may also like...
---