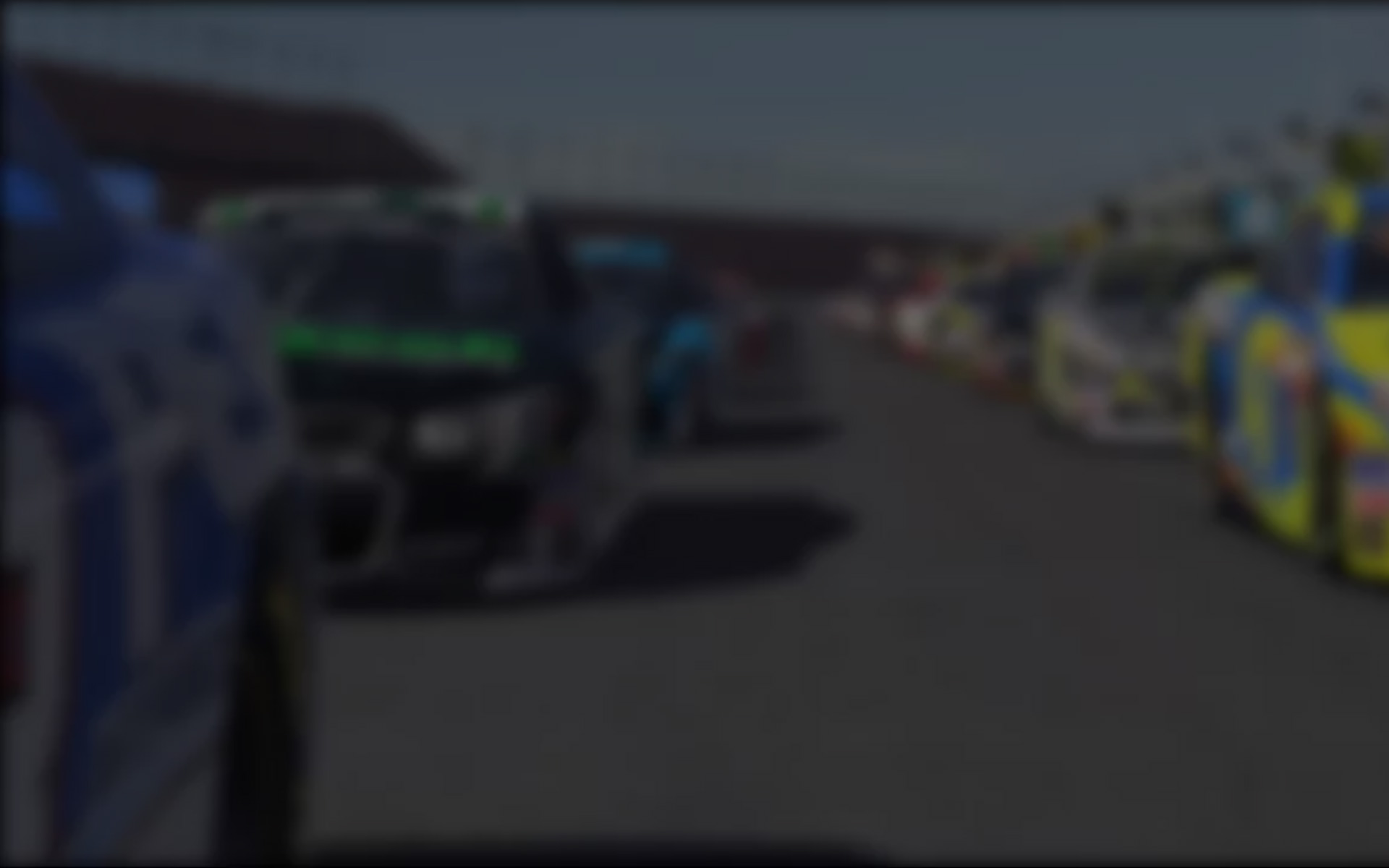 Battered and bruised egos, every driver in the Pro Series must have felt a sigh of relief to get back to a track shorter than 2.5 miles long and banking less than 33°. Surely, after what many would consider Talladega at its best, New Hampshire would prove to be a driver's track with its 2°/7° of variable banking and 1 mile length, right? You be the judge. Please remember, incidents are accrued without assigning blame.
Friday – Round 2
The Friday running of the iRacing Pro Series Oval saw a short field of only 21 cars and finished with 117 total incidents between them (5.57 inc. / car). Amazingly, only three cars in the field finished without incident; Kirk Hapke (third, lead lap), James Allard (ninth, lead lap) and Timothy George (18th, disconnected). Another interesting fact is that five of the 21 drivers in Friday morning's race had 10 incidents or more (more on this regarding Sunday's race). Surprisingly, only seven cautions actually flew.
Richard Towler followed up a stellar Talladega performance with another strong finish starting from the 19th position and clinching the win after a spin and some light car contact while racing hard with Martin Thiemt during the race. As a road course guy, Towler's pre-race strategy was to "Learn the track," and it paid dividends. "Fun track," said Towler, "challenging at all times."
Justin Garrett took home second place and continued his consistency over the last few races. Garrett's strategy of running two Pro Series races has continued to be successful for him by giving him room to have one bad race and not washing out good finishes by letting them be averaged with poor ones. Currently, Garrett is in a solid 16th position overall, well within qualifying for the iRacing Drivers World Championship (iDWC).
Kirk Hapke clawed his way back into the top 50 with his clean third place finish. He was unavailable for comment in driver interviews.
As they crossed the line, the top 10 were Towler (287 points) with Justin (272) just behind in second. Hapke collected 258 points for third place,  followed by Martin Thiemt (243) in fourth and Richard Crozier (229) in fifth, rounding out the top five. Alexander Horn (215) came home sixth, John Prather (200) seventh, and PJ Stergios (186) eighth. Rounding out the top 10, James Allard (172) crossed the line in ninth with Ben Sexton (157) just behind in tenth.
Notable stats:
Strength of Field:        4586
Total Incidents:         117
Avg. Incidents / Entry:     5.57
Avg. Lap Time:        38.252
Cautions:            7
Caution Laps:            30
Lead Changes:            3
Cars on lead Lap:        10/21
Sunday – Round 4
The Sunday running of the iRacing Pro Series went off with 25 entries and finished with 235 total incidents between them (9.4 inc. / car). As with Friday's running, there was plenty of damage to go around. Not a single car finished the race without incident while eight entries had 10 or more incidents and 15 entries had 8 or more incidents. Another point of interest is that all of the top 7 cars had eight or more incidents. The race was more like a demolition derby than a race. Despite all of the mayhem, only 5 cautions actually flew for a total of 21 laps under yellow.
Greger Huttu came away with his third win of the season helping him grab 20th overall in his quest to make the DWC in both road and oval disciplines alongside his English counterpart, and fellow road racer, Richard Towler. Huttu's accolades speak for themselves, but to make the iDWC in both disciplines would further strengthen his legacy as one of the best sim-racers of all-time, regardless of machine.
Coming in second, Nicholas Morse put an exclamation point on his week at New Hampshire. When asked if he was happy with his finish Morse responded, "Not really. I wish I coulda got back to Greger. Taking two tires didn't help me. I am glad because I needed the points, though. I had a bad week at Talladega."
The final laps of this race were a point of contention for Morse. "The last few laps were quite frustrating," he said. "To get dive bombed and rooted out of the way twice was pretty frustrating. I am glad I got second but didn't need the 16x (incidents) that came in the last 20 laps."
Huttu was unavailable during driver interviews.
Brandan Gray, coming home third, said "Me and Nic Morse settled in and rode behind Greger for most the first half of the race. I was content to run in third behind him so we didn't have to race each other and risk making any contact on a track that is already tough to pass on."
Indeed, New Hampshire proved to be a beast for drivers attempting to pass, as the number of incidents readily shows.
As they crossed the line, the top 10 were led by Huttu (263 points) with Morse (252) just behind in second. Gray (241) had a strong third place finish followed by Nolan Scott (230) in fourth and Blake Brown (219)rounding out the top five. Justin Lowry (208) came home sixth ahead of Jayson Anderson (197) and Jim Christopherson (186). Rounding out the top 10, Dana Wymer (175) crossed the line in ninth with Jani Penttinen (164) just behind in tenth.
Notable stats:
Strength of Field:        4212
Total Incidents:         235
Avg. Incidents / Entry:     9.4
Avg. Lap Time:        36.235
Cautions:            5
Caution Laps:            21
Lead Changes:            2
Cars on lead Lap:        11/25
---
You may also like...
---