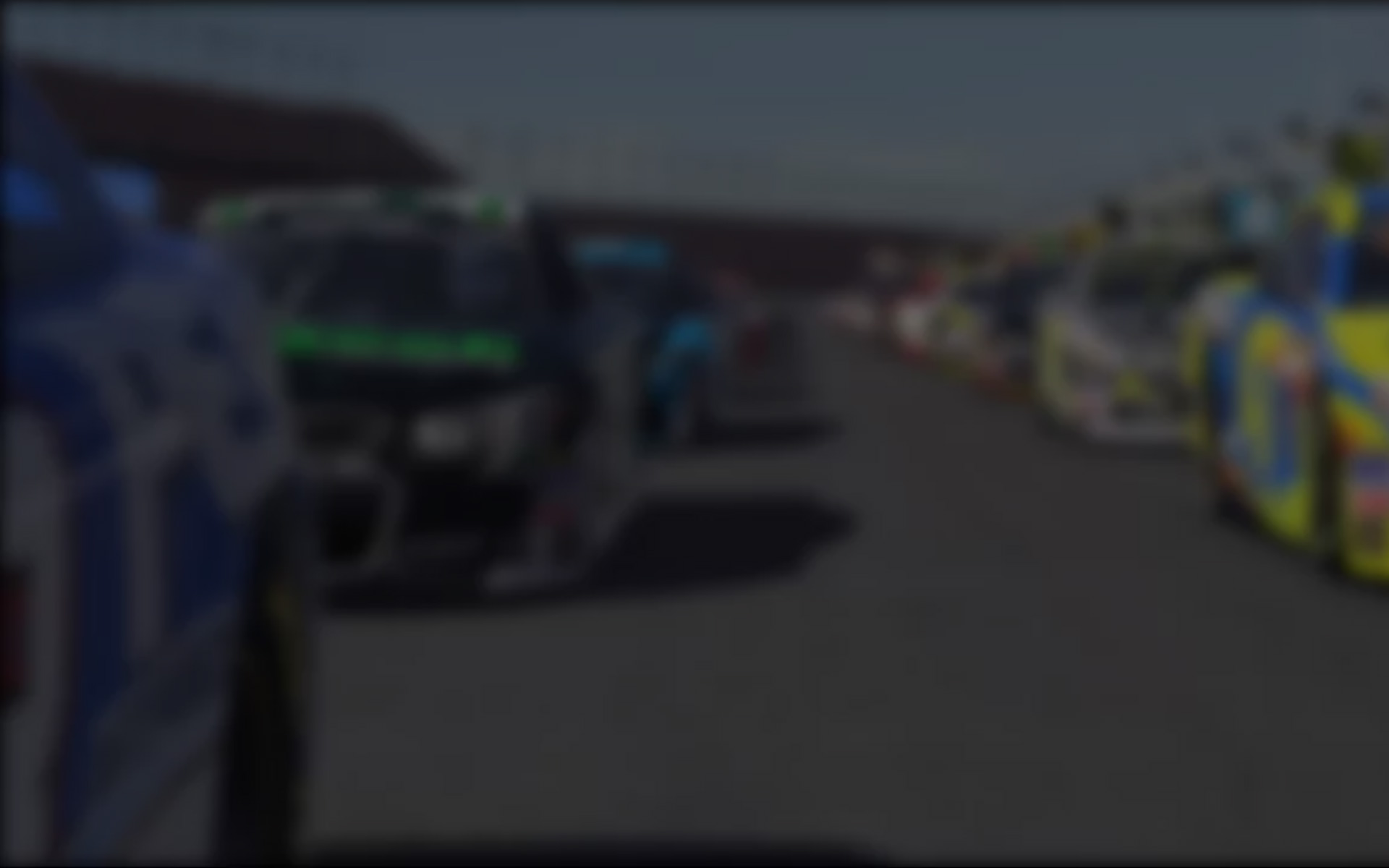 The treacherous Lime Rock Park circuit seems to have kept away some of the iRacing Pro Series Road Racing's (iPSRR) big names this week. It would seem Shawn Purdy, Luke McLean, Peter Read, Greger Huttu and Bastien Bartsch decided to sit this one out and take it as a drop week. It's understandable.  Not only are Turns Four and Six very nasty, as this is only a six turn layout, you see them all too often over the course of a 60 lap event. Many other drivers might have wished they'd sat out this round as well.
Thursday's race got off to a good start, particularly for Luca Ceretti, who charged from sixth to fourth going into Big Bend (Turn One) behind Florian Goddard, Darren Marsh and Marc Payne. Lap Four saw Payne overtake Darren Marsh for second place on the front straight after Marsh caught the inside curbing coming off the last corner. Further back, John Prather was having an up and down day, being overtaken into Big Bend on Lap 14 by Vail Riches and then again on Lap 16 in the same place by Jan Zilliacus. Lap 16 also saw the "very disappointed" leader Godard make the mistake of changing down from third gear into first at the Left Hander (Turn Two) – that Ford did not like being revved to 8700rpm. It was not the night for Marsh either, who had his computer overheat and shut down on Lap 36 whilst in second position, leaving Payne to enjoy his maiden win of the campaign. Winner – Marc Payne (U.S.), second – Luca Ceretti (Italy), third – Vail Riches (Australia), fourth – Jan Zilliacus (FIN) and fiftth – John Prather (U.S.). Fast lap – Marc Payne – 47.030.
Saturday's first race was basically a pretty straight forward affair. The first five cars on the grid all came off the first corner in the same position and the top three would finish the race that way. Brian McDaniel (U.S.) won his third race from pole with Richard Towler (UK) and George Sandman (U.S.) in second and third positions. These three kept things close for the first 30 laps but never really threatened each other all day. A great battle was taking place for fourth position all the way to lap 37 when Kimmo Suominen went under Matt Sentell into Big Bend. Sentell was a little over cautious and nearly ran off the track in the process but managed to stay on the pavement and lost no more positions. Unfortunately for Suominen, he ran into a spinning Aurelio Leonetti (five laps down) on Lap 55 of 60 going through the Left Hander which effectively ended his day. This sparked some post race debate about damaged cars continuing to circulate and Leonetti was accused of not hitting the brakes immediately which made it impossible for Suominen to avoid him. Sentell (U.S.) held on for fourth and Daniel Almeida (Switzerland) finished fifth. Fast lap – Brian McDaniel – 46.604.
In the second race of Saturday, Matteo Calestani got the jump on Frosty StClair at the start, improving to second position behind leader and eventual second maiden winner for the week, Mauro Bisceglie. Further back things did not go so smoothly for Markku Korhonen. He turned left on approach to Big Bend to avoid rear ending Ryan Kowalewski, only to run into James Andrew who must have thought he had a dream run into the corner until the resulting incident which, ultimately, ruined both their chances of a good result. The front three were running close when on Lap Ten Calestani lost it over the rise of the Uphill (Turn Four), resulting in no damage but lots of places lost. Lap 36 saw Kowalewski get his inside wheels on the grass in the same treacherous Uphill and spin, luckily hitting nothing but losing his fourth position to a hard charging Dion Vergers. Mark Drennan did enough over the closing stages to hold off Vergers. Final order – Mauro Bisceglie (Italy) first, Frosty StClair (U.S.), second, Mark Drennan (U.S.) third, Dion Vergers (NL) fourth and Ryan Kowalewski (U.S.) fifth. Fast lap – Matteo Calestani (Italy) – 46.932.
The Sunday race produced the week's third maiden winner, Ben Cornett.  Cornett jumped Ilkka Haapala on the opening lap ahead of George Sandman and the front three held station after that. Fourth and fifth on the grid, Dom Duhan and Kimmo Suominen (not his week) had Lap One incidents.  Duhan recovered to salvage an eighth place finish, but Suominen's race was over. Their loss was the gain of Richard Crozier and Leandro Schmidt and on Lap 48 Schmidt found a way past Crozier for fourth. Final standings – Ben Cornett (Australia) first, Ilkka Haapala (FIN) second, George Sandman (U.S.) third, Leandro Schmidt (BR) fourth and Richard Crozier (Celtic) in fifth position.
Due to Purdy's absence, Towler now has a commanding 242 point lead over teh Canadian.  Payne, McDaniel and Bisceglie also improved due to both excellent results and the previously mentioned absences. Aurelio Leonetti (from fifty-first last week) and Dave Hoffman are the bubble drivers in positions fifty and fifty-first presently. Though there are eight drop weeks for this series, this week's results are still money in the bank for those who did well as the series heads to Infineon Raceway for Week Ten.
---
You may also like...
---