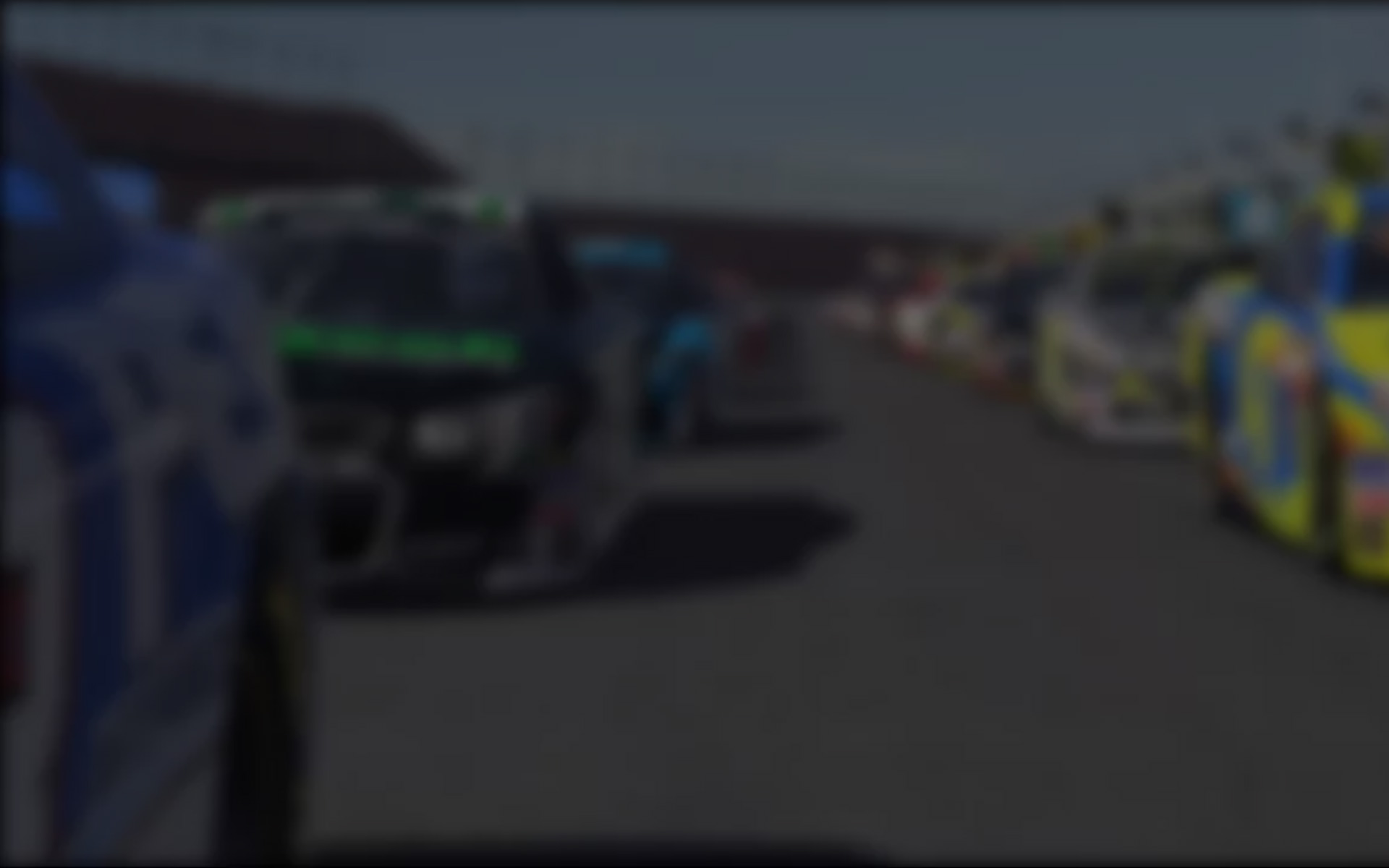 September 30th, 2009 by DavidP
"The usual suspects" is the phrase that came to mind when running down the finishing order for Round 3 of week 8 at Talladega Superspeedway. The first split found Jesse Atchison notching his second win of the iRacing Pro Series – Oval (iPSO) season in what the understatement of the century would call a nail-biter, while John Gorlinsky added his fourth trophy of the season to his case in split 2. Split 2 apparently had some controversy based on post-race discussion from the drivers.
Split 1
In the first of two races, Atchison successfully fended- off the competition and led 49 of the 80 laps on his way to victory. This was no easy task considering the laundry list of "aliens" he was up against included names such as Brad Davies, Josh Parker, Theo Olson, and Thomas Lewandowski.
"I wanted the dubya. [My Pit Crew] won the prize for getting me the lead off of pit road," said Atchison.
Atchison secured 281 points for his efforts, and he continues his run for the championship in fourth position overall with 2080 points, just 10 points ahead of Josh Berry in fifth. Davies led the first 31 laps of the race in dominant fashion until Atchison made the pass for the only lead change of the race.  He would ultimately finish 24th after a mid-race accident on lap 55 removed him from contention forcing him to limp around until calling it quits on lap 62.
Josh Parker brought it home with a solid second place showing, but not without controversy. On lap 72, Parker appeared to get into Sandeep Banerjee forcing him into a hard-charging Joel Putty and others. Putty and a contingent of drivers following him were coming on strong in the outside lane and were headed to the front when the accident occurred.
"I'm very disappointed," said Putty.  "We were running hard in the outside lane and next thing I knew, I was in the fence and my race was ruined. The team put a lot of hard work in that setup and I had brought it all the way from the back to the front. Everyone is doing what they can out there, but there is no excuse for what happened."
Parker took blame for the incident saying, "I take 100% responsibility for causing the wreck late in the race. I hate it for Sandeep since he has always been a good friend of mine and I know he's in a tough battle for the top 50. I made a simple mistake of thinking I was clear but just wasn't."
In the end, the top ten were Atchison (281 points) taking the win with Parker (270) just behind in second. Theo Olson (260) had a strong third place finish followed by Abe Gossman (249) in fourth and Joshua Christman (239) in fifth, rounding out the top 5. Chris Smalley (228) came home sixth, Justin Lowery (218) seventh, and Jim Christopherson (208) eighth. Completing the top ten, Andrew Fayash III (197) crossed the line in ninth with Mike Izzo (187) was just behind in tenth.
Split 2
If there was a "big one" in one of these splits, the one that occurred in Split Two in a short span of 36 seconds must have taken the cake. If interested, please feel free to take a look here, but beware: it is not for the faint-of-heart . . .
Despite all the mayhem, John Gorlinsky survived and pulled-out the win with Richard Towler coming in a close second. AMAZING. When asked how he prepared for Saturday's race Gorlinsky gave a wry, "Chicken nuggets and waffle fries," apparently referencing an affinity for Chic-fil-a. When asked how he would rate the driving in his split Gorlinsky responded, "I've seen better."
Farther back in the field, Brett Nesbitt pulled home tenth. Happy with his top 10, Nesbit left us with this, "The last few laps of any plate race are indescribable. You basically push the pedal all the way to the floor and never let up.  (Most of the race you are 3/4 throttle)… but for the last few laps you just have got to suck it up and not let off for anyone. Switch lanes left, switch lanes right, bump draft here, pull out there… There is too much happening and you just have to take it all in and be completely comfortable with your surroundings."
Some other notables in this race were Ray Alfalla finishing last in twenty eighth as a result of what appeared to be connection issues. Derek Wood came home twenty fourth, while Connor Mackenzie finished twenty first.
In the end, the top 10 for Split Two were Gorlinsky (281 points) taking the win with Towler (270) just behind in second. Bryan Blackford (260) had a strong third place finish followed by Nicholas Morse (249) in fourth and Chris Main (239) in fifth, rounding out the top 5. David Cater (228) came home sixth, Jordan Hightower (218) seventh, and John Powell (208) eighth. Rounding out the top 10, Jay Osborne (197) crossed the line in ninth with Brett Nesbitt (187) was just behind in tenth.
---
You may also like...
---