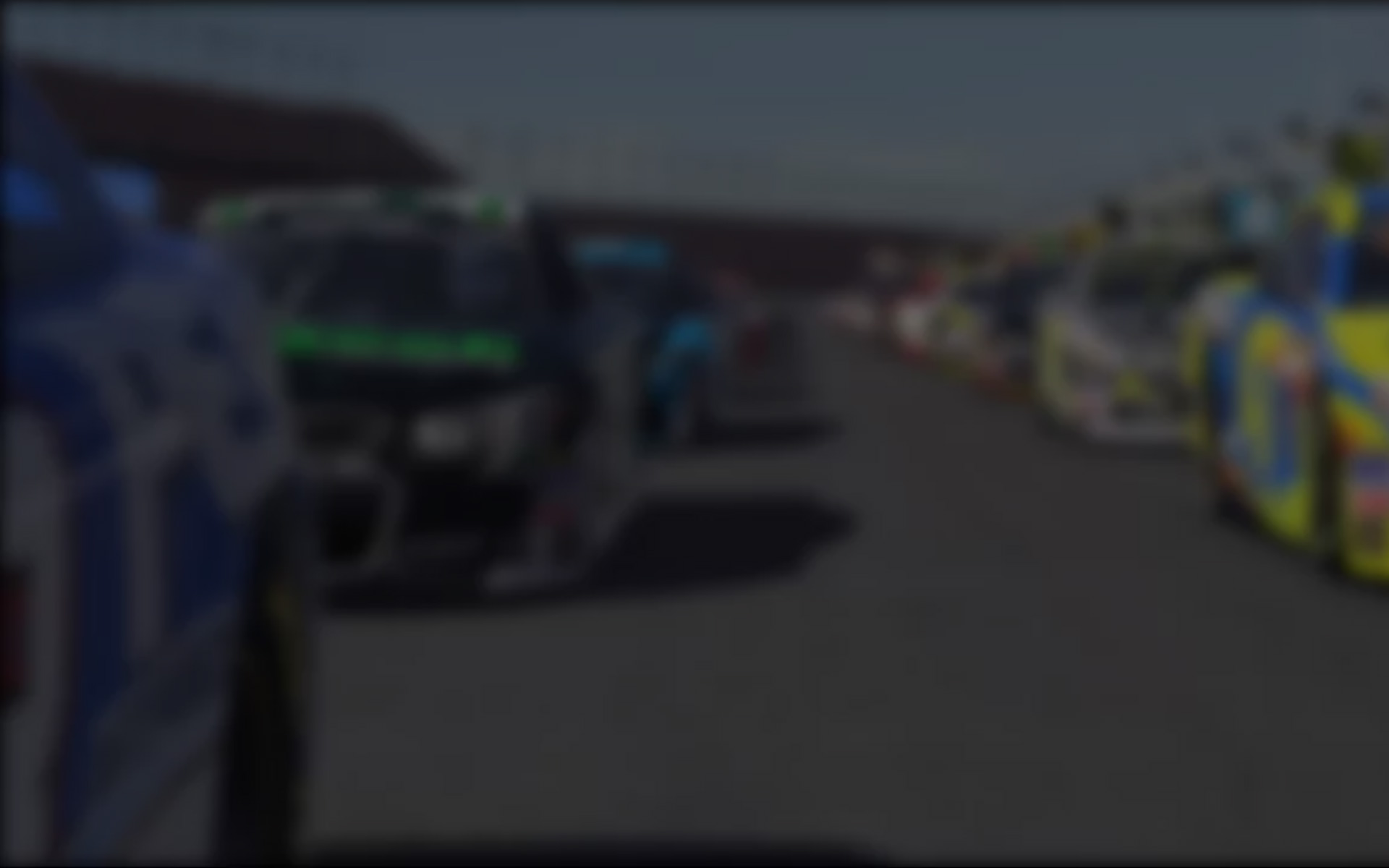 Week four of the 2011 Season Two schedule saw seventeen drivers of the Red Sox Racing League traveling to England for the "Hawthorne Hill 33" at Brands Hatch Grand Prix Circuit.  The season has been an exciting battle as each week has seen a new driver atop the championship point standings.  Illustrating the depth of field (or perhaps, the cruelty of the racing gods), seven top-five qualifiers had failed to finish in the top-five of the first three events.  Four time defending league champ Les Turner is amongst those drivers who have looked sharp in practice and qualifying, only to find themselves out of contention in many of the races. 
Brian Irby apparently doesn't believe in trends or the racing gods.  Pushing aside superstition, Irby won at Brands Hatch after earning second place on the starting grid.  His win made Irby the first repeat winner of the season, but it did not end the string of bad luck for top-5 qualifiers.  Irby was the only driver in that group to finish on the lead lap at Brands Hatch!
As usual, Les Turner looked strong in the pre-race and qualifying sessions.  He was the only driver to post lap times below the 1:06 mark, and his qualifying lap of 1:05.243 was almost .800 faster than the 2nd place qualifier, Brian Irby.  Irby just missed getting under 1:06 when he posted a qualifying lap of 1:06.009.  Justin Lukes (1:06.605), Terry McCuin (1:06.788), and Justin Kirby (1:06.921) rounded out the unlucky top-5 starting positions.
Starting in much safer positions were; Andrew Feldman (6th), Jeff Sharp (7th), Greg Harris (8th), Jeff Thomas (9th), Ed Sutcliff (10th), John Koscielniak (11th), Divina Galica (12th), Terry Daul (13th), Kevin Kyle (14th), Bill Pawluckie (15th), Mark Plank (16th), and William Kabela (17th). 
Brands Hatch is a very taxing course, with nine harrowing corners along a fast 2.301 mile layout.  Many elevation changes, sharp corners with off-camber banking, and the scariest Turn One on the schedule make the track a favorite for fans.  Drivers on the other hand, have mixed emotions about the brutal way the track punishes their mistakes.          
Lukes was the first driver to fall victim to the track's dangers when he went off-track in Turn Seven on Lap One.  The mistake dropped him three spots as he fell to sixth place while getting back up to speed.  Lukes would work his way back into third place several laps later before once again finding himself in danger.  His night got worse after a spin that collected Kirby on Lap Eight. 
Kirby had been having a good night until the contact.  Working his way up from fifth place on the grid, the young driver was in third for several laps before dropping back to fourth prior to the incident with Lukes all but ended his chances of a top-10 finish.
While the field wondered who would be the next victim to succumb to the track's dangers, Divina Galica slid off track in Turn Two of Lap Eight.  The mistake was not fatal, but did cost her track position as Pawluckie was able to pass her during the incident.
Shivers must have been running down the necks of the rest of the field as their spotters reported the fact that a seasoned veteran like Galica had already been bitten by the track, and that two of the top-five starting drivers had been knocked out of contention in the first eight laps.
Turner is usually immune from that kind of pressure, but even a defending champion could have been forgiven for paying attention to it at Brands Hatch.  His concentration was impacted just enough on Lap Nine to end his race.  Leading a hard-charging Irby, Turner lost focus and wrecked on the backstretch.  The resulting damage was too much to repair, meaning three of the top-5 starters were out of the race before the halfway point.
Lap Nine was also rough for Pawluckie.  He spun coming out of Turn Two and damaged his car when it slammed into the wall going backwards.  Pawluckie had moved into ninth place moments before the accident.  The mistake would end up costing him a top-10 finish as he was only able to climb back into eleventh place by races' end. 
Things settled down a bit after word of the early carnage reached the drivers who had managed to avoid the incidents.  Laps Ten through Thirteen were uneventful as the entire field seemed content to negotiate the track without trying to make a pass.  
Things turned ugly again on Lap Fourteen however, when Kirby's damaged and lapped car spun exiting Turn One in front of the leader.  Irby was nearly collected in the incident, but somehow managed to cheat fate as he missed the entry of Turn Two but was able to continue racing without damage.  Irby's dance with danger wasn't over however, as he narrowly avoided another race-ending incident one lap later.
The track's rough treatment was not restricted to the fastest drivers.  Kirby's valiant effort to remain on the track ended when his car hit the wall in Turn Seven of Lap Sixteen.  Koscielniak was the next driver to suffer damage after a spin and contact with the wall and another car at the exit of Turn Six on Lap Twenty.  Lukes made it to Lap Twenty-Six before his night ended with wall contact at the exit of Turn Four.
After inheriting the lead from Turner, Irby went on to lead the remaining twenty-five laps on his way to a twelve second margin of victory over Greg Harris.  His second win in four races with the RSR league vaulted Irby back into contention in the championship point race. 
After four events, Irby is in second place in the championship battle, and only eleven points behind Jeff Thomas.  Irby was pleased with his early season success.  "What an exciting night of racing this turned out to be! Les Turner was the car to beat posting an amazing lap for qualifying that turned everyone's head. I thought from this point forward that I wouldn't stand a chance to catch him. When the race started Les and I took off and ran nose to tail with a mere .6 separating us at the most. I knew at that point that I either had a legitimate shot at this one or that Turner was taking me for a ride. We were side by side a few times but I had to back out and give way for those pesky corners that were just big enough for one car." 
"I finally got around Les when he got off the road for just a split second and the car got away from him. This moment gave me the opportunity to hit my marks, run smooth and consistently for the rest of the night. This was easier said than done as I found myself off-roading three times before the night was over and blowing Turn Two almost ending my night early. I would like to say thanks to all the racers for showing courtesy and especially for giving me the chance to race at such a fine organization. You gentlemen are a class act and I am grateful to be able to say that I finished the race at the top of the chart."  
Harris had a fifteen second advantage over the third place finisher Sharp.  Jeff congratulated his teammate Feldman after the race.  Real happy to bring the BPS Motorsports F1 car home in third place.  Very proud of my teammate Andy Feldman with a great 5th place effort.  A very tough track this week and all the drivers showed a lot of patience."
Jeff Thomas (4th) and Andrew Feldman (5th), battled hard for the final two spots in the top-5, but Thomas was able to hold onto his position and finish four seconds ahead of Feldman.  Thomas was excited about his finish.  "We rolled into this event with the same thoughts as last week, just settled in and did what we needed to until the pit stop for fuel. Then we hammered on it till the end working our way to 4th place. All I could think of the last 3 laps was I think I'm taking over the lead in the overall standings, lost my concentration, drove off track… no damage right back on and finished up the deal.  I am looking forward to next week."
According to Feldman, his night was scary.  "We had a hard time staying on the track in the early half of the race.  I want to thank the other drivers for giving me room as I tried to find my rhythm."
Sutcliff (6th place) was the final driver to cross the line on the lead lap.  He was seven seconds behind Feldman.  "We had a great car tonight", said a dejected Sutcliff after the race.  "Unfortunately, we never got a chance to show it because of electrical problems which forced us to change our goal from winning to simply finishing.  Congratulations to Brian on a great race."
Koscielniak (7th) and Daul (8th) were both scored one lap down as they battled hard for the last four laps.  The drivers swapped positions three times in the last three laps before Koscielniak finally edged out Daul at the finish line.  "Whew, those last few laps were a blast", said Koscielniak afterwards. 
Galica (9th) and Kabela (10th) were also scored one lap down when they crossed the finish line.  Pawluckie (11th), and Plank (12th), were scored three laps down.  Lukes' rough night meant a 13th place finish nine laps down to the leaders.  Kirby finished in 14th place.  Turner finished in 15th place.  Kyle (16th) and McCuin (17th) rounded out the field. 
Documentation of the track's toughness was noted in the post race statistics which showed that only Kabela and Daul managed to complete the race without collecting an incident. 
The 2011 RSR Season Two point battle saw a lot more movement after the Brands Hatch race.  Jeff Thomas inherited the lead and has an eleven point edge on Brian Irby.  Ed Sutcliff held onto the third spot while Les Turner and Jeff Sharp round out the top-five positions.
The RSR F1 Series drivers head back across the pond next week to Homestead Miami Road Course B for the "Gator-Baiter 36" event.
TNT Rags to Riches Series News
June 7th, 2011 – Story by Mark Plank
This week the oval drivers show cased their talents at the treacherous Thompson International Speedway in the "New England 40" event sponsored by Al Glover Excavating.  This track has been known to break a few hearts as well as shake up the standings.  With this being the end of the 4 week mini-series in the Street Stock's, Les "tickle the peddle" Turner, could secure the Segment 1 championship with a clean top-5 finish.  Nerves started to settle in when he finished practice with only the 5th fastest lap speed at 23.373 compared to Brian Irby's blazing 23.123.
Brian Irby and Terry "Tank" McCuin set the front row after qualifying was complete.  Les Turner and Wilbur Gildersleeve Jr. were lined up in the 2nd row.  As engines roared and tires were warming up those pace laps seemed to go on for an eternity.  As the pace car peeled off and the green flag flew, Brian and Terry led the pack down into Turn One.  Exiting Turn Two, Brian misjudged the position of Terry's car on the high line and came across the bow of his car.  Unfortunately this was only the first in a chain of incidents and damage for Brian and Terry.  Les Turner was able to barely escape this incident and inherited the lead. 
Wilbur Gildersleeve Jr. hounded Turner for the lead for several laps while McCuin and Irby attempted to regain their lost momentum however Brian and Terry were not done yet!  On Lap 3 they tangled again when Irby got in the corner too hot and pushed up into McCuin.  Mark "Sheepherder" Plank and Kevin Kyle barely missed this Donny Brook and moved up into the 3rd and 4th positions.  After Terry McCuin gathered up his car and called upon "Mr. Childress" to take care of Mr. Irby after the race for him, he set out to chase down the leaders.
McCuin was able to move back into 3rd place by Lap Nine by making a great move on the Sheepherder and by Lap Nineteen McCuin and Kirby had caught Turner.  Justin took advantage of Les negotiating a lap car and made his move to the high side vaulting him into the lead.  Terry followed him through moving back into the 2nd spot.  Kirby went on to win the event followed closely by Terry "Tank" McCuin.  Les Turner, Kevin Kyle and Wilbur Gildersleeve Jr. rounded out the top-5.
This week's event was sponsored by Al Glover Excavating.  Details of the sponsorship award were not announced until after the event.  Mark "Sheepherder" Plank was awarded the prize for the 2nd time this season for finishing in the 7th position.  In an ironic twist of fate, Chad Tracy had occupied the 7th spot until a late race pass on his nemesis Plank.
"Thanks to Al Glover for everything he has done for the sport of Sim Racing.  You give a lot of people, young and old alike, something to look up to. Thanks again for your support of RSR." said the Sheepherder after receiving his prize money.  Following the ceremony, Mark wandered down pit lane in search of Chad.  "He has finished right behind me in the first 3 races of the season starting from the back of the pack, and in this race he fought hard and made a great pass on me and finished ahead of me.  Both times he just missed the sponsor award.  He deserves the sponsor prize more than I do this week, and I hope we get more folks like him here at RSR."
Les Turner wins the 4 week Rags to Riches Quest for Fame Street Stock mini-series.  The TNT Oval Series now moves on to 4 weeks of Late Model racing in the Rags to Riches Quest for a Nationwide Ride mini-series.  The first event will be the "Wil-trans.com" race held at USA International.  See you all there!
---
You may also like...
---