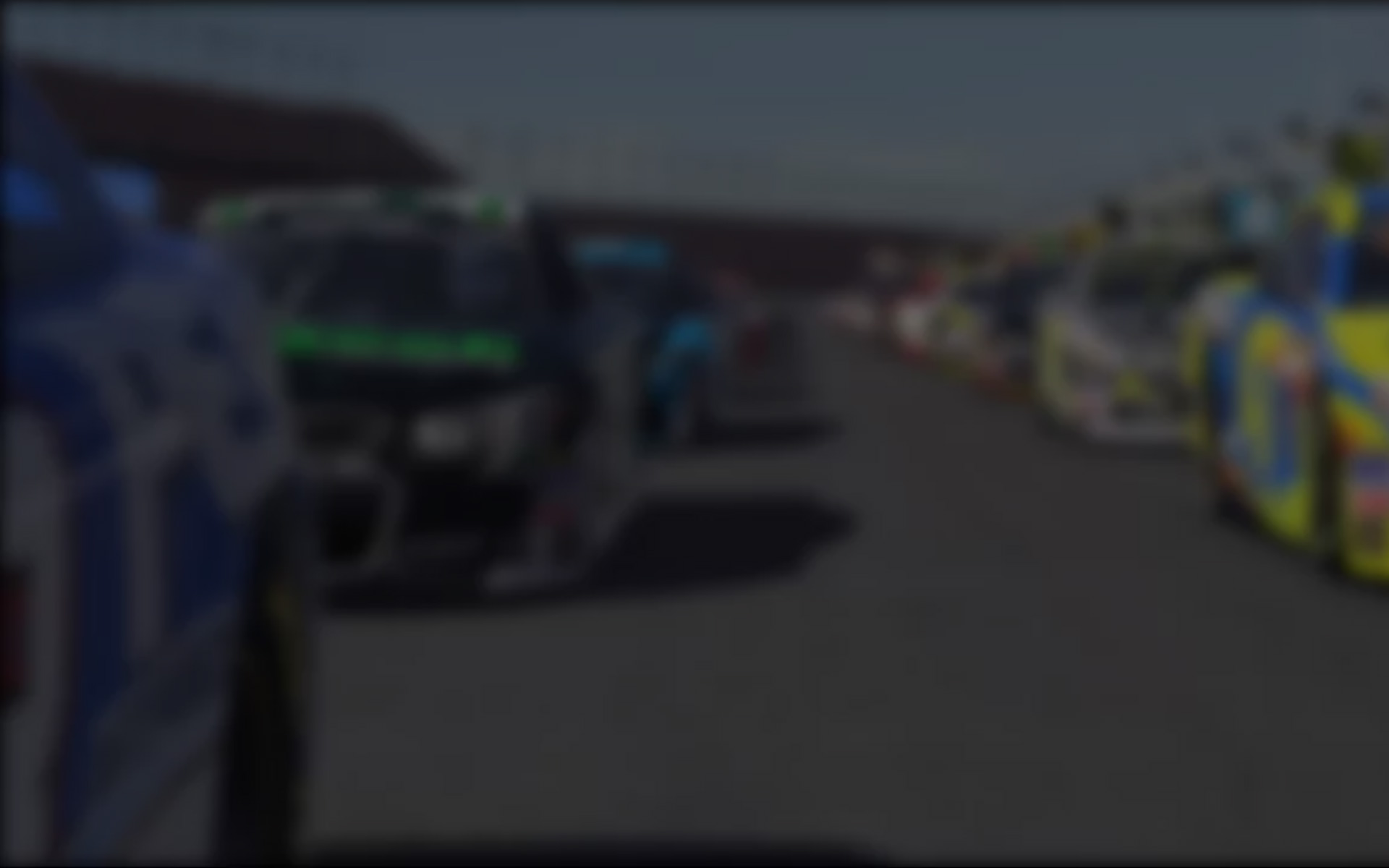 Week 8 took the NASCAR iRacing.com Late Model Tour north to Connectitut's Stafford Motor Speedway.   Most notably known for its SK modified races, this track still puts on great shows with the Late Model Series.  At a half mile in length, Stafford features a mere 1050 ft of straight away and long stretching corners.  This week's 1447 Strength of Field race had the true makings of Saturday night fever, as many sim-racers saw themselves getting involved in on track incidents which led to more incidents as the tempers flared.
Pole-sitter Gary Dangelo with Shawn Neidert on the outside and, when the green flag dropped, Dangelo cleared Neidert who dropped in line right behind in second.  The rest of the field who was racing like it was lap 50 with a few competitors using their bumpers to make passes and a few more more then willing to test the apron to pass.
Kevin J Myers had to check-up to avoid Albert Berry who slowed suddenly to avoid contact with Cleber Camilo Gomes and Derek Edwards, which backed-up the field.  Christopher Clanton took advantage of the cars checking-up to make it three wide, putting Jennifer Kosten2 in the middle between Clanton and Clifford Sherman.  Kosten2 quickly rolled-out of the throttle to avoid incident.
Before the end of the second lap, Anthony Stevens was spun by Sherman going into Turn Three.  Next time 'round, Neidert got loose, over corrected, slammed into the backstretch wall and bounced off, collecting Myers who — once again — found himself in the wrong place at the wrong time.  Although Neidert wound-up into the middle of the track, luckily no other drivers were involved.  However, he did have to take a tow while Myers pulled into pit lane but — surprisingly – managed to stay on the lead lap.
The next several laps would see Clanton and Kosten2 start making their ways through the field in tandem, with Kosten2 finding an opening to get under Clanton in Turn Three for P5.   But before she could complete the pass Clanton, came down and clipped her right rear quarter panel.  Kosten2 climbed-up the track to gather it back up but, unwilling to lose the spot, tried an ill- timed cross over and barely nicked Clanton, sending him into the outside wall.
And at the other end of the track, Myers found himself in an all-too familiar situation . . . this time Sherman spun and collected him, whereupon Myers decided to cut his losses and parked his ride to avoid any more incidents even as Sherman drove away from the ordeal.
In the midst of all this action, Dangelo crafted a five second lead over Albert Berry who was followed by Elliot Davis and Gomes another two seconds behind.  Lap 17 saw Kosten2 wrest P4 from Gomes and start running down Davis even as he closed rapidly on Berry for second place.
As the front runners reached the half way juncture in the race, Davis passed Berry with Kosten2 following in his wake, relegating Berry to fourth.  Five laps later, Kosten2 got around Davis and started cutting into Dangelo's lead, a margin that had shrunk by a couple seconds as the leader dealt with the lapped Clanton.  Undaunted, Clanton dogged Dangelo until the leader had little choice but to let him back around as he was pre-occupied with his mirrors, given that Kosten2 was lapping .2s faster and rapidly cutting into his lead.
With the lapped cars of Neidert and Clanton holding-up the leader, Kosten2 continued to close the gap.  By lap 39 she was afixed to Dangelo's bumper and, a lap later, she took over the lead . . . and was immediately confronted by the same challenge of dealing with Neidert and Clanton.  With nowhere to go Kosten2 was unable to put any distance between herself and Dangelo, until Neidert slid high in Turns One and Two.   Needing no second invitation, Kosten2 quickly jumped under Neidert to make what would be a crucial pass as Neidert slammed the door on Dangelo before he could follow Kosten2's lead.
Dangelo  finally get under Neidert on the following lap but – predictably — Neidert slammed the backstretch wall, rebounded and collected Dangelo.  Having closed the gap on the leaders while they dealt with the lapped traffic, Davis was able to avoid both Dangelo and the wayward Neidert.  Not so Berry, who smote Dangelo in the rear.  While Berry and Dangelo were able to drive off in third and fourth, respectively, Neidert opted to bring his eventful race to a conclusion and parked it.
Nor did Neidert's retirement spell an end to the drama of lapped traffic.  The final five laps saw Clanton block Kosten2 whenever and wherever she looked inside or outside and, for good measure, throw-in a brake check or two at the apex of the corners.  As a patient Davis waited to see what developed between Clanton and Kosten2, Dangelo's race take a final turn for the worse as he was spun by Gomes going into Turn Three on Lap 49.
The final lap saw the patience of the leaders evaporate as Kosten2 applied the chrome horn to move Clanton up the track so she and Davis could race it out.  Looking for retaliation for the earlier incident, Clanton was unwilling to move and — in the final corner — once again applied the brakes at the apex.  Kosten2 took to the apron to hold-off Davis, bumping Clanton half a lane higher in the bargain.  Clanton would have none of it and pushed Kosten2 into the grass, spinning her out and precipitating a wild finish that saw Kosten2 cross the line sideways ahead of Davis by 0.178 of a second for her first victory. Berry collected third, some six seconds behind the winner, with Gomes fourth ahead of Stevens and Coleman while Robin J Boomsma – the only driver to go incident-free in the race — finished seventh.
Jennifer Kosten2                                             8.  Derek Edwards –14.070
Elliot Davis –0.178                                          9. Gary Dangelo –21.461
Albert Berry –6.967                                       10. Christopher Clanton –3L
Cleber Camilo Gomes –8.711                         11. Clifford Sherman –6L
Anthony Stevens –9.941                                12.  Shawn Neidert –7L
Jason Coleman –10.563                                 13.  Kevin J Myers –38L
Robin J Boomsma –12.283                             14. Joe Mooney –44L
Week 9 the NASCAR iRacing.com Late Model Series, heads to Hampton, Virginia to race at Langley Speedway.  At .395 miles with just six degrees of banking, this relatively flat track will challenge cars and competitors alike as the online racing will be bumper-to-bumper and one mistake can take out a goodly portion of field.
---
You may also like...
---