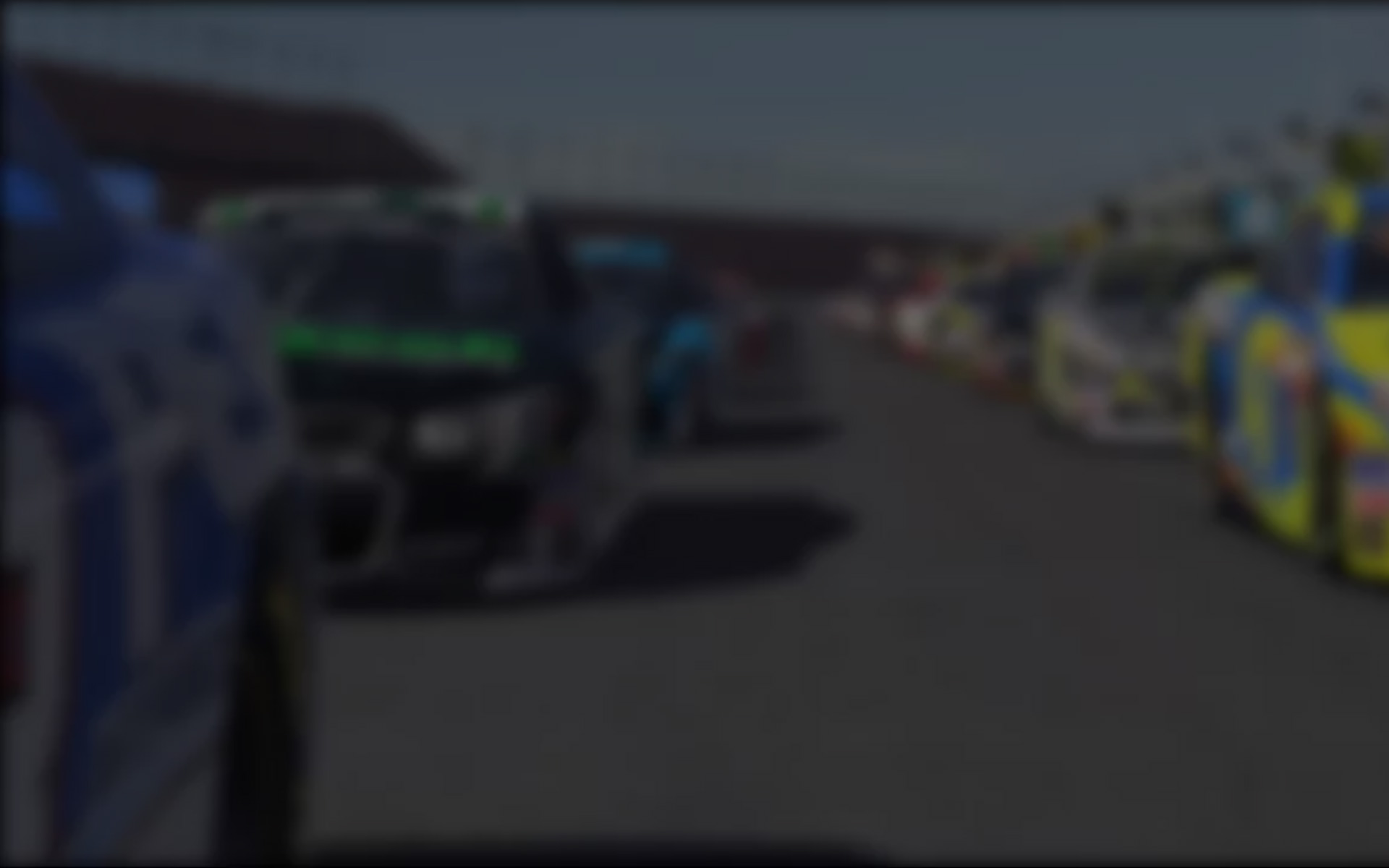 July 15th, 2016 by Corey Davis
Whoever said that the best car doesn't always win the race must have underestimated Tim Johnston. Although the four-time ITSR Power Series champion leads the series in all-time victories with 37 and in wins this season with two in a row, Johnston faced one of his toughest ever fights for a win in last Sunday night's race at the Kentucky Speedway.
Johnston showed his speed in qualifying, winning the pole with a lap of 30.152 seconds. Scott Simley, Chad Dalton, Corey Davis, and Marcus Napier rounded out the top five qualifiers in the starting field of 18 drivers that lined up for 200 miles of online racing.
When the green flag waved, Johnston seized control, leading the first six laps before the caution came out for Kevin Stone's spin down the backstretch. In the pits, Johnston faced his first minor setback of the evening, slipping from first to third thanks to a slow pit stop.
Simley led the field to the restart, but just six laps later, Johnston made his way back to the front as his show of strength continued on the mile-and-a-half oval. Johnston remained out front as the field began to hit pit road around Lap 40, but what began as a routine round of green-flag stops soon turned truly bizarre.
On Lap 48, all of the leaders except for Simley had made their pit stops. Johnston was set to re-take the race lead once the cycle of stops was complete, but while passing David Correia exiting Turn 2, Johnston hit a bump and spun sideways, colliding with Correia's car and bringing-out the caution.
That left Johnston, who had been the class of the field to that point, with left-front damage to his #54 Camry, and just one driver, Simley, on the lead lap. While Davis received the Lucky Dog to get his lap back, his stay on the lead lap was short-lived: Exiting the pits, Davis's brakes locked-up and his car veered into the inside wall, taking him out of the race.
The lineup for the ensuing restart was about as unusual as they come: Simley started on the front row alongside the lap-down car of Terry Crouch. Behind them, the field lined up single-file beginning with Johnston, who was also one lap down, and followed by a line of cars that took the wave around to get a lap back.
With fresher tires than most of those cars, Simley set sail out front, opening up as much of a seven-second lead in the run that followed. He was challenged only by Johnston, who passed to get back on the lead lap but was stuck nearly 30 seconds behind.
Johnston needed a caution to get back in contention, and as the race stayed green for the next 60 laps, it seemed unlikely that he would get his wish. Meanwhile, pit strategy played out among the leaders and a new challenger emerged to Simley.
Season ten Power Series champion Chad Dalton made an early pit stop as part of a two-stop schedule to make it to the finish while Simley stretched his fuel in hopes of making just one more stop. After Simley made that stop, he was three seconds behind Dalton but he slowly closed the gap and re-took the lead on Lap 110.
Just five laps later, those strategies went out the window as James Coulibaly spun to bring out the race's third caution. Suddenly, Simley's lead and advantage of fresher tires evaporated, and improbably, Johnston was back in contention.
All those factors made the Lap-119 restart a wild one. Napier started from the lead after staying out under caution with Simley in second, Matt Murphy in third, and Johnston on the outside of the second row in fourth place. He didn't stay there long, though, making a three-wide move when the green flag waved and passing Napier entering Turn 1 to re-assume the top spot.
Even after recovering from a crash and losing a lap, Johnston couldn't breathe easy as another caution with 15 laps to go slowed the field again. That brought Simley back alongside for one more restart; however, Johnston got the holeshot and secured the race lead.
With five laps to go, the race's fifth and final yellow flag flew, and Johnston just needed to cruise to the checkered flag behind the pace car and avoid crashing under caution à la Davis to earn the race win.
Although it was a bumpy road to victory lane, both literally at the rough Kentucky track and figuratively after his mid-race incident, it made Johnston's 38th career win a memorable one. Just five other sim racers finished on the lead lap: Simley in second followed by Napier, Terry McCuin, and Jeff Gilmore.
While Johnston has won three of the four races so far this season, it's Simley that leads the standings thanks to his consistency – four top-fives and three second-place finishes – and a crash for Johnston in the season-opener at Michigan.
The main obstacle in the way of Johnston's hopes for four wins in a row could be right-hand turns. The Power Series next heads to Watkins Glen, where Johnston is winless and two drivers – Davis and Mike Kelley – have combined to win the past six races. With those stats working against him, Johnston may have to find some more magic if he plans to win at The Glen.
---
You may also like...
---