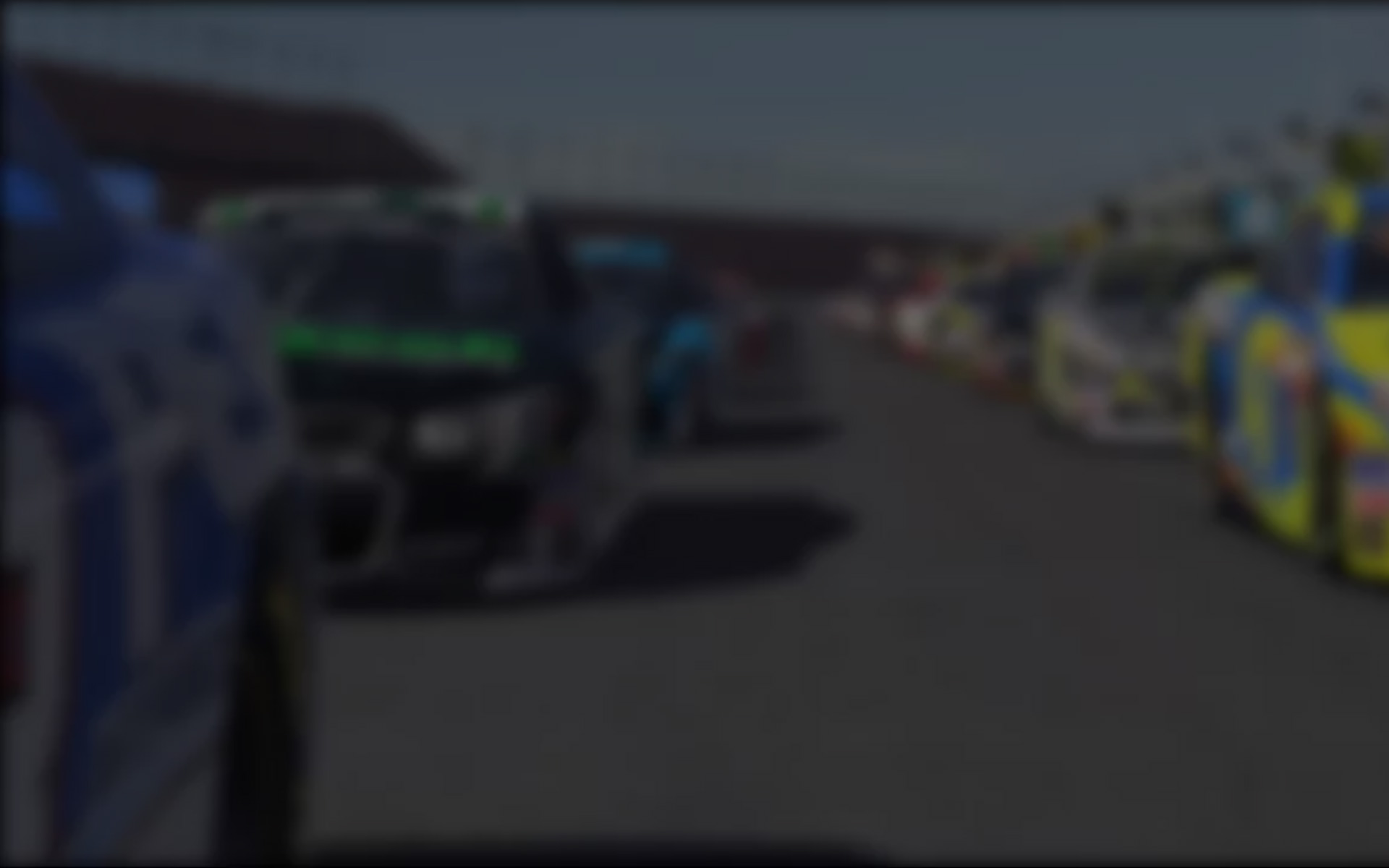 Week Five of the Grand Prix Legends Lotus 49 series headed to bumpy Road Atlanta.  On Saturday, 15 sim-racers lined up for a 2462 SOF race of 18 laps with Mike Dam leading the way after qualifying with a 1:20.485, almost .3s faster than Gary Teall in second.  Row Two was occupied by Jason Shadd and Bill Fraser, while Peter LeBlanc and James Bunnell filled the third row of the two-by-two grid.  The start was uneventful for most on the grid, but LeBlanc bogged down and immediately lost position to Bunnell, while Shadd was a bit overzealous into Turn One.  The resulting light contact with Dam hindered Shadd's braking and sent him off the track in tandem with Duncan Coppedge.
After just a couple of laps of sim racing the field had already begun to spread apart.  The altitude changes and bumpy nature of the circuit make it a challenge just to stay on the black stuff.  The first victim of the circuit was Michael Morrison who had started in seventh and was up to sixth after Shadd's first lap excursion.  At the end of Lap Three Morrison got a bit heavy onto the inside curb of the final corner, pitching is car into a violent spin which sent him into the barrier at nearly 100mph.  Morrison dropped to P10 with damage to the front of his car, although without major mechanical damage.
Karl Modig had started the race from P11 and after only four laps found himself up six positions, defending fifth place from Shadd who was trying to get back to his third place starting position (or higher).  Modig overcooked it into Turn One and dipped his left side in the dirt, and Shadd jumped at the opportunity to take the spot.
Modig recovered and started applied pressure to Shadd.  But it would be Modig rather than Shadd who "cracked" just a few corners later.  After getting a touch of oversteer at Turn Seven (which is quite common in the Lotus 49), he spun a full 360 and lost positions to LeBlanc and Berke Yalci who had started just behind him on the grid.
Modig wasted no time getting back on the offensive and passed Yalci before the lap was over.  A few laps later and a bit further back, Coppedge was just behind a battle between Morrison and John Neely for ninth spot when his wheel dipped in the grass under braking for Turn Ten and he spun into the barrier (and eventually into the pits where he retired).
Turn Ten seemed to be one of the more challenging braking zones, as proven by Neely who practically duplicated Coppedge's spin only a couple of laps earlier (only without the contact with the barrier).  Meanwhile, Shadd's race went from bad to worse when on Lap 14 some technical difficulties took him out of the race entirely while in fourth position just behind Bill Fraser.
In the end Dam stayed within a second of Teall for just about every corner of every lap of the race, but never could find a way around.  Passing locations are few and far between and the risk of spinning at a moment's notice seemed to muzzle the sim-racers at the front.  As Teall and Dam crossed the line at the end of Lap 18 less than two tenths of a second separated them (which was about the closest Dam ever got).
Teall earned a solid 153 points towards his championship while Dam got 142 for his performance.  Fraser came away with 131 championship points and amazingly only two incidents all race (matched only by Yalci who managed a zero-incident sim race at one of the most difficult car and track combinations possible).  Bunnell came home in fourth but didn't need the points from this race as he'd scored 146 points from a third place in a 2926 SOF race the day before in which Victor Perelman won (earning 179 points, the most for Week Five) and LeBlanc came second (earning 162 points).  Interestingly enough the only people who scored points for their club were all from different clubs (Michigan, Canada, UK&I, Northwest, Texas, Scandinavia, and Benelux).
---
You may also like...
---