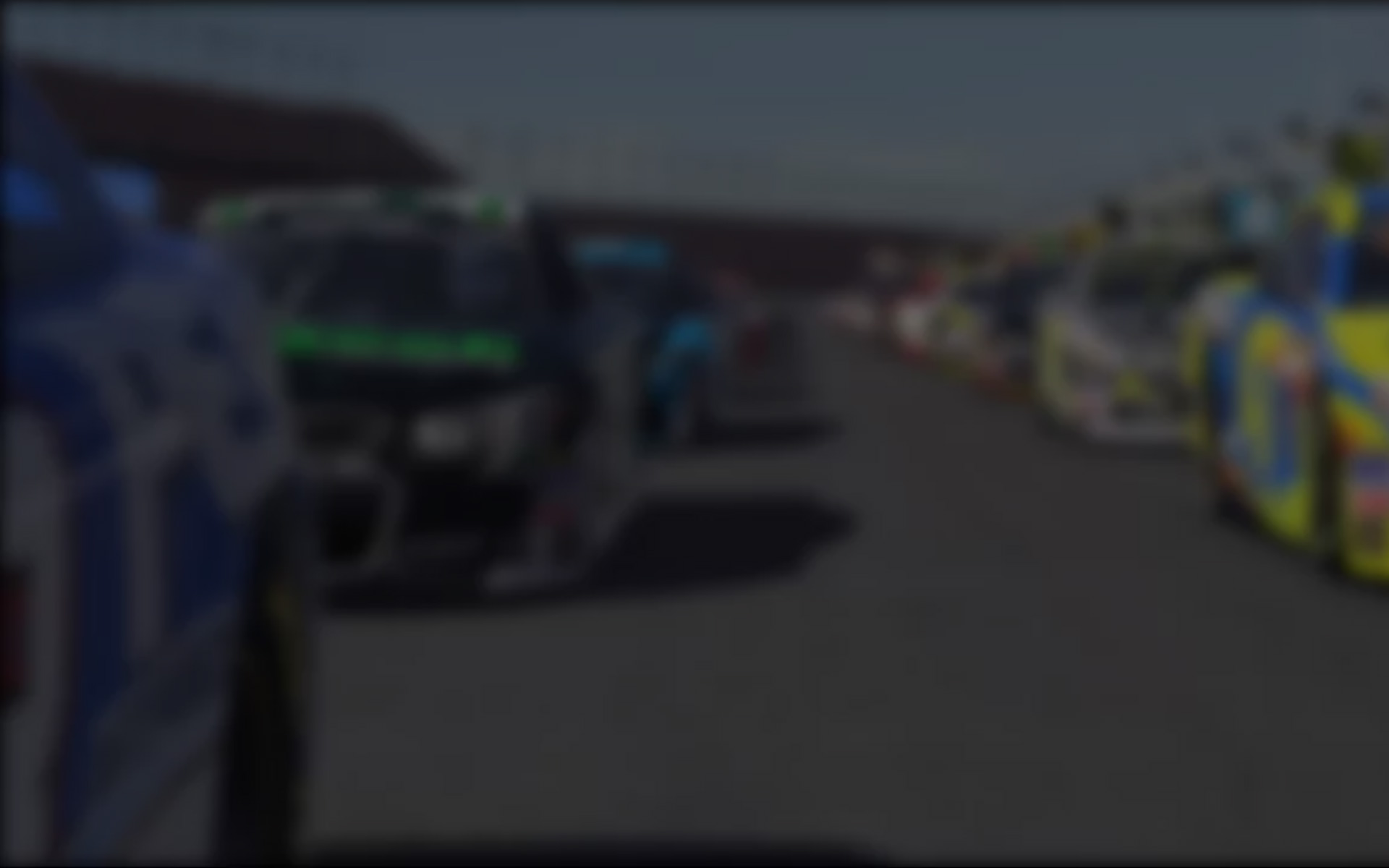 Circuit Park Zandvoort is another one of those bittersweet venues for the iRacing V8 Supercar series' sim racers- it's slow-medium curves and elevation changes plays havoc with tyre consumption. Depending on your setup, the rears can be preserved for maybe five laps, maybe ten. Then things start to get interesting.
Week Seven of the iRacing V8 Supercar series' Season Two was looking like another Madison Down benefit. The young sim racer poled in the low 1 min 40's from the Netherlands' Rens Broekman, shadowing him on the front row. Real-world V8 Supercar up-and-comer Scott McLaughlin was third from Vail Riches, himself being quite the cat-amongst the pigeons this season.
Defending champ Mitch McLeod was fifth, from Finland's Petteri Kotovaara, taking time out from some impressive qualifying performances in the iRacing Grand Prix series against the likes of PJ Stergios and Aleksi Alomaa.
Troy Cox qualified seventh from another Fin, Mikko Esko, mixing it up with the regulars. The Fins were possibly trying out the closest thing they had to a home ground advantage. Then came Simon Black, Simone Gelli, Dylan Gulson, Darrin Vouch, Guy Leach, Wayne Harris, George Fullerton and Bigpond's Vern Norrgard. Running without qualifying were Ricardo Morgado, Cal Whatmore and Craig Woodhouse.
One wonders what the series ladder would look like if Madison Down was able to compete in all rounds, notwithstanding the occasional error such as last-corner enthusiasm at Watkins Glen, or connection issues. He bolted to a 2 second lead by the end of Lap One from Broekman and McLaughlin. Riches and McLeod were arguing loudly over fourth place. Only a breath behind was Kotovaara from Cox, Esko, and Black who duly looped it at the Turn Three hairpin trying to pass the Fin.
McLeod nailed Riches into Turn Nine and set about filling McLaughlin's mirrors. With Down now six seconds up the road, and Broekman three, third place was the most realistic option for the rest of the field.
On Lap Four Riches, Kotovaara and Cox all managed to rear end each other under brakes into Turn One. They continued none the worse for wear, position wise, but it meant that Riches-Kotovaara-Cox-Esko-Gulson-Vouch were now a snarling six car snake fighting for fifth place. Vouch settled in for a tough one…."a titanic battle with Dylan and Mikko for the whole race. White knuckle stuff. I didn't close my mouth for 8 laps…"
Only a little further back it was the same for Gelli-Leach-Fullerton-Harris in 11th-12th-13th-14th. Norrgard was back in fifteenth, "happy to just keep it on the track in the end".
Up front, the battle for third was going nuclear. McLeod looked as though he had more speed on board than McLaughlin, but McLaughlin's racecraft was shrewd as he positioned the car to keep the Nfinity Falcon at bay. While McLeod was dialing out morsecode on McLaughlin's rear bumper, the battle for fifth had pulled up to McLeod's.
"I didn't close my mouth for eight laps!" – Darrin Vouch
On Lap Seven McLeod stuffed it up the inside into the seemingly never-ending Turn Eight, but McLaughlin did the over-and-under on the way out. This made him vulnerable into the next hairpin where McLeod gave him another serve, but backed out enough to keep McLaughin from turning around. They ran side by side into the Turn Ten esses where McLeod again forced the issue on the exit, taking the position briefly but squirming furiously under power on the way out, which allowed McLaughlin back up the inside into Turn 12.
Sadly, there it ended for both of them. McLeod tried to criss-cross behind McLaughlin into 12 but misjudged, clipping the left rear of McLaughlin's Falcon, sending him spearing into the sandtrap. McLaughlin rejoined in last but soon disconnected.
As McLeod pulled off with suspension damage, he must have wondered where last season went, and how much the world has moved since then. He has thrown everything at his title defence and nothing has gone right, culminating in uncharacteristic frustration."Well, I've had better seasons. I apologize (to) Scotty. I …lost my cool for the first time ever in 7 or 8 years of racing. I'm not going to let it happen again."
Down's lead from Broekman was, well, astronomical. And now Riches was elevated to third, from Kotovaara, Cox, Gulson, Vouch, Esko, Gelli and, surprise surprise, George Fullerton into the top ten. This is how they finished.
"Not a race I was expecting to win, considering I'm not the biggest fan of the place…" said the race winner with trademark humility. How well will he go on a track he actually likes…?
---
You may also like...
---