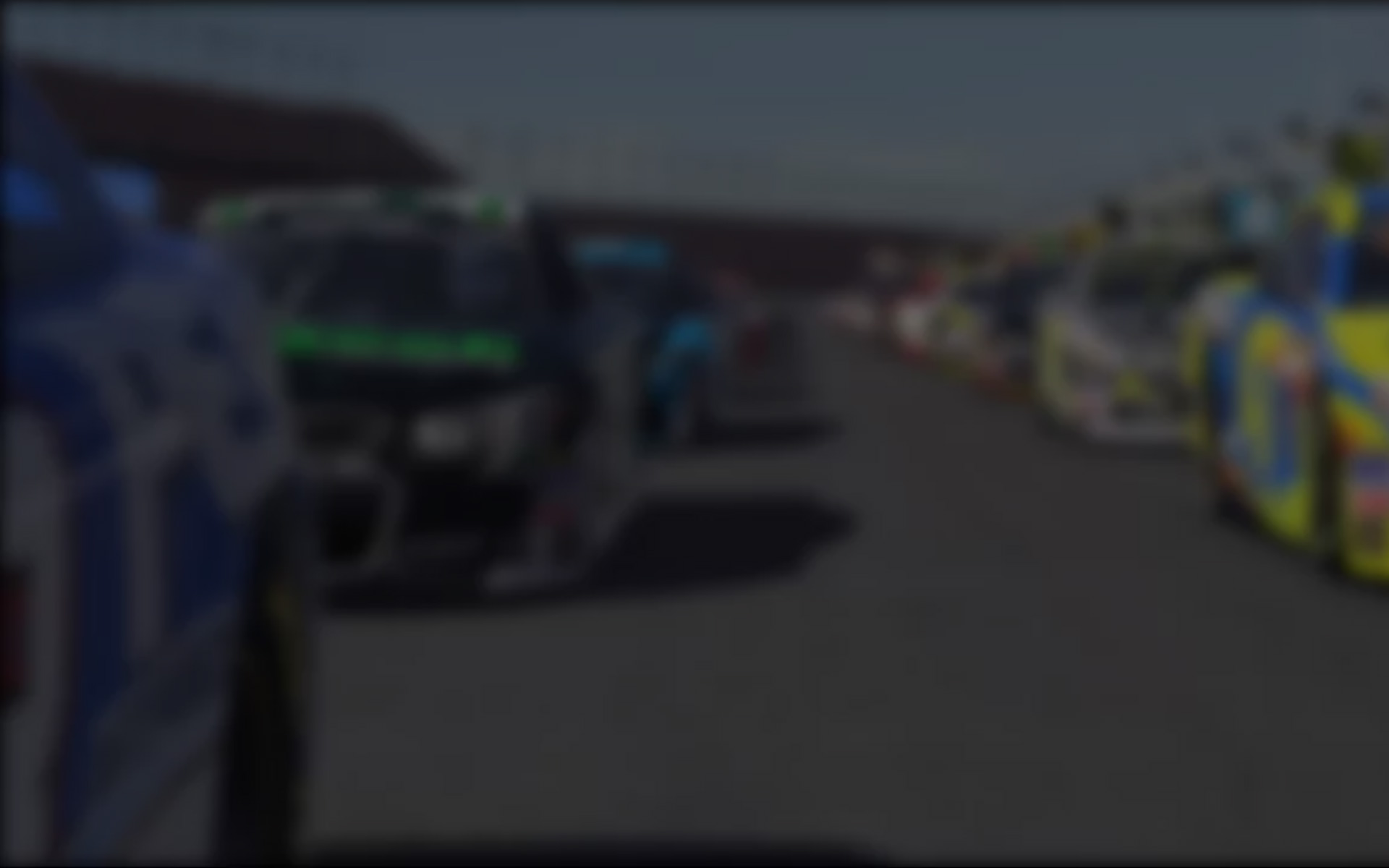 Week 2 of the 2015 V8 Supercars Americas series started off with a bang…and a screech.
Throughout its history, Donington Park Racing Circuit has become well known for the memorable and historic battles which have taken place there. From the 1993 European Grand Prix which saw Ayrton Senna win a dominating race by over a minute to the first two World Touring Car Championship events hosted there in 2011 which were both won by four-time WTCC champion, Yvan Muller, Donington has become synonymous with great racing.
It should come as no surprise then that the iRacing.com V8 Supercars Americas series picked-up where those legends left off for their main event on Friday at 9:15pm CST. Broadcast and commented by JD Smith, Kane Kraft and Jim Davey of V8s Online, Week 2 of the series had a lot to live up to following an amazing race last week at the Canadian Tire Motorsport Park.
Qualifying
Being a notoriously slippery track, getting all 635hp of a V8 Supercar in a low-fuel qualifying trim around the circuit as quickly as possible was no easy feat. Still, the defending champion, Marlon McMullen, showed everyone how to get the job done as he posted a 1:29.958 which put him on pole position. McMullen (the only driver to get into the 29s) was followed by Corey Preston who took P2 as Shaun Kelly of Trans-Tasman Racing (TTR) and SDC Motorsports' Chad Chastain completed the second row of the starting grid with Chastain's teammate, Martin Carroll, rounding out the top-five.
Call of Duty: Donington Warfare

Although the race attracted a smallish field of only 17-cars, the roaring echo of 11,000hp filled the grandstands as the rev-limited engines screamed just before the lights went green.
The field got off to an amazing start but it was Carroll who pounced off the line in excellent form. Smoking both his teammate, Chastain, and Kelly within seconds, Carroll initially saw some daylight ahead of him between McMullen and Preston as he began to take it three-wide down the middle just before Redgate but thought better of it.
Carroll may have given McMullen and Preston too much room, however, as he braked early going into Redgate. This allowed Kelly to slip past him on the inside of the first corner. Now off the racing line, Chastain bought into the action and made up his lost position, as well. Shortly after heading into the Craner Curves, Synergy Sim-Racing driver, Beau Cattell, was able to make the pass on Carroll as well.
About the same time as Cattell was overtaking Carroll, catastrophe struck for McMullen who was leading the race.
Racing incident
Heading into the Old Hairpin, McMullen and Preston came together but it was the former who paid the heavy price. As Preston's front-right wheel made contact with McMullen's back-left, the Grip-TV Holden of McMullen screeched its way across the racing surface and into the kitty litter. Although the defending champion didn't take any damage from the incident, McMullen found himself in the back of the field once he re-entered the racing surface. The incident itself, however, left many scratching their heads as fans were left wondering who was at fault.
Trouble for Cattell
Although he had started in a respectable sixth position, Cattell wasn't having the race he was wanting. Citing the inability to get a clean qualifying lap before the race, Cattell's troubles began on Lap One about the same time McMullen found himself driving backwards.
"Got to Turn three or four and was too busy watching Marlon going backwards at 200 kph and got a cut track (which) took half a lap to clear!" said Cattell.
This dropped the SSR driver back to last place. Although he was determined to fight back, he soon took damage from Kevin Bouhalassa at Goddards and retired from the online event shortly thereafter.
Kelly takes control
As the laps ticked away, Kelly began closing the gap on Preston who had initially spurted to a strong lead after the incident with McMullen. Whether from damage sustained from the incident or pressure from Kelly, Preston began losing ground to his adversary.
Finally on Lap 11, Kelly managed to get alongside of Preston at Coppice and completed the pass for the lead. From that point forward, the race belonged to Kelly. Opening up a gap of over six-seconds, the TTR driver crossed the line to win Week 2 of the V8 Supercars Americas series. Additionally, the win also elevates Kelly to the lead of the Season 2 championship battle.
Enter Lowndes
As many fans of the official V8 Supercars series know, Red Bull Racing Australia driver, Craig Lowndes, is known for his uncanny ability to rip through the field in the event that he is relegated to the back of the field. A perfect example of this happened recently during Race 6 at Symmons Plains where Lowndes, who started on pole, was given a pit-lane drive thru penalty and found himself in the back end of one of the most competitive categories of motorsports in the world. Despite these odds, Lowndes would claw his way back to finish in sixth.
With McMullen now in a very similar position, we also saw a very similar thing happen with the three-time V8 Supercars Americas champion.
By the end of Lap 5, McMullen was back up to eighth. Ten laps later, he was in third. With about two laps to go, he was on the back bumper of Preston. The two engaged in an epic battle with McMullen putting an immense amount of pressure on Preston. Although McMullen closed the gap on Preston at what can only be described as a phenomenal rate, he was unable to get around his adversary.
As the two crossed the finish line with only .26s between them, Preston held on to take home second place while McMullen, through a monumental drive, completed the podium in third.
McMullen's GripTV teammate, Curtis Chippeway, completed the online race in fourth after starting in seventh as Chastain lost one spot to finish in fifth.
A full replay of the race which was broadcast by V8s Online can be found here.
This SoF (Strength of Field) race had a strength of 3776 and was split three-times. The top-five finishers from the other splits were as follows:
| | |
| --- | --- |
| Split 2/SoF 2110 | Split 3/SoF 1241 |
| 1-Rory Windrum | 1-Tyson Williams |
| 2-Mathew Ross-Munro | 2-Zach Schaller |
| 3-Mark Peter Dean | 3-Lachlan Gissane |
| 4-Victor Tanaka | 4-Brandon Crowe |
| 5-Ryan Shelton | 5-Jarod Sheets |
Monday SoF race results
| | | |
| --- | --- | --- |
| Split 1/SoF 3271 | Split 2/SoF 1890 | Split 3/SoF 1211 |
| 1-Ian Ford | 1-Alan Meyer | 1-Nicholas Parker |
| 2-Ethan Grigg-Gault | 2-David Baxter | 2-Peter Goodwin |
| 3-Mitchell McLeod | 3-Robby Thomae | 3-Richard Byrne |
| 4-Michael Cracknell | 4-Martin Creemers | 4-Tony Lynch |
| 5-Martin Carroll | 5-Jamie Peeters | 5-Brian Monger |
Week 3
History is set to be made during Week 3 of the iRacing.com V8 Supercars series as drivers head to the newly added Autodromo Nazionale Monza. Racing the Grand Prix configuration through the tough Variante del Rettifilo, Variante della Roggia and Variante Ascari chicanes will be quite the challenge given that the iRacing versions of the two V8 Supercars are not quite as curb-friendly as their real-world counterparts.
With that, drivers will also have to watch their fuel carefully this week as many are already stating that the 26-lap race 'could' involve a pit-stop. Regardless, we eagerly await to see who will be the first driver to take the very first V8 SoF win at Monza as we continue with Season 2 of the 2015 iRacing.com V8 Supercars series.
---
You may also like...
---