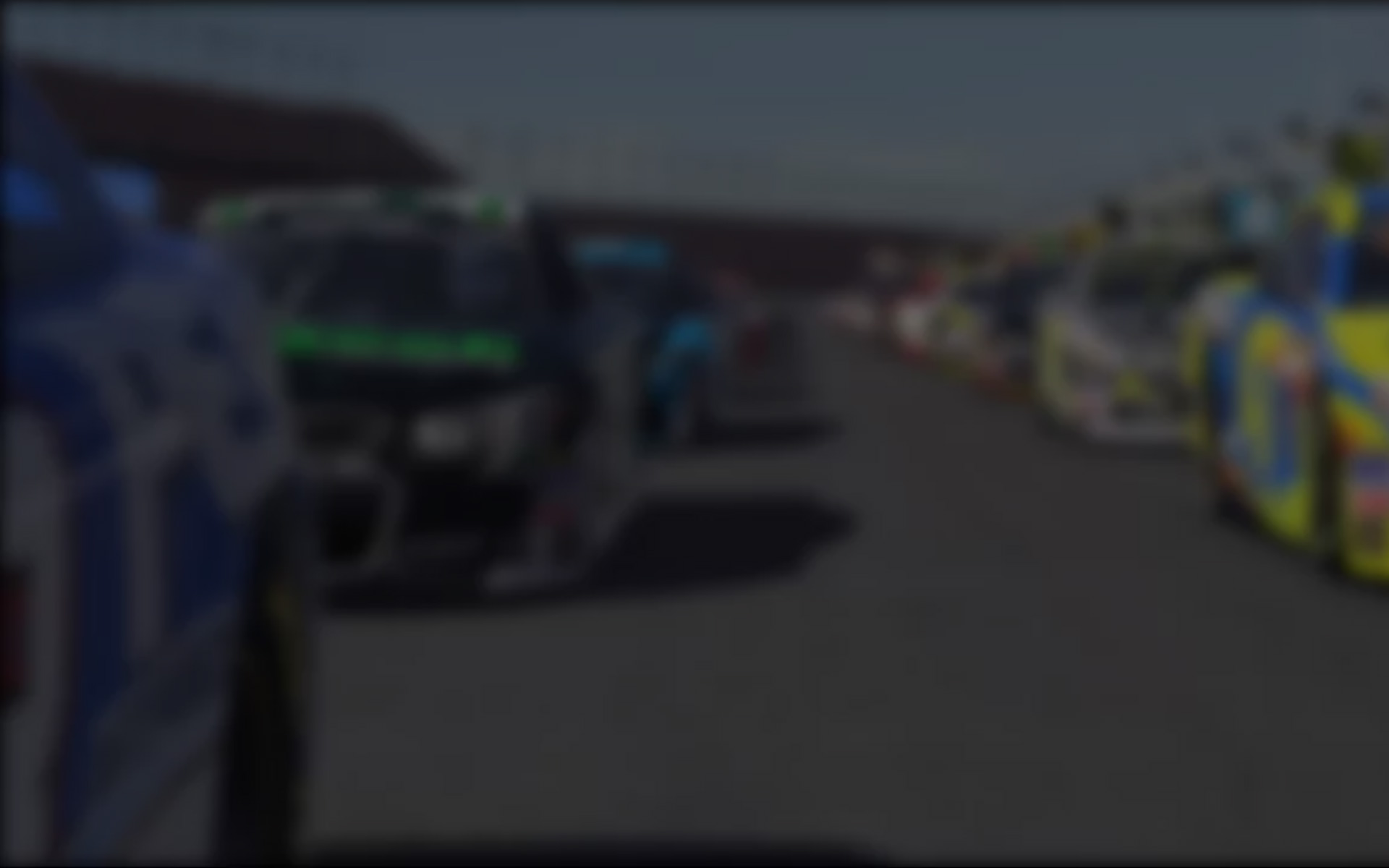 In a show of bravado only the most talented of sim racers would dare attempt, Darren Kersey arrived for this week's RSR League race at Brands Hatch after predicting he would win the "Top of the Morning to You Grand Prix." Luckily for Kersey, he possesses the online racing skills necessary to back-up such claims. Standing on the winner's podium after the race, the confident racer struck the iconic "iRacing" pose as photographers and reporters looked on in awe.
Kersey smiled, waved to the crowd, and was quick to respond when asked about his bold prediction for victory after last week's event at Mosport. "I know my way around this track," said Kersey. "I knew Ed (Sutcliff) and Les (Turner) would be so distracted by their battle for the championship, they might just forget about me tonight. Our team is extremely strong, so it wasn't really a stretch to think we could pull off another win."
The 2.301 mile circuit at Brands Hatch includes nine very challenging corners. Significant elevation changes and blind corner entries make the track one of the toughest on the RSR schedule. Seventeen members of the RSR league made the long trip to England for the event. Most were confident they could tame the track and score valuable championship points as Season Two winds down.
With only one race left on the schedule, it looked like point leader Les Turner would pad his lead over the rest of the field. Turner laid down an astounding lap time of 1:21.687 during pre-race practice to put everyone on notice his appetite for victory had not been satisfied by his record six wins during the current season. Kersey turned the tables on Turner during qualifying however, as he grabbed the pole with a lap time of 1:22.023.
Kersey was followed on the grid by Turner (1:22.337), Jim Albertson (1:23.174), Jeff Thomas (1:23.325), Ed Sutcliff (1:23.375), Wilbur Gildersleeve Jr. (1:23.661), Scott Husted (1:23.821), Robert Magee (1:23.831), Andrew Feldman (1:24.105), Michael Baley (1:24.186), Kevin Kyle (1:24.412), David Holzwarth (1:25.187), Divina Galica (1:25.567), Robinson Shields (1:25.749), William Kabela (1:26.411), Bill Pawluckie (1:27.0280, and David Pyner (1:30.128).
Turner's bid to maintain the points lead almost ended before he completed the first lap. Spinning abruptly at Dingle Dell Corner, the lucky Canadian avoided disaster by keeping his car off the wall, and out of traffic. He was somehow able to get the car going again without losing touch with the lead pack. If Sutcliff thought Turner's mistake would give him an opportunity to cut into his point lead, the thought quickly left his head when he spun in Paddock Hill Bend on Lap Two. The entire field avoided Sutcliff's car, but the Georgia boy was forced to sit by patiently as the everyone passed by.
Off track incidents continued to plague the drivers as they jostled for position in the early laps. The field finally got strung out a bit and things settled down after 10 laps, but several close battles continued throughout the event. Turner had to make a costly pit stop on Lap 12 for a gearbox problem losing valuable track position. Kersey however, remained oblivious to the chaos going on around the track as he led every lap of the event and was never seriously challenged for position.
Kersey was understandably upbeat after the race. "I told the crowd in Canada last week that we would be back in the winner's circle at Brands. The race was looking like it was going to be an all out cat fight judging by the qualifying times and the fact that I had yet to complete more than 10 laps in a row during any of our practice sessions. I wasn't too confident in my ability to get the pole, especially after the way Les qualified at Mosport last week. I kind of went into conservation mode after the first lap of this race because I saw Les spin and slow down the rest of the pack. Knowing I could conserve the engine and tires for later in the race, I decided to run the car at about 80 percent."
Kersey continued talking as enthusiastic fans began pouring onto the track; "This is one of the most demanding tracks we have been to. I would see people in the rear view mirror one minute, and the next minute they were gone! I kept thinking, yup I'm next. The fact that I managed to have so few incidents in this race was a miracle.
There were several fast corners where I had to put my foot out of the side of the car to stay off the grass!"
"On Lap 27 I got behind Divi (Galica) and was just going to coast along behind her for a while, but she missed a shift in Stirlings and spun out in front of me! I slowed to avoid hitting her, and poor Les came flying through the blind corner at full speed. He had no chance to evade my left rear corner. The contact must have really pushed the tire pretty far forward because from that point on my steering wheel was cocked off about 20 degrees to the right. I had to tip toe for a few laps to feel how the car was going to run. It was actually a lot easier to turn than it was to try to run straight. Any twitch of the wheel was exaggerated under power."
"I feel like this win was a gift because there were a ton of good drivers behind me that just happened to have more problems than I did. Thank you all for having more trouble than me by the way.
Oh, and one more thing… I told you so!"
Husted finished in second place after a long battle with Michael Baley. The two drivers fought hard for 30+ laps before a mishap in Surtees severely damaged Baley's car. Husted was excited about making the podium, but upset with himself for the final lap contact which ended Baley's chance for a podium finish as well.
"I entered the practice session at Brands Hatch as a 'dangerous' moving obstacle because I have never raced here before. I sent my spies out to Turner's paddock area to steal any information we could apply to our vehicle. As always, his setup proved excellent as the car was very stable and quick from the start. The only limiting factor was me – the driver!" Husted continued as he was doused with champagne by Kersey. "I was slow in the practice session, but after following Kersey for a few laps, or should I say, attempting too, I was able to begin cutting down my lap times. My telemetry showed I was improving in most sections of the track. When qualifying began, I was able to post a time that nailed down a solid starting position of seventh."
"When the race started, I was surprised to find that my car was handling even better with nine+ gallons of fuel on board. I was able to run very consistent lap times, and after avoiding a few early incidents, I was running in fifth place. Michael Baley and I then began what turned out to be a 35 lap shoot-out for the fifth position. We ran nose-to-tail for the majority of those laps, while swapping positions two or three times.
"An incident between Wilbur and Jim allowed us to jump into a battle for third place instead of fifth. Within another lap or so, we were fighting for second. On the final lap, as we entered Surtees, I got a great run and went to the inside to pass Baley. Unfortunately, our cars touched and Michael ended up going off track. My car seemed un-damaged and I was able to get back underway before being passed. I was able to maintain the position and finish the race in second."
"I was feeling really bad that the fantastic battle Michael and I had going came down to a racing incident, however I would soon feel much worse after reviewing the replay. I discovered that Michael had actually given plenty of room to make the pass, but I had clipped the curb on the inside. I apologized to Michael after the race and he graciously accepted. Congratulations to Darren who brought home his battle scarred car to victory lane."
Albertson's pace slowed near the end of the race, but he still managed to hold off Sutcliff as he crossed the line for third place. Race fans familiar with the hard-working driver noted that Jim's luck has changed after a disappointing start to the season and a recent sponsor change. "I watched Darren Kersey and Les 'Tuna' Turner eclipse my qualifying time," he said, "so I decided to settle in for a hard race on a tough track." Jim avoided disaster early as Les looped it on cold tires exiting Dingle Dell Corner on Lap One.
Most of Albertson's race was spent in a tough battle with Gildersleeve. Unfortunately for Wilbur, his car was heavily damaged when he bumped into Jim after he missed a shift and looped his car in Turn Three. "I had cooked my tires in an effort to stay in front of Wilbur," said Albertson after the race. "We were a bit off pace after that incident, so I was happy to have earned another podium finish. The car was getting very loose those last few laps and with three to go I spun as I crested the hump out of Clark Curve. We dropped from second to fourth and ended-up back in third at the checkers.
I would like to dedicate this podium finish to Wilbur. He was a true gentleman during the race and certainly deserved a better finish than he got."
When asked by the media, Jim told reporters he had already spoken to Wilbur and apologized for making such a costly error. Wilbur was obviously disappointed, and rightly so, but in true southern fashion he graciously accepted the apology. Jim also said he is going to park himself next week as a show of good faith to Wilbur and the other members of the league.
Sutcliff gained a lot of ground on Albertson in the last few laps, but could not pull off the pass and had to settle for fourth place. "I thought our race was over after that spin on Lap Two," he said. "Going from third to 17th is not fun, and it was tough sitting there helplessly watching the entire field pass us by. I'm lucky though, because my crew chief is a calm guy. He reminded me to just race the track, and it was smart advice. Everyone was racing hard tonight, but I got a lot of room from them as I slowly made my way back towards the front. We'll take this kind of finish any day. Good job by Kersey getting the victory, as well as Scott and Jim for earning spots on the podium."
Gildersleeve wasn't available for the post race interviews, but his crew chief Harley D. Hotpants was willing to reflect on his driver's evening. "Wilbur drove the tires off the car tonight! I was sure he had a top-three finish coming," he said. "It was too bad about the contact with Jim, but that's racing. Kersey drove a good race tonight, congrats to him and his team."
Robinson Shields earned this week's "Hard Charger" award by crossing the line in sixth place after missing the grid and starting shotgun from pit lane. His climb through the field tonight was quite impressive to watch. It was a great show of driving skills by a driver who has had some tough luck lately.
Feldman crossed the line in seventh place. "We started back in ninth, but fell to 15th early in the race" he said.  "The car got better with each lap after that, so we just kept trying to avoid incidents to get back into the top-10."
Holzwarth and Turner finished in a dead heat as they crossed the line in eighth and ninth places respectively. "I was fighting the handling all night," said Holzwarth after the race. "Another lap and Les might have gotten past me!"
Turner was somewhat happy with his finish considering the lap one spin and later contact with Kersey. "I was looking at the bigger picture tonight," he said. "We have a very slim lead in the championship, so my goal for this race was to bring it home in one piece, and keep Ed from gaining any ground on us. Congratulations to Kersey for an impressive victory tonight."
Baley managed to drag his damaged Mazda across the line in 10th place, even though he was one of the fastest cars on the track all evening. Starting from 10th on the grid, he slowly but surely worked his way up to second place, only to have his hopes for a podium finish end after the last lap contact with Husted.
"I stayed high enough in that corner to avoid contact, but I guess Scott's car got a little loose after he touched the inside curb," he said. "We'll regroup and try it again next week."
Galica (11th), Pawluckie (12th), Kabela (13th), Kyle (14th), Thomas (15th), Magee (16th), and Pyner (17th), all saw their dreams of higher finishes dashed during the event. Some had transmission problems, while others were bedeviled by excessive tire wear. Several had reoccurring unforced errors which simply proved too damaging to overcome and retired from the event.
Thomas, for one, accepted his fate in the race without complaint.
"Congratulations to Darren on his win," he said.  "I thought I would just lay back and drive, but I started getting comfortable in the car after a few laps and started pushing it a little harder. That wasn't a good idea! I spun the car and backed it into the fence.
Knowing I could hold onto my place in the point race, we decided to just call it an evening. I didn't want to be in everyone's way the rest of the night. I look forward to seeing y'all next week at our final event of the season."
Galica wasn't as forgiving in her assessment of her performance.
"I should have run a much cleaner race," she said. "We knew the track was tough, and we knew it would give several drivers problems because they would probably push too hard and end-up off the track. I just cannot lay back though, it isn't in me! My spotter was extremely busy calling out traffic around the track, but I lost focus and missed several crucial shifts which cost me too much time to the other cars. Kersey did a good job tonight, congrats to him and his entire team for the win."
RSR drivers wrap up this season at next week's "Ohh the Pain Grand Prix" at Lime Rock Park
---
You may also like...
---