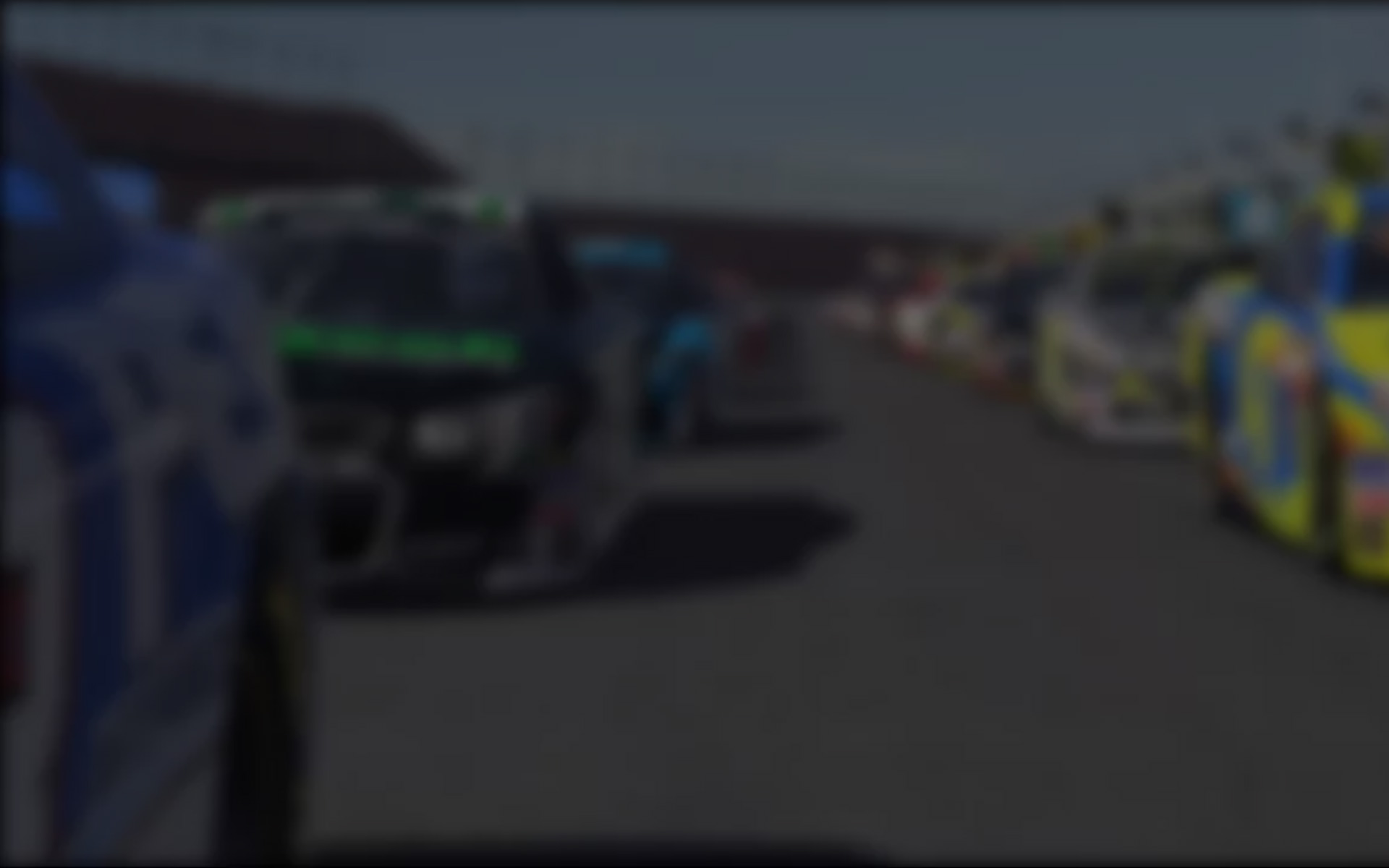 There is an air of excitement and anticipation this week around the iRacing community as Week 13 of Season 1 draws to a close. Season 2 is just around the corner, and one of the series that has many drivers stirring is the new iRacing Global Challenge Series. This series will feature the brand new KIA Optima in a multiclass field with the Cadillac CTS-V, which can still be considered one of the newer cars featured on the iRacing service. Week 1 is set to begin at Canadian Tire Motorsports Park (the recently renamed Mosport), and many drivers are already on the track tweaking setups to find as much speed as possible before the season kicks-off. I had the opportunity to talk to some of the drivers scheduled to run the iRacing Global Challenge Series. With races open to drivers between the ratings of Rookie 4.0 all the way up to Pro, I expected a great depth of experience in the fields. I wasn't let down in the least bit.
The first driver to arrive was Tomaz Bastos of Brazil. He joined iRacing on April 22nd of 2012 (which happens to be my sister's birthday), and has driven his way to 13 wins and 30 top fives in 40 starts on road courses. A B-Class driver with an iRating of 2739 at the time of our interview, he has shown consistency and safety with an average of 3.07 incidents per race. He plans on driving the Cadillac CTS-V during this season for the Global Challenge. Below is a photo of Tomaz battling at Canadian Tire Motorsport Park.
Next to arrive was Aleksander Martyniak, a sim-racer representing the Central-Eastern Europe Club driving the KIA Optima for the Global Challenge. Alex joined iRacing in February of this year, and has had 25 top fives in 29 starts on road courses. He holds an average finish of 3rd place overall and totes a road iRating of 2001, which was his initial goal when he started in iRacing.
I then got the call that Dylan Sharman, who I call "Big Boss," had entered the building. Dylan has had 23 official road course starts in 2013, and has won 22 of them, including the last 19 official races in a row. At the time of the interview, his iRating was a staggering 7641 on the road circuit. Driving for a team called "TTL," I was interested to hear Dylan's input on the upcoming season. He's running the Cadillac CTS-V for the iRacing Global Challenge Series, and will be representing the Australia/NZ Club. Dylan sat down with the other two drivers and the interview began.
Jonathan: First off, thank you guys for agreeing to meet with me today. I know the first race is right around the corner and you want to get back to preparations, so I'll dive right in. I'll start by asking about Week 1's track, Canadian Tire Motorsport Park. What makes this track fun for you?
Dylan: Canadian Tire Motorsport Park is challenging. [It] burns the rears up with the high speed corners through the lap and as always Moss Corner is extremely challenging trying to go as deep as you can but also keep the momentum up to try and get a good run onto the back straight. Getting off the line and qualifying is extremely important.
Tomaz: I like hard races very much and in my opinion this was the most difficult track for overtaking last season [Cadillac Cup 2013-S1]. I really enjoy running the Moss Corner side-by-side.
"When I heard about the KIA getting released in time for Season 2, it really was a no-brainer." – Aleksander Martyniak
Jonathan: Alex, you're one of the many drivers who will be running the Kia this season in its debut. I'm sure that's exciting in itself, but as a relatively new driver what are your expectations going into the iRacing Global Challenge Series?
Aleksander: I'm expecting fiercely competitive front-wheel drive racing with decent grid sizes. It is another step in my iRacing career.
Jonathan: What made you want to drive in this series?
Alex: I have always been a fan of Touring Car racing, and when I registered [for iRacing] I was looking forward to driving MP4-12C after getting experience with slower cars. However, in real life, most of my performance driving is done in a FWD car, so when I heard about the KIA getting released in time for Season 2, it really was a no-brainer.
Jonathan: Dylan I want to ask you this, have you driven the KIA? How does it compare to the Cadillac and why have you chosen to run the Caddy this season?
Dylan: The KIA is a completely different car. The way you got to get the speed out of the car is different due to the push out of the corners. It's a fun car for sure, but I just love the Caddy and have waited a while like many others have to run it in an open setup series.
Jonathan: It's interesting that you mentioned that, because before this Series, a majority if not all of the races involving the Caddy have been fixed setup, unless you had the opportunity to run in an open setup league. How is that going to add to the challenge of racing this season in the Global Challenge Series?
Tomaz: I think the challenge will be even greater.
Dylan: It's going to make it a lot more fun.
Jonathan: Hold on guys, Tomaz it seems like you would be very confident this season. You've gotten comfortable driving the Cadillac and you've had good results since you joined the service a little over a year ago. Alex you too with well over 80% top 5 finishes in 29 starts. That's not bad for joining the iRacing service just two months ago.
Tomaz: Despite feeling comfortable driving the Cadillac, I believe that confidence is something I have to conquer to handle the possibility of heavy traffic.
Alex: And I've still got a lot to learn before I am competitive enough to challenge the fastest drivers. But racing in top splits against the best and trying to improve are the main reasons I signed up for iRacing in the first place!
Jonathan: I agree with the both of you there. But I would think when you start to have more and more great results, more top fives, more wins, and more iRating gains, wouldn't that put more pressure on you as a racer to keep up those great results? Look at Dylan here who's got 19 straight wins and counting, with a super high iRating to boot. I almost did backflips when I got over 2000!
"I like hard races very much and in my opinion (Mosport) was the most difficult track for overtaking last season." – Tomaz Bastos
Dylan: Yeah it [the win streak] really isn't going to mean all that much coming into this series. I've won some really good races as of late but also some easy ones for sure. I don't think there will be any pressure but I can't wait to get behind the wheel of the Cadillac again.
Alex: Well, I believe that because iRacing keeps stats from every single race online, the additional pressure is there all the time. Sooner or later, race averages are a pretty good indicator of the driver's real consistency. I always try to give it my best – that's the whole point of being a race driver, isn't it?
Jonathan: True. Unfortunately our time is almost up, gentlemen. I for one am looking forward to this season, and the opening races at Canadian Tire Motorsport Park. I think it's going to be a great series. Just give me some of your closing thoughts. Tomaz?
Tomaz: Good luck to all who will compete in the iRacing Global Challenge Series. May the best ones win.
Jonathan: Thanks for coming today Tomaz. Alex, as the baby racer in the bunch, what are your goals for this season?
Alex: I would like to finish somewhere in the top of the Central-Eastern Europe club. Getting on the first page of season standings, top 25 wouldn't hurt! We will see how it goes though, as it's only the beginning of my third month here and the first full season I am going to run.
Jonathan: Well I'll definitely be looking out for you in the standings. Hopefully your consistency carries over for the whole season. Dylan, who else can we expect to see run well this season?
"I just love the Caddy and have waited a while like many others have to run it in an open setup series." – Dylan Sharman
Dylan: There are a few guys who will have really good speed like Xavier Cuartero Silvente and his team mate Carlos Reyes Aiguadé; also Nathan Moore and Jan-Paul Niehuis if he runs. I'm sure there are going to be a few others as well.
Jonathan: Thank you guys again for coming out and good luck with the iRacing Global Challenge Series!
After the interviews had concluded, the excitement for me reached a whole other level. The spectrum of experience and talent for this series' inaugural season is so wide. There's going to be top teams competing, like Dylan's team TTL (info here: https://www.facebook.com/TTLRacingTeam/info) and others. Drivers can expect top tier fields with world class drivers. In the Australian/NZ Club, Dylan Sharman is set to headline their race on Friday night. Be sure to be in contact with your club on the forums to see when the best time to race is.
For those drivers looking for extra help with the tracks, Dylan  has posted a thread called "iRacing Global Challenge – Cadillac Track Guides" on the "Rookie: Cadillac CTS-VR" forum. There you'll find the track overviews and hot laps. On the KIA Optima side, although there isn't a track guides thread posted, there is a healthy community of KIA supporters who have been giving the car great reviews and setup tips. Many racers have called it "fun to drive" and worth buying.
Stay tuned for updates throughout the season, more interviews, car talk, and track smack. This is going to be a great season at the iRacing Global Challenge Series.
---
You may also like...
---