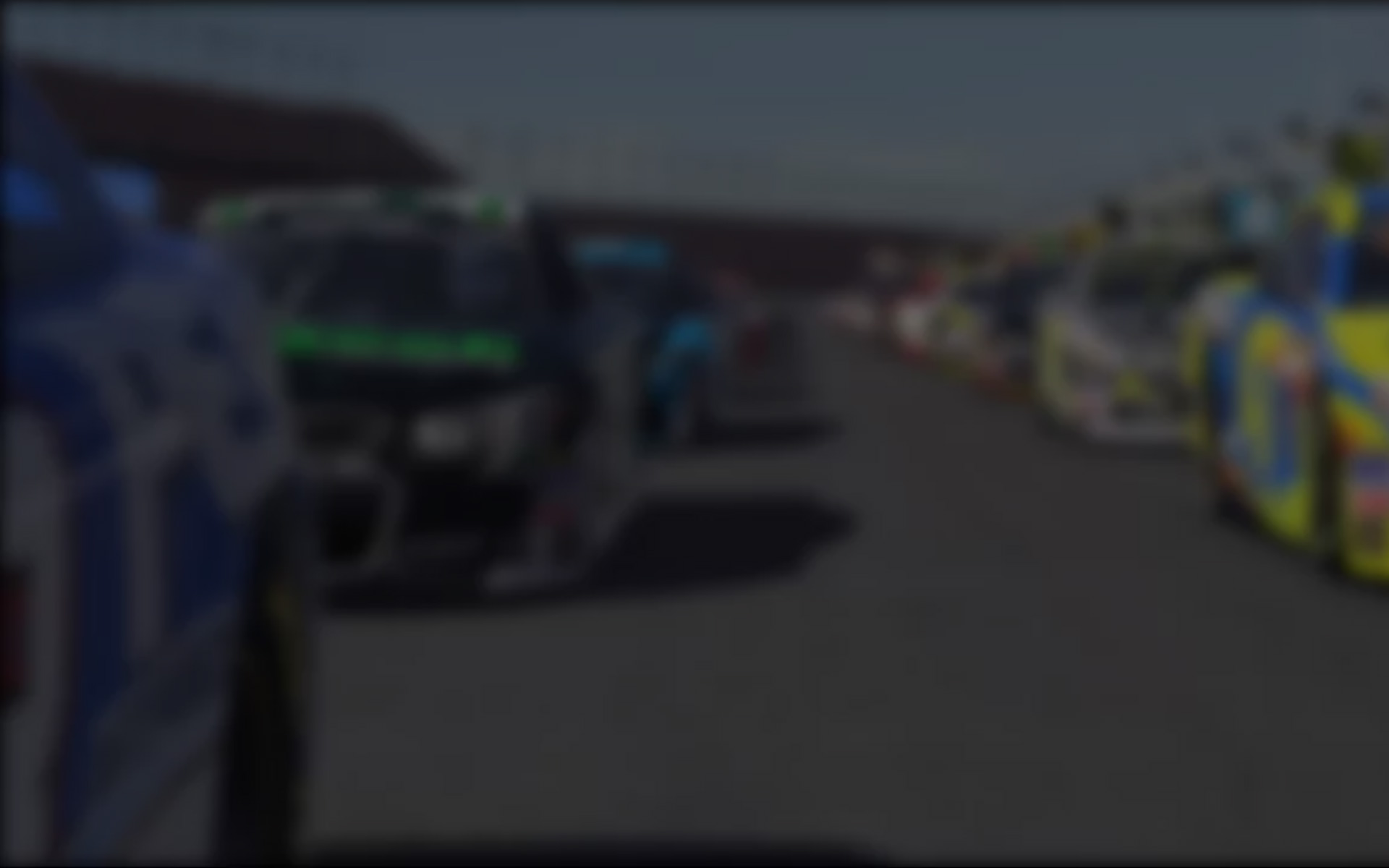 Week Four of the 2014 Season 1 iRacing.com IndyCar Oval Series sent the series to Texas Motor Speedway in Fort Worth, Texas. Only 48 drivers took to the track this week. The story of the week however would be the attrition rate. Troy Eddy (Atlantic) started on pole, with Christopher Demeritt (New Jersey) starting on his outside. Miguel Angel Martinez (Iberia) started third, Georg Naujoks (DE-AT-CH) fourth, and Hermann Pfander (DE-AT-CH) rounding-out the top five starting positions.
Troy Eddy got off to a good start as every driver from third through ninth spun their tires. This botched start by many put sim-racers such as Pfander, Seth Eggert (Carolina), and Gary Borkenhagen (Midwest) in some very tense situations. Eggert tried to make the most of his opportunity to pass Pfander, while Borkenhagen jumped up high to pass them both on exit of the quad oval. Eggert having very little room, jumped out of the throttle, narrowly missing both Pfander and Borkenhagen. Pfander ran wide two laps later, bouncing off the wall, and destroying his sidepod in the process.
The first green flag run would be brief as Matteo Bortolotti (Italy) had oversteer exiting Turn Four, triggering a disastrous chain of events for those in his wake. Eric Laval (France) went wide trying to avoid Bortolotti and clobbered the outside wall. Both Loïc Boussiquet (France) and Brad Sanford (Texas) checked up to avoid Bortolotti. Philippe Lambert (France) saw this as an opportunity to pass, and attempted to shoot between Sanford and Boussiquet. However, Lambert made contact with Sanford, turning Sanford up into the path of Boussiquet and Roscoe Crittenden (Midwest). Sanford, Boussiquet, and Lambert all flew skyward as Crittenden slammed the wall. TM Hauser (DE-AT-CH), Liam Gordon (UK and I), Joel Feytout (France), and James Joyce (Plains) all barely skirted through without damage. Xavi Iborra (Iberia) wasn't as lucky and slammed into Laval as he slid down off the wall.
The caution for the six car pileup on Lap Four had everyone checking up. However, in a strange turn of events, after the yellow appeared, the wrecking continued as Randy Crossno (California) and Matt A. Kingsbury (Connecticut) made contact entering Turn One. The contact sent Crossno spinning into the outside wall, ending his race. Pfander was the first car to enter pit road, as Bortolotti, Hauser, and Iborra followed the seventh place car.
Eddy once again led the field to the green, getting an excellent jump on Demeritt and Martinez. Naujoks had a slow start, trying to avoid wheel-spin, held up both Ray Kingsbury (Connecticut) and Connor Cross (Ohio). Eddy's lead wouldn't last long as the draft allowed Demeritt, Martinez and the rest of the top ten to close in. Demeritt worked on Eddy, finally getting his nose underneath him entering Turn Three, forcing Eddy wide. Eddy then got freight-trained as Martinez, the Kingsbury brothers, and Cross passed him.
Eddy then fell back to Naujoks who — predictably — attempted a pass.  Naujoks got loose in the middle of the corner, however, sliding down to the apron, before losing control. Eggert, who was following close behind, tried to take evasive action, but slid wide and tagged the outside wall, damaging his right side suspension. Borkenhagen, too, slammed into the accident, destroying his front wing and bringing the caution out. Naujoks slid down off the wall, clipping his Vortex Racing teammate Pfander, further damaging their two cars. Meanwhile, at the exact same time, Hauser went wide off of Turn Two, leading Feytout into the outside wall. Feytout then spun down into Bortolotti, flipping him and ending both of their races.
Under the ensuing caution, everyone elected to pit. Demeritt led Martinez, the Kingsbury brothers, and Cross off of pit road. Demeritt led the field to the green on the restart. Demeritt led the lead pack of five cars as they pulled away from the sixth place of Eddy. The green flag run lasted a mere 12 laps as on lap 37, Pfander finally succumbed to the damage and spun head-on into the Turn Three wall bringing out yet another caution. Once again everyone elected to pit. Demeritt lead the charge off of pit road, as Cross moved up to second, followed by the Kingsbury brothers, and Hauser. With two to green, Demeritt, believing he would be unable to make it on fuel, came back down pit road along with Eddy, and Eggert.
Cross now assumed the lead and led the field to the restart on lap 43. Realizing just how close they were on fuel, the top five started to run sixth gear to save fuel, allowing both Demeritt and Borkenhagen to close up. The duo of Demeritt and Borkenhagen finally caught the lead pack on lap 63. Disaster nearly occurred again when Joyce, exiting pit road, had trouble holding his car on the apron. He forced the entire lead pack to run wide on exit of Turn Two. Everyone was able to hold on, except for Hauser, who bounced off of the Turn Two wall, destroying his sidepod and ending his race. On lap 79, Cross, believing he would be short on fuel, allowed his Last Lap Motorsports teammate Matt A. Kingsbury pass for the lead.
Meanwhile, Demeritt had worked his way up to fifth, and picked his way back up to second by lap 90. Demeritt wouldn't have enough time to take the lead as his Team Velociraptor teammate Martinez made a dive-bombing move on Ray Kingsbury, making contact, and wrecking them both, bringing out the race-ending fourth caution, and handing the win to Matt A. Kingsbury. Demeritt finished second, with Cross third, Borkenhagen fourth, and Eddy rounding out the top five.
The Strength of Field was 2644, the third highest of the week. Demeritt earned 160 points, enough to give him the points lead at 755 points. Crossno is second with 738 points, Connor Cross third with 729 points, Rob Unglenieks (Michigan) sits fourth with 681 points, and Sanford fifth with 670 points. Other winners throughout the week included Brendan Lichtenberg (Midwest) who won the highest Strength of Field of the week at 2760, Seth Eggert, Hermann Pfander, and Ray Kingsbury.
---
You may also like...
---