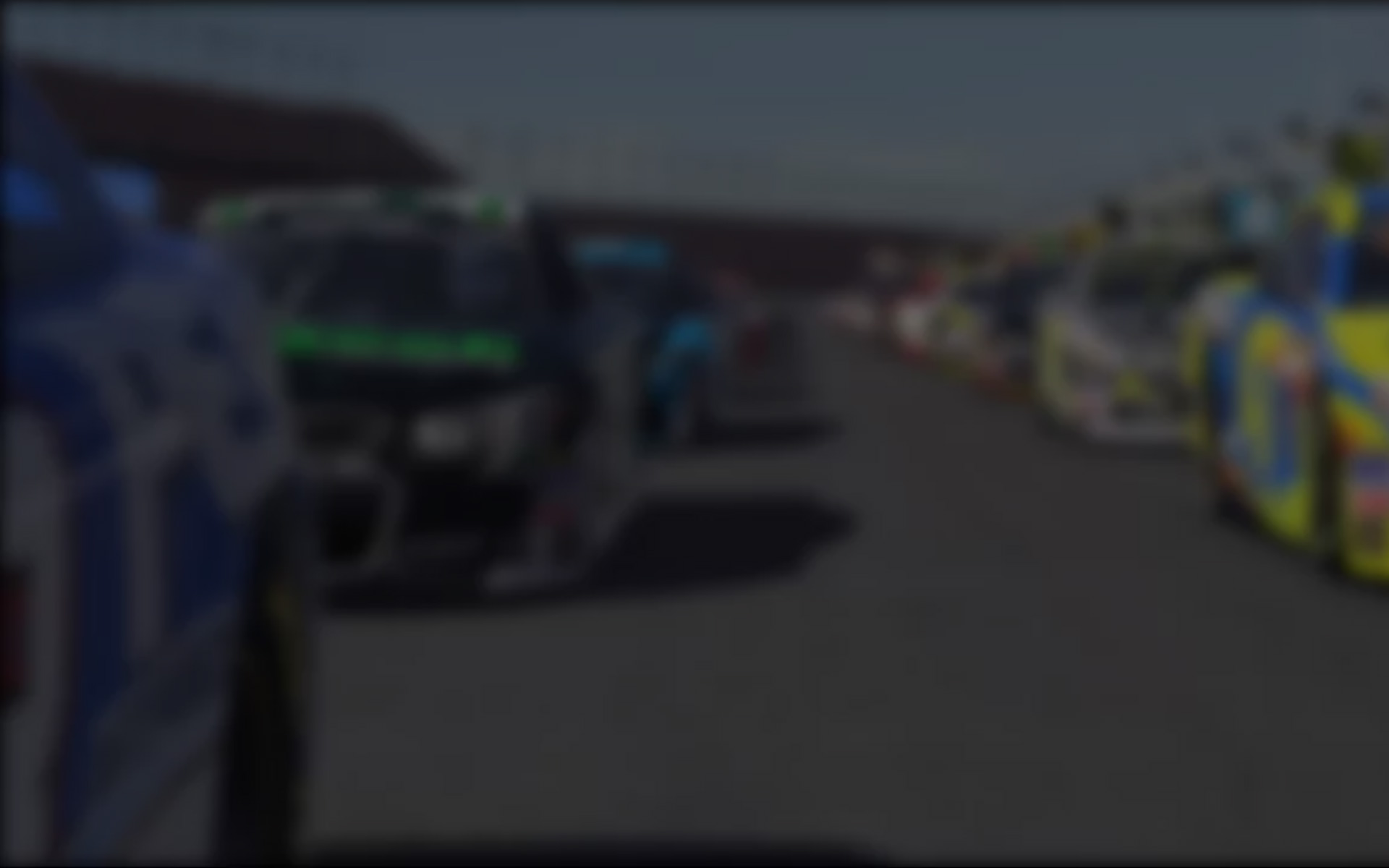 Circuit De Spa-Francorchamps.  Known to race fans around the world simply as Spa, the track was unquestionably the most anticipated addition to iRacing's collection of road courses.  Luckily for members of the Red Sox Racing League, iRacing's team of track scanners, graphic artists, and programmers worked hard to get Spa into the virtual world of online racing.  Their combined efforts produced one of the most visually stunning tracks currently available to online racers.
Spa is considered to be one of the most challenging tracks in the world.  Nineteen corners along a hilly, twisty, 4.35 mile layout, force drivers to remain focused all times.  High speeds and hairpin corners mean a single miscue could result in race-ending damage.  Eighteen members of the RSR league traveled to Spa to begin Season Two of their 2011 F1 calendar schedule.
Qualifying saw a mix of success for several newcomers to the RSR league.  Les Turner held serve on past success by once again earning the top spot on the starting grid.  His qualifying lap time of 1:51.445 was fast, but new member Justin Lukes was nipping at his heels with a qualifying effort of 1:51.992.  Jim Albertson started 3rd with a lap of 1:52.001.  Newcomers Justin Kirby (1:52.130), Alex Ulleri (1:53.080), and John Koscielniak (1:53.277), rounded out the top six spots.  League veterans Andrew Feldman, Jeff Thomas, Kevin Kyle, and Jeff Sharp filled the rest of the top ten grid positions.  The remaining grid positions were occupied by Clifton Cockrell, Divina Galica, Bill Pawluckie, Terry Daul, William Kabela, Mark Plank, Ed Sutcliff, and Brian Irby.
The start proved exciting for drivers and fans alike.  The fun began early as Jeff Thomas and John Koscielniak tangled in the first corner after running wide on the exit of La Source.  Both drivers were able to recover from the incident and finish in the top ten.  Other drivers were not so lucky.  Off track incidents and contact with other cars doomed the hopes of pre-race favorites Andrew Feldman and Divina Galica.  Bill Pawluckie and William Kabela were also victimized by unfortunate accidents and were forced to retire when their pit crews refused to repair their damaged cars.
Three of the new league members used Spa to serve notice that defending champion Les Turner would have a real battle on his hands if he wants to repeat as the RSR league champion for the 5th consecutive season.
Justin Kirby led the group as he put on a dominating performance on the way to earning a victory in his first RSR event.  Starting fourth on the grid, Kirby wasted little time working his way through the field.  He grabbed the lead position on Lap Two and did not relinquish the spot until pitting began on Lap Nine.  Kirby regained the lead on Lap Thirteen when Turner pit, and did not look back on his way to a nine second margin of victory over the 2nd place car of newcomer Justin Lukes.
Kirby was pleased with his effort.  "I'm really surprised how the race played out.  I thought Les was going to run away with it since he was able to get a pretty big gap out of the first set of corners.  Justin got sideways and I went into the runoff area to miss him, and it got me up to second.  Then being able to catch Les, and have him break loose before the last longest full throttle stretch on the track, it played out almost perfect.  I got into a smooth rhythm and really focused on keeping the car in line and it paid off.  I'm just really happy to be running with RSR league.  You forget how much fun it is to run with guys that just like to race.  I'm looking forward to the rest of the season, and hopefully I can get some more good runs with LegendsNation.com/Black Magic Motorsports Williams."
Lukes was also very happy about the way he began his RSR career.  "My race started off a little slow.  This was my first real race with the Williams car and I was a little nervous.  I got off the grid slow and then got a bit loose in Turn Two.  The bobble dropped me from 2nd to 3rd place.  After that little mishap, I settled down and ran on Les' rear wing for the rest of the race.  I was hoping to have a faster pit stop to make the pass on Les, but I pitted a couple laps before him and when he came out of the pits I was right on his wing again. I knew Les was faster and I was only hanging on because of the draft so I figured that I would wait until the last lap to make my move. I figured Les would think I would wait until the last long straight, so I made my move coming off of Turn One and made the pass down the first long straight and held on to take a 2nd place finish."
3rd place finisher Les Turner recognized the level of competition early on.  "We've got some really fast new guys in the league this season.  Spa was a great venue to kick off the new season.  I slipped a bit on Lap Two while exiting Turn 14.  That mistake gave Kirby the run he needed to make the pass for the lead.  We went side by side all the way to Turn 17, where I backed out knowing we could not possibly get through there without contact.  I kept pace with him for a couple of laps and then had to change my focus from catch to defend as Lukes was all over me.  Justin stayed glued to my rear wing for the rest of the race.  I just could not shake the pesky bugger no matter what I did.  On the final lap, I got a bad run out of La Source and that gave Lukes the break he was looking for and he made the pass for 2nd into Les Combes.  3rd place was not the result we were looking for to start the season, but we'll take it and head to Watkins Glen."
"Gentleman Jim" Albertson was the next driver to cross the line as he tried to keep Lukes and Tuner in sight.  "What a beautiful track and the Williams F1 is a wonderful car to drive", said Jim after the race.  I got off to a slow start with a bad qualifying effort, but somehow managed to keep the leaders in view during the first half of the race.  We regrouped during the pit stop and finally got the car dialed in enough to find the speed needed to keep up with the front pack.  I had a great view of the battle between Lukes and Turner.  I thought I was going to be able to make a move on them exiting the last corner, but lost traction by being too aggressive and had to settle for 4th place."
After the race, Jim said he was extremely happy at how well everyone did in the first race of the season.  "It always seems like the first one is full of season opening jitters, but this race was quite clean.  It looks like this season is going to be one of the most courteous and incident free.  Bonus points should be plentiful in upcoming races."
Jim's comments were contradicted by the number of the incidents collected by the drivers during their 20 laps around Spa.  Usually a very safe group, Turner was the only driver to complete the event without collecting an incident penalty.
Ulleri and Cockrell battled hard throughout the race as they eventually crossed the line within seconds of each other to collect the fifth and sixth finishing positions.  Ulleri was happy with his top-5 finish.  "I had a decent race tonight.  We got off to a squirrely start, but didn't lose any spots.  I was able to make a pass on Jim a few laps into the race, but a spin later saw me drop back behind Jim and Clifton.  I managed to regroup in time to catch up, then had a good pitstop which allowed me to leapfrog Clifton for 5th place.
Kyle (7th), Sharp (8th), and Thomas (9th) were the final drivers to cross the finish line on the lead lap.  Koscielniak (10th), Sutcliff (11th), and Plank (12th) were scored one lap down.
Despite just missing a top-ten finish, Sutcliff was encouraged by his ability to climb six places during the race.  "We almost missed the start with electrical issues tonight", said the driver of the FBI/Glock # 33 car.  "Congratulations to Justin on his victory!"
Irby (13th) was alone at seven laps down, while Daul (14th) was scored eleven laps down.  Pawluckie's early exit from the race saw him finish twelve laps down in 15th place.  Feldman (16th) and Kabela (17th) also suffered from race ending incidents which saw them retire early.  Both drivers were scored 13 laps down to the leaders.
Feldman had the toughest night, falling from his 7th place starting position to finish in 16th place.  "I had a bad start to the season.  My connection was poor and I was distracted by my lag meter which was orange and would flash into the red.  Divi and John caught me, and Divi disappeared while trying to pass me at the end of the long front straight.  I was worried that I'd warped and taken her out.  John was next, he also tried a pass at the end of the long straight, and I held him off.  Unfortunately I was distracted and spun taking John out with me.  My crew (at my ISP) and I will have to do better."  Galica (18th) finished 14 laps down.
In other Red Sox Racing League sanctioned events, Les Turner drew first blood in the Tuesday Night Thunder Series, Rags to Riches event at South Boston Speedway.  This season's schedule with see the first 4 events take place at short tracks in the iRacing Street Stocks, followed by 4 events in the Late Models, and finishing up in the long anticipated 2011 Nationwide car at Speedways.  The final event for the championship will take place at Talladega Superspeedway in August.
Defending TNT Series Champion Terry McCuin looked like he was going to pick up where he left off last season by snatching the pole position with a lap time of 17.782 over Turner with a 17.808.  McCuin appeared to be in control and pulling away when electrical problems forced him to the pits on Lap 28, leaving Turner to inherit the lead just past the half way mark.  Les hung on for the win over hard charging Justin Kirby by a margin of 0.526 seconds at the checkers.
Brian Irby, Gary Jorgensen and Kevin Kyle rounded out the top-5 finishing positions.  The series heads to Lanier National Speedway next week for "The Braselton 55" event.
RSR F1 members travel to New York for next week's race, the "Glover Excavating 27" at Watkins Glen Classic Boot course.
---
You may also like...
---