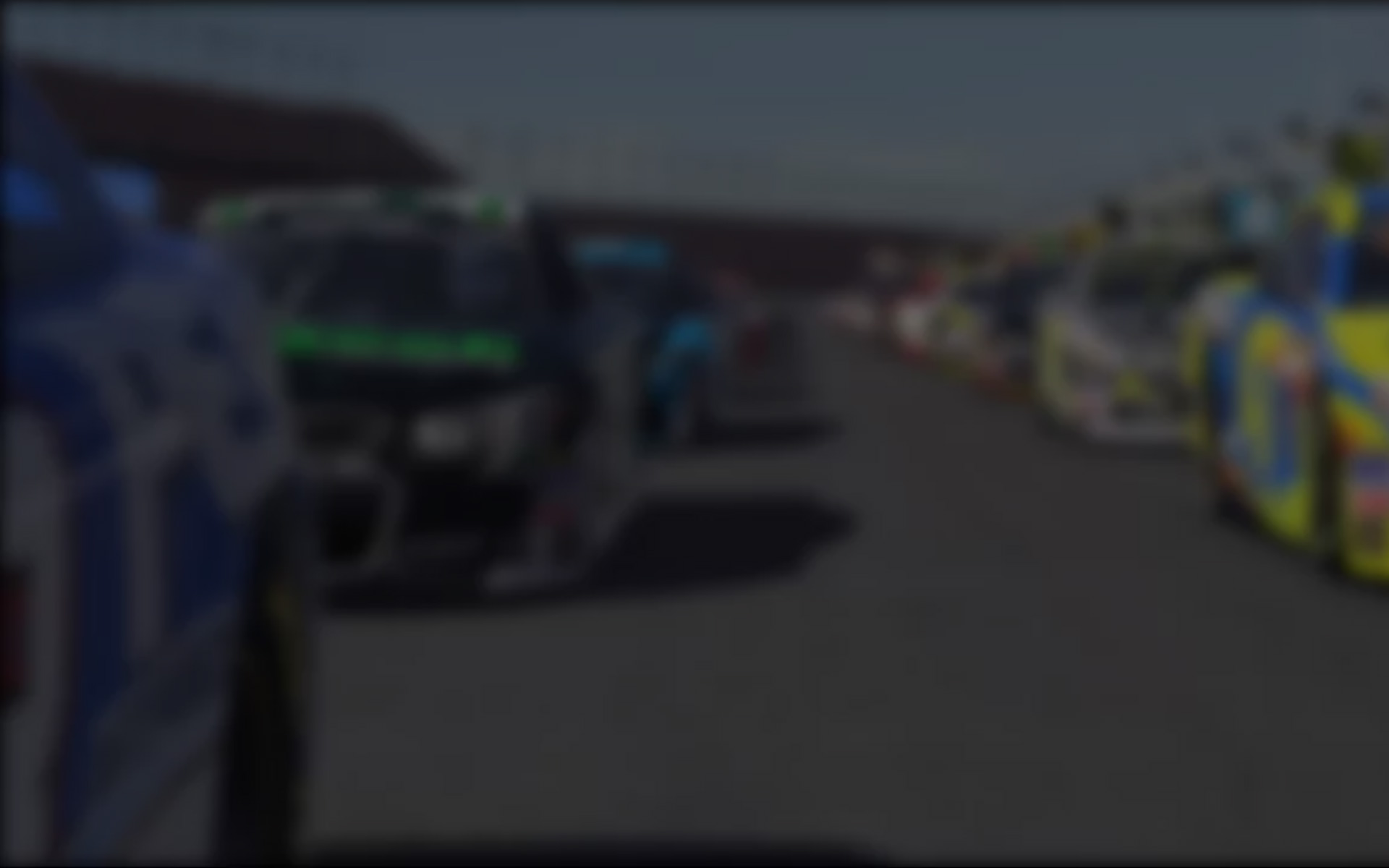 Showing the sim-racing world his position atop the iRacing.com World Championship Series Road Racing (iWCSRR) standings is no fluke, series-rookie Klaus Kivekäs secured his first victory of the season at Circuit Park Zandvoort on Saturday and, in the process confirmed his credentials as a serious title contender. The unfettered victory for the Finnish online-racer  maintains his position at the top of the championship table, now by an even bigger margin than before.
As the green flag dropped on Round Three of the championship, Kivekäs headed to the front from his second position, getting the jump on his My3id team-mate Jesse Nieminen, and taking the lead by the time the pair had reached Tarzan Corner. Whilst the leading pack all got away from the line cleanly, Aleksi Elomaa failed to find a gear when the lights went out, and although Marc Payne was able to avoid the Finn, Martin Macjon was left with little time to react, and inevitably hit the stalled Williams-Toyota FW31 in the rear. This sent Elomaa spinning to the left, directly into the path of Team Redline's Dom Duhan, who had no time or space to react and broadsided My3id car. Amazingly, Elomaa struggled on for a further 35 laps but Duhan retired – and he wasn't the only one heading for an early bath. Firstly, Ilkka Haapala firmly planted his car in the Turn Three tyre wall following a coming-together with Australia's Ben Cornett, then England's Richard Towler went off in the same spot a lap later after touching wheels with Matthias Egger.
Clear of the opening lap shenanigans, the leading pair set about carving out an early lead for the My3id team.  But the same technical gremlins that hit Nieminen at Phillip Island returned, with the Scandinavian 'dropping' from the race after only a handful of laps. "Well that didn't exactly go according to plan," explained Nieminen post race. "I even got a pretty good getaway but still had no chance of defending into Turn One and dropped to second. Then after a few laps obviously got disconnected. Luckily I got my connection back, but by the time I got back I was two laps down and way down the order, so I just drove around trying to finish the race and hopefully get some reasonable points."
With the pole-sitter out of the picture, the 71 lap race was a cruise for Kivekäs, who went on to take the chequered flag mostly unchallenged. "Getting my first win in the iWCSRR feels amazing, I can't believe how well the first three races have gone for me," enthused Kivekäs post race. "After Jesse was out of contention it was just a matter of maintaining concentration and a decent pace. I had it all pretty much under control for the rest of the race, though, there were some interesting moments such as a 3-wide situation with two back-markers halfway through the race. Then, a couple of laps before the finish I caught Ray Alfalla and Derek Wood fighting for fifth position. I thought I might lose a worrying amount of time behind them if they started to really battle against each other so I decided to try to pass them. That didn't quite work out but it was all good.  I understand the situation the guys were in. In hindsight it would have been better if I just backed-off for the last laps."
Making it a My3id one-two, Hugo Luis brought home his virtual Williams-Toyota FW31 just a couple of seconds behind the championship leader, overcoming his own fair share of scares on the way. "Once again I had a terrible start but still managed to keep my position," Luis told inRacingNews. "After that I was focusing on staying on (the) leader's pace. In Lap Two, I had a scary moment since I've seen Luca Masier just spinning in front of me, giving me the third position. After that I saw one of the My3id cars ahead disappearing. I was wondering what happened, but when I took a look, I could realize unfortunately Jesse (Nieminen) had a disconnection. After that, I don't have much to report. That was a very stressful race in a physical meaning and it was all about keeping the car on the track."
We've all heard the phrase "I could beat you with one hand tied behind my back."  Now defending iWCSRR champion Greger Huttu can claim that he can beat many with only one eye. The Finn, who was absent from the previous round at Phillip Island due to a non-sim-racing related injury, returned to the series in a bid to keep hopes of retaining his championship alive.  Despite having one of his eyes 'patched', the Team Redline sim-racer still managed to secure a spot on the podium, albeit thanks to some good fortune.
"The start wasn't great but not horrible either and I was side-by-side with Hugo into Turn One and I tried to challenge for fourth from the outside," shared Huttu. "We were still side-by-side into Turn Two and I saw Hugo's car get pretty close. Knowing how easy you get contacts in these cars I lifted-off a bit and that's when David Williams hit me and spun me around. For a second I thought my race was over but I did a 360 and nobody hit me that hard. There was a bit of contact with Luke McLean, I think, which ruined his race which was a shame. I think I might have gotten some damage because the car felt really 'understeery' and I couldn't do the lap times that should have been possible."
Huttu's run of luck wasn't to end there, as a refuelling error for his team-mate Ben Cornett handed him third place at the chequered flag. "Greger pitted first and I knew that I was in a position to beat him fairly comfortably. I had five full laps more than he did so I put the hammer down," said Cornett. "I ran into a ton of traffic but still managed to create a big gap. I then had the brain failure of the race putting in a full five litres less than I was supposed to. I exited the pits and immediately realized I had nowhere near enough fuel to finish the race. I tried engine mode two, then three, then finally four to finish the race. Greger hunted me and easily caned me into Turn One with a sweet move around the outside."
Claiming the plaudits for one of the greatest drives seen in the iWCSRR, Ray Alfalla clawed his way from twenty-ninth on the grid to a top five finish by the end of the 71 lap race. The American picked a path through the opening lap accidents, and then systematically made pass after to pass, to move into the top ten within seven laps. "I got stuck behind Alberto Baraldi on the first stint, with aero push making it tough to pass," the delighted Alfalla explained. "I was able to get by him in Turn One after the first stops. Then, I saw Derek Wood gaining massive time so I just tried to go as fast as possible. I'm sorry to Klaus at the end, but I couldn't afford to let him go with Derek riding his bumper. I saw he had a five second lead, so it would be pretty safe."
Choosing to start his race from the Zandvoort pit-lane proved to be a winning gamble for Nebraska's Derek Wood, as he methodically worked his way through the field, finding a spot in the top ten when the time the first round of scheduled pit-stops came about. By the time Wood made his second appearance in the pits, he had moved up to sixth and was soon gaining time on Alfalla, but the Cornhusker didn't have enough laps to make a serious bid for fifth position.
Baraldi put up the fight of his life to hold-off Messrs Alfalla and Wood, but the Italian's long-stint strategy failed to reap the rewards he hoped.  Nevertheless, the Twister Racing Team racer was delighted with his seventh place finish, a lap down on the winner. "This is really beyond what I did expect, so we'll work to keep these things going," he wrote this week. Making it two top ten finishes in as many rounds, Payne's performance on iRacing's digital-replica of Circuit Park Zandvoort proved the Pennsylvanian's dismal 2010 is but a distant memory, with the Inside Sim Racing-sponsored driver taking eighth position ahead of Wolfgang Woeger and Brad Davies.
As the iRacing.com World Championship Series Road Racing heads to Round Four at Barber Motorsports Park, Kivekäs has established a commanding 29 point lead over his My3id stable-mate Luis. Despite failing to start in one of the three rounds so far, Team Redline's Huttu occupies third in the standings table with 75 points, 47 marks off the leader and a single digit ahead of Elomaa, who is three ahead of Phillip Island winner McLean.
---
You may also like...
---