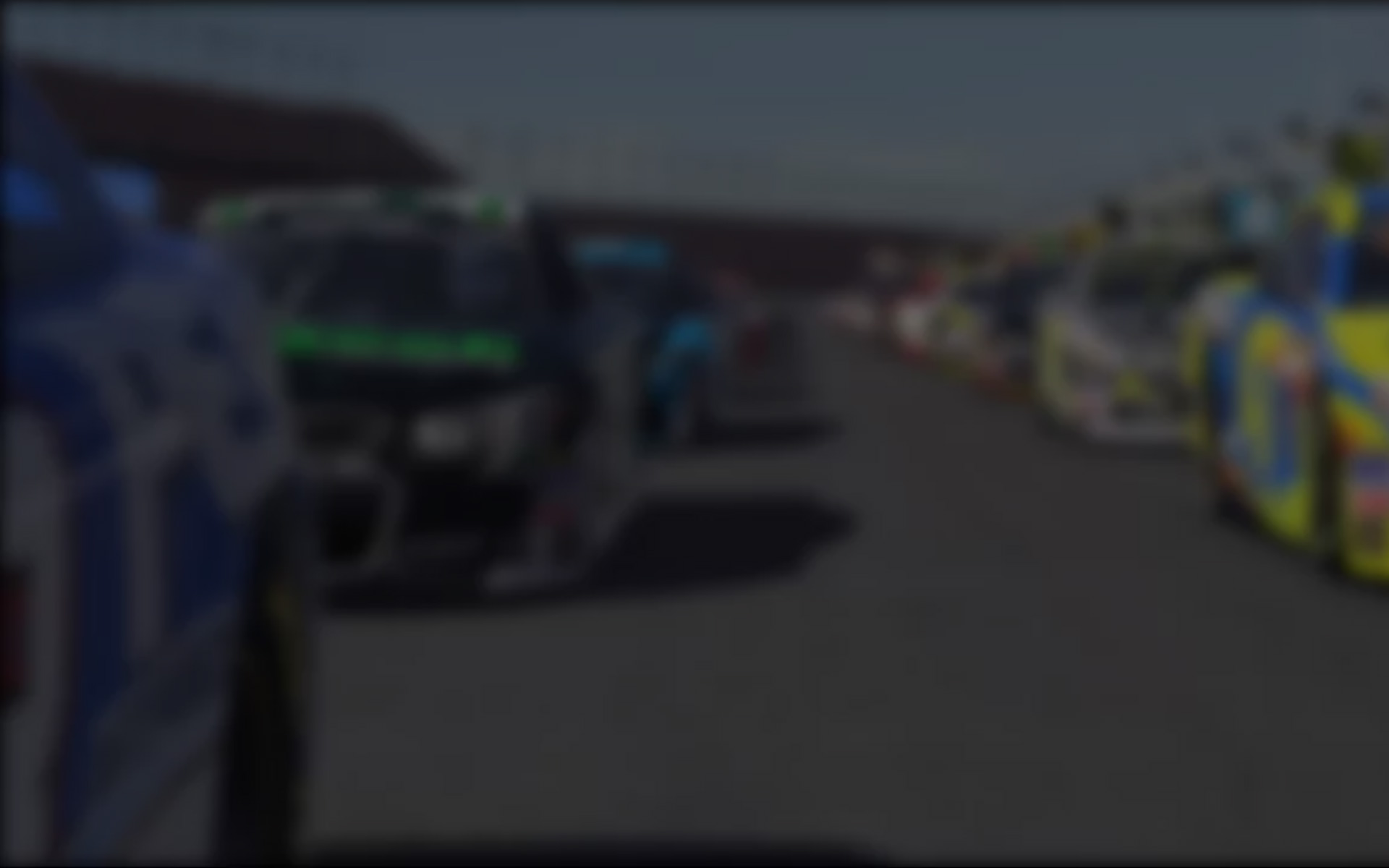 With the latest build for the iRacing software released just days before the commencement of this week's racing, the addition of smoke, dust, sand, dirt, etc. was always going to add an interesting new element to the racing. Some claimed they saw Lawrence of Arabia sitting up on the sand dunes of Laguna Seca on a camel but they were clearly just hallucinating from thirst and exhaustive racing action! <cough, cough>. It was also rumoured to be Bastien Bartsch with a show of his new enthusiasm for camel racing as his newly preferred sport. Or had he signed up for the French Foreign Legion?
Thursday got off to a good start for Luke McLean as he led pole-sitter Shawn Purdy into the first turn and down into Andretti Hairpin. Florian Godard spun coming off Rainey Curve on Lap Four and, not to be outdone, Luca Ceretti caught the inside curbing at Turn Six and was rammed by Mark Drennan on the sixth lap.  Next, Peter Read's run of poor results continued with an error coming off Turn Eleven. He caught the astro turf on the outside, then spun into the wall, badly damaging the car and ending his day.
"Lapse of concentration for me. Caught the outside artificial turf, and spun the car into the wall. Day done!" said an unhappy Read.
Lap 15 saw Dario Frattini get it all wrong in Turn Six, going straight on and into the wall ending his day! He later remarked. "I had a great start from eighth and slotted into fourth, then spun, rejoined seventh, Peter retired and then I completely missed the mark in the fast left-hander and went flying into the barriers."
Godard was in trouble again on Lap 22 when he lost it under brakes into the Corkscrew, hitting the wall on the other side hard and ending the day for him as well!
Out front, McLean put in another great drive, proving to be just a bit stronger than hard-charging Purdy in second.
"Going into Laguna I was not very confident," said a jubilant McLean. "Last time we were here I struggled for pace and used a long first gear and wrecked two cars into Turn One. This time around I felt slightly more confident in Qual trim. Into the race I got the jump on Shawn into Turn One. From there I was not sure if I could keep a hot enough pace to hold him off. I just knuckled down and pushed as hard as I could. I found myself in a really nice zone with the feeling of the car and started to pull out bit by bit. It was interesting with the dust as it's extremely distracting following cars closely when you can't see the turn-in.  Thanks to Shawn for another top battle.".
A drained Purdy commented, "Phew I'm pretty soaked; pushed so hard in this from start to finish, and was definitely way more difficult this time then last time as the sand picking up into Turn Six was really hard to see my braking zone. I almost stuffed it three times at least. I think I'll need a new braking marker for that turn. Again on the pole and I didn't take advantage bah!  Luke got by, which sucked because it's like impossible to pass here lol. Either way was a fun battle the whole race enjoyed it."
Ian Lake was happy to inherit third position at the expense of so many others over a minute back with John Prather and Jan Zilliacus not far behind in fourth and fifth.
"I'd like to publicly thank the following people for today's third placing at Laguna: Dario, John, Florian, and Peter. Without them falling off the track in front of me, I would never have dreamt of a podium," Lake joked afterwards. Marc Beeson was angry with himself after a few spins dropped him out of the top five and into sixth position.
Top Five: McLean, Purdy, Lake, Prather. Fast Lap: McLean (1:19.134)
Saturday's racing got off to a clean start for Richard Towler who seems determined to not get swamped off the line any more. With his shorter first gear he lead easily down the hill and into Andretti Hairpin, ahead of Ryan Kowalewski and Daniel Almeida. George Sandman, on the other hand, paid the price for his longish first gear, being passed by Brad Davies and Andrew Kristensen into the same corner.
Lap Seven saw Davies get loose exiting The Corkscrew, allowing Kristensen around him for fourth position. Kristensen gave the spot back the next lap as he out braked himself into the hairpin, also allowing Sandman past. On Lap 21 Davies got loose exiting Turn Three allowing Sandman past for fourth position. Kristensen tried to get around him as well going through Turn Four but ran off the track, costing him momentum. It mattered little however, since a few corners later Davies lost it through the Turn Six kink gifting Kristensen what was now fifth place.
Further up the road, Almeida had been running a solid third until he spun clockwise under brakes into the counter-clockwise Andretti Hairpin on Lap 31. By the time he got back on track, Sandman and Kristensen were past. On to Lap 37 and Sandman attempted to get too good of a run through Turn Six kink, got wheels off the outside in the braking zone and spun off the track and down to fifth. Just behind, Davies got a good run off Turn Four right behind a now-struggling Almeida but, unfortunately, he just tapped the back of his rival's Riley, spinning the Almeida into the wall on the left and ending his hopes of a good finish. The next lap saw Davies get a "slow down" black flag after out-braking himself into The Corkscrew and cutting the course. The agricultural excursion also damaged his car slightly and Davies struggled over the next lap before again losing control through the Turn Six kink, giving his fifth position away to Kimmo Suominen.
Top Five:  Towler, Kowalewski, Kristensen, Sandman, Suominen.  Fast lap:  Towler  (1:19.098)
Sunday saw good racing action between Ilkka Haapala, Brian McDaniel, Peter Read, Jason Lisner and Ray Alfalla. McDaniel got the jump into the first turn but Lap 13 saw Haapala re-pass him for the lead which he kept to the end. Lap 25 saw Lisner pass Read only to lose control on the next lap and make contact with Read. Read went on to take third place but Lisner dropped to fifth allowing a no doubt very pleased Alfalla, who started back in 10th, to have fourth place.
Top Five:   Haapala, McDaniel, Read, Alfalla, Lisner.  Fast lap: McDaniel (1:19.214)
Qualification Fast Lap of the week:  Shawn Purdy (1:17.912)
Race Fast Lap of the week: Richard Towler (1:19.098)
So the end of Week 13, which incidentally marks the exact middle of this Pro Series, sees Canadian Shawn Purdy's lead over Australian Luke McLean shrink just a little but is still a whopping 218 points. England's Richard Towler is a further 86 points back in third. Frenchman Florian Godard is just inside the Top 50 bubble with Australia's Paul Feely being just outside. So have a few glasses of water and wash all of that sand and dust away as we head to Atlanta where the grass is greener, since they actually have grass!
*                                                              *                                                                      *                                                                              *                                                                          *
About the iPSRR – The iRacing Pro Series for Road Racing (iPSRR) is, in this inaugural year, a 25 week series with 6 drop races (i.e. a driver's best 19 results will count toward his season tally). In addition to crowning a seasonal champion, the iPSRR qualifies its top competitors for the 2010 iRacing Drivers World Championship for Road Racing which will be worth $10,000 in money and prizes for the champion. There is a parallel series for oval racing (the iRacing Pro Series Oval – iPSO). The top 50 drivers in each Pro series will compete in the iRacing Drivers World Championship Road Racing and iRacing Drivers World Championship Oval, the latter of which will be sanctioned by NASCAR. Both are set to start this February.
---
You may also like...
---