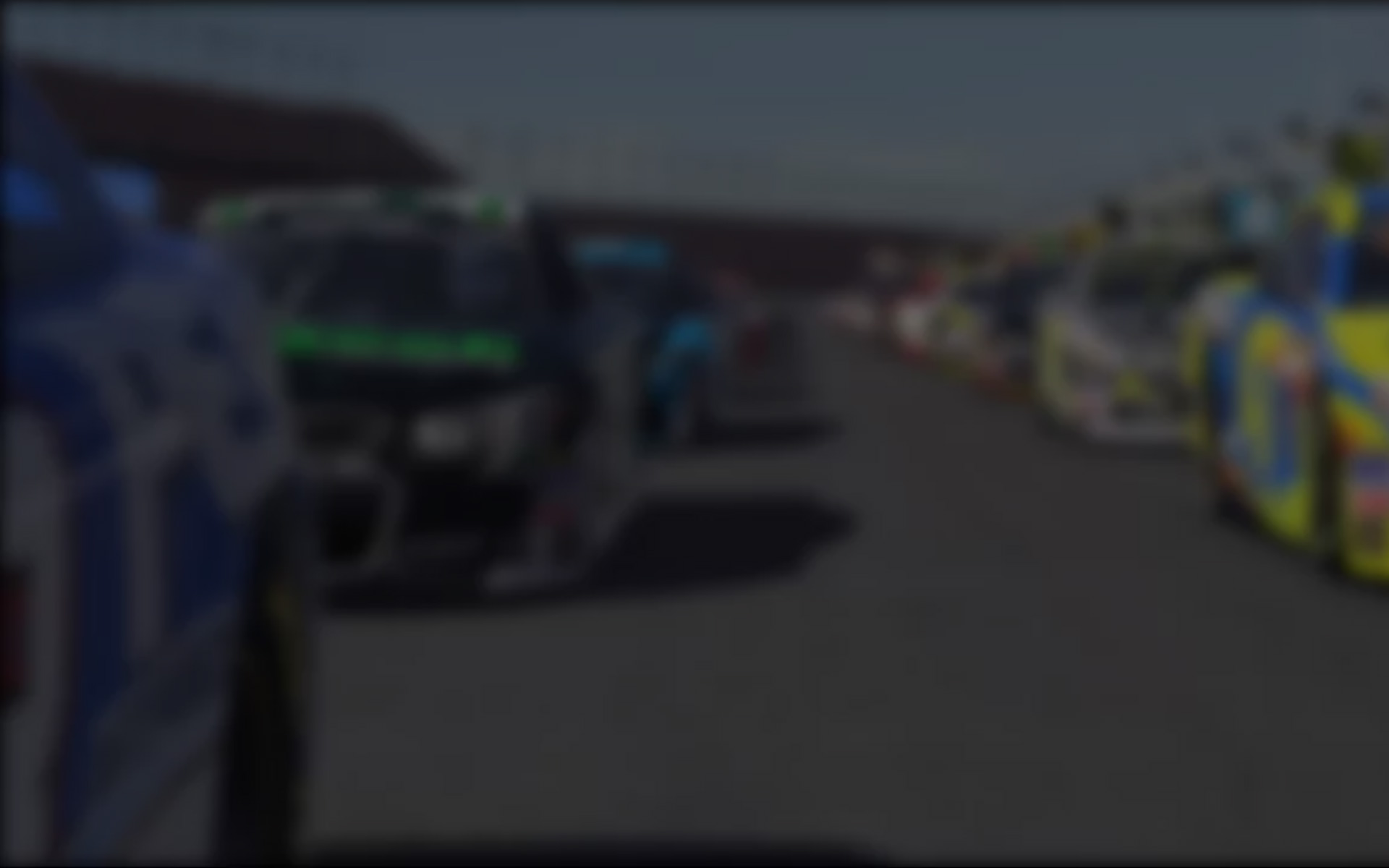 Bristol Motor Speedway – what hasn't been said about The Last Great Colosseum? Arguably the most famous short track in the United States and possibly the world at large, opinions on Bristol are split between both lovers and haters when it comes to sprint car racing on the iRacing.com service. Featuring over 820 hp, sprint cars drivers blaze around the blind 30 degree banked turns, not always knowing about or able to slow down for trouble ahead. For some, keeping a short leash on their safety rating means using Week 3 as a drop week for their championship run. For others, it means 50 laps of some of the hardest, sweat-inducing racing seen in the iSCS schedule.
At the top of the time charts for qualifying for the week, Fred Lampela was almost a full tenth faster than 2-time iSCS champion Vinnie Sansone, scoring his pole-winning time of 13.673s. 37 drivers attempted qualifying runs throughout the week, and five scheduled times went official, two of which featuring splits. With 83 entrants split between the featured events, Bristol was sure to host some memorable moments throughout the week.
Lampela kicked off the week on Monday by leading a field of 9 cars to the green flag. With surprisingly only one yellow flag displayed during the 50 lap event, Lampela was able to take his first win of Week 3, after holding off Nicholas Howard, who was the runner-up. Brett Waldrep completed a dent-free podium with his third place finish. Marcus Dean and Will Roberts rounded out the top five respectively.
Intense action was seen throughout the field on Tuesday after Vinnie Sansone led the top split field to the green flag. The first yellow came out just a couple of laps after the green flag flew, with a wreck involving Ronald Williams and Jon Watson. On Lap 12, the yellow would wave again for the same duo of drivers, as they made contact once more, resulting in both cars requiring too much repair to continue on. A hairy restart occurred on Lap 17 after Waldrep spun his tires and moved towards the wall, into the lane David Cumbo Jr. occupied. Cumbo backed off and veered towards the wall but turned to the left to avoid damage, resulting in touching wheels with Scott Kelly. Cumbo lost control of his sprint after the contact and hit the wall, with many other drivers involved in the ensuing melee including Dustin Herner, Nicholas Anderson, and Marcus Dean.
After the last restart, the race went green until the checkered flag. Vinnie Sansone parked it in victory lane after beating John Battista by over 2 seconds. Coon Landry crossed the finish line in third place, completing the podium. After a heated battle for fourth place, Brett Waldrep and Scott Kelly completed the top five respectively.
In the second split, the yellow flag was shown three times as well, with over half of the field receiving incident points at the end of the night. One of these drivers was Justin Bankowski, who led 20 laps over four cars all within half of a second of grabbing the win, which Bankowski was able to achieve. Ryan Williams2 came up .080s short in second place, and Eric Crossan came from 11th place to complete the podium in third. Rookie Tary Roundtree finished in fourth place, and Shawn Russell completed the top five.
Wednesday provided a shocker to both drivers and spectators alike, as a new face was seen in victory lane, beating out Fred Lampela, who started on the pole for the event. After their battle on Monday, Lampela and Howard were 1-2 once again, but on Lap 31, Eddie Walczyk lost control of his sprint and moved down into Lampela's path, resulting in damage on both cars. As the two merged onto pit lane and Howard took the lead, Russell moved into the line of the lapped machine of Lee Rogers, causing the only caution period of the night. Howard was able to drive away with the win, easily his biggest win of his sprint car career. Eric Nordhoff crossed the line in second place, and Coon Landry scored another podium finish for the week. Marcus Dean and Matt Berndt completed the top five respectively.
In the week's highest SOF event, Thursday saw not only a live-broadcasted event, but another classic battle between Lampela and Sansone. After a long green flag session, a huge pileup occurred with four laps remaining. Coon Landry brushed the backstretch wall and slowed down moving into T3, but Ryan Steele wasn't able to move himself out of the way in time. Colliding with Landry, Steele got airborne as others were collected in the incident. The late caution period effectively ended the race under the yellow flag conditions, with Lampela scoring the win in the largest points payout of the week. Sansone finished second, with Michael Lampela in third. Jeffrey Mays and David Cumbo Jr. were scored in 4th and 5th respectively.
Thursday's second split race featured an epic showdown between Eddie Walczyk and Scott Kelly, with Walczyk taking the green flag from the pole position. The first yellow appeared on Lap 4 after Eric Crossan and Ronald Williams both spun at the same time while following each other exiting T2, and on the backstretch, Chet Wheeler Jr. and Daniel Muse found trouble as well as they spun and hit the inside retaining wall. After one more yellow flag was displayed, Kelly chased down Walczyk and attempted to make a pass on the high side after multiple unsuccessful attempts while going low. On Lap 33, Kelly made his move on the backstretch, and for two laps, the two racers went side-by-side for the lead until Kelly finally got around Walczyk for the lead. With just two laps remaining, a lapped car came out of pit road almost right in front of the leaders, and Kelly let off of the throttle to avoid incident. Walczyk took advantage of the check-up, and with one lap to go, he attempted to pass Kelly on the high side. On the backstretch, the leaders wiggled and Walczyk brushed the outside wall. Making a respectable save, Walczyk was able to keep his car off of Kelly's, but made contact with the T3 wall. As Kelly came out of Turn 4 to take the checkered flag, Walczyk punched the throttle and catapulted his car along the T3-T4 wall to make one last run on Kelly, but came up just .045s short.
Kelly visited victory lane for the third straight Thursday in a row in the second split, and clearly wasn't upset about the maneuver Walczyk attempted at the finish. "I don't race with rear-view mirrors, so I didn't see what happened to him on the backstretch there, but I assumed Eddie wasn't going to go down without a fight – that's just the kind of racer he is," said Kelly post-race. "I knew he was there, I knew it was going to be close. Some may look at that finish and turn their noses up at his maneuver, but if he ended up winning that race because of the momentum he got off the wall, I would have been okay with it. We both finished the race, we both raced each other clean, and that's what this series is all about – respect."
"[T]hat's what this series is all about – respect." – Scott Kelly
Ronald Williams watched the battle as he put himself in a position to capitalize on any mishaps between the two leaders, and finished in third place, just .270s behind Kelly. Fritz Kletke and Shawn Russell rounded out the top five respectively.
One more race was held on Friday, and it was Nicholas Howard who dominated the show after pole-sitter John Battista spun out while leading on Lap 11. Howard left Bristol with two victories and a healthy collection of points to boot. Brett Waldrep scored another podium finish with his second place result, and Marcus Dean achieved another top 5 finish in third. After finishing 10th in the Knoxville Nationals, Cap Henry made his return to iRacing with a fourth place finish in his simulated sprint car at Bristol. Eric Nordhoff completed the Top 5.
With Lanier on the horizon, a track many iSCS regulars are familiar with, many looked forward to escaping the stressful high banks of Bristol. Will it be Sansone or Lampela that will come out on top during Week 4? Will 8-time champion Alan Binder make a return to the series? Will someone new pave their way to victory lane? Find out next time on the iSCS recap only on inRacingNews.com.
**2013 S3 iSCS POINTS STANDINGS**
(As of Week 3)
1. Vinnie Sansone (571)
2. Fred Lampela (-44)
3. Michael Lampela (-166)
4. David Cumbo Jr. (-180)
5. Leila Wilson (-194)
---
You may also like...
---