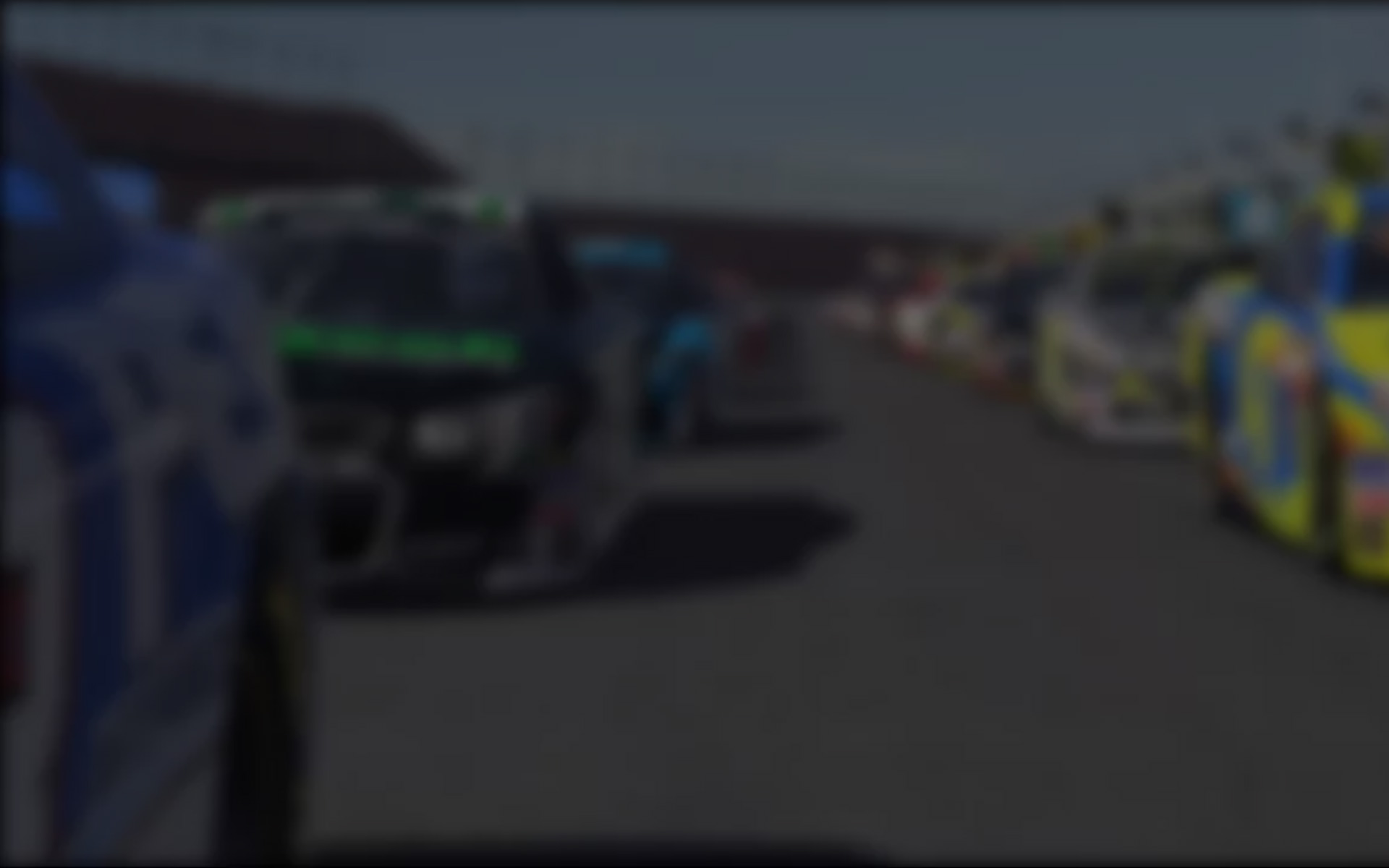 Racers laced up their speed skates before turning some quick laps around a slippery Okayama short course this week. The turnout was nice with 630 sim racers taking the green flag and 83% of the races going official.
Jamie Fluke took home the gold with a 194 point effort, but Mike Galloway retained the overall points lead. Daro Ricov dominated this week with four victories, and Gerald Chevalier collected a pair wins and eight top fives in 14 starts. If you raced this week, chances are you ran into Cristobal Gutierrez (16 starts) . . . but only figuratively, as he set the bar high for clean driving at Okayama.
Division leaders held their ground, with the exception of Justin T Rhodes taking over the top spot in Division 4. Several racers managed to crack the top ten: Pierre-Antoine Coipeault (Div1); Markus Baiersdoerfer (Div1); Janne Sainisto (Div2) lept 11 spots into P9; Matthew Burke (Div3) earns P10; José Alberto (Div6) climbs 11 spots to P8; and Ramon Blanco Illescas (Div 7) moves into P9.
Week 4: Okayama International Circuit – Short
Qualifying
191 drivers qualified this week with a 22.100 second spread.
Congratulations to Charlie Summers, the fastest qualifier this week with a time of 0:58.340.
Four drivers were under the 100.5% time of 0:58.632 with Edward Forer2 at the rear with a 0:58.445.
Six drivers were under the 101% time of 0:58.924 with Stoyan P Penchev at the rear with a 0:58.856.
13 drivers were under the 102% time of 0:59.507 with Nicholas Vandal at the rear with a 0:59.488.
Race
630 drivers raced this week with 466 (or 73% of the field) not bothering to qualify.
90 out of 109 races went official with an average official race SOF of 1619.00.
The best time to race was at Saturday @ 20:45 GMT with 14 entrants and an SOF of 3309.
The worst time to race was at Friday @ 02:45 GMT with 10 entrants and an SOF of 1089.
The top single race score of the week went to Jamie Fluke with 194 points.
Cristobal Gutierrez was the busiest racer with 16 starts.
Daniil Manaenkov had the easiest time with 25 out of 25 laps led.
Jamie Fluke had the fastest race lap this week clocking in at 1:00.202.
Jamie Fluke had the fastest average race lap time of 1:00.881 over 25 laps.
Marco Ventura edged out Markus Baiersdoerfer by 0.017 seconds in the closest race finish of the week.
Thomas Stowers was the hardest charger this week starting from 19th and ending in second in this race.
In total we spent 5017 man-hours (209.0 man-days) racing 27967 laps over 109 races.
Stian Svendsen was the cleanest driver with at least four starts with an i/r of 0.00 (0 incidents in four races)
Cristobal Gutierrez was the cleanest driver with at least eight starts with an i/r of 1.50 (24 incidents in 16 races)
Dario Ricov had the biggest total iRating bump this week of 330 points
Ricardo R Pinheiro had the biggest single race iRating bump this week of 108 points
Incident Stats
2429 off tracks
663 lost control
53 contacts
458 car contacts
36 black flags
Series top scorers
Div 1: 194 – Jamie Fluke
Div 2: 157 – Felix Simoes
Div 3: 144 – Jared Stehney
Div 4: 102 – Fatih Aytac
Div 5: 89 – John Valentin
Div 6: 76 – Scott Bradshaw
Div 7: 72 – Carl Robert
Div 8: 64 – Brendon Bailey
Div 9: 65 – Ricardo R Pinheiro
Div 10: 39 – Dalton J Martin
Division Leaders as of Week 4
Div 1: 709 – Mike Galloway
Div 2: 518 – George Vasmoulakis
Div 3: 505 – Stoyan P Penchev
Div 4: 354 – Justin T Rhodes
Div 5: 310 – Jason S Stewart
Div 6: 271 – Garth Gastmeier
Div 7: 235 – Michael Charles
Div 8: 165 – Ian Haycox
Div 9: 92 – Mitch Walter
Div 10: 60 – Chad Hisaw
Achievements
Winners: 35 drivers brought home their first win of the season this week! Congrats to:
Will Barnes, Juan Carlos Garcia Vegas, Aaron Kobayashi, Luca Pagliarin, Cristobal Gutierrez, Keith Walsh, Ron Wallace, Giacomo Angeli, Jamie Fluke, Nicolas Guarino, Chris Caesar, Kaies Bouzouita, Justin Partin, Atanas Dimitrov,Eric Lamoureux2, Garth Gastmeier, Dean Ross2, Denis Garmash, Sascha Hoffmann2, Charlie Parker, Bryan Pendleton, Gerald Chevalier, Kristof Mueller, Zach Whitaker, Kamil Franczak, Robert Fears, Jeff Bourne, Michael Baynum, Martin Söderholm, Stoyan P Penchev, Jobson Souza, Brendon Bailey, Markus Seufzer, Carlos Fernandez Exposito, Dario Ricov
100.5% Club
There were NO new members of the 100.5% Club this week!
101% Club
There were NO new members of the 101.0% Club this week!
102% Club
There were NO new members of the 102.0% Club this week!
347 New Drivers
Full list on the SRF forum at:
http://members.iracing.com/jforum/posts/list/3335919.page
---
You may also like...
---