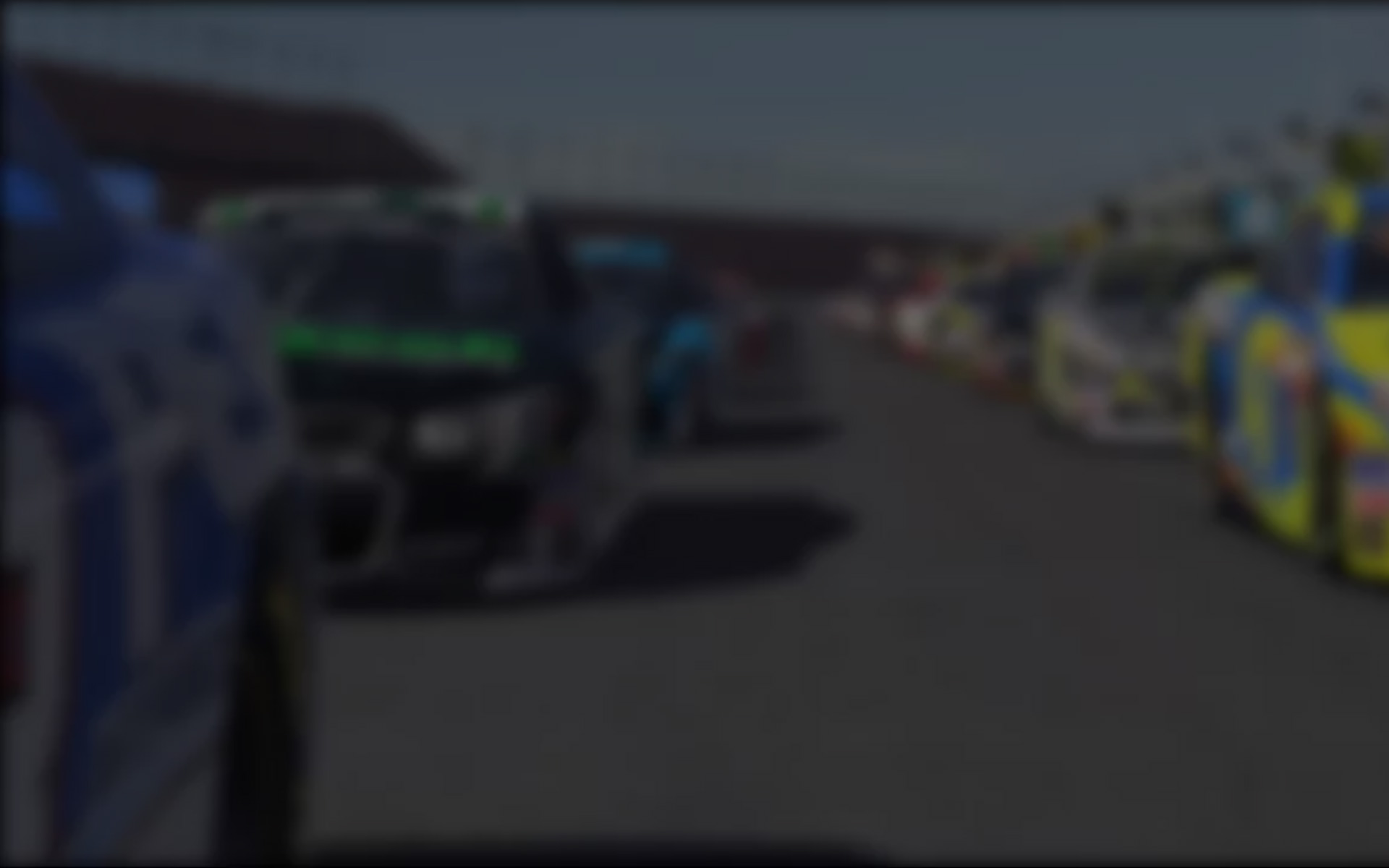 The Charlotte Legends Oval is a venue dreaded by all NASCAR iRacing.com Late Model Series drivers, but for many it was an opportunity to gain a few points on a competitor who decided to take Week 11 off. The close quarters for the mini-oval did not necessarily highlight our normal challenge of tire wear, but rather simply being able to survive Turn One. With a number of competitors being series ringers due to the high profile of the Charlotte Motor Speedway, many new faces appeared; and, with no points to worry about, they ran for the win with their fellow sim-racers often suffering the results of their overly aggressive driving.  Fortunately, this created some intense battles and awesome races where the chrome horn was – occasionally — a necessary implement.
In the 2541 Strength of Field race, Dale Shaw started on pole but an interesting Turn One scrambled the running order.  Contact between Shaw and Steve F Burnett enabled Elliot Huffman to grab the lead even as an unfortunate Spencer Prete was caught-up in the wash and knocked-out of the race before finishing a lap.  After leading 52 laps, Huffman found Burnett knocking on the door and looking to take the lead.  But a late slip from Burnett not only cost him a chance as the win, it allowed for Shaw to slide into the second position.
Shaw would go on to pass Huffman and lead the last 38 laps to take the victory. Burnett battled back to finish second, just one and a half seconds behind, with Huffman third a dozen seconds behind. Burnett's teammates Matt A Kingsbury and Jimmie Jones finished a lap down in fourth and fifth, respectively, while Blake Reynolds finished six laps down in sixth. Josh Roberts finished in seventh at twelve laps down and Stan Bragg Jr, also Burnett's teammate, would go on to finish eighth, thirteen laps down after losing connection to the server.
In Week Eleven's standings, Charles Cosper won the highest Strength of Field race resulting in a point week of 165 followed by Dale Shaw at 153. Eric Isenbeck claims the third position with 145 points  and Sam Adams claims fourth with 139 points. Steven F Burnett captured 133 points  to round out our top five. Nathan Hammock earned 131 points to take the fourth position, followed closely by Cole C Anderson (129) and Andrew Simmons (128).  Kees Jochems placed ninth for the week at 123 points while Brodie Kostecki took home 120 points for the week to finish our top ten.
Heading into the final days of 2013 Season 2, the championship battle is all but settled. Ty Majeski sits just two points behind Kevin Burris and it looks that the reigning champion may be looking to get one more strong race in to try and gain those points. Nick Zautner sits third, Kenneth Smith fourth, and Ron Hagolin fifth. However, there is more to come in the next few days as we wrap up our action at The Milwaukee Mile.
---
You may also like...
---