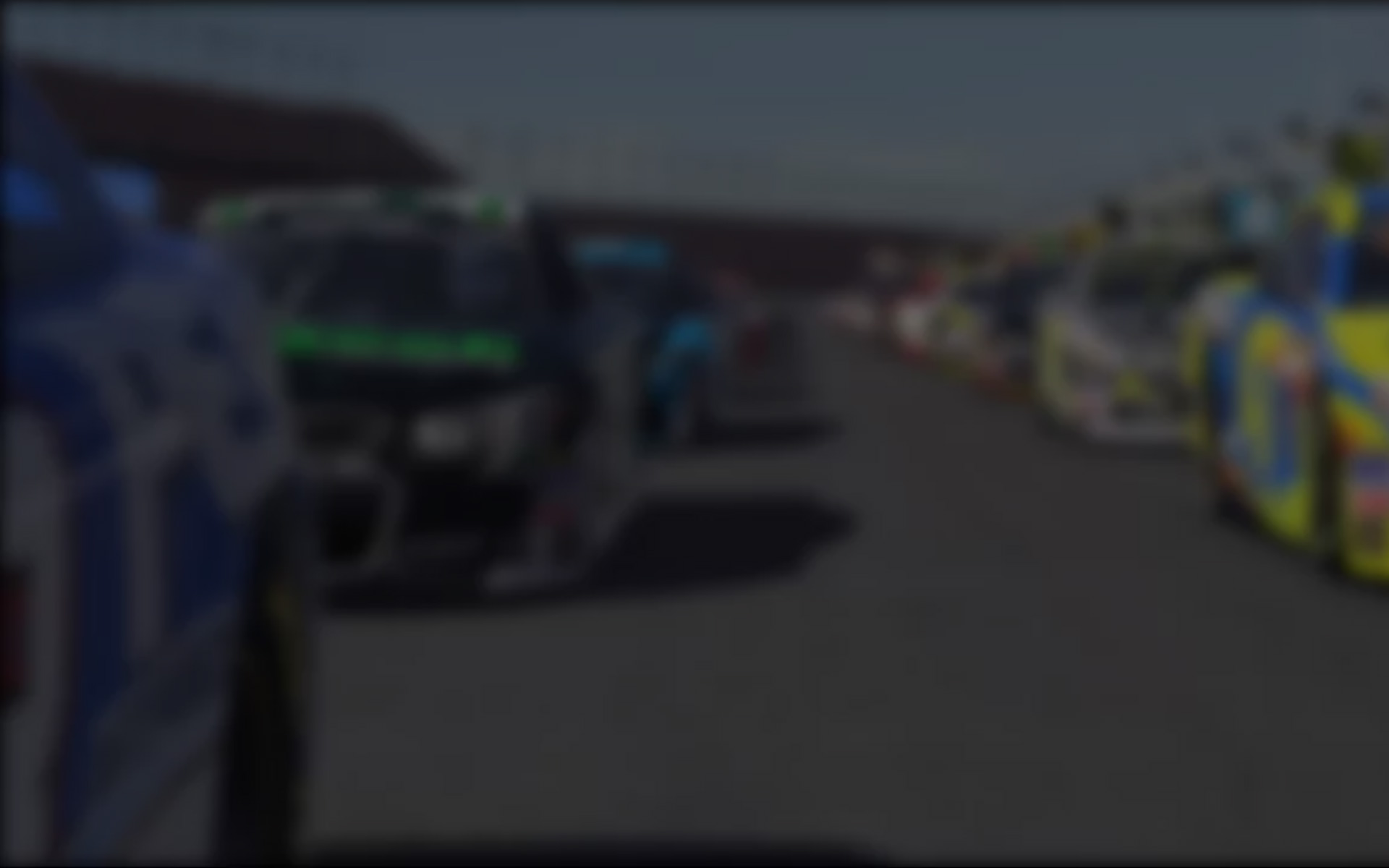 Tom Lewandowski played the fuel mileage game perfectly at Atlanta Motor Speedway and held-off a charging Michael Conti, finally breaking a three-year winless drought in the NASCAR PEAK Antifreeze Series Powered by iRacing. Lewandowski did not have the fastest car, but the caution-free race let him play the strategy game while Conti, Ray Alfalla and other contenders ran dry and needed an extra pit stop to go the distance.
Conti crossed the line in second ahead of Alfalla, while CBR/Virtual Performance Racing teammates Cody Byus and Adam Gilliland were strong all night and rounded-out the top five.
Conti, who clearly had the fastest car and led 118 of 163 laps, nearly pulled-off a miraculous comeback. With 24 laps to go, he came down pit road for a splash of gas and two right side tires. Upon exiting Conti found himself just over 16 seconds back of Lewandowski's Ford Fusion, but immediately got up on the wheel and started closing the gap, taking advantage of the leader being held-up by lapped traffic.
"(I) knew that if I lifted off that he would have the run to beat me to the line." – Tom Lewandowski
As the laps ticked down it became apparent that Conti was going to have a shot at the win regardless if Lewandowski had enough fuel. Conti was over half a second a lap quicker and pulled up on Lewandowski's rear bumper with two laps to go. Despite his worn tires, Lewandowski played defense and used every trick he knew to keep Conti at bay.
The two took the white flag nose-to-tail, with Lewandowski still holding on. Conti tried to get a run down the backstretch but Lewandowski blocked the bottom and gave Conti no choice but to try the outside groove through Turns Three and Four. Conti drove his Chevy SS hard into Turn Three and pulled nearly even with Lewandowski as the two worked their ways to Turn Four. With the checkered flag in sight, Conti started to surge ahead off of Turn Four but Lewandowski, foot to the floor, slid up the track and made contact with Conti which sent the championship leader into the wall. The impact with the wall broke Conti's momentum and he came up just .2 seconds short of picking up his fourth victory of the 2014 NASCAR PEAK Antifreeze Series.
"I was pushing as hard as I could coming off Turn Four and knew that if I lifted off that he would have the run to beat me to the line," said Lewandowski. "We made some contact coming off the corner and I managed to hold on for the win."
Early in the going it looked as if no one had anything for Conti. He missed the line a bit on his qualifying run leading to a third place start but jumped into the lead on the first lap. Alfalla, who started fourth, followed Conti through and sat on his bumper for the first half of the opening fuel run. However, Alfalla could not match Conti's long run speed and slowly started to fade as the #5 got smaller and smaller in his windshield.
By the time the first round of stops was complete, Conti's lead had ballooned to more than five seconds and it looked as if he was a shoo-in for the victory . . . until Lewandowski and his miserly fuel strategy crashed the party. It seems strange for a driver to be disappointed with a second place finish but after a second straight dominating win it was frustrating for Conti not to close the deal and pick-up the four extra points in Victory Lane.
Even though Conti came up short he still slightly padded his point lead on Alfalla in the battle for the championship. With a two point gain, Conti is now 25 points ahead of Alfalla with three races remaining. Nick Ottinger struggled most of the night on his way to a tenth place finish and now is 35 points out of the series lead. Two other contenders, Chad Laughton and Chris Overland, also fell farther behind after sub-par runs and are now most likely out of the running unless both Conti and Alfalla falter down the stretch.
And we would be remiss if we didn't give a special shout-out to Bryan Blackford for his gritty performance last night.  Bryan was injured in a karting accident over the weekend, but still competed in the Atlanta race and came home P31 — all while driving with just his left hand.  Well done Bryan!
With the championship battle basically narrowed to three drivers, the NASCAR PEAK Antifreeze Series heads to Richmond International Raceway for this season's final round of short track sim racing. RIR just happens to be one of Conti's stronger tracks so Alfalla and Ottinger will have to be on top of their games if they hope to make any ground. Look for all three to be at the front in some combination but the pre-race edge is firmly with Conti. Can Alfalla, Ottinger, or someone else pull the upset or will Conti make a move to solidify his championship run? Find out in two weeks on iRacing Live!
---
You may also like...
---