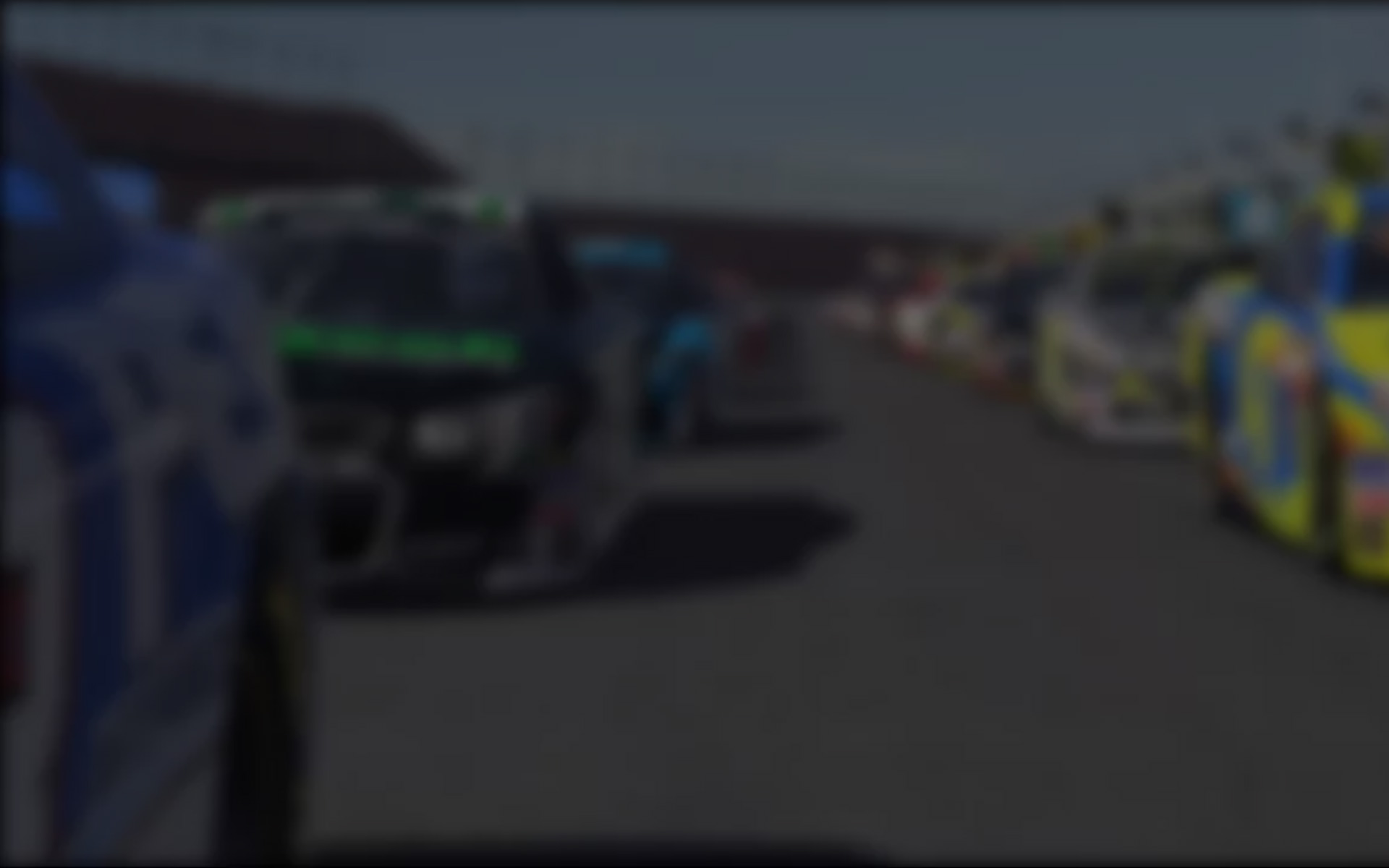 Silverstone was the track up next for competitors in the iRacing Grand Prix Series. The historic circuit in Northamptonshire, UK, began hosting Grand Prix races in 1948: although it would be two years later when the inaugural Formula One season headed there for the opening round of the newly created World Championship of Drivers or, we know it today, the Formula One World Championship. Silverstone has had a presence on the calendar almost every year ever since it hosted the inaugural race of the championship.  The home of the British Grand Prix bounced back and forth between Silverstone, Aintree and, later, Brands Hatch before Silverstone was made the permanent home of the race in 1987. Even in the "off-years" however, Silverstone hosted non-championship Formula One races in the form of the The International Trophy, the first of which was won by Alberto Ascari in a Ferrari in 1949, the last by Keke Rosberg in a Theodore in 1978.
Whether or not the illustrious names of past Formula One winners was on the top of their minds or not, the iRacing Grand Prix competitors assembled at the virtual Silverstone circuit for an online race broadcast by Apex Racing TV.   Maarten van Loozenoord seems to be the sim racer to beat this season (when he doesn't make a mistake!) and the Dutchman showed his authority once again with an incredible qualifying performance, setting a benchmark time of a 1:18:574 some .7s clear of fellow Pro driver Vedran Kralj.   The entry included a few unfamiliar names, including that of Brazil's Daniel Arent Wensing, who qualified a credible third and certainly looked to be a force to be reckoned with during this Grand Prix.
20 cars took the green flag and all 20 survived through Copse Corner for the first time; better still, everyone managed to emerge from Lap One all in one piece! By the start of Lap Two, Loozenoord had bridged a comfortable gap from Kralj and looked destined to pull away: Even if he was on a lighter fuel load, the time he'd more than likely gain would counteract any time he'd lose during the stops. Many observers expected this to be a two stop race through and through . . . although it wouldn't turn out to be like that one bit; which came as a surprise to the commentators, especially given with well-paced some of the front running one stoppers turned out to be! A very important early move made by Guillem Escuder Heredia on Wensing for third spot ensured he wouldn't be stuck behind his heavier competitor for the opening stint, thus compromising his lower fuelled Williams Toyota FW31.
Francisco Javier Gutierrez was the first to fall victim to the notoriously difficult Vale corner, as the Iberian dropped to the rear of the field from tenth.  The a long race ahead meant anything could happen and Gutierrez had every possibility of recaptured some of the positions he lost. With Silverstone being a tricky circuit mistakes can and often do occur more frequently than on other circuits, especially once you fall out of a groove, so Gutierrez would be making sure to exercise caution whilst getting back up to speed and not to make another error.
If the fuel strategies held some surprises, as expected the race turned in to somewhat of a procession; Dirty air overpowered the benefits of the draft making it difficult to get a run on the car ahead to initiate an overtake. Drivers ran in close formation, especially Alex McFarlane and Wensing, but the lighter-fueled UK&I driver could make nothing of his superior pace. McFarlane was ever so close through Maggots and Beckets from Lap 11 through to 13 but didn't have the legs down Hangar Straight to pull alongside in to Stowe to gain a position. Meanwhile the top three had managed to escape from the clutches of these two so it was just a battle between themselves for the majority of the opening stint.
Loozenoord had been in a race of his own for the majority of the first stint.  Other than lapping slower cars it was lonely for the Apex Racing Academy driver who just put in consistent laps to create a comfortable gap back to Kralj.  The Dutchman was the first sim racer to pull in to the pits and it seemed as though he'd be doing three equal stints of 20 laps. Fresh rubber would mean he'd have the grip to set quick lap times, although the high fuel meant Kralj gained the upper hand at this point, enabling the Montenegrin to lap at a quick pace to gain some time on his rival who had added time in the stops due to taking-on extra fuel. Heredia was the next to duck in to pit lane, pitting a lap after Loozenoord and coming out a fair way behind Wensing. With Wensing being on a one stop all eyes had to be on the Brazilian and how he'd fare when keeping our previous race leader at bay. Loozenoord was close but unable to create an opportunity to overtake just yet . . . although that was to change when McFarlane headed to the pit lane.
At the end of Lap 22 McFarlane was down pit road and Loozenoord went into attack mode.  Wensing could feel Loozenoord breathing down his neck but he didn't budge despite the pressure and speed of the Apex driver. Just behind the battle for a net first was Stephan Altena, somewhat of a forgotten man this race as he was also on a one stopper not far behind Wensing.  Kralj was soon able to make light work of him as a couple of lapped cars interfered when the pair headed through Club and down in to Abbey on Lap 26.  Altena's tires would surely be crying out to be changed soon enough, especially with the ability Kralj had to cut the gap in such a short period of time.
Possibly realizing he was losing valuable time and track position and thus unable to fend-off his rivals deeper in to the second stint, Altena ducked into the pits on Lap 28 thus giving Loozenrood a clear run at the one-stopping Wensing.  Loozenrood visibly had the pace to mount an overtaking maneuver but dirty air dictated otherwise; that was until Loozenoord latched right on to the back of Wensing's gearbox in the hopes of making a around Copse Corner.
Ultimately, the two-some never reached Copse corner on Lap 30, at least together.  As they rounded Luffied for the 29th time Wensing made sure he had the cleanest possible exit by straightening his Williams-Toyota FW31 as early as he could in order to power in to pitlane.  Only metres away from the Brazilian's rear wing, Loozenoord, alas, was unaware of the Brazilian intended to pit. As Wensing straightened the car up to get on the power it looked as though it would be any normal exit; but when he aimed towards the pit entrance it went pear shaped. Loozenoord tagged the rear of the Brazilian and around he went, losing valuable time he'd gained on his bold one stop strategy. Fortunately for Loozenoord's sake, the Dutchman escaped without any visible damage to his vehicle.
It certainly promised to be a lonely race for Loozenoord.  With no cars in sight on his lap he had to keep his concentration to the maximum just to not get caught out by any lapped cars, which thus far hadn't hampered him or anyone else. The Dutchman pitted a second and final time at the end of Lap 41. Kralj inherited the lead for another three laps trying to regain small margins of time whilst being on lighter fuel; by the time he was out of pit lane the Apex driver was out of sight and long gone in to the distance; as were the drivers behind Kralj.  It looked as though the least the Montenegrin would come away with would be a second placed finish.
One fight that could occur in the dying laps would be between single-stoppers Wensing, Hered and McFarlane as the three drivers were lying astern from Lap 44 onwards after the latter two had made their only stops. With their fresher tires, Hered and McFarlane figured to have no trouble catching Wensing on his degraded tires; not only would he be lacking grip, his confidence doubtless took a blow after the contact with Loozenoord. Nonetheless, Hered and McFarlane had to erase a five second gap before they could have any say in overtaking him.
The race had fallen quiet . . . until Lap 53 when Loozenoord — enjoying a comfortable lead by near enough 20 seconds — got loose at Copse Corner and planted himself in the wall. The rear end stepped out and as he tried to save it his car veered the opposite direction, striking the outside tire barrier.  The impact totalled his car and left Kralj, who effectively had no chance of the win, in first position!
This had been a race of few overtakes until Hered managed to break this trend by performing a perfectly-executed move around the outside of Stowe on Wensing. The Iberian had managed to stay close enough during Maggots and Becketts to close right on Wensing's gearbox exiting Chapel and move up into second place.
McFarlane blew his chance of a podium after running wide out of Luffied on the penultimate lap. None of this affected Kralj though who had inherited the lead during Lap 53 and never looked back, taking the victory by a comfortable margin of 38.3 seconds. Hered drove superbly to finish in second whilst Wensing came home in a solid third position; although had he not had the spin, second would have been in his grasp.
---
You may also like...
---