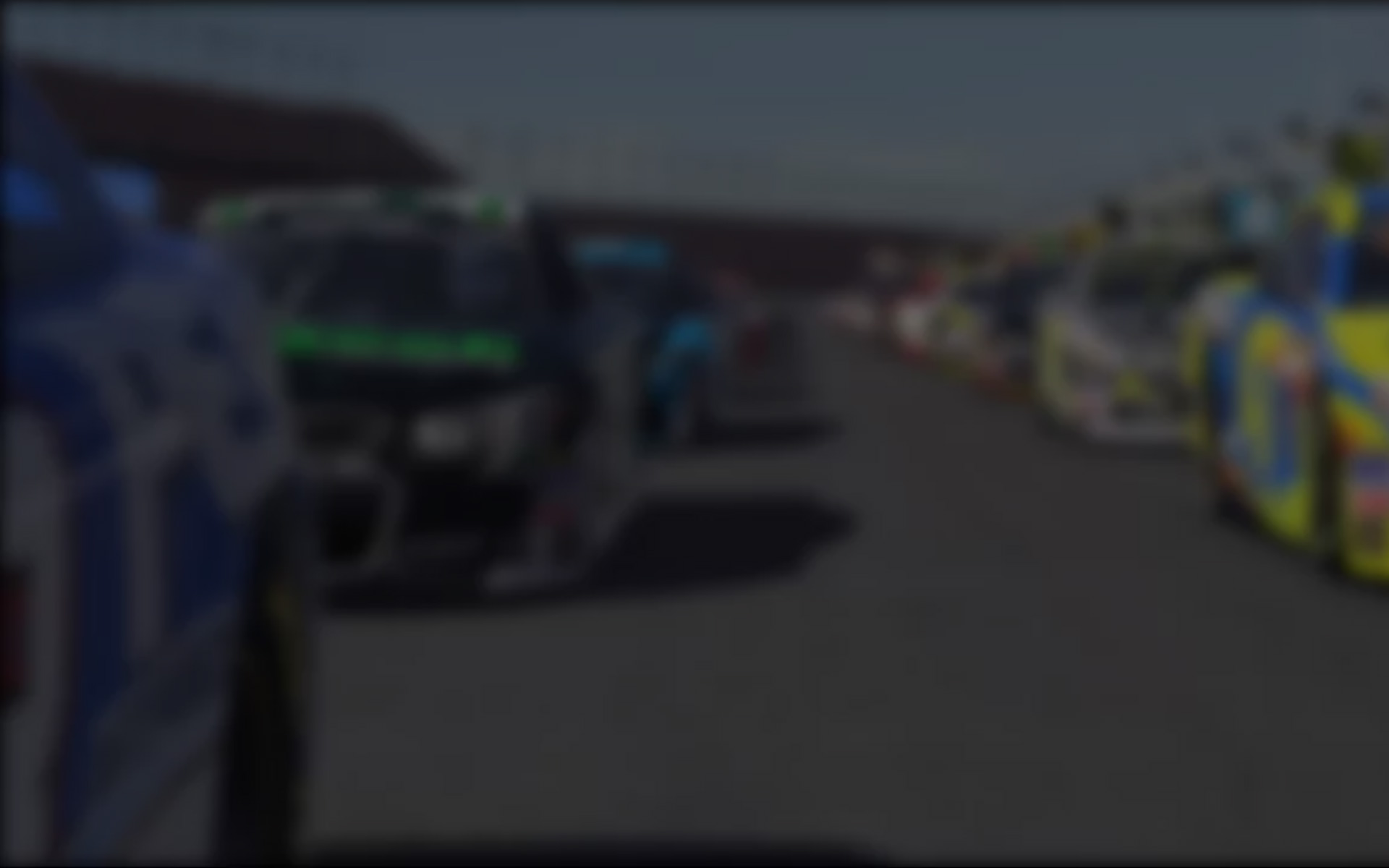 Season 3 of the iRacing Grand Prix Series got going in upstate New York at Watkins Glen. The configuration being used was the "classic boot". This particular circuit around The Glen is 5.4km where drivers will tackle 11 turns over the course of the 35 lap race. Considering the format is the same as last season with qualifying and race in the same session you would think drivers were incredibly prepared for what awaited them; but this season that had all changed. With series which have qualifying and race in the same session they are faced with having dynamic weather. Dynamic weather means the weather is no longer fixed as it has been since the launch of iRacing, thus drivers will have to learn on their toes throughout the session as every session's weather differs. It would be essential for drivers to adapt throughout the qualifying session to be prepared to make changes (if any) to their race setup in preparation for the race – although I felt this hasn't been necessary thus far. None the less it would certainly spice things up throughout all race sessions as it's almost impossible to tell how you stack up against fellow competitors; you're effectively going in blind . . . and hoping what you have is good enough!
Although it's season 3, and Season 3 of the iRacing Grand Prix Series last year was notorious for terrible turnouts, Watkins Glen had sparked this season in to life! The 16:00GMT Saturday race which Apex Racing TV broadcast (each week at this time) had a great turnout of 18 cars, although for some of these 18 cars their race was all over at turn 1. You could argue qualifying was spiced up a lot by the dynamic weather, but it was certainly close for pole position. Apex Racing UK's Cam Stark took pole position by a whisker setting a time of a 1.16.851. He finished the session only 1 thousandth of a second ahead of fellow Apex driver Maarten van Loozenoord! Diogo Oliveira lined up third on the grid, qualifying just under 6 hundredths back.
It was Oliveira who got the best start out of anyone on the grid but in stark contrast to that van Loozenoord didn't get going what so ever! The Dutchman was incredibly fortunate not to have his race ended right on the spot. Fortunately for him all of the cars around him funnelled through marginal gaps and managed to carry on unscathed, Enzo Amico meanwhile was the driver caught in the wrong place at the wrong time. The Radicals Online driver lined up directly behind van Loozenoord meaning he had to swerve to take avoiding action, in doing so he marginally clipped his wing meaning his first stint was marginally hampered by the very slight damage. Oliveira couldn't do anything with his phenomenal start either, the Brazilians car went to neutral as he shifted up in to second gear! Our second and third placed starters had managed to have an absolute mare off the line but in both cases managed to continue unscathed, albeit very set back in the field.
Van Loozenoord's race didn't get any better either; as the drivers headed in to turn 1 for the first time there was a coming together which sent him and Diego Gil spiralling off in to the run off area. Also in the run off area was Cleber Alvim Toffoli who had just been tagged from behind by Daniel Arent Wensing which sent Wensing's fellow Brazilian spiralling out of control, and in to an early retirement. The start of this opening race of the season had certainly been a hectic one, leaving many top runners a lot of work to do should they wish to get back up and battle for the win. You certainly couldn't count them out of it though knowing the pace they showed to achieve their Pro licenses. Oliveira was set back in to eighth position after the opening lap whilst van Loozenoord was all the way down to the rear of the field with plenty of ground to make up.
Daniel Behrensen had benefited from the huge scuffle at the start of the race to move up in to fifth position, but his early progress was soon halted when he collided with Wensing – who seemed to have a magnet for incidents this race – Behrensen had just been on the attack to pass Matheus Demetrio for fourth but soon fell in to the clutches of Wensing when an attempted move fell to materialise, as the two went wheel to wheel in to the Heel of the boot all of his hard work became undone as he was turned around and sent backwards in to the barrier, damaging his rear wing and his chances of a top 5 finish. Meanwhile Loozenoord was getting ever closer as he clawed his way back up in to eighth by lap 4.
As lap 10 fell Oliveira had made his way up in to fifth and was right on the tail of fourth . . . whilst van Loozenoord had made his way to sixth and was right on the tail of them as they headed up the esses. Nothing managed to materialise for the latter 2 drivers as they made their way around the carousel but as soon as they entered the chute Oliveira was all out of shape which gifted a position to his competitor. Although I'm sure Oliveira would be more happey his little moment didn't end up in the outside barrier. Shortly after the Apex driver was up in to fourth as Demetrio seemed to let him sweep past.
There was a slight heart in mouth moment for Mad Cape Racing's Alex McFarlane: the damaged car of Behrensen had span it off of turn 1 and left McFarlane with no choice but to almost brush the barrier to scathe on past after he had got loose on the exit of the corner. Fortunately all parties survived this encounter. A lap later McFarlane lost his third position to a hard charging Loozenoord who know had his sights set on Enzo Amico and it didn't take long for the Dutchman to claw his way up.
Amico was soon under pressure on the final corner of lap 14 where van Loozenoord managed to initiate a good enough run to attempt a move around the outside of turn 1. Loozenoord braked later and carried enough speed to clear the Radicals driver as they exited off and up to the esses . . . it wasn't quite plain sailing for Amico though; with his line being compromised it had implications as he exited the turn. As Amico got the power down he must've hit a bump or the tighter line sent him in to a spin, although he did do a good job to keep it out of the wall. Unfortunately it demoted him down in to fifth position so he had some catching up to do; especially as he made an early pitstop to fix any of the damage he had encountered. Oliveira soon gifted his fourth position to Wensing as he lost it on the exit of the Toe of the boot which resulted in him making an unscheduled pit stop at the end of lap 17, meaning he exited a fair way behind.
McFarlane was the first of the front runners to duck in to pit lane for a scheduled stop; he pitted on lap 20 whereas van Loozenoord would duck down to pit at the end of lap 23 whilst Stark waited an extra lap to top his Williams-Toyota FW31 up with fuel and fresh rubber. It would be a race to the end between the Apex teammates: Stark knew he couldn't make any mistakes otherwise he could gift the race to his hard charging competitor and teammate whereas van Loozenoord knew he had every chance to catch up based on the pace he'd shown (and caught up by) prior to the pit stops, 6 seconds was the gap after the stops had panned out.
The second half of the race was somewhat uneventful compared to what had happened before the pit stops. Although van Loozenoord was clearly the quicker man over the course of the race his botched start had cost him dear, basically gifting the victory and a week's high points of 185 to Stark! None the less I think both drivers could be pleased with their efforts to bring home a 1-2 for the first race of the season, and in doing sp Loozenoord also took back a solid 174 points. McFarlane ran a solid race to round of the podium whilst Amico marginally held off Wensing to take home fourth. Further back in the field Josh Noack lost his ninth position on the run to the line, the Aussie had run out of fuel as they exited the final corner gifting ninth to Frank Ferry Jr! Dynamic weather had certainly spiced up the first race of the season, whether or not everyone likes this new system is another story; but it certainly provided some entertaining racing for the most part of this race! Next week at the same time Apex Racing TV will broadcast the 16:00GMT slot where the drivers will head across to Japan to take on the slippery tarmac of Suzuka!
---
You may also like...
---