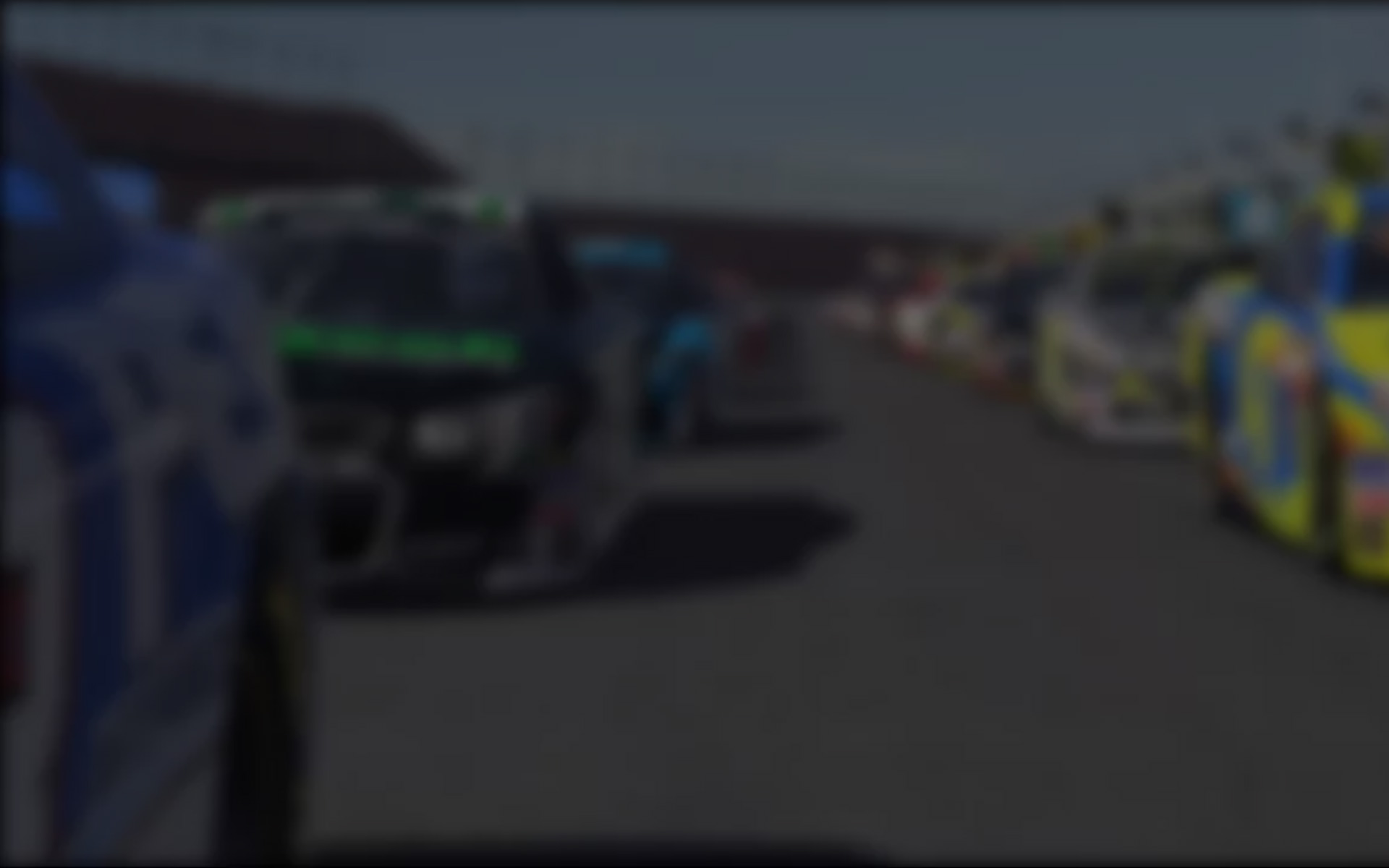 Q&A with 2014 NASCAR iRacing Series champion Patrick Crabtree
The NASCAR iRacing Series  is back in full swing after last night's running of the first Open Daytona 500. We saw 18 splits and participation from over 550 members! Jordy Lopez Jr. took home the victory from the top split, a rewarding recovery after a late race mishap when he spun entering pit lane under green with 40 laps to go.
An intense final 30 laps saw the likes of former NASCAR PEAK Antifreeze Series champion Tyler Hudson, last year's NASCAR iRacing Series Open champion Patrick Crabtree, Malik Ray, and Casey Tucker (to name a few) battle for the win. Contact between Allen Boes and Hudson with three laps to go that nearly sent Hudson to the inside wall, left it a five man show to the finish. Ray, who likely would have failed post race inspection with as wide as his rear bumper was, appeared to have it wrapped up until Tucker and Lopez Jr. surged past coming to the white flag. Heading down the backstretch Lopez Jr. made the move to the outside and took Ray with him into Turn 3, and the two charged on to the finish line leading Tucker, Crabtree, and Matthew Wright2 to round out the top five.
Before the race we had an opportunity to sit down with defending Open champion, Patrick Crabtree, to ask a few questions about his journey through the NASCAR iRacing Series and what guidance he may have for those taking on the challenge this year:
Q: First of all, congrats on winning the 2014 NASCAR iRacing Open Series. For those who don't know you and your background, walk me through your sim racing resume up to the point where you decided you were going to run the series last year and what made you want to commit to these longer races?
A: To be honest, I didn't have much of an iRacing resume up to the point of the Daytona 500. I had run in a couple of leagues and I did a bunch of fixed racing in the Gen6 to prepare for the season but that's about it. I pretty much flew under the radar the entire season and I definitely turned a lot of heads by winning the championship. The team I was running with at the time decided to give running for Pro a shot so we decided to commit to a full season. I'm glad it all paid off.
Q: Did you feel like you were going to be competitive? Were you working with a team at the time that you decided to run, or were you building sets on your own?
A: Going into last year's season, our team, LockDown Racing, decided we wanted to use it as a trial season to see what we needed to work on in order to go Pro in 2015. We just wanted to gain experience with the car and making setups and we had no idea how much success we were actually going to have.
Q: How is preparation for the NASCAR iRacing Series different than other series, namely Pro and NASCAR PEAK Antifreeze Series?
A: Because NiS was the feeder series for Pro, there was a lot of effort that went into preparation for each week. We knew the competition was going to be very stiff so we put in a ton of effort in order to make sure we had the best car possible each week. I'd say we worked just as hard in NiS as we did in the Pro series.
Q: What was the biggest obstacle you overcame?
A: By far the biggest obstacle that myself and our team had to overcome was maintaining focus over such a long season. We're all gamers and we enjoy playing a bunch of different games so it was tough trying stay focused on iRacing, but we knew it would pay-off in the long run.
Q: What was the most important lesson you learned?
A: The most important lesson learned was the importance of give and take. You are racing the same guys over the course of a season so a little give can go a long way. This also goes hand and hand with consistency. You can't win a championship wrecking every week.
Q: Favorite memory from the season?
A: There are far too many memories I could choose from but I'd definitely say that my favorite was pushing my teammate, Logan Sheets, to the victory in the Daytona 500. The whole field was trying to save fuel but we had our fuel strategy down to a science. We knew we could make the distance so me and Logan started tandeming and the rest was history. We pulled the field about six seconds and never lost it so that was really special.
"A lot can happen over 36 weeks and 108 races, so never count yourself out." Patrick Crabtree
Q: A large part of the NASCAR iRacing Series is the distance/time involved in a single setting. What's your sim setup like? Did you make any changes to your setup/rig because of it?
A: The only major improvement I made was getting a DXRacer chair. When the season started, I was racing on a old wooden chair that was extremely uncomfortable to sit in for long periods of time. With my new chair, I can race for hours and not feel uncomfortable.
Q: Did winning the series open any doors for you? Team offers? Sponsors? etc
A: Winning the series definitely opened some doors. First off, it qualified me for the NASCAR iRacing Pro Series so that was a privilege in and of itself. Other than that, I was able to join High Performance Motorsports for the Pro Series and it opened an opportunity where DXRacer and MaxspeedTV wanted to sponsor me in it.
Q: You managed to win the championship without winning a race. That must be a testament to the importance of consistency/not always having to be the fastest guy, right?
A: Honestly, it was kind of a bummer to not get a win during the entire season. Off the top of my head, I had about seven or eight weeks where I finished second so I had numerous opportunities to win but it always seemed like something silly would take that away. All in all, I'm definitely proud of the championship. It was truly a testament to how hard we worked all season and it definitely shows that consistency is key to winning the championship.
Q: Are you running the series again? If so, what are your goals for this season and how do you think this season will differ from 2014?
A: As of right now I am planning on committing myself to another full season of NiS. The goal is to defend my championship, but I'd definitely like to get a win or two this season. I'm not going to race any differently than I did last year. I'm still going to go for consistent finishes but getting a win is definitely on my radar.
Q: What advice would you give to your peers who will be taking on this challenge?
A: The biggest bit of advice I can give someone is to just stick with it. There's a lot someone can learn over a full season of racing. The season is extremely long and a lot can happen over 36 weeks and 108 races so never count yourself out.
Q: Thanks for taking the time today. We'll be watching you this season and hopefully have a chance to chat again. Is there anyone you'd like to give a shout out to?
A:I'd like to give a huge shoutout to my team I started the season with, LockDown Racing. They are David Rattler, my crew chief, Logan Sheets, and our team manager, Jayson Stephenson. I can't thank Brodie Kostecki enough for the effort he put into our Pro Series setups and I'd also like to thank my sponsors for the Pro Series, MaxspeedTV and DXRacer. I'd like to give a double shoutout to DXRacer for coming back on board for the NPAS and lastly I'd like to thank Dylan Duval and Infinite Creative Solutions for the awesome paint schemes.
Definitely some great advice from the reigning series champion. We at iRacingNews would also like to congratulate all of the other winners from opening night, and look forward to covering the series throughout the season.
---
You may also like...
---