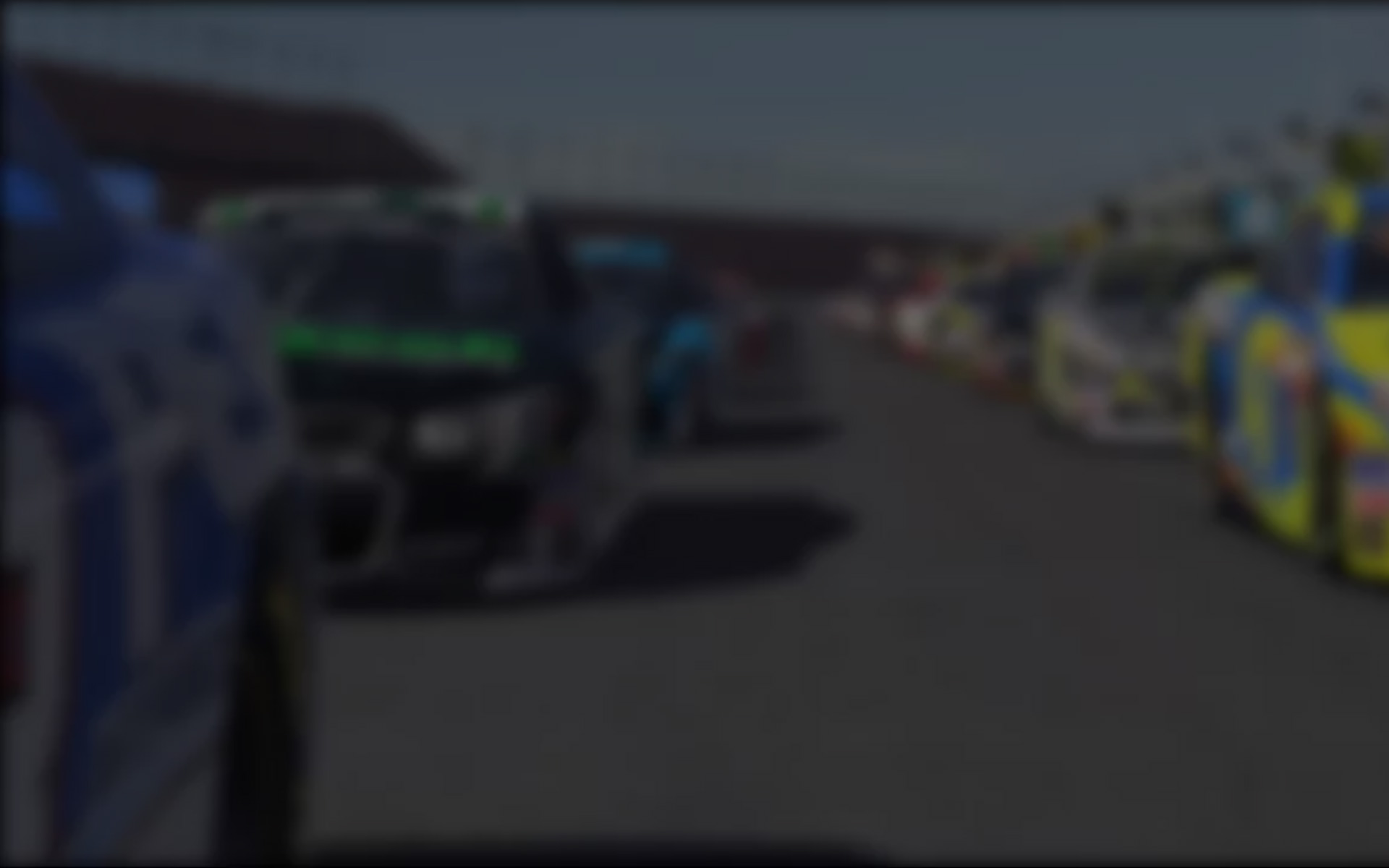 Continuing his shut-out of the iRacing Drivers World Championship Road Racing series (iDWCRR), Greger Huttu cruised to another unchallenged pole-to-flag online racing victory at Sebring International Raceway, to continue his domination of the points table. Starting from pole position, the Finn made a clean break from the pack on the rolling-start, to keep clear of the opening skirmishes. "At the race start I saw it was three-wide or close to it, in my mirror going into Turn One, and I thought that's not going to end well," Huttu told inRacingNews. "It didn't and I noticed that Rich (Towler) was on the dirt out of the turn. Afterwards, I didn't have to push too hard in the race and things just seem to work out for me at the moment! Everyone gave room really nicely in the lapping situations too."
Making it a Team Redline one-two, Luke McLean marched his way through the field over the forty lap race to claim a highly memorable podium finish. The Australian had started from seventh position, but after avoiding the opening lap shenanigans and posting consistent laps, he secured his best position of the season so far. "I got a decent start and into Turn One it was super hectic, Rich went wide, whilst me and Shawn (Purdy) were side-by-side through the first few corners," shared McLean this week. "After settling into a bit of pace I saw Rich coming through the field and I was closing on Dom Duhan who had a damaged car. I had to make a move ASAP so I sent one up the inside into a very tricky turn and luckily held it. After that I had to hunt down Ilkka, and caught him five odd laps later. After that I followed him for a bit waiting for a mistake which never came. We both chose the same lap to pit so I tried to get as close as possible to him and hopefully leapfrog in the pits.
My crew worked well, got by and started chasing Bastien. After catching him Bastien did a noble act and let me by, great team spirit by him, and then I just drove for second place."
Despite his excursion to the Turn One dirt on the opening lap, causing damage to his suspension, Towler was able to fight his way back through the field to take third position at the chequered flag. "In Turn One we were three-wide," explained an aggrieved Towler. "I just held my line on the outside and Bastien Bartsch ran me off the track again. I'm not happy about that as it gave me a lot of damage and totally ruined my race. I could barely hang onto the car for the rest of the race.  Even with a wedge adjustment, it had lost over half a second a lap at least.
On my final run at the end I could barely hit a 44.5 and I was running 43.6's before the race, so I'm really disappointed with the way that played out."
Whist Towler does his bit for Anglo-Franco relations, fourth place finisher Bastien Bartsch has remained tight-lipped about the incident around Sebring's bumpy opening turn. The Frenchman had started in third position, but after sliding wide on the exit of Turn One, he connected with Towler who was alongside at the time. Luckily Bartsch appeared to garner no perceivable damage and continued for the remaining 40 laps.
Taking his third top five finish this season, Illka Haapala found himself caught in a 40 lap game of leap-frog. By steering clear of the first lap incidents, the Finnish driver earned an immediate promotion from fourth to third position, but a slow pit stop cost him an eventual two spots. "I was running third behind Bastien and I was able to keep the gap to him the same," said Haapala. "Luke was behind me and he was able to start catching me after some laps, as for some reason I wasn't able to go any faster as fuel burned out. The three of us entered the pits together, but I had a lot longer stop than either of them, so lost a place there. I then left the pits and saw Richard approaching Turn One and knew it was going to be close. We went side by side for couple of corners and he managed to get a better exit out of Turn Five so I lost another spot".
Coming back from an early scare, Ben Cornett worked his way up the field to claim sixth position by the time the chequered flag dropped, a result  the Australia/NZ club member felt could have been so much better. "I almost looped it in the first corner but gathered it up and off I went," confessed Cornett. "On the first stint I was stuck behind Shawn Purdy who unusually for him, was quite a long way off the pace, and Derek Wood. This lost time would come into the play in the last stint though I didn't know it yet. I pitted late on the first stint allowing me to put a gap on Derek who, after letting me by, kept right on me due to incredible speed through Turn One. I then found some pace out of nowhere. I started to catch Illka and by the time he pitted I was only about two seconds behind. On my second stop, instead of putting in 13 gallons, I put in 22 gallons. This cost me about four seconds. I came out three seconds behind not just Illka, but Bastien and the damaged Towler too. This, combined with the first stint ruined what was a great podium chance."
In contrast, Wood put in one of his greatest performances of the season, to take a top ten finish on the concrete of Sebring after starting the race on the fourth row of the grid. In a Dallara Indy car that struggled over a long distance, Purdy was thankful for his eighth place finish by the end of 40 grueling laps. "I seemed to be going fairly well the first few laps," offered the Orion Racing Team driver. "I was taking it easy, then all of sudden the car was just impossible to drive through Turn One. I almost lost it there like five times at least in the race. I started falling back into the clutches of Derek and Ben, and that was when I had a big moment in the turn.   At this point Derek and Ben went past.
(My) tires were completely messed up, I also had to drive Turn One at about 10mph slower than the car was capable of, so my pace was not anywhere near what I was expecting to run. Overall to salvage eighth considering my pace I can't be too upset."
Taking a ninth place finish and now a position in the championship top five, Dion Vergers was delighted with his race over the bumpy concrete of Sebring. "Well that sure went as good as I could have wished it would go," enthused Vergers. "I started practice here earlier this week hoping for a top ten, so to get ninth in the SimSport Orion Dallara sure ain't bad. Especially since it actually moves me to fourth in the championship. I took it easy at the start since I just wanted to make it through the first complex without any damage. I settled in and had a couple of small battles, but without any position changes. Then after Dom Duhan and another car in front of me had some troubles I found myself in ninth."
Overcoming a run of DNF's Richard Crozier brought his Dallara home for his best result of the season, making a perfect exorcism of his racing demons. "Not quite as action packed as Infineon for me, but I'm very chuffed with my performance and the result; my first top ten in the series," beamed the Scotsman post race. "I finished my cruise to the flag in tenth place, ' the best of the rest' behind the Redline and Orion boys, which I'm very happy with. My championship is finally beginning to build a bit of momentum in my march towards the top 30!."
With seven wins from seven starts, Huttu now holds a 139 point over Towler in the iDWCRR standings. Twelve marks behind Towler lies his 'racing nemesis' Bartsch, who holds a healthy 98 point gap over Benelux Club's Vergers. Round Eight of the iDWCRR heads to the green hills of Road Atlanta. Will anybody be able to stop the 'Fantastic Finn' from making it another victory on his charge to the championship?
---
You may also like...
---