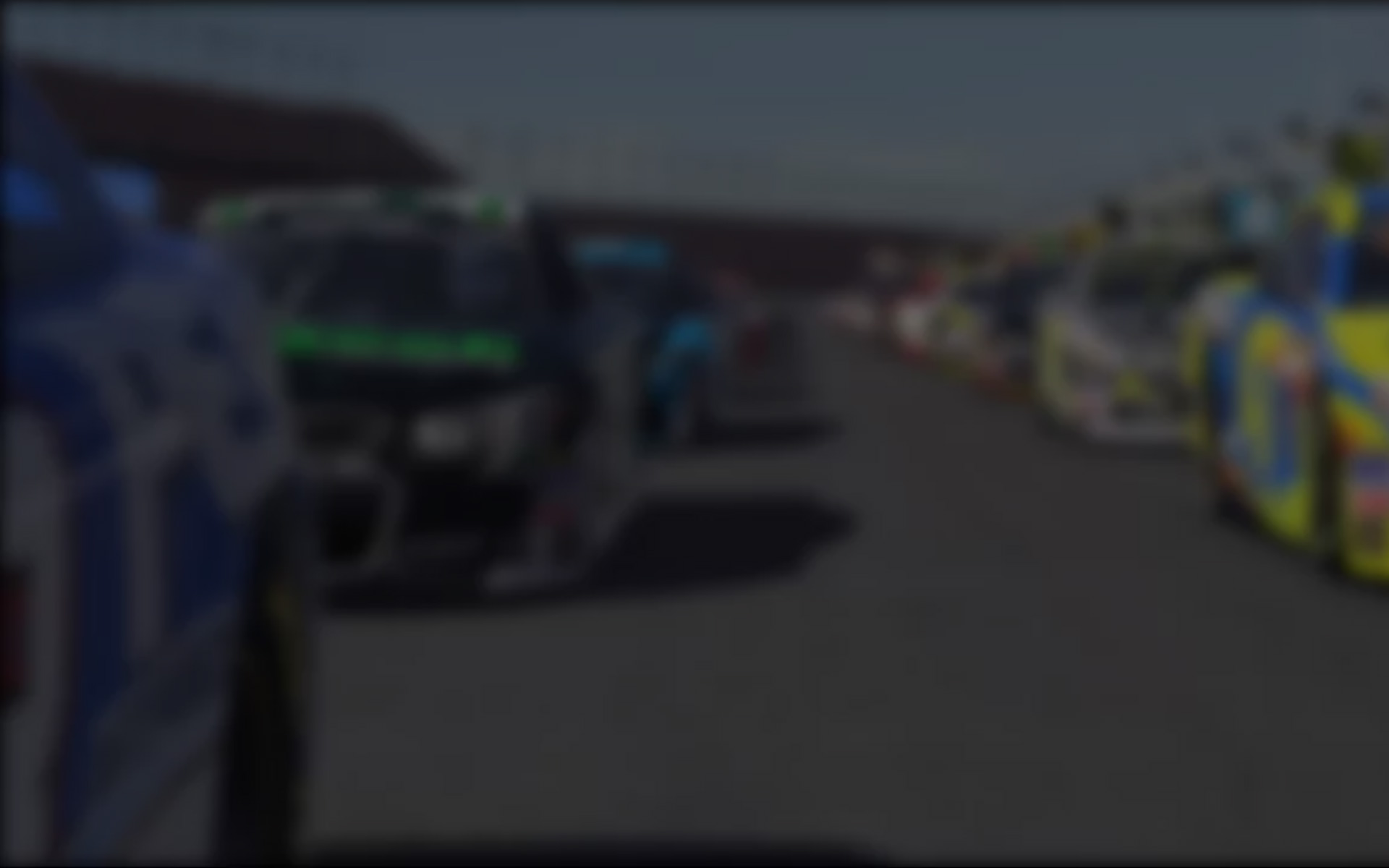 September 12th, 2011 by KevinB
In an action packed 47 laps of the 4.048 mile virtual Road America, Hugo Luis held off a spirited attack in the closing minutes to seal his fourth win of the iRacing.com Nvidia Grand Prix Series and further increase his lead in the World Championship standings.
As the green flag dropped, Luis made the jump on Greger Huttu, who saw his pole-position immediately evaporate as he struggled to get traction off the line; and by the time the current Champion reached Turn One, he was surrounded by a swarm of My3id FW31s. Whilst Luis sailed off into the distance, the sister cars of Klaus Kivekas, Jesse Nieminen and then David Williams pushed Huttu down to fifth spot with passes at the opening bends and Turn-Five, where the Team Redline pilot struggled for control over the bumps.
Fortunately for Huttu, within three laps of the start, Nieminen dropped out of the top-twenty, following a collision with the outside wall of Turn-six, but the Finn continued to lose time on the leader, as My3id's Williams used all his guile to keep him at bay for the benefit of Luis and Kivekas ahead. By the time of lap six, Huttu had carved a way past Williams on the inside of Turn-Five, and was looking to close the gap on Kivekas over five-seconds ahead.
When Luis headed to pit-lane for his first scheduled stop, his lead over second position was just over two-seconds, with Huttu a further six back; but just when it looked like a My3id fight for the win, Kivekas saw his Championship hopes fade when a hand cramp lead to his ultimate retirement a few laps after his pit-stop. "I got a cramp in my left hand all of a sudden and had to drive one-handed while trying to stand the pain at the same time." Kivekas shared with inRacingNews. "I managed a few laps and then went to the wall. Can't remember when I last had a cramp or anything like that, nice timing for it to happen. I didn't even feel like I was gripping the wheel any differently than in any other race."
Electing to short-fuel for his middle-stint, Huttu was just a half-second from the gearbox of Luis by the time he headed to pit-lane for the final time on lap 34; but with an extra lap in his pocket and a textbook service, the Brazilian maintained his position and extended his lead to three-seconds by the time he rejoined the circuit following his second stop. From here, it was a question of whether Luis could hold off Huttu for the remaining 12 circuits, as the gap between them narrowed over successive laps, until 1.5 seconds separated the pair. Unperturbed by the approaching World Champion, Luis kept to his lines to claim is fourth win of the iRacing.com Nvidia Grand Prix Series by a margin of a second.
"The start of the race was way, way better than what I've expected." Luis wrote this week. "I had a good launch while Greger didn't had a good one, so I was able to lead the race in Turn-One. I noticed this could be my shot for the win if I didn't overdrive, and chose to manage the lead instead of pushing.
"Greger had a one-lap longer first stint, so I noticed things would get complicated for me. I was not taking any risks with the margin I had and he was on a short, aggressive stint. Before I knew it he was all over my rear. Last stint I had to hurry up, because the win wasn't looking so secure by then. Anyway, things went well and I could take the victory."
Dropping points on the Championship leader, Huttu was ruing what might have been by the time the Road America dust had settled. "I pushed hard on the last stint but it wasn't quite enough and I finished one second behind." Team Redline's principal driver offered post race. "The bad starts have cost me quite a lot this season but I would have still had a great chance to get the win without the lock-up in Turn-Five on the first lap. I also would have liked to have gotten better results from this and the previous race because I don't think the next tracks will work so well for us. Well, hopefully we'll find something extra for Okayama and go from there to Suzuka which should be fun. "
Behind the main Championship protagonists, Pro-licensed Jake Stergios claimed a hard fought podium spot, which keeps his hopes of a finish in the top twenty-five of the season standings and subsequent assurance of a World Championship license for 2012. The independent online-racer secured his best finish of the season, after starting thirteenth on the grid and watching the cars ahead of him fall off the track like ten-pins. "Wow. I still can't believe I got third." explained the American post race. "My strategy for this one was just to survive and not take any unnecessary risks. Once it started to settle down I was in the top 10 and just riding, but people kept crashing and I kept gaining positions. I leapfrogged Alberto Baraldi in the pits on my first stop because I went one lap longer than he did, which put me in fifth. I then passed Aleksi Elomaa in Turn-One and passed Klaus after he crashed due to his hand cramp and suddenly I found myself in third."
Similarly, Richard Towler ended Round 15 of the iRacing.com Nvidia Grand Prix Series in fourth position, his best finish of the season, despite struggling with an ill-handling Williams-Toyota F1 car; quite a contrast from 2010 when the Englishman was chasing Huttu all the way to the Championship title. "That was fun, I had a great brawl with a random Italian and Dom Duhan." the 2010 NASCAR iRacing.com Champion enthused. "I had a random bounce which put me into a half spin and my car bottomed out on low fuel, but I managed to bring it home in fourth for my best result of the season. The car drove horrible at this track, curbs, bumps were a nightmare and the second to last corner felt really well, wrong."
By driving within his limits and playing out a long game in the 47 lap race, Alberto Baraldi claimed his first top-five finish of the season, enough to keep his bid of a top-ten finish in the World Championship, firmly on track. As he watched the likes of Ben Cornett, Aleksi Elomaa, Atze Kerkhof, Nieminen and Kivekas fall by the wayside, the Italian progressed his way up the order to finish twelve-seconds behind Towler. "Finally a good result after almost two-months of bad luck, it was getting frustrating." the Twister Racing Team sim-racer affirmed this weekend. "I feel I deserved a top five at this time of the season and I'm glad it came, even if I didn't have the pace of most of my other races."
In only his second appearance in the iRacing.com Nvidia Grand Prix Series, Jeremy Bouteloup stood out as a name to watch out for in the future, after the Frenchman secured sixth spot ahead of Petteri Kotovaara, who amazingly finished in the top-ten from his start position of twenty-seventh. Bouncing back from a collision with the wall early in the race, which resulted in a drop to twenty-third place, Nieminen clawed his way back through the field to claim eighth position a couple of seconds ahead of Derek Wood, who bested Dion Vergers to the chequered flag.
With three rounds of the iRacing.com Nvidia Grand Prix Series remaining, My3id's Hugo Luis holds a 55 point advantage over Greger Huttu in the Championship standings. With Huttu registering 14 rounds as opposed to Luis' fifteen, the fight for the 2011 title looks set to come down to the wire and dropped weeks. Will Huttu struggle in the closing stages as he predicts? Or is the Champion playing a mind game on the leading Brazilian? Find out in two-weeks time when the Championship heads for it's first ever visit to Okayama International.
---
You may also like...
---