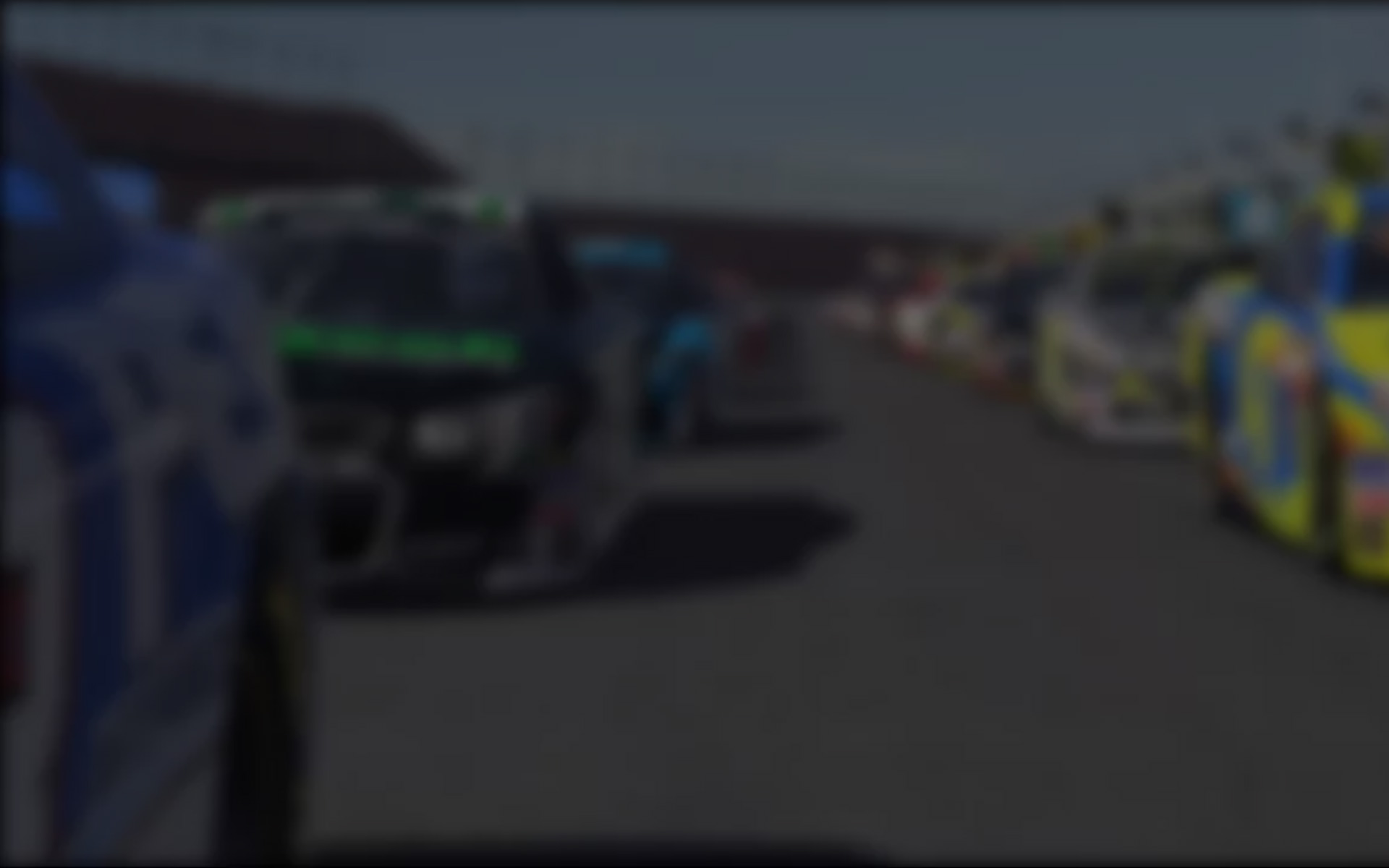 In a spectacular start to the iRacing World Championship Grand Prix Series at Spa Francochamps, Hugo Luis claimed the first victory of the season, in a titanic battle to the finish line. The Brazilian who is looking to regain the title he lost to Greger Huttu in 2012, had to battle to the chequered flag to fend off a brace of Team Redline Williams-Toyota FW31s.
Starting in pole position, with Huttu alongside him, Luis was able to maintain his position at the front, as the field filed their way through the opening corner, Le Source. Following him through turn one, Atze Kerkhof made an immediate jump to second spot, whilst Huttu could only watch as the likes of Martin Krönke and Stephen Michaels also slipped past, demoting him to fifth position.
At the front, Luis and Kerkhof were setting the pace, and the pair, with just one second between them, had made a 'mini' breakaway at the front within four laps. Meanwhile, Michaels, who evidently was running a two-stop strategy, was making the most of his lighter car, and was up to third position after passing Kronke at Les Combes. My3id's Kronke then saw his fourth spot demoted to fifth, when Huttu made a similar pass on the German.
"I didn't know what fuel load Hugo was driving with, so I just tried to stick into his slipstream. Slowly I lost contact and my pace wasn't as comfortable as I wanted." Kerkhof told inRacingNews. "Michaels closed in rapidly so I figured he was on a two stop strategy. I didn't bother putting any fight and just tried to stick into his slipstream as much as possible."
By lap 10, Michaels had wedged himself between Luis and Kerkhof at the front, and a handful of laps later had moved into the lead, with a pass along the Kemmel Straight. However, the American's position at the sharp end of the pack was proved short lived, as on lap 17, Team MMM's Michaels dived into the pits to take on fuel and tyres. This left the usual suspects of Luis, Kerkhof and Huttu occupying the top three slots.
"The #20 Next Sim Equipment FW31 was hooked up great for both qualifying and race stints thanks to help from my teammate Fulvio Barozzini with setting the car up and giving some pointers." Michaels explained post race. "I went for a pit stop around lap 16 or 17 and when I did I knew that no one else stopped. I was the only one on a two stopper so I hustled as fast as possible with no distractions lap after lap."
On lap 22, Luis yielded his 3.5 second advantage at the front to visit the pits for service, leaving Kerkhof to take the lead, and post some blistering times. It proved fruitful, as two laps later, when Team Redline's Kerkhof had left pit lane, the Dutchman had inherited the lead, with Luis just a few tenth from his gearbox. His team-mate Huttu, who had pitted on the same lap was not so fortunate, because when he rejoined the 4.3 mile circuit, he was looking at the rear of Michaels' FW31.
Just like the first stint, the American's lighter car was eating up the space, and within 7 laps of Luis and Kerkhof rejoining the circuit, Michaels had executed passes on both of them to move back into the lead (what would become the lead, once Luke McLean who had 'brimmed' his tank at the start, headed to the pits). Yet again, Michaels run at the front was merely a cameo appearance, because a trio of laps later, he was heading into the pits for his second scheduled stop of the race. By the time Michaels had taken his final tank of fuel and tyres, he rejoined the 44 lap race in sixth position, which he carried until the finish line.
In the meantime, at the front, Kerkhof and Luis were continuing their fight for the lead. After running nose to tail for several laps, Luis had a run on Kerkhof along the Kemmel Straight and moved to the front with 10 laps to go showing on the board. Whilst Huttu remained in third position a couple of seconds behind, Kronke and McLean were trading positions, with the former moving into fourth position around the same time as Luis and Kerkhof were swapping places.
With just five laps around the legendary Spa Francochamps to go, the pressure was ramped up to its maximum. Firstly McLean grabbed the fourth position back from Kronke, and then in a daring pass around the outside of the Les Combes chicane, Kerkhof stole the lead from Luis. But a lap later, at the same complex, Luis reclaimed his space at front. As a result of the squabble for the lead, Huttu suddenly found himself in the mix, and now it was a trio of virtual FW31s in the hunt for the opening win of the 2013 iRacing.com World Championship Grand Prix Series.
"Atze pitted and came back ahead of me, but I could stay in his draft." Luis wrote this week. "I was slowly catching him and that would be the chance to get the lead back. After we swapped the lead for a couple of times, fortunately after a great battle between us I could get the lead back with around four laps to go, and tried to stay as focused as possible to avoid doing any mistakes that would make me lose the lead again."
With some valiant defending Luis was able to parry any further attacks from Kerkhof, who in turn did all he could to keep Huttu in his mirrors, before the three of them took the chequered flag separated by just a few tenths each.
A further 20 seconds behind the podium finishers, Team Redline's McLean was able to keep My3id's Kronke at bay to secure fourth position, ahead of early front-runner Michaels.
By capitalising on an early mistake by Barozzini, Italian Enzo Bonito was able to take seventh position to score 26 points for his first race of the 2013 season. For Barozzini, it's a question of what might have been. At one point, the MMM! Team member had even found a way past 2012 champion, Huttu, but then an error on lap six saw him drop several spots, that would send him to an eventual finish of eighth. "I found myself in the group with Greger and Martin and was actually chasing them. I even managed to get the best from a small mistake by Greger and overtook him at La Source! What an emotional moment… soon afterwards he got past me at Kemmel straight though." Barozzini enthused. "Lap six saw the event that changed my race. Martin [Kronke], who was ahead of me, slowed down quite a lot at La Source, and despite breaking two or three times more, I touched him with my front wing. Luckily no spin or damage, but I was so scared that I messed up Eau Rouge completely and got a black flag."
In a hotly contested fight for ninth and tenth positions, Jake Stergios bested Team Radicals' Pablo López to the line by 22 seconds. However, despite the gap at the chequered flag, the pair had traded blows throughout the course of the race. Through most of the 44 laps, Stergios and Lopez ran nose to tail, and passed each other numerous times in their unrelenting battle. It wasn't until the final stint that the American was able to finally break-away from the Spaniard, as Stergios explained post race. "After battling back and forth with Pablo for many laps, I think we lost a lot of time so I decided to try and follow him for a few laps until we got closer to Mogar [Filho]." the iNex Team sim-racer said. "Once we were close enough for his draft I was able to overtake Pablo and then use Mogar's draft to keep Pablo from overtaking me right back again. I was then able to pass Mogar and pull a gap and bring the car home in ninth."
With the opening round of the iRacing Drivers World Championship now complete, Luis holds an early lead in the standings, ahead of Kerkhof, Huttu, McLean and Kronke. In two weeks time, the second round of the season will head to iRacing's most recent addition to its track library, Interlagos. Can Luis continue to lead from the front? Tune in to iRacing.com/live on Saturday March 16th to find out.
---
You may also like...
---