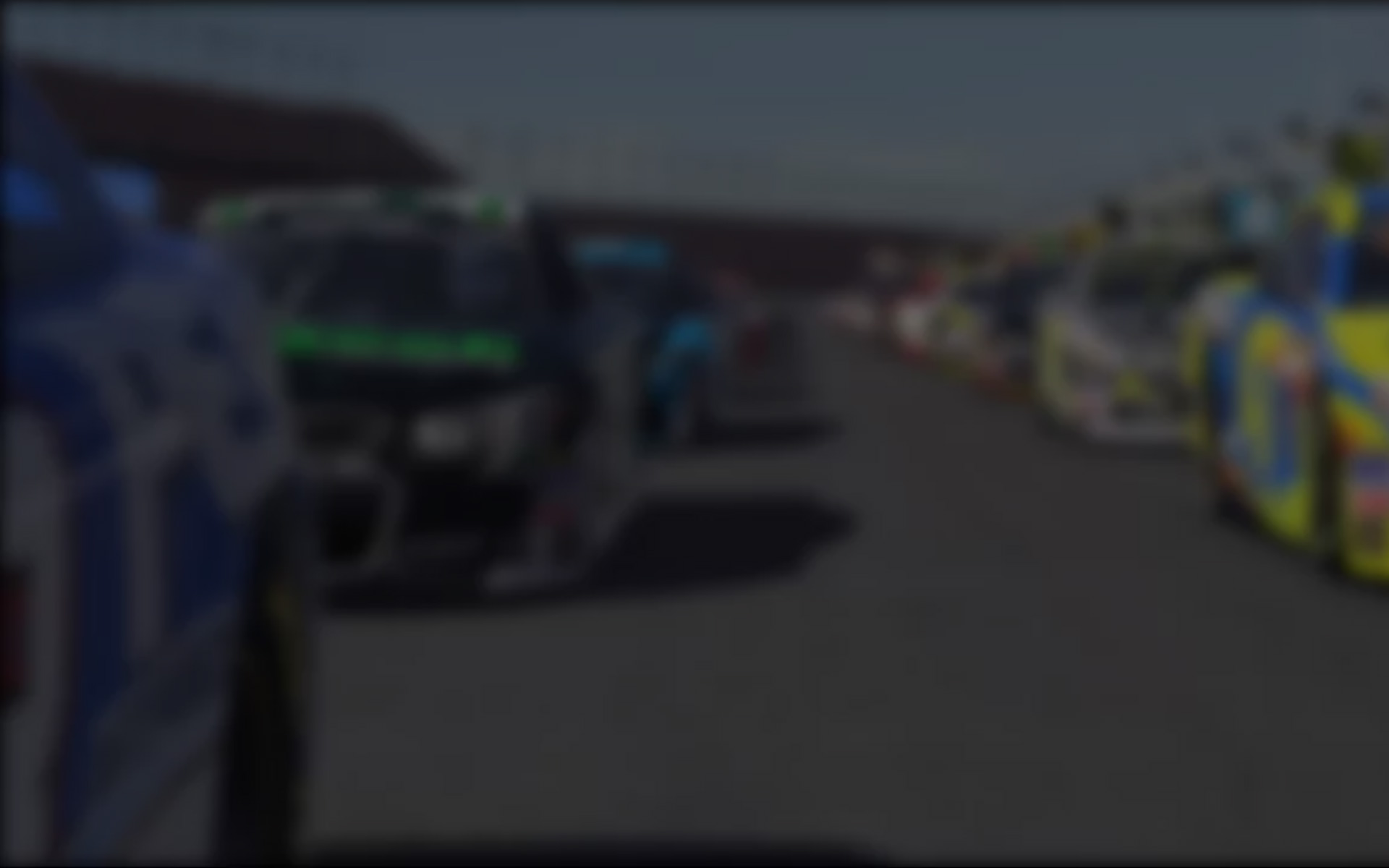 September 18th, 2012 by DavidP
In a gruelling 77 laps around iRacing's latest addition to its growing catalogue of race tracks, Hugo Luis scored his fifth victory of the 2012 season at the beautifully rendered Circuit Zolder.   Despite scoring maximum points, the Brazilian did little to slow Greger Huttu's inexorable march to the iRacing.com Grand Prix Series World Championship, a title he had previously won in 2010.  After finishing second, just a few tenths behind Luis, the Finn heads to the final two online races of the season needing only to avoid a pair of DNFs to secure the crown.
Starting from pole position with a qualifying time of 1:07.052, My3id's Luis made a perfect getaway to lead Atze Kerkhof, Huttu and Martin Krönke through the high speed Turn One. Luis maintained his position at the front until the first round of pit-stops, with Huttu trailing in his wake after Team Redline's Kerkhof became the first victim of Zolder's notorious chicanes and dropped behind his team-mate into third spot.
After taking his first service of the race on Lap 29, Luis looked set extend his two-second advantage.  But mid-way through his second stint, the defending World Champion found himself struggling for pace after collecting damage over the high chicane kerbs. This allowed Huttu to close the gap, and by the time the pair prepared for their final pit stops, they were separated by mere tenths.  Running an extra lap before pitting, Huttu was poised to snatch the lead only to be confronted by lapped traffic, nullifying his advantage.
"As we approached the second pit stops I saw some traffic up ahead and contemplated pitting early," Huttu said. "I went with the normal strategy, though, and as Hugo pulled into the pits it seemed like I would have a clear lap. After Sector One, I was already a tenth up on my fastest lap, but I think the guys ahead were side-by-side and I caught up to them really quickly. I also lost some time in the pit entry as I couldn't take it flat-out due to there being a car in front of me. With all that I didn't expect to jump Hugo and sure enough I came out just behind him. I got pretty close a couple of times during the last stint, but not close enough to try anything."
Despite the damage to his virtual Williams-Toyota FW31, the narrow and tight nature of the 2.5 mile Zolder circuit enabled Luis to keep his car at the front and absorb the unrelenting pressure imposed by Huttu.  The Brazilian thus took his fifth victory of the season by just three-tenths of a second at the line.
"As I came back in the lead in the second stint I felt more comfortable but once again there's the honourable chicane . . . maybe ran a bit more aggressive than needed and I got some damage in the car.  I had no power out of corner exits and top speed as a consequence," Luis explained. "At this moment I thought 'there goes my race.'  At least I didn't get a stop-go for mandatory repairs, so I kept driving. The only hope to win the race would be if I kept driving as safe as possible and at the same time try to keep Greger behind."
"The only hope to win the race would be if I kept driving as safe as possible and at the same time try to keep Greger behind." — Hugo Luis
Although Kerkhof saw his early second place evaporate in the Zolder chicanes, the Dutchman recovered and cut a nine-second deficit to just two as the closing laps approached. However, just when it seemed the Spa-Francorchamps winner would challenge Huttu for the runner-up spot, further collisions with the kerbs left Kerkhof trailing the leaders by two-seconds at the finish line.
"After the last pit-stop I wanted to close the gap, but traffic made it one big lottery." Kerkhof told inRacingNews.  "Sometimes I saw Hugo and Greger losing 0.5 second simply because they got stuck for one corner behind someone. I must say that the back-markers did a great job in giving room, but the dirty air and lack of view behind another car is just very hard to handle on this track. Slowly but surely I closed the gap to Greger and Hugo and got within 0.6sec.
"I'm not sure what happened from that moment, but my tires felt completely torn apart. There was simply no grip under braking and throttle and I missed the chicane again. The last laps I tried hard to close that gap to at least put some pressure but the car was simply all over the place."
"The dirty air and lack of view behind another car is just very hard to handle on this track." — Atze Kerkhof
In a titanic fight for a top-five placing, four drivers battled in an unrelenting run to the chequered flag. Whilst My3id's Krönke kept Jake Stergios, Roland Ehnström and Stephen Michaels at bay for the opening third of the race, the German saw his initial fourth place become sixth by the time he'd reached the finish line. For the opening 25 laps, Krönke had refused to buckle to the parade of F1 cars behind him, until a small error at Turn Four allowed Stergios to commandeer a spot. Krönke then found his mirrors filled with the sight of Team Orion's Ehnström, who was eager to take the final top-five spot. But the Swede had to bide his time and wait until the final scheduled pit-stops on Lap 60 to leapfrog Krönke into fifth.
Unshackled, Ehnström powered to the line three seconds clear of the German, who had to use all his guile to fend-off Michaels. Fortunately, the twisty nature of the Zolder circuit enabled Krönke to keep the rookie American, who has built a reputation as a name to watch for in the future, behind him for the closing stages.
"I'm pretty darn proud of my performance, on what turned out to be one of the most difficult tracks on the calendar." Ehnström enthused post-race. "Since this is a new track in iRacing, and a very tricky one at that, I practiced more for this race than perhaps any race previously this season, and I think it paid-off."
"I practiced more for this race than perhaps any race previously this season, and I think it paid-off." — Roland Ehnström
Rounding out the top-ten, Martti Pietilä bested his fellow Finn Aleksi Elomaa and Italian Fulvio Barozzini to seventh place by ten seconds; an achievement in itself for a trio who started in tenth, fourteenth and eleventh respectively.
With just two rounds remaining in the iRacing.com Grand Prix Series World Championship, Huttu only requires a top-twenty placing at Twin-Ring Motegi in two-week's time (or at Suzuka in the season finale on October 13) to reclaim the crown he lost in 2011.  All Luis can hope for is pair of DNF's for Huttu if he is to have any chance of retaining his crown.
Stergios, third in the championship on 381 points, holds a 29 mark buffer over Ehnström, who is a further 38 clear of Atze Kerkhof.   Meanwhile, in the fight to make the cut for automatic entry into next season's championship, Michaels (102), Jason Lovett (102), Ryan Terpstra (94) and David Williams (92) will be looking to collect valuable points at the Japanese events in their bids to make the top 25.
Will Huttu seal his second championship title at Twin-Ring Motegi, or will fate lead the Finn down a different path? You can find out on Saturday, September 29 at iRacing Live.
---
You may also like...
---