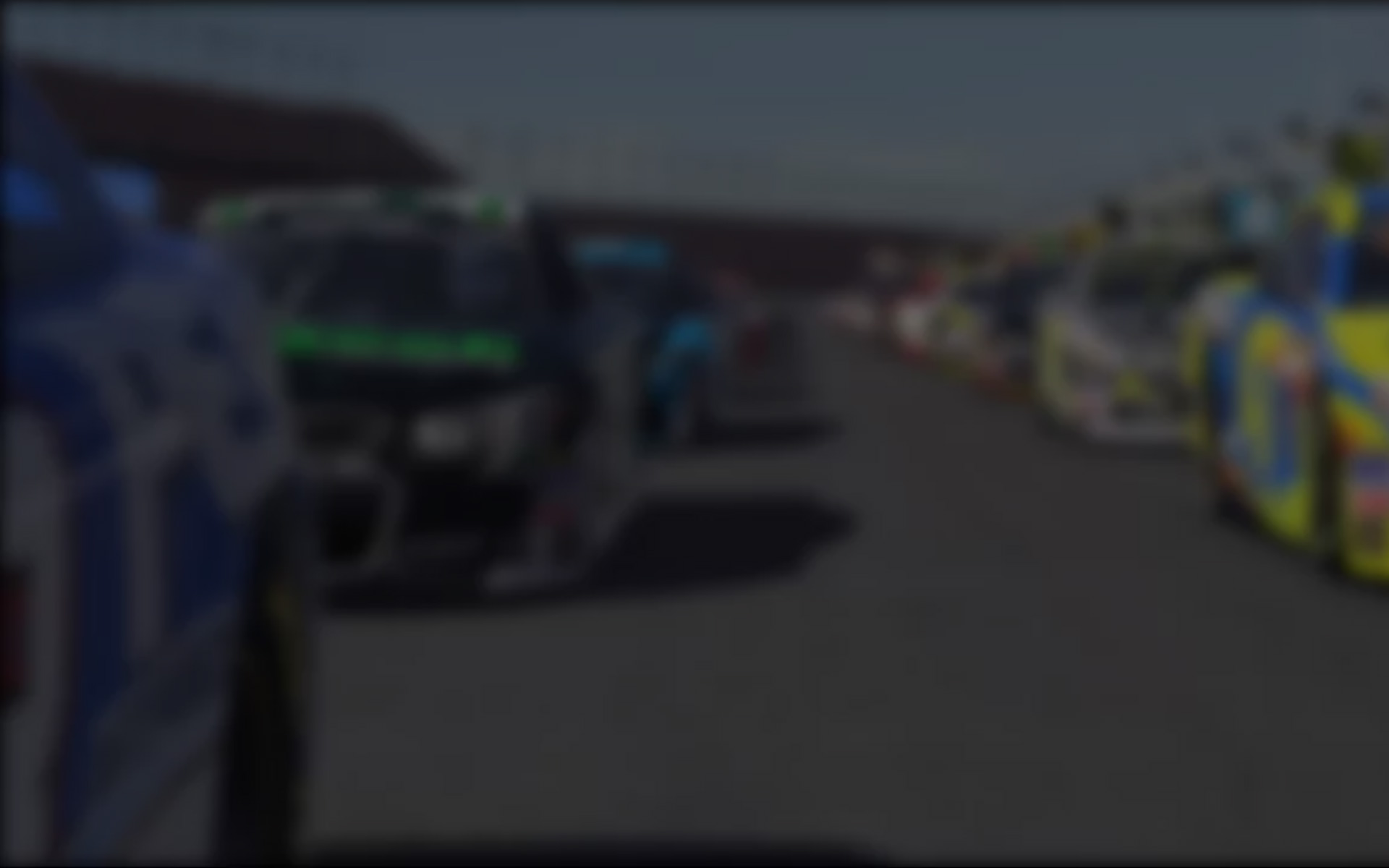 Week 9 saw the NASCAR iRacing.com Super Late Model Series venture to Hampton, VA to take-on Langley Speedway.  Langley is one of the flattest tracks in the area with just 6 degrees of a banking and measuring at just .395 miles in length.  Turning 90 laps here tested the sim-racers, especially on a night when weather conditions were more of a factor then car contact.  In the 2650 SoF feature race of the week Ty Majeski would share the front row with Richard Bruce.
Lead changes would not be a factor in this race as Majeski took control from the drop of the green flag to the checkers, leaving his fellow sim-racers to decide who was gonna play second fiddle.  Early on it was a tight three car battle with Brian Helm holding on to P2 until Lap 29 when Reilly L Doyle got under him going into Turn 2 also opening the door for Brendan Doyle to follow suit, demoting Helm to fourth.  On Lap 63 the complexion of the top five would change when B. Doyle decided to pit under the yellow to fix damage that occurred when he touched the wall on Lap 56, Jeff Choban would follow suit giving up sixth spot.  Just a second from going a lap down, Stan Bragg Jr benefitted from a late caution that enabled him  catch him up to the field and breathe new life into a race that was not going as intended.  On the La 68 restart Bragg wasted no time passing Bruce dropping him from fourth to seventh, and setting his sights on Helm in third  On Lap 73 Bragg would catch and pass Helm going into Turn 3 setting the final running order for the top three with Majeski taking the win, runner-up R. Doyle .5s back while Bragg took the final podium spot another three seconds back.
Race pace would only be slowed by just one caution leading to what can be called a clean race on a track known for the chrome horn.  Choban was on the receiving end of said chrome horn from Bruce going into Turn 3.  Luckily Choban spun to the middle of the track and avoided any additional contact, although Robert Morgan self-spin to avoid any contact with Choban ultimately bringing out the caution when he parked in the grass just before pit road unable to get the car going due to traffic on the track and unwilling to cause any "on track" issues by backing-up onto the racing surface.
Final top five would be settled in the final 20 laps as Bruce battled back from getting over run on the restart.  B. Doyle would also recover from the pit stop that fixed majority of the damage he had with contact from the wall.  Bruce took advantage of B. Doyle and Choban getting together on the front stretch after Doyle got loose coming out of Turn 4 opening the door for Choban.  Both cars suffered damage but Choban would be on the losing battle getting sandwiched between the wall and Doyle,  moving Bruce to P4 and opening the door for Helm to push for fifth.  Doyle was  unable to recover this time and finished P6.
1. Ty Majeski                  7.  Stephen Janus
2. Reilly L Doyle             8.  Matthew Sullivan2 –2L
3. Stan Bragg Jr             9.  David Van Lanen –3L
4. Richard Bruce           10.  Robert Morgan –3L
5. Brian Helm                11.  Petie Madrid –4L
6. Brendan Doyle           12.  Jeff Choban –18L
The NASCARiRacing.com Super Late Model Series heads to Virginia and Richmond International Raceway for a slight break from the tight short tracks.  At just 0.75 miles the sim-racing at Richmond will be fast with lap times just over 20 seconds.  The wide racing surface and 14 degrees of banking will lead to some exciting action, with sim-racers willing to take more chances at racing two (or more) abreast.
---
You may also like...
---