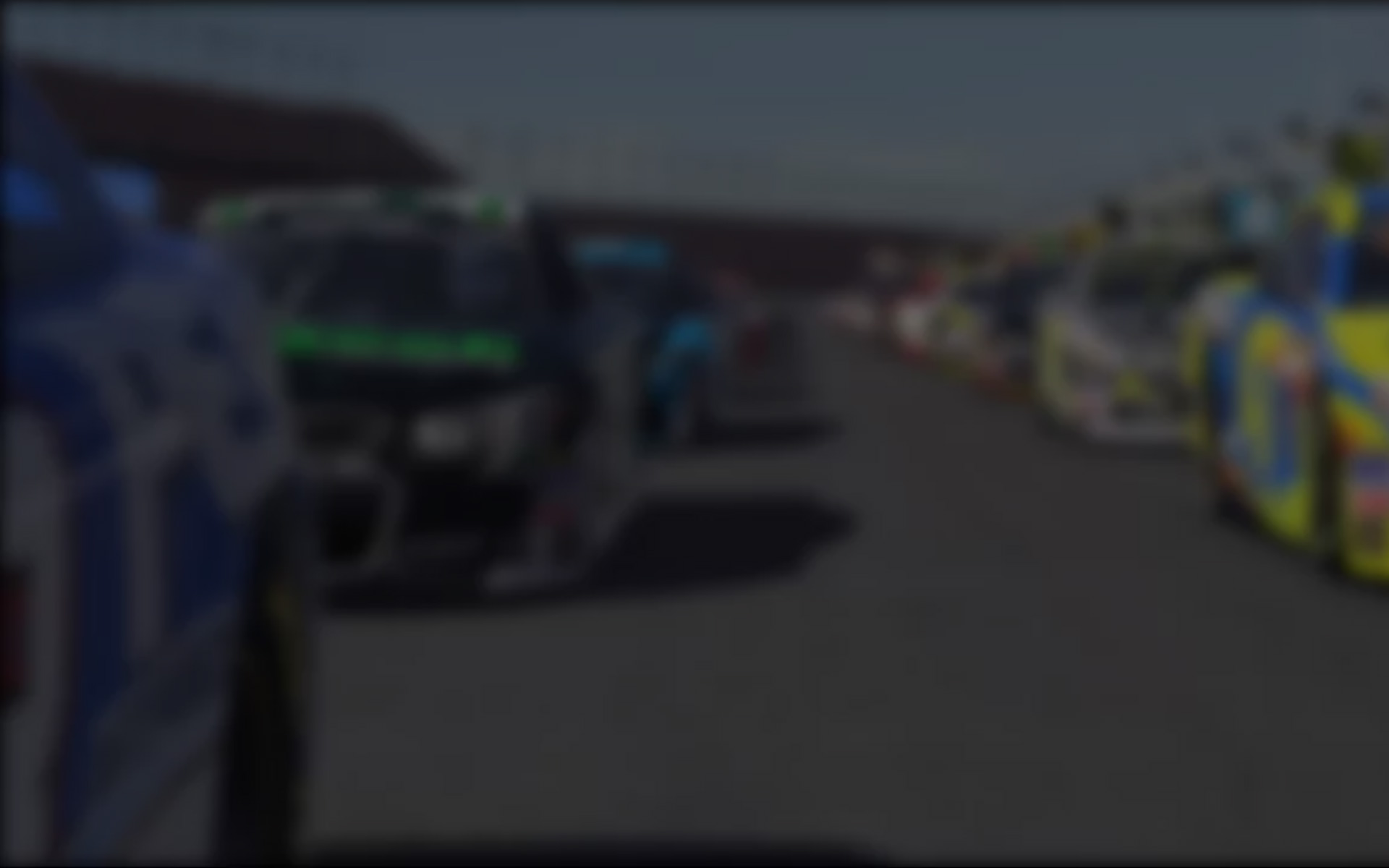 Langley Speedway, a short track. But not just any short track, it is a track that requires the driver to get up on the steering wheel and drive with finesse and agility while keeping their Late Model off of the outer retaining wall. With just six degrees of banking in the corners, Langley tests the drivers ability to balance tire wear between the fronts on entry and the rear on exit, a track where both scrubbing and sliding are equally as detrimental in the long run.  With Langley at one time being a host of NASCAR's top division in its early stages, the history and tradition runs deep and gives the NASCAR iRacing.com Late Model Series sim-racers a peak at the grassroots racing that sparked the series they enjoy so much.
In the 3081 Strength of Field race, reigning champion Ty Majeski set forth with blistering pace to take top spot in qualifying ahead of Ron Hagolin. Hagolin however, would best Majeski in one lap speed during the race by claiming the fastest lap, a whole tenth faster than Majeski. However, in the end Majeski came out on top to take the victory. In second came Brenden Queen who started the race in the fourth position and was able to take advantage of the misfortunes of both Hagolin and Landon Abbott to finish four seconds behind the leader. Ryan A Hill finished second after starting from ninth place making an impressive climb through the field to finish 11 seconds behind our race winner. Stefano S Rea closely followed behin Hill to finish in the fourth position, 13.5 seconds behind the leader. Denny Clark claimed fifth place and was the first driver to finish a lap down after a tenth place start. Clark was followed by Jeff Kendrick in sixth. In seventh was James E Crawford, two laps down followed by Hagolin who was three laps down. Abbott and Shayne Williamson would retire to ninth and tenth positions.
Due to his domination in the 3081 SoF race, Majeski sits first for the weekly standings with 186 points after winning three of four starts, only losing one to NASCAR driver Timmy Hill. Queen would come in at second due to his strong performance which saw him capturing 165 points. Trey Jarrell won all of his races to take home a solid 151 points ahead of Kenneth Smith who claimed 146 points. Ryan A. Hill would follow with 144 points from his start in the SoF race. Then came Nick Zautner with 143 points after making 19 starts and winning 18 of them. Mason Bailey came in at seventh with 141 points just ahead of Hagolin, Timmy Hill, and Junior Burnett who all claimed 137 points apiece.
As the racing at Richmond boils on in a competitive heat, Ty Majeski remains at the top of our leader boards with 1238 points, just barely ahead of Nick Zautner with 1235 points. Kevin Burris is looking to make a rally with 1218 points and Kenneth Smith has made up a massive amount of ground to come up with 1214 points. As we head into the last couple of weeks of the season, this is going to be an interesting battle. In fifth is Hagolin just outside of the reach of the others with 1155 points and is followed by Nathan Hammock with 1066 points. In seventh is Robert ONeal with 1056 points followed by Bill Tomer with 1040 points, Kristopher Marlow with 1029 points, and Steven F Burnett with 1014 points in tenth.  Charles Cosper, Daniel Mabry, and Juston Rosenow are not out of play here as each of them has one or more weeks to make up behind the top ten before they are on a level playing field.
---
You may also like...
---