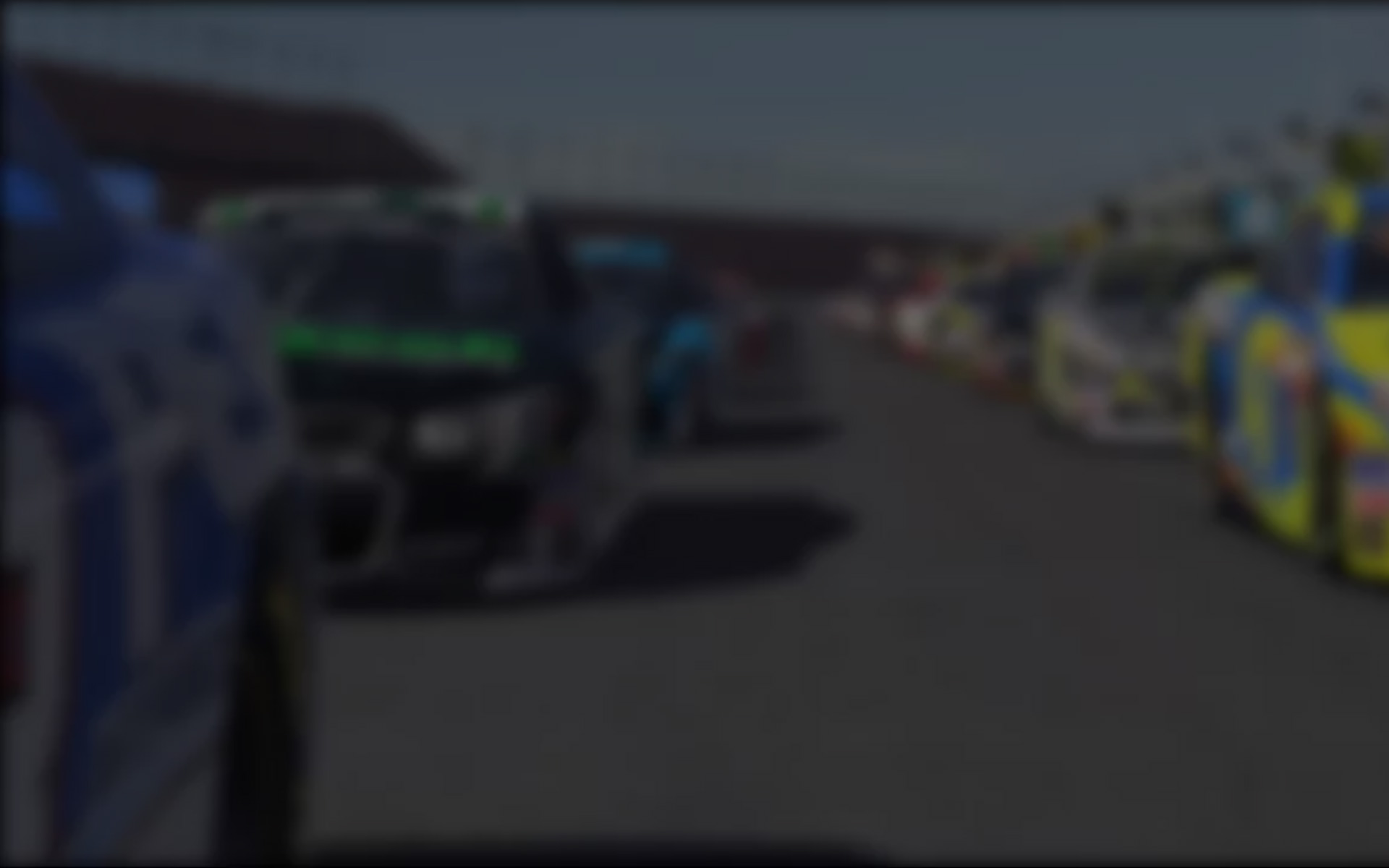 Week 5 of 2014 Season 4 saw the NASCAR iRacing.com SK Modified Series ventures to Hampton, Virginia for a meeting with Langley Speedway. Langley is one of the flattest tracks in the area with just six degrees of a banking and measuring at just .395 miles in length. Setting-up for this shortest of short track can be a challenge as, with the long sweeping corners, you need to have a setup that rotates through the center of the corner while still having enough grip to power out of the corner without causing too much oversteer.  And just to make the sim racing even more interesting, drivers must avoid the bump entering Turn 1 each and every lap. Even if you were to accomplish all of that, overtaking opportunities are at a premium as jumping to the outside is seldom an option; so setting-up the pass is crucial if you wanted to gain positions.
This week's feature race saw Stan Bragg Jr sharing the front row with Wayne Hutchison starting to his outside. Catching Hutchison sleeping, Bragg got a great start and cleared his fellow front row starter before they reached the start/finish line. With Hutchison getting a slow start , the outside rows behind him were compromised, with Ty Majeski (who started P4) losing out to Joey Morgan into the first turn. Majeski would not hang back in P4 long though.  Lap 3 saw him clear Morgan and, by Lap 5 he was moving on Hutchison for second place with Morgan on his tail, dropping Hutchison back to fourth. Bragg  had stretched his lead to 1.9 seconds by this stage but would soon encounter lapped traffic and see his margin halved by Lap 11.
The time lost proved to be Bragg's downfall as Majeski slowly started reeling him in and, on Lap 32, made his bid for the lead. Lapped traffic was again Bragg's buggaboo as his lead went from tenths to hundredths of a second.  Majeski made a bold move into Turn 3 on Lap 36, using the apron to get under Bragg as they raced side-by-side with Bragg forced to drop into line, now in second. Bragg did not give up, and he pressured Majeski in an effort to regain the lead.   But Lap 45 saw him overdrive the exit of Turn 4 and hit the front stretch wall, securing the victory for Majeski.
Behind the leaders' duel, third through fifth places changed hands multiple times through the first 20 laps. On Lap 8 Derek Kraus got to Hutchison's bumper in search of fourth place.   Looking to hold-on to that spot, Hutchison crowded the apron exiting Turn 4, got loose and spun down the front stretch, dropping him back to P10. In contrast, Kraus continued his march to the front and, by Lap 15, caught Morgan who yielded the spot two laps later. Kraus settled-in to third for the remainder of the race and was the final car on the lead lap, 12.175 seconds back from the leader. Morgan came home fourth, a lap down, with Jerome Wall rounding-out the top five.
Top Ten Overall Points going into the final week of the season at Thompson Speedway.
1. Stan Bragg Jr 728                    6. Carl Sunberg 519
2. Ty Majeski 685                        7. Buddy Dalessandro 518
3. John Minotto 597                     8. Scott Matlock 510
4. Darek Gress 555                      9. Kevin J Myers 491
5. Stephan Arsenault 526            10. Bobby Sandt Jr 487
Editor's note: Bragg's chances of taking the title are bolstered by the fact that Majeski  — 2014 ARCA Midwest Tour Champion and Rookie of the Year — will be making his first start in the Snowball Derby at 5 Flags Speedway in Pensacola this week.  Good luck Ty!
---
You may also like...
---