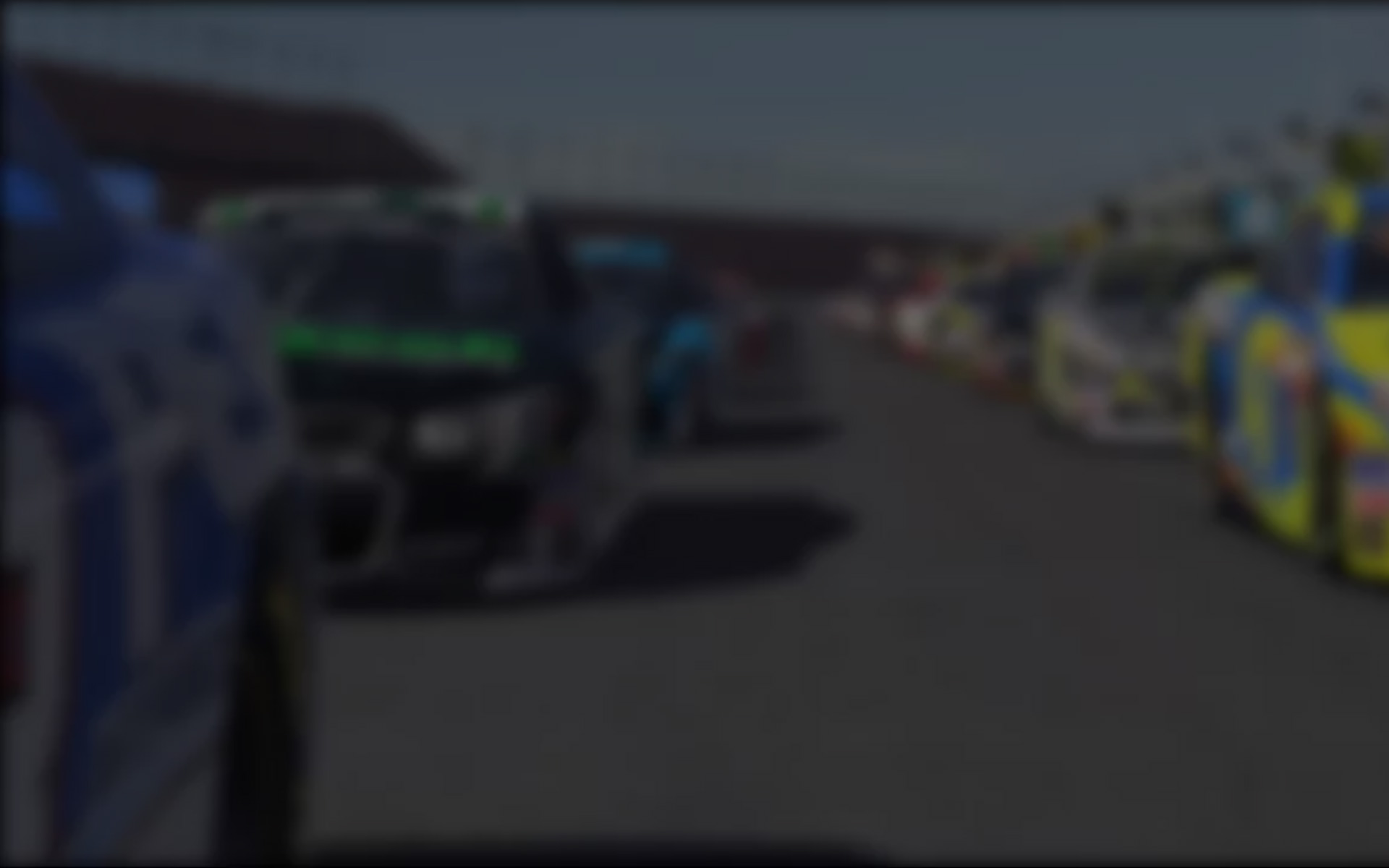 May 16th, 2017 by Richard J. Clarkson
"I got lucky," Garret Manes said, standing in Kansas Speedway's virtual Victory Lane. "I thought Martin was coming."
But it didn't matter. The Buckeye, Martin Porter, had run out of time, out of laps.
When the final restart came with only three laps to go, the field not even romping down the backstretch before the final yellow of the race waved, it was the man from Virginia—Manes, out front, en route to his 88th oval victory of the year.
The Virginian was one of only two sim racers to lead a lap. His tally notched 11.
Manes' STIHL Toyota Tundra crossed the finish line behind the flashing amber lights of the official iRacing pace car.
"Who knew it would end that way?" he said. "I'm damaged. I've hit the wall. Been run into the side of when I hit it!"
Manes' Tundra had scraped along the outside SAFER Barrier in Turn One on lap 14, dropping him from fifth place all the way back to 13th. So, when a multi-truck incident on lap 18 brought out the second yellow of the race, Manes gambled. Two laps later, when the pits opened, he stayed on track and assumed the lead.
Porter hit pit road and opted for two right side tires, the first truck off pit lane with fresh digital rubber. He restarted fifth. He finished third.
Real world NASCAR driver Ross Chastain finished in the runner up spot. He spent most of the race mired in traffic, outside the top-ten. When the field snaked onto pit lane, Chastain opted for the fake out move.
Another Ross, Ross Tatum finished fourth, earning him the MiraLAX Biggest Mover of the Race award, up fifteen positions from his qualifying effort of 19th. Jason Stout rounded out the top-five.
The three dominant trucks of the race were those of pole sitter Dalton Baldwin, Ryan Kuhn, and David Piazza.
Baldwin led the first 19 laps, followed closely by Kuhn and Piazza, neither of their virtual race machines ever falling much farther than three truck-lengths off the leader's back bumper.
Baldwin's undoing began with his pit stop. His androids served him well, never missing a beat and slinging his virtual race truck from its pit stall with a four-tire sub 13-second pit stop; however, after getting beat out by Porter's two-tire stop and lining up behind the four trucks that had decided to forgo attention from their pit crews, Baldwin restarted in sixth.
On lap 23, he found himself in a precarious position. His Children's Dream Racer Toyota Tundra was rim-riding the high line, motoring off Two, stuck to the digital 1.5-mile Kansas Speedway like glue, closing in on the trucks with old tires in front.
Held up by Tatum on the high side, Baldwin tried to make room.
He cut his truck low and tried to squeeze inside, three-wide. But, unfortunately for Baldwin—and as the old saying goes, he simply ran out of racing room. Contact between him and David THOMAS8 sent Baldwin's truck into a slide. He tried to correct. But the skid was over his head.
Baldwin's Toyota careened back up the racetrack, striking Kuhn's Tundra in the door. Both race machines slammed the wall. The two dominant trucks, out of contention.
After the contact, Baldwin hot under the collar, despondent, screeched across team communications and said, "I don't know why they stay out… guess 'cause that's the only way they can finish up there."
Baldwin finished 20th. Kuhn disconnected.  23rd.  Seven laps down.
Piazza's air gun-slinging androids also did an admirable job. But, the driver fouled up: Speeding.
"Yeah, I should have stayed out," he said. "As soon as I pitted, I knew I was done."
The final yellow of the race on lap 28, a two-truck incident between Matt Stallknecht and Matt Worley down the frontstretch, ended any hopes Piazza had of making a valiant charge to the front. He finished 15th. A disappointing result considering he started outside pole and ran with the two fastest trucks for a majority of the race.
Winner, Manes, had this to say about the final yellow: "The caution literally came out before anyone could get me on the restart… I was nervous."
The iRace was slowed four times for 12 laps. The first of which came on the very first lap in the very first corner.
"Hell, I ain't know what happened to 'em," From A Dig Motorsports's driver, Scott Smith6 said, after the race. "Like he missed a shift or somethin'. I dunno. They'z all wadded up at the start anyhow. Chaos."
In the middle of One and Two, Smith6 found himself closing fast on the backpedaling Monster Energy Silverado of THOMAS8. Smith6's The Black Dahlia Murder/Snap-on Chevy swung high, but he also sent THOMAS8 for a wild ride, spinning out of control and down onto the apron.
"I ain't know if I touch 'em or not," Smith6 said. "Hell, I never seen no little yellow warnin' signs or nothin'. No 2xs or 4xs. Might'uh just took the air off 'em. Hell, I hate it, though. Ain't tryin' to wreck nobody. Know what I mean?"
THOMAS8 bounced back from his early-race skirmish with Smith, and his late-race contact with Baldwin, to finish sixth. David Wiseheart finished seventh, followed by Alex Reece, Chase Cabre, and Dylan A. Browning closing out the top-ten.
"I'm just glad to be gittin' the hell out'uh Kansas," Smith6 said. "Shoot, I got banged around more than'uh discount pinball! I saw them leaders'uh wreckin that one time. I slowed. Hell, I was off the gas, but I got plum run into from the back! I looped 'er, but didn't hit nothin'.
"Eh, that's sim-racin', I reckon. Stuff happens. Just like that moment on lap 10. Shoot, I had to block 'em. This setup's trash! Too easy to drive. Too easy to get a run on somebody. Just turn the wheel and gas 'er up. I like slidin' them rears a bit. Bring some finesse to the game, know what I mean?
"Anyway, I don't know if that fellar was mad or if his spotter'z just takin' a nap, but, shoot, that ole boy just drove right into the side of me going into One. Wrinkled up my left front somethin' fierce. We'z chasin' our own tail after that. An 8x. Finished 13th. Hell, I'm ready to move on. Time fur some yeller walls, son."
iRacing Camping World Truck Series Results – SOF: 3249
Sunday, May 14, 2017 8:15 p.m. race from the virtual Kansas Speedway (starting position in parenthesis):
1. (3) Garrett Manes, Toyota, 30 laps, 197 points.
2. (11) Ross Chastain, Toyota, 30, 188.
3. (15) Martin Porter, Chevrolet, 30, 179.
4. (19) Ross Tatum, Chevrolet, 30, 171.
5. (6) Jason Stout, Toyota, 30, 162.
6. (12) David THOMAS8, Chevrolet, 30, 154.
7. (5) David Wiseheart, Chevrolet, 30, 145.
8. (14) Alex Reece, Toyota, 30, 137.
9. (18) Chase Cabre, Toyota, 30, 128.
10. (9) Dylan A. Browning, Chevrolet, 30, 119.
11. (17) T Jason Odom, Chevrolet, 30, 111.
12. (20) Spencer R Owens, Chevrolet, 30, 102.
13. (21) Scott Smith6, Chevrolet, 30, 94.
14. (13) Shaun Huhn, Chevrolet, 30, 85.
15. (2) David Piazza, Toyota, 30, 77.
16. (23) Mike Eplee, Chevrolet, 30, 68.
17. (10) Jake Simmons, Chevrolet, 30, 59.
18. (16) Derek Gluchacki, Toyota, 30, 51.
19. (24) Tanner Sharpe, Chevrolet, 30, 42.
20. (1) Dalton Baldwin, Toyota, 30, 34.
21. (7) Matt Stallknecht, Toyota, 30, 25.
22. (22) Matt Worley, Chevrolet, 28, 17.
23. (1) Ryan Kuhn, Toyota, 23, 8.
24. (8) Martin Balazy, Chevrolet, 20, 4.
---
You may also like...
---