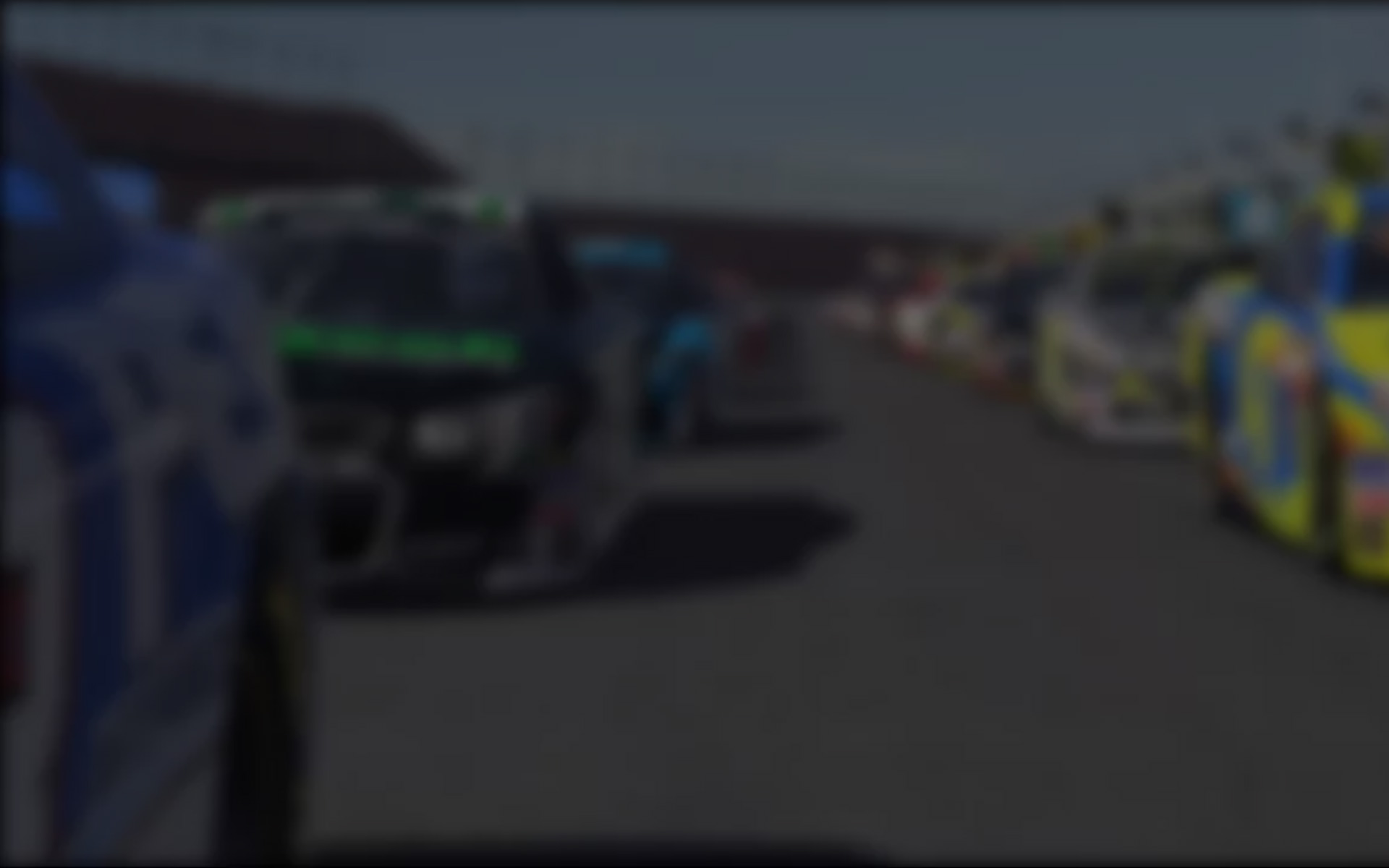 iRacing Pro Series Oval championship leader Brad Davies was shut-out of the win column last week at Martinsville.  Indeed, in two races the man who has led the iPSO points race from the get-go managed to add a "mere" 115 points to his series-leading total after disconnecting in one race and coming home twelfth in another.  Don't worry.  Davies has not suddenly forgotten how to race, witness the fact that he qualified on pole on Sunday and led 138 of 200 laps against the likes of Greger Huttu and Tyler D. Hudson.
I was able to stay pretty close to Brad although he was definitely quicker," said Huttu. "The car was stable but didn't rotate enough in the middle, but I've never really gotten it to do that properly here. I didn't know what to expect but it looked like I was comfortably on the pace to finish second, so I was happy with it.
However, a late race, multi-car crash put-paid to Davies and Huttu, and enabled Hudson to score his first iPSO win, edging Alexander Horn by .334s with Andrew Fayash, III, Dion Vergers, Jayson Anderson and Josh Connors completing the top six.
"I really didn't have a 3rd place car by any means," said a forthright Fayash.  "Had it not been for being in the right place at the right time for the most part, and just doing all I could to miss the mayhem when it happened, I would've been about seventh."
Sunday's race was a reversal for Hudson who, like Davies, disconnected from one of Saturday night's two splits.  Jim Caudill, Jr. didn't miss either one of them as he romped to his second win in as many weeks, leading 164 laps to best Justin Trombley and Nolan Scott, with Richard Towler fourth from Kevin King and Derek Cash. Saturday's other splint saw Josh Parker and Ray Alfalla dominate, leading all but two of 200 laps.  In the end it was Parker taking the win from the Floridian by a scant .370s with Theo Olson third from Chris Main, Bruce Nesbitt and Nelson Rivera.
"Keeping the car clean was a priority," Olson said. "If we went green I was going to pit after about 80 laps. Pretty sure the crew was using a socket wrench on the lugs."
Olson would not be alone in lamenting the pace of the pit work at Martinsville.  Case in point, one of two splits on Wednesday night, the one won by Dale Earnhardt, Jr. after a tough battle on the track with Luke McLean was decided in the pits.  While McLean was the faster of the two and enjoyed a comfortable (for Martinsville) lead prior to the final pit stop, it was Earnhardt who got back on track first and drove to the win.
"Pit crew cost me the race AGAIN (second week in a row)," wrote McLean, "but this time it was 10x worse. When I pitted I was four-five seconds ahead of Jr when he stopped, and somehow I came out behind him. With 25 to go and fresh tyres, it is impossible to pass at Martinsville."
The winner did not disagree.
Luke was really fast. He had the better car," Earnhardt said.  "(My) pit crew won the race.  Last stop was really bad for Luke . . . being two seconds back entering my stall and still beating him out for the lead is ridiculous. It was a shame cause he had ran a solid race."
Dustin McGrew was right in the mix as well, less than a second behind the winner, while Thomas Lewandowski secured fourth place ahead of Daniel Pope, II and Marcus Caton.
"My race really didn't look like a Pro race, " wrote McGrew.  "Lots of cars that were completely out of control. Only had two yellows.. surprisingly. Got my first top three finish.. woohoo
I needed about ten more laps to get by Luke and Jr at the end.   They killed their stuff in that last 15 lap run lol.. smoke everywhere! Congrats to Jr. on the win."
Wednesday's other split saw Josh Berry win from the week's bridesmaid – Alfalla – with Cash in third ahead of Jacob Adler, Jordan Erickson and Tyler Price.
"(I) had to dig the last twenty (laps) from fifth since a few stayed out," offered Berry. "Got to the lead with about ten to go and just put it on cruise since I had fresher tires."
Last but by no means least, New York's Thomas Lewandowski earned his sixth iPSO win on Friday morning, leading 115 laps en route to a victory over PJ Stergios with France's Florian Godard third in a tight battle with Main, Sandeep Banerjee and Kirk Hapke.
Although Lewandowski came home with a seemingly cushy 2.3s margin of victory, the last laps were not without a few anxious moments.
Setup wasn't bad, a little slow early in a run but pretty good on the long run," he said.  "Last few laps I was saving fuel. I cut it a little closer then I thought and had to save the last 30 laps or so that last run."
After a tough weekend at Martinsville, Davies will look to get back to his winning ways in the iPSO at Atlanta Motor Speedway.  His once massive points margin had eroded somewhat, and he will want to reassert his mastery of the series at AMS.  However, Parker, Olson, Alfalla, Berry and the rest may also have something to say on that account.
Note:  Screen shots provided by Jordan Erickson.
---
You may also like...
---