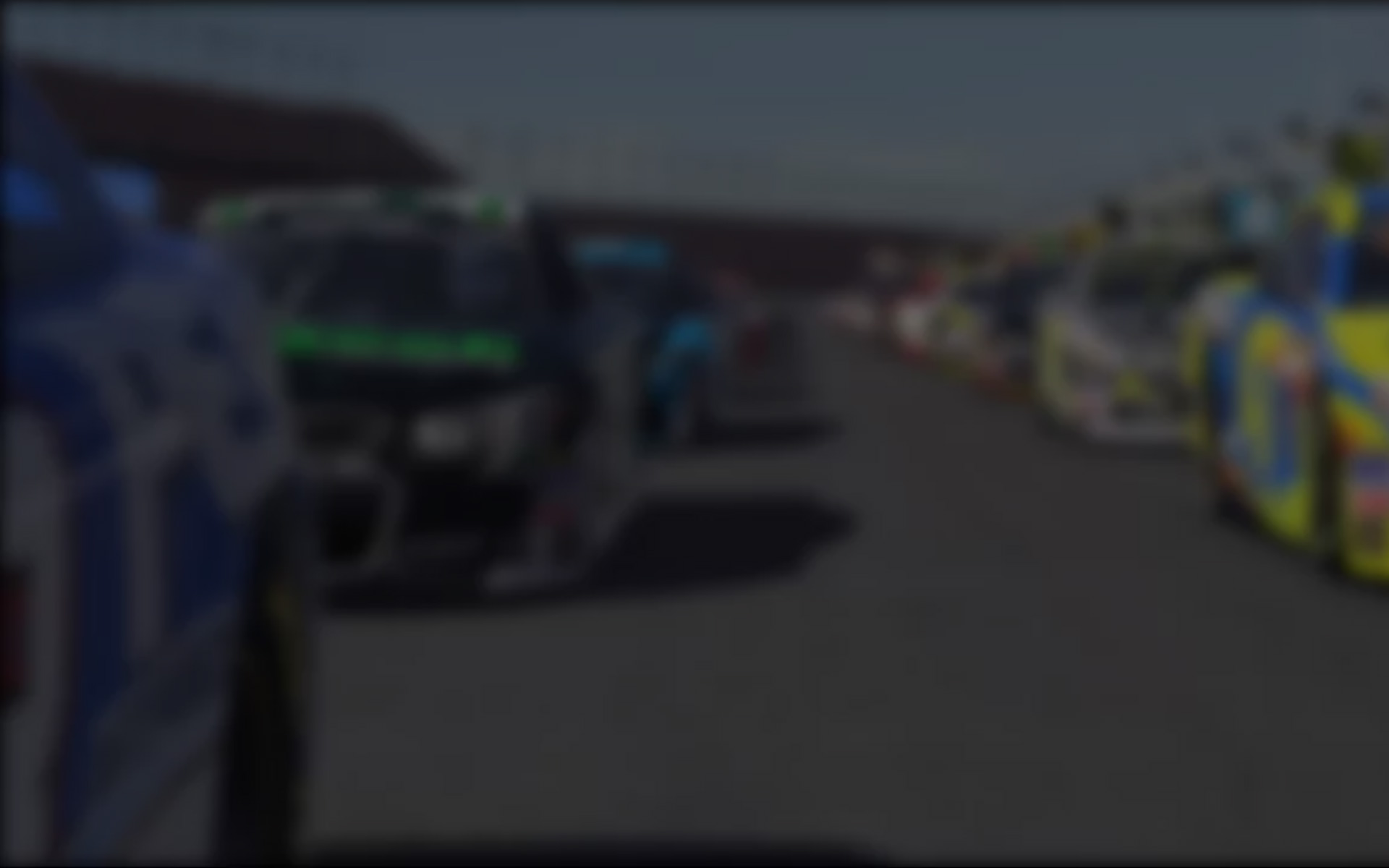 iRacing's unique simulation service not only replicates real-world physics and geography down to the nearest umpteenth of an inch, it provides a platform to realise some ultimate motorsport fantasies, and create some killer competition to boot.  Case in point: There would be a veritable army of fans, drivers and teams who have dreamt of seeing a field of V8 Supercars take to the classic undulations of Spa-Francorchamps in the Belgian countryside.  Thanks to iRacing, those dreams were realized last week with a record number of splits taking place for Week Six of the iRacing V8 Supercar Series.
Split One was top heavy with some of the biggest performers of the season to date. Trans Tasman Racing's Madison Down poled with a 2min 23.348, the only sim racer in the 23s. Next was Michael McCabe from Mitchell McLeod for Nfinity Esports, Simon Madden, XSG Motorsport's Corey Slade, Shay Griffith, Dylan Sharman, Troy Cox, Matthew Nethercote, with Slade's XSG teammate Andrew Le in tenth.
The daunting Eau Rouge sorts the men out from the boys, with the bravest dancing on the limit of adhesion between the perfect line and a black flag for track cutting . . . or worse.  And Eu Rouge is not the only place which can tempt even the tidiest driver into disaster, with the fast double left of Pouhon inviting an eager right foot and a drift out into the asphalt run-off.  So too the La Source hairpin, albeit at 150 kph or so less than Eau Rouge or Pouhon . . .
Predictably, Down got the jump at the start. McCabe made a brave effort to upset him around the outside of La Source but could not make it stick. Behind him Griffith ran wide onto the expansive asphalt, rejoining behind Troy Cox in eighth.  McCabe found his first Eau Rouge encounter difficult, getting sideways enough to give McLeod a run down the inside into Les Combes even as   Down attacked Spa's graceful rises and falls to pull out a substantial lead on the first lap.  This left a battle for second place between McLeod, McCabe, Madden and Slade. Madden was showing good pace, even having a go at McCabe at the same spot as McLeod's move only to run wide  exiting Turn 15 and allowing Slade through to join the fight for second.  Madden fell back into the clutches of a fast recovering Griffith.  Then came Dylan Sharman in the VRS Falcon, Troy Cox, Andrew Le in ninth, admitting in practice that he struggled with the Spa layout, and Matthew Nethercote in tenth.
In virtual motorsport as in the real world, technical maladies can befall a deserving driver.  Down was dominating, as he had done repeatedly in previous rounds. His rivals, and the many spectators, expected to see more of the same. However, on Lap Five, a computer crash sent the helpless Down straight-lining the downhill run out of the Rivage hairpin into the tyre wall.  He reset four laps down.
"Pretty gutting result…having the race lead by about 6 seconds (then) having the PC crash and shut down. It …hasn't affected me for ages…" said Down later, confirming Murphy's Law- it couldn't have happened in practice! "Looked like a great battle between Michael, Mitch and Corey."
"Looked like a great battle between Michael, Mitch and Corey." – Madison Down
Which was absolutely correct, and with no disrespect to Down, the race for the lead now came alive, as a furious three-car train of McLeod, McCabe and Slade were nose-to-tail. Behind them it was reasonably stable between Griffith, Madden, Cox, and Sharman. Le was holding onto eighth, but his tyres degraded rapidly, dropping his lap times from the 26s to 29s in the middle stages of the race, making him easy pickings for Nethercote on Lap Seven into Les Combes. Two laps later Harris managed the same trick in the same place, a popular passing spot today.  "By lap three my tyres were stuffed" said Le later, possibly using slightly stronger language.
McLeod-McCabe-Slade held position but gave each other no relief. Eventually McCabe decided he'd had enough of being the meat in a Falcon sandwich and tried a gallant move around the outside of McLeod at Les Combes. McLeod was having none of it, making it side-by-side through Six and Seven, which allowed Slade to poke his nose at McCabe into Rivage. Things were hotting up.
McCabe finally made it past McLeod on Lap 11 in much the same manner he had lost to him on the first lap — but after McLeod got sideways cresting Eau Rouge, making it easy for McCabe to breeze past down the Kemmel Straight. McCabe didn't exactly pull away, although he did get some relief when Slade began applying the blow torch to McLeod, which included some wild drifting through the fast Turn 12/13 esses.
McCabe went on to take the win, while McLeod hung on for second despite a desperate last corner lunge by Slade. There was nothing in it. "It kind of ended how I thought it might…with Michael getting past, and I wasn't able to keep with him. There was some unreal racing," said McLeod.
"There was some unreal racing." – Mitchell McLeod.
Griffith was fourth from Sharman, Madden, Nethercote, Harris, and Cox. XSG's Andrew Le finished where he had begun- in tenth place, but not without some close-quarters attention from Marty Atkins. Vern Norrgard had an uncharacteristically quiet race in twelfth place.
The top three were elated, but all agreed to being a little lucky. Until that watershed fifth lap, they appeared to have no answer for Down.
---
You may also like...
---