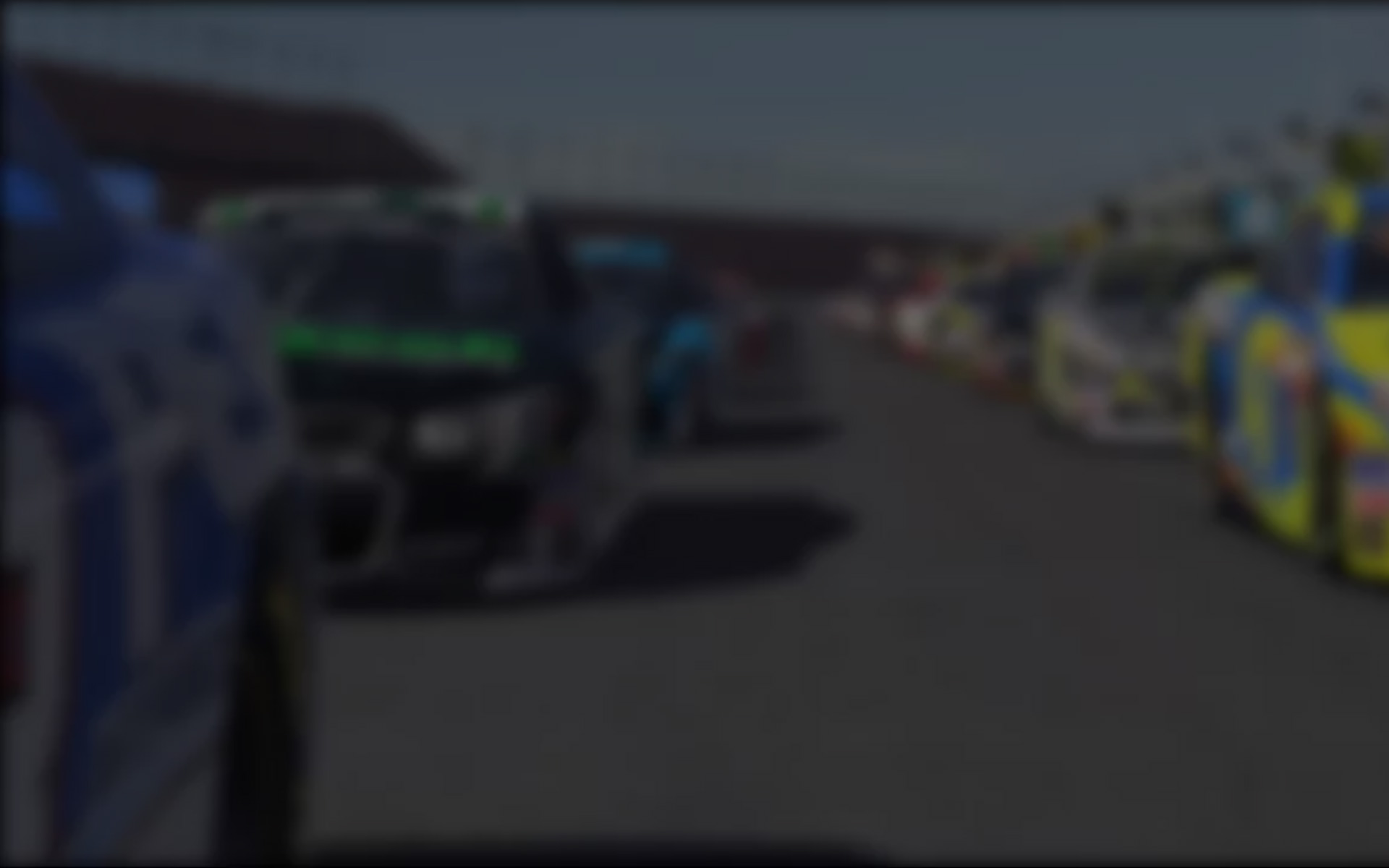 Week Ten of the 2010 Red Sox Racing League's Season Three schedule was full of surprises.  Terry McCuin entered the week twenty-three points behind Tommy Rhyne in the championship race.  With six second place finishes in his previous nine starts in the online racing series, McCuin was starting to feel like a Bridesmaid.  Some drivers would buckle under the pressure of so many close calls, but McCuin is not one of them.  Bolstered by the experience and advice of his TeamDraft teammates, McCuin maintained his composure as the season entered the last three races.
McCuin arrived in The Netherlands early to get extra practice on the challenging Zandvoort Grand Prix course.  His effort paid-off as he was able to complete all 28 laps of "The Flying Dutchman Grand Prix" without incident.  Starting in third place behind Rhyne and Les Turner, McCuin used breathtaking driving skills to calmly work his way past two of the toughest competitors on the track en route to his first victory of the season.  The win was also McCuin's first road course victory in nine RSR road events since he joined the league in June of 2010.
The fact that McCuin pulled-off his first win of the season at Zandvoort impressed fans and competitors alike.  Zandvoort is a tough track full of hidden dangers.  Many sim racers have spent their entire careers struggling just to earn finishes in the top-10.  McCuin won his race in his first attempt at the track as a RSR league member.
Zandvoort's tough reputation is forged from years of competitive events involving some of racing's most well-known drivers.  The track features long straights which lead into hairpin corners, as well as sweeping high-speed corners with minimal banking, and constant elevation changes which prompted iRacing's Director of Partner Relations, Formula One driver and RSR regular, Divina Galica to say this about the track; "Circuit Park Zandvoort is one of Europe's most iconic race tracks.  I raced here in the Aurora F1 series in 1978 and absolutely loved it!"
Fourteen RSR members attended the event, but only twelve posted qualifying laps and began the race.  Turner and McCuin were the fastest in pre-race practice sessions, but Rhyne joined them as drivers to watch once qualifying got underway.  Turner's qualifying effort of 1:34.687 secured his third pole of the season.  Turner has started seven races on the front row this season.  Rhyne earned the outside position of Row One with a qualifying lap of 1:34.803.  McCuin (third) was the only other driver to best the 1:35 mark with his lap of 1:34.828.  Darren Kersey (fourth) lined up next to McCuin in Row Two with a lap of 1:35.324.  Bill Hadden (1:35.797), Jeff Thomas (1:36.073), Andrew Feldman (1:36.218), Ed Sutcliff (1:36.291), Jim Albertson (1:36.464), and Divina Galica (1:36.599), completed rows three through five.
Mark Plank was the only other driver to post a qualifying effort (1:38.692).  Scott Husted failed to qualify, but started the race.  Wilbur Gildersleeve Jr. and Kevin Kyle both skipped qualifying and the race despite having shown considerable skill on the track during practice.  Rumors that Gildersleeve was once again distracted by the nearby nudist beaches could not be confirmed, but it appears he also dragged Kyle into the fun this time.  National Sun photographers claim to have taken pictures of the two wayward RSR drivers consorting with local talent scouts, but those images were not available at the time this article was prepared.
The twelve drivers who lined up for the pace lap used their heads to avoid early race incidents.  Their racing skills produced a very clean race which was only marginally impacted by local cautions.  Turner led all drivers with a blistering pace, but was followed closely by Rhyne and McCuin.  Those three lead cars would eventually break away from the rest of the pack as they continued pushing each other to faster and faster lap times.
Husted was the first driver to retire when his car suffered substantial damage after hitting the retaining wall on the exit of Gerlachbocht on Lap Three.  His incident did not impact the other drivers.  Galica almost suffered a similar fate entering Turn One (aka Tarzan Corner) on Lap Six, but the skilled former Formula 1 driver executed a beautifully timed 360 spin to avoid other cars.  Her previous experience at the track proved invaluable as the move also allowed her to avoid going off-track or sustaining any damage to her car.
Kersey was the next victim when he lost control entering Renaultbocht on Lap 16.  He and Hadden had been putting on a wonderful duel for the crowd lap after lap before the incident.  Unfortunately for the crowd (not to mention the driver!), Kersey's car hit the inside guard rail with enough force to end the former RSR league champion's night.  Hadden narrowly missed Kersey's car as it skidded to a stop on the track.  Kersey's early exit from the race dropped him two positions in the standings with only two races left on the schedule.
The remaining drivers maintained track position until Rhyne took away the top spot on Lap 19 after Turner overdrove the entry to Sheivlak.  Turner did not yield the spot without a battle, but decided against forcing a two-wide situation as he and Rhyne accelerated towards Marlborobocht.  Rhyne looked to be in control as he went on to lead the next four laps.  Instead of locking himself onto the rear wing of Rhyne's car, Turner surprised everyone when he pulled off the racing line on the front stretch and waved McCuin past on Lap 20.  "Go get him Terry," was all that was heard on the Teamdraft radio channel.
Rhyne did everything he could to keep the lead, but McCuin chased him down and hounded him for the next few laps.  McCuin eventually drafted past Rhyne on the front stretch, and then out-braked him going into Tarzan to make the pass which secured the victory. Rhyne tried hard to hang with the speedy McCuin hoping for an opportunity to regain the lead, but any chance of that ended on Lap 25 when he clipped the curb in Vodafonebocht and lost momentum.
The top three drivers were not the only ones involved in fierce battles.  Before Kersey's incident, he and Hadden went nose-to-tail for fourth spot during the first half of the race.  Kersey's reluctance to give up the spot eventually cost him a DNF as he pushed too hard into Renaultbocht and his race ended in the barrier. Thomas and Sutcliff enjoyed a similar battle throughout the race.
McCuin was very happy to have earned his first road course win as an RSR driver.
"Wow… I don't think I've ever ran so hard for an entire race," he said. "Zandvoort is an awesome track to begin with, and add the top three of the race, and in the standings, all running within a second of each other for the first 20 or so laps… just wow.  Les and Tommy both made me work for the win!
I do have to admit that it feels pretty awesome to finally get that win too."
"The points keep getting tighter and tighter in the RSR Championship standings and I'm just ecstatic to be in it fighting tooth and nail.  Just want to say thanks to everyone and please have a happy and safe Thanksgiving weekend.  See everyone in two weeks at Pocono."
McCuin's victory gave him enough points to move into first place overall in the season championship.  He entered the race trailing Rhyne by 23 points, but left with a nine point lead.
Despite losing his lead in the point race, Rhyne was not upset with his second place effort.
"Today was another solid finish for the Northern Tool Mazda," he said.  "I really didn't know how I would stack up against the front runners at this track.  I didn't dump any fuel during the practice session, because I was just trying to learn my way around the track.  We were pretty happy to have qualified on the outside pole.
We just missed getting the pole by the width of the clear coat on Tuna's car."
"Les never got away from me during the race, but Terry never let me get out of his sight either.  We all ran nose-to-tail, driving the cars to their limits at every corner of every lap until one of us made a mistake.  I was right there when Tuna made his mistake, so I grabbed the lead for a few laps.  Terry was just plain out driving me though, and he caught me fast.  I had no chance of holding him off coming to the stripe and he passed me with ease.  I did manage to keep with him until I bobbled in Turn Nine on Lap 25.  By the time I gathered it back up Terry had pulled out almost a three second lead, and at that point had to settle with second place. My main focus for the final two races is to finish in front of Terry and try to win Northern Tool's debut season in the Red Sox Racing League!"
Turner crossed the line eleven seconds behind McCuin to earn 3rd place.  He entered the race ninety-two points out of first place in the championship race, but was trailing by only 51 points with two races left on the schedule.  The defending two time league champion appeared confident after the race.
I know Tommy and Terry are already contemplating where they are going to store the trophy when they win the championship, but I don't think they should count us out just yet."
Hadden enjoyed a relatively uneventful race after the early scare with Kersey as he went on to earn fourth place.  "I was holding my breath when I saw Darren's car coming back onto the track," said Hadden.  "We had been having a really good battle up until that point, it is too bad his night ended like that."
Thomas crossed the line in fifth place.  "We arrived Tuesday night for practice and our goal was to get this car in line for a top-five finish.  After a successful practice session, we went into Thursday's event confident we could obtain our goals.  It was a great race contenting with Ed Sutcliff all evening for position.  I was happy we were still in fifth place at the checkers.  Congratulations to my fellow team member "Tank" McCuin on this win and for taking over the point lead."
McCuin and Sutcliff shared the race's "Hard Charger" award, both gaining two spots from their starting grid positions.  "This track keeps me guessing lap after lap," said Sutcliff.  "I still haven't figured out the fastest way around it, so our goal was to keep the car in one piece and try to pull off a top-five finish.  The car wasn't very good during qualifying though and we ended up in a tough spot as we began the race behind some of the fastest drivers in the league.  That is never a good thing on road courses.  Jeff was one tough customer tonight.  I thought I would be able to catch him at some point, but he never bobbled or slowed enough for me to pull it off.  Congrats to him and the rest of the top-five for their hard-earned finishes."
Feldman was next to cross the line when he finished just ahead of Albertson to earn the seventh finishing position.  He and eighth place finisher Albertson put on some of the most entertaining battles of the race as they fought for position throughout the race.  Galica survived a couple early race scares to finish as the last driver to cross the line on the lead lap, earned ninth place with the effort.  Mark Plank was the last driver on the track when he finished two laps down in 10th place.
RSR drivers take a week off for the Thanksgiving holiday before traveling to Pocono Raceway for the 30 lap "Pennsylvania Grand Prix."  That event will be followed by the final race of the season, "The 24 Laps of Sebring" at the Sebring International Raceway.
With only 51 points separating the top three drivers, the battle for the season championship will be intense as McCuin tries to hold off the hungry newcomer (Rhyne), and the defending two-time champion (Turner).
Standings: http://www.danlisa.com/scoring/season_standings.php?season_id=442
Zandvoort Action video: http://www.youtube.com/watch?v=uZAelb_1Q1Q
RSR YouTube channel: http://www.youtube.com/user/draftin11?feature=mhum
---
You may also like...
---