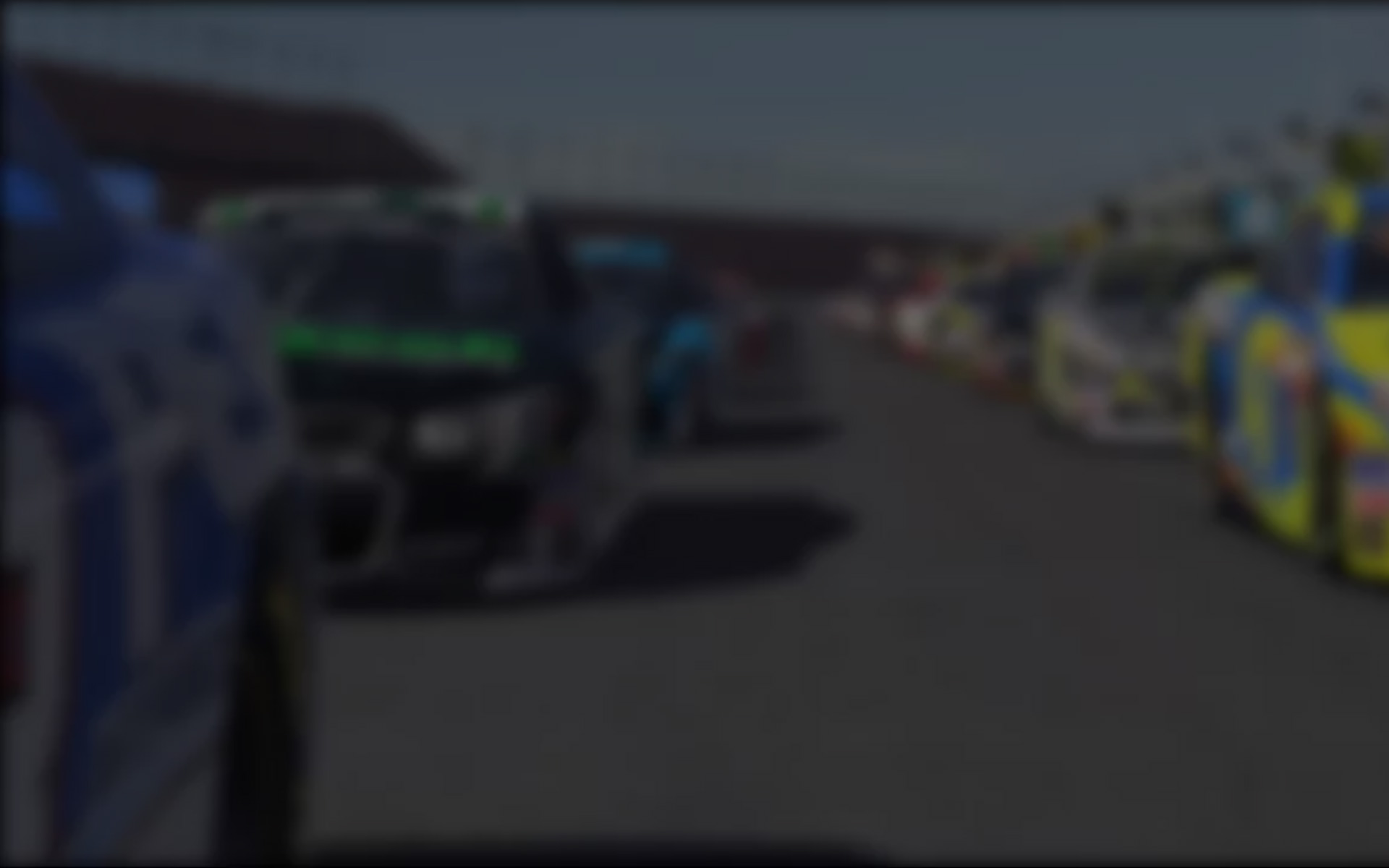 Week Two of the iRacing.com V8 Supercar Series Presented by Big Pond, and the drivers of the V8SC Ford Falcons found themselves tackling the wide-open expanses of Silverstone. With some of the most storied corners in all of motor racing—Stowe, Chapel, Copse, Club, Becketts, Woodcote, Abbey—the Grand Prix track proved the perfect venue to host some big-iron online road racing.
The stage for some fierce competition in the main race (10:45 GMT Monday, February 13th) was set by two earlier races: the first (08:45 GMT Sunday; Strength of Field 3334) saw two professional drivers in a back-and-forth duel, as International V8SC driver, Shane van Gisbergen, beat New Zealand Touring Car and Fujitsu V8 Supercar driver, Scott McLaughlin, by less than a second, with Justin Ruggier taking the final spot on the podium. Then, just two hours before the big race, Mitchell McLeod won from the pole over both van Gisbergen and McLaughlin, further setting fastest lap to complete the triple (SOF 3305). So, when the main race (SOF 3779) came to grid, with McLeod sitting on pole ahead of McLaughlin and van Gisbergen, the excitement was palpable, that is, until the impossible happened: McLeod jumped the start. It was an unfortunate and costly error, and race control issued the Tatts Racing driver a stop-and-go penalty. He left little doubt as to what might have been, however, leading the first two laps convincingly.
Meanwhile Rens Broekman, having started fourth, was reeling backwards from the green flag, losing spots to Richard Hamstead and Ruggier; Paul Rogers was shunted onto the grass by Mitchell Boulton, dropping Rogers to the back before he even reached Copse; then George Fullerton missed his braking marker into Stowe, dropping him to last behind Rogers.
Back at the front, Hamstead had made a big move on van Gisbergen into Stowe, but the pro saw it coming and pulled a canny over/under on Hamstead to get the better exit velocity. Undaunted, Hamstead battled on, willing himself into third position by the exit to Vale. Broekman too was on the move, gaining fifth back from Ruggier. It was just then that the track marshals again intervened.
Van Gisbergen got his centerline across the boundary at Woodcote and he was ordered to slow. This early, with this level of competition, the order proved disastrous: he dropped to 10th position as Broekman, Ruggier, Simon Madden, Scott U'Ren, Joshua Muggleton and Stuart Wood all carried better momentum into Copse and got by him.
With McLeod and van Gisbergen penalized, by Lap 4 the race had settled a bit, with three drivers up front — McLaughlin, Hamstead, and Broekman—covering about two seconds.  They were followed at some distance by a tight pack of four—Ruggier, Madden, U'Ren, and Muggleton—then a pair of pairs: Wood/van Gisbergen; and John Emerson/Shaun Kelly to round-out the top 11. By Lap 5, Wood and van Gisbergen had made-up some ground on the quartet in front of them when van Gisbergen made a specky of a pass on Wood into Priory, following it with heavy pressure on Muggleton into Woodcote.
I asked Muggleton, or "Muggo," as he is widely known, about racing full-on professionals like van Gisbergen, to which he replied:
"It really is an honour. That might sound silly to some people, but from an early age the V8 Supercar drivers have been my idols, all the way through until now. To look up to these guys and watch them every other week driving real Supercars around the globe, and then to be able to chat to them, and bang virtual doors with them, is a real blast. They are excellent people with great personalities; but, when we are in a race, you are mindful of who they are and what they do, and they are every bit as fast virtually as they are in real life. Speaking for myself, I tend to make sure that I don't make that desperate dive under brakes on them, or block too forcefully when they are coming up behind. It adds another level of realism to iRacing for me to race against these guys online."
Muggo slid a bit coming out of Stowe, and this was all van Gisbergen needed to wrest seventh spot from him.
Up front, Hamstead's speed was showing: his new silver Direct Clutch Services car was filling McLaughlin's mirrors.  Hamstead nearly got by to take the lead at Bridge, but McLaughlin held-on dearly through Priory to maintain the lead. Meanwhile, van Gisbergen was still charging: At the end of Lap 7 he was able to grab sixth, when Madden pushed up on the outside of U'Ren in Luffield and lost a position to van Gisbergen for his trouble. It got worse when Muggleton subsequently touched Madden's rear corner in Maggotts and Madden lost even more ground as the resulting slide cost him valuable momentum.
On Lap 9, van Gisbergen and U'Ren were moving as a pair, as both overtook Ruggier into Stowe, putting him back to 6th, and thenceforth under increasing pressure from Muggleton. On lap 11, disaster struck again as Muggo lost the rear while braking into Stowe, put his left side hard into Ruggier's right, and knocked both cars off track. Having managed his spin onto the paved runoff area with aplomb, Ruggier was able to get going again after losing only four spots.  In contrast, Muggo had the business end of his Falcon facing the wrong direction, so the gaff cost him seven places. Things weren't right with the car either, and Muggo spun again in Vale, losing four more positions.
Up front on Lap 12 and Hamstead, who had been applying serious pressure to McLaughlin, got sideways into Copse and allowed Broekman into second place. Around this time, tires seemed to be going away a bit, and the lap times showed it. Nonetheless, by Lap 15, McLeod was back up to 10th position and reeling-in Emerson by more than one second per lap. With McLeod the best on worn tires, Hamstead had dropped away from McLaughlin and Broekman a bit, with van Gisbergen and U'Ren still together trying to find a way onto the podium.
Over the final few laps, McLaughlin's car became progressively looser.  In fact, Broekman nearly had him into Copse on Lap 19, but the young pro held on, sliding sideways over the finish to take the victory. McLeod had quickest lap (1:51.243).
Madison Down, three-time defending champion, was noticeably absent. When I caught up with him this week, he explained that his studies—and F1—are taking a considerable slice of his time this season, so he's having to moderate his racing activity in V8SC.
In an altogether different time zone, V8SC Americas managed good attendance at events on both Thursday and Friday nights (9:45 EST, or 02:45 GMT Friday/Saturday for those of you on the metric system). Canadian Curtis Chippeway won both events, with Ray Butcher just 0.5s behind in the first race.
Thomas van Bussel had a win in the popular European time slot of 18:45 GMT Sunday, while Mick Claridge won a strong race at 10:45 GMT the same day.
---
You may also like...
---