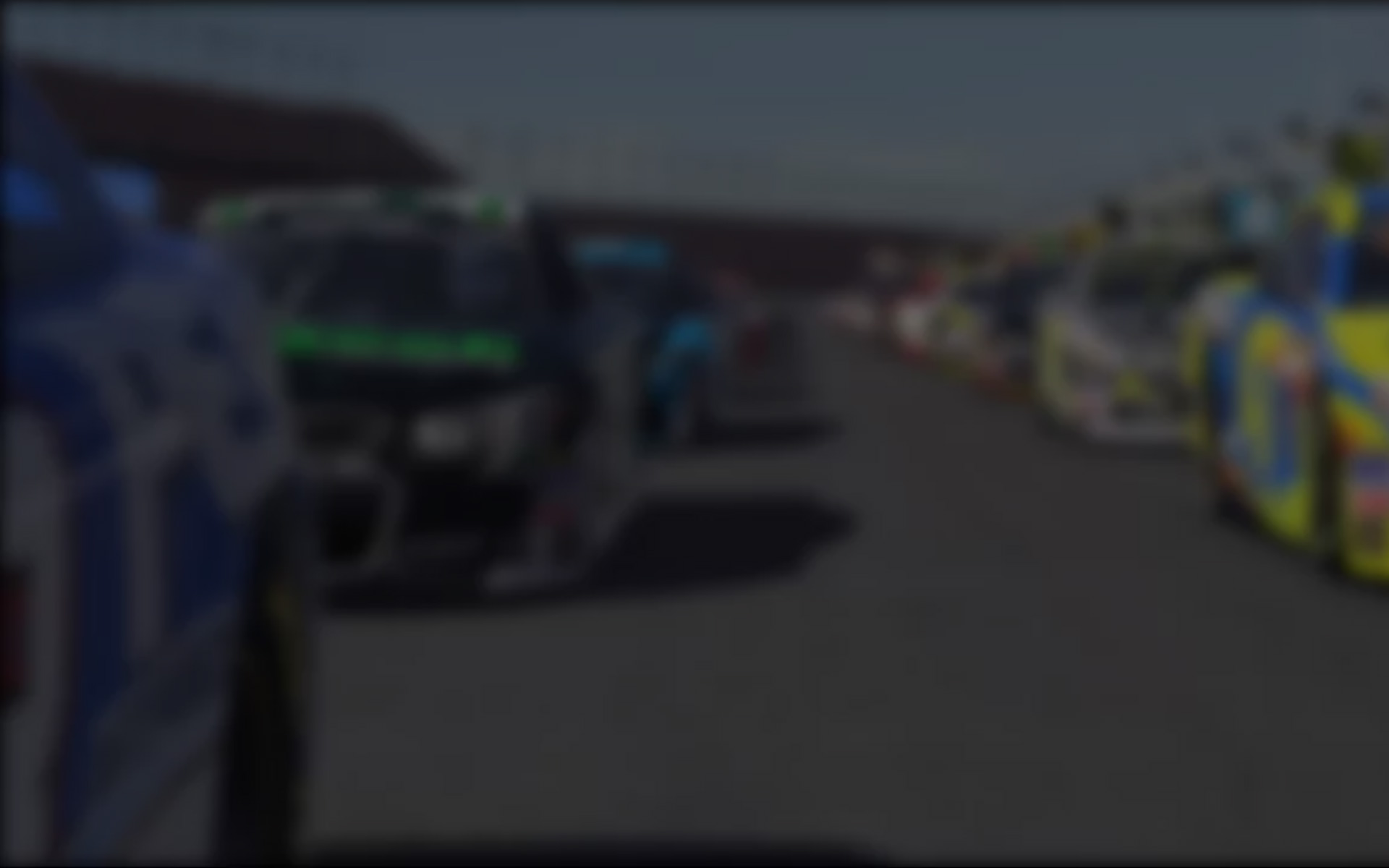 As we officially reach the halfway point of the 2014 racing year, many drivers enjoyed a much-needed break after an exciting completion to Season 2 of the iRacing.com V8 Supercars Series. With the break came the much-anticipated New Tire Model version 5 (NTMv5) which has been received with open arms by many in the V8 community. As such, various teams stayed busy throughout Week 13 in an effort to adjust their vehicle setups to accommodate the update. As we headed into Week 1 of Season 3, the series revisited the roller-coaster of Road Atlanta which has enough elevation changes to make your head (or your car) spin. This 2.54 mile long road course is well known for its blind corners so it seemed fitting that the drivers had ample time to test their new setups on such a difficult track.
As the field gridded for the weekly Strength of Field (SoF) race, it was 4 Motorsport driver, Mitchell McLeod, taking pole position with a blistering lap of 1.21.690 —  the only driver in the field to reach the 21 second mark. He was followed by Beau Cubis of Altitude Brighton Volvo, Kamikaze Racing Team driver, Michael Fulcher, Demidov Motorsports driver, Ian Ford and John Emerson of Team TTL who rounded out the top-five. In what was an extremely competitive field, positions third through fourteenth were separated by only .2 seconds.
It was a clean start at the drop of the green flag. As the field snaked through the uphill and downhill twists and turns of Road Atlanta, the drivers handled their vehicles with precision as they were able to avoid any costly contact with each other. Initially, it was McLeod and Cubis who pulled away from the pack halfway through Lap One. However, by the end of the first lap, it was McLeod who began to pull away and extend his lead.
In an unfortunate incident early on in the race, Synergy Sim Racing driver Wayne C. Bourke got a tire on the grass while coming down the front straight on Lap Nine. Despite the fact that the NTMv5 has made significant improvements of the car's handling, there was little that Bourke could do to regain control as his Ford Falcon veered off the track and into the wall. The damage was enough to force Bourke to retire early from the race.
With McLeod holding the race lead, there were other battles going on further back in the pack. On what could only be described as an incredible start, SDC Motorsports driver, Martin Carroll, was able to snag two positions on the first lap after starting in fourteenth. By the time he had reached Lap 10, he had moved up a total of six spots. Also on the move was Beau Cattell of ANZ Motorsports who started in tenth. After moving up a spot on the first lap, Cattell wound his way through the field and seemed to be consistently picking up positions every two or three laps.
Another driver who was on the move was Emerson. Having started in fifth, Emerson's rise came to an abrupt halt as he was unable to overtake Jake Burton of KustomImage Motorsports. Burton, who was also on the charge, initially started in seventh but moved up two positions (including the pass on Emerson) on Lap One. As such, he effectively stayed in front of Emerson who elected to pit on Lap 12 but only took fuel. Upon his pit lane exit, Emerson began his climb again and soon found himself back in fourth and ahead of Burton. As the final laps approached, Emerson began to regret not taking fresh tires as he began to fall back. On the final lap, Burton made the overtake on Emerson to finish in fifth.
Directly behind them, a three-way battle was waging between Fulcher, Carroll and fellow SDC Motorsports driver, James McKnight. After starting in third, Fulcher was not having the race he had planned for. He soon found himself outside of the top-five with the two SDC drivers of Carroll and McKnight on his tail. The pass came on Lap 26 as they raced downhill towards Turns 10a and b. Using the slip stream, Carroll gained ground on Fulcher and pulled out in time to cleanly complete the pass at the bottom of the hill by out-braking Fulcher. This moved Carroll up to seventh position while McKnight still sat behind Fulcher in nineth.
The three drivers battled on for the remainder of the 32 lap race but McKnight wasn't able to catch his teammate who was ahead of Fulcher. In the end, Carroll completed the race in seventh after moving up seven spots from his starting position. Fulcher dropped five spots to finish in eighth while McKnight moved down one to finish in nineth.
Back up front, in was all McLeod all day. In a dominating display of skill, he showed the V8 community that he was up to the challenge of winning a championship race and led all but one lap of the entire race. Cubis maintained his position behind McLeod and finished 3.4 seconds behind the race winner. Cattell concluded a meteoric run by claiming a podium finish after starting in tenth. The fastest lap of the race (1:22.140) was set by Ford who finished where he started in fourth.
This Australian Strength-of-Field (SoF) race had a strength of 3889 and was split four times. The top five finishers from the other splits are as follows:
Split 2/SoF 2239
1- Greg Sharp
2- Lance Perkins
3- Rhys Goldfinch
4- Chris Coxhead
5- Aaron Hamilton
Split 3/SoF 1621
1- Andre Williams
2- Matt Morris
3- Jamie M Eaton
4- David Nenadic
5- Scott Brown
Split 4/SoF 1063
1-Shane Best
2-James N Scanlan
3-Sean Polden
4-Benjamin Syron
5-Michael Creed
In a noticeable absence, the usual field was missing several of the prominent drivers of the series such as Madison Down, Jarrad Filsell, Leigh Ellis and Season 2 Champion, Richard Hamstead. Whether still vacationing (Week 14?) or unable to start for other reasons, the void allowed several other drivers a chance to score a decent amount of championship points.
Moving on to Week 2, the iRacing.com V8 Supercars Series heads over to Heusden-Zolder, Belgium for 22 laps of the Alternate course of Circuit Zolder. A favorite among many sim-racers, this 10-turn road course is just under 2.5 miles in length and is considered by many to be the bridesmaid to its sister track, Circuit de Spa-Francorchamps. Will we see the return of the powerhouse drivers? Or will McLeod capitalize on their absence? Week 2 will be sure to shake things up for sure!
V8 Supercars Americas
For many sim-racers who've been looking at getting involved with the V8 Supercars community, the problem which many face is finding a race. Although this series is much smaller than, for example, the GT3 Challenge Series, it is very well organized and has set race times for large SoF races. Two such races, which feature western hemisphere friendly race times, are brought to us by V8 Supercars Americas. Racing in official races, these events take place at 7:15 PDT / 10:15 EDT Thursday and Friday nights. The top split of the Friday night race is also broadcast by V8s Online and are commentated by JD Smith and Kane Kraft. If you've been looking for a chance to get involved with the V8, this week at Circuit Zolder is an excellent week to do so.
Be sure to follow iRacingNews as we continue our coverage of the 2014 Season 3 iRacing.com V8 Supercars Series!
---
You may also like...
---