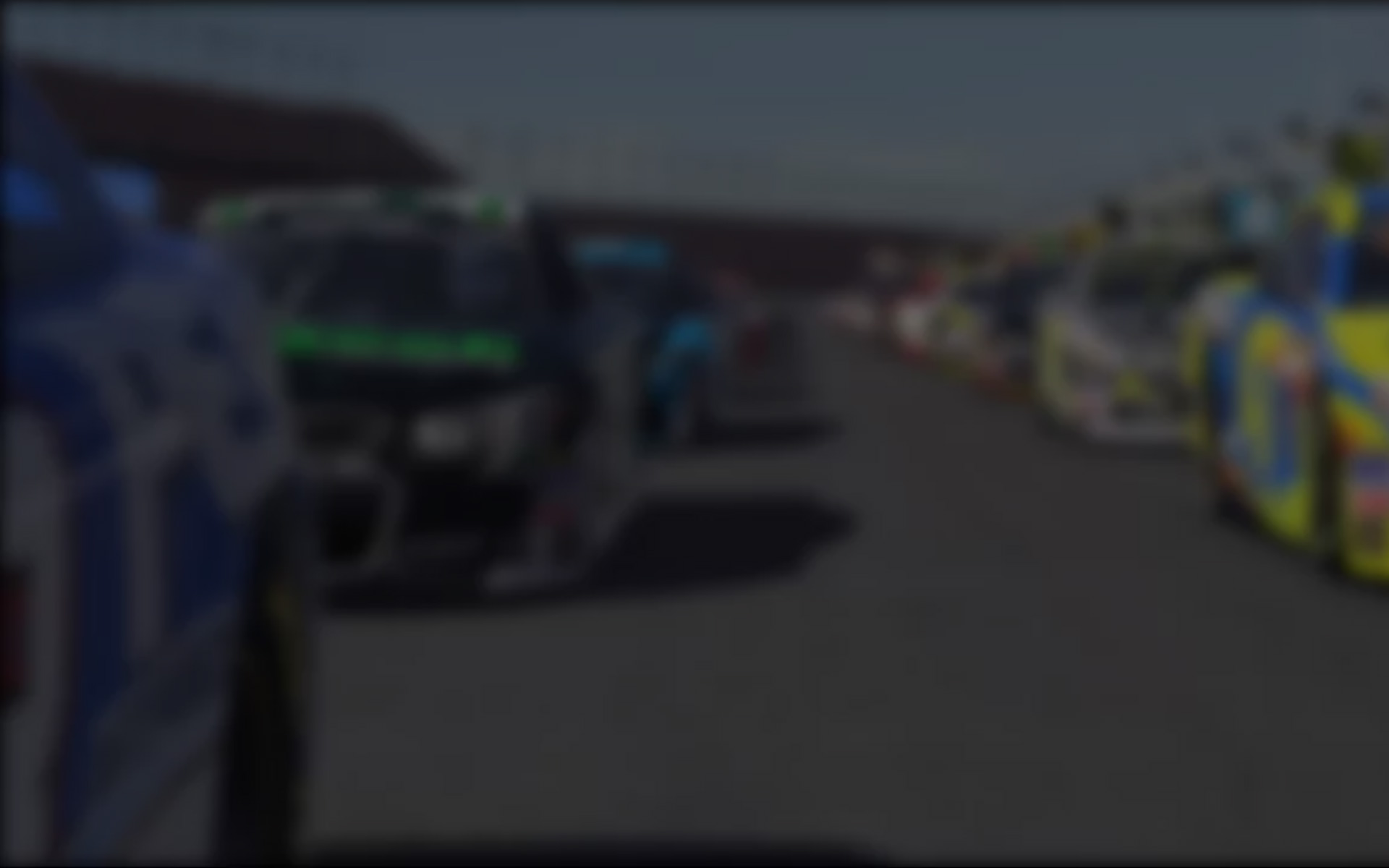 MADISON DOWN THE SERIES CHAMP AGAIN
Just to add a little spice to the already-hot iRacing V8 Supercar Series finale, series points leader Madison Down was unable to front for the maximum points Monday Night Showdown at Road Atlanta due to pressing travel arrangements.
While some would argue that it detracted from the event, leaving the series destiny at the mercy of an SOF points variable, it also meant that Mitchell McLeod and Rens Broekman, both trailing Down, would have a genuine shot at series victory. At the very least, the points gap would be minimal.
Broekman drew first blood with pole position by a tenth of a second, which is a country mile in this series. McLeod put the Tatts.com Falcon on the front row.
Mick Claridge made a return to Split One third on the grid, alongside Justin Ruggier, another strong performer from the alternate splits. Josh Muggleton, Cal Whatmore, Scott U'Ren, Stuart Wood and Troy Cox were next. Richard Hamstead was in tenth, not reflecting his late season form.
Broekman got the break at the start from McLeod, Ruggier, Muggleton and Whatmore. The Benelux driver decided that the best way was to stop worrying about points, and win. McLeod was thinking the same thing. While Broekman pulled out a few seconds' lead, by lap 14 of 25, the Tatts.com Falcon had pulled right up to the Nfinity Esports bumper. McLeod: "I kept putting my car in his mirrors trying to … force him in to a mistake, but he was driving way too solid for that…".
"What a way to end the season!" -Mitchell McLeod
Indeed, the pressure was intense but Broekman was not succumbing. Several times, into the plum overtaking area at the end of the back straight, Broekman covered his line and made McLeod go the long way, if at all.
It was crunch time. With Down watching anxiously from…somewhere, he had nothing but a 42 point margin, and Broekman, to protect him from the coming of McLeod.
With barely three laps to go, that opening came. Broekman ran wide onto the back straight. McLeod had to get out of the throttle, but when Broekman showed no sign of blocking into the esses, he had a look up the inside anyway. "I didn't really get much more of a run then any other lap, but I think Rens was a little bit (more) rattled, so I had a bit more of a look..to my surprise Rens braked earlier than normal, so I went up the inside and we went side by side through the esses..".
By the time they reached the start finish line, and scarcely before, the move was done. McLeod to the lead.
But was it enough?
Most attention was on the title fight, even with one of the contenders only via proxy, but some races finished early for some top ten players. Stuart Wood's stellar end to the season fizzled with an unlucky blown engine at the end of Lap One. Hamstead, also with mega results in recent rounds, copped a drive through penalty for a cut track on lap 2, later falling off the track in frustration.
McLeod won by a little over a second from Broekman. Ruggier was an impressive third from U'Ren and Muggleton, who had enjoyed a healthy battle, heading U'Ren until his tyres went off. Whatmore was sixth from Cox, while Simon Black, George Fullerton and Paul Rodgers rounded out the top ten covered by a small blanket.
In the end, the iRacing virtual points boffins decreed that McLeod's stirring victory was not enough, much to the spectating Down's relief. "Not truly knowing if i'd done enough to win… pretty nervous stuff. It was a great feeling to finally get confirmation."
The plaudits for young Madison flowed, not least of all from his main rival McLeod. "What a way to end the season! I'm making a habit of winning the last race or two and just missing out on the title. Congratulations to Madison on yet ANOTHER championship..!"
We keep saying this series always gets better- and it always does.
SERIES FINAL TABLE TBA
---
You may also like...
---