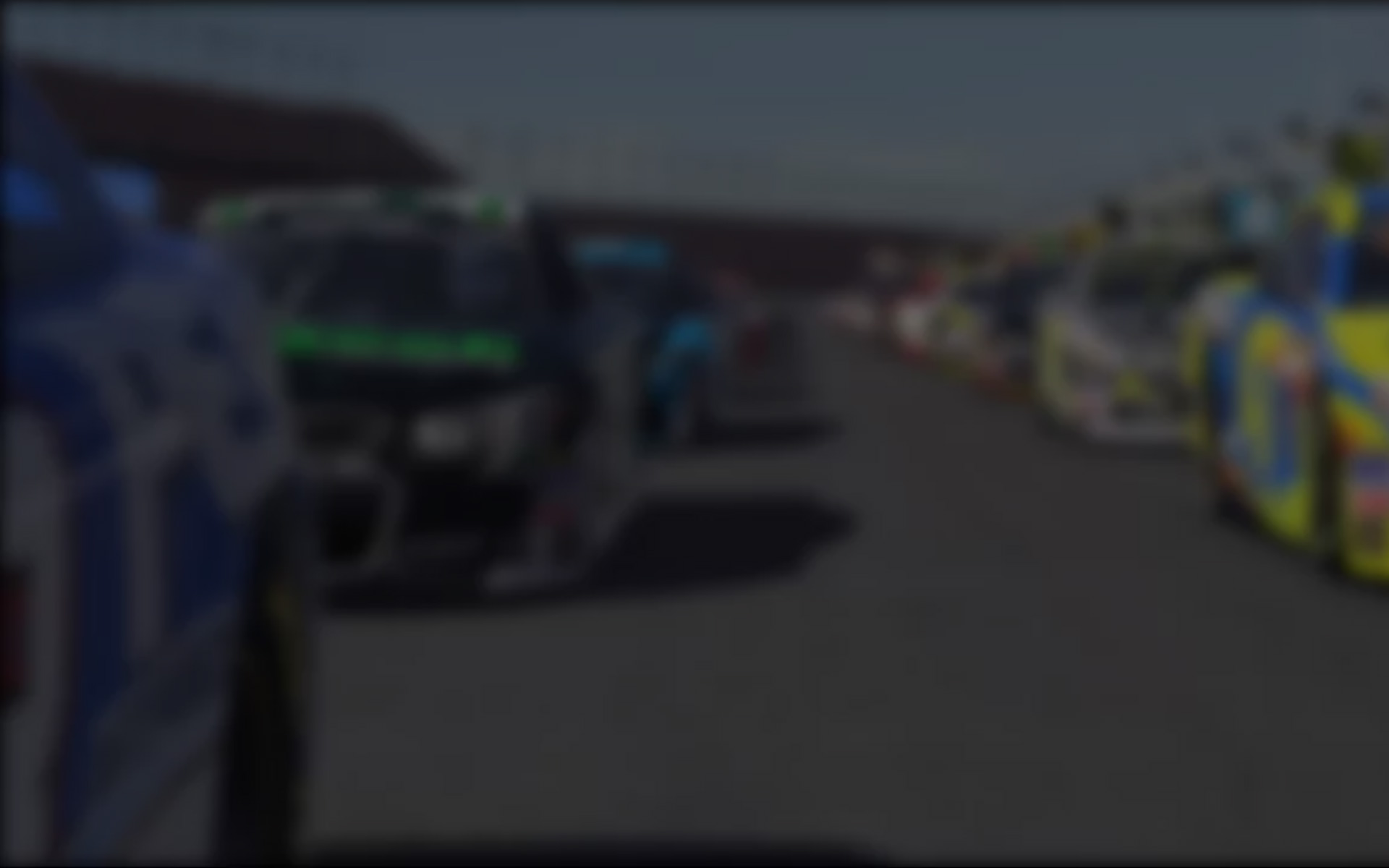 Thirty drivers took to the field for Round 2 of the Continental Endurance Sports Car Series (CESCS) at Barber Motorsports Park on February 25th, during the much-anticipated Daytona 500 weekend.  The mixed class online racing competition features the Ford Mustang FR500S in the GS Class and Mazda MX5 of the ST Class.
Practice and Qualifying
Missouri native Trace McRae, in the #69 Team Green car, was THE Mustang in final practice with a lightning 1:37.330 lap, two tenths faster than Sweden's own #84 Oscar Sahlin in second with a 1:37.594. As the series continues to evolve, something different from the first round at the wide open spaces of Daytona, was a class-separated qualifying session. Qualifying was split into two 10 minute sessions, one for each class, for the tight and technical confines of Barber. The GS cars took to the track for the first 10 minute session, immediately followed by the ST cars for the final 10 minutes. While some thought McRae might approach his practice time, Trace instead blew expectations off the hinges and posted a time that was nearly three tenths faster than his practice, with a time of 1:37.089. Sahlin, however, was unable to close the gap and took third place in qualifying (1:37.911) behind the #63 of Jady Baumgardner with a lap of 1:37.647.
Aussie James Stevenson repeated his exceptional performance from Round 1 in his yellow #11 and again took the pole in ST in both final practice and qualifying. He managed a time of 1:40.834 (only a tenth slower than his practice time). Trailing James's charge was Illinois sim racer Eric "Tony the Tiger" Biggs.  Biggs put his Oakley #22 car on the front row, in second, with a time of 1:41.692 followed closely by the second-placed Daytona ST car, the #33 of Ryan Worley, taking third with a 1:42.044. Rounding-out the top five was Jarrett "Blue Ragu" Lawson for fourth and Team Northwest's Giancarlo Lenzi in fifth.
Race Review
As opening lap neared, the line up is GS Turn 1: #69 Trace McRae followed by #63 Jady Baumgardner, #84 Oscar Sahlin and the rest of the field. ST Turn 1: #11 James Stevenson comes in ahead of two GS Mustangs (#42 Ricky Dalton and #77 Jasper Groeneweg) with #16 Eric Biggs and #33 Ryan Worley hoping to pick up the draft and catch James.
As the formation lap starts to round the third to last corner and the nerves reach maximum, the pace car is in and the green flag is waved! Trace McRae gets an amazing  jump on Jady's car on lap 1 by pushing himself about a second out in front of the field. That rocket of a jump comes to a grinding halt as mayhem erupts in "The Roller Coaster" of Turn 9, as Russell Klaesson contacts David Water's bumper twice to cause both of their cars to spin.
Their cars weren't the only ones to go off track as an aggressive entry from the #75 car of Alexis Molina tracks out in the same corner. While attempting to re-enter traffic, spins his vehicle right into the field of the oncoming MX-5's with Team Northwest's Ryan Worley machine impacting his passenger side. While the yellow flag is thrown and the pace car deployed, Ryan Worley seems to be the only ST car significantly impacted by the mid-turn mayhem, while Klaesson and David Water's Mustangs enter pit for repairs from major damage.
Taking advantage of the early caution, Ricky Dalton's enter's pits on Lap 2 followed by a large string of ST class cars; James Stevenson's #11, Kevin "The Artist" Buchholz #70, Eric Biggs #16, Wes Earick #21, Michael Grisinger #6, Joseph Peak #8, John Richard #5, Steven Asbury #96  and finally a late entry GS, Bryan Taylor #68.  With some amazing Formula 1 precision, James Stevenson's pit crew gets him and his car ready in exactly the required 10 seconds pit time and he re-enters the field in seventh place behind Jason Garrett's #81 on Lap 4 still under caution. It's a short lived position as James rampages his way back up to 4th and on the tail of third place Team Northwest's Chris Moran before another full course Caution is thrown by the end of Lap 5.
Causing the full course yellow is a loose John Richards #5 through The Chicane's Turn 11 causing Wes Earick's Red, White and Blue Safecraft to ricochet and collect Jarrett Lawson's #25 Blue Ragu car.
With the field back together after an extended yellow, the cars are once again underway, and it didn't take long for James Stevenson to attack Giancarlo Lenzi for 1st in the ST class.  It was after a much better run onto the main straight that James was able to get beside Giancarlo into Turn 1, they touched and this sent Giancarlo onto the grass, but he was able to quickly regain control and get back on track , without any further loss of position.
A few laps later the race is back under full course caution, as John Richard's already damaged car gets loose on the last corner to the front straight sending him careening into the wall to cause another full course caution. Richard's car never fully recovers and puts him into last place in the ST class for the duration of the race. As the field comes around to pit entry behind the pass car, the top 5 GS drivers dive into pit-lane, allowing Russell Klaesson to inherit the lead.
One lap later, still under caution, Giancarlo Lenzi in his MX5 (currently in second place, and who had not taken advantage of the previous yellows), finally makes his mandatory pitstop, and re-enters in 9th place. This allows James Stevenson to retake first place in the ST class.
On lap 24 the final full-course caution of the day comes out after several incidents occurred on the same lap.  First Russell K and Jady B (who had been battling over the previous couple of laps) came into contact at turn 8 forcing the #22 machine into the wall.  Russell was able to continue, but, this incident was to cost him any chance of a podium result.  Later in the lap Ryan Worley spun into the pit entry at the second to last corner, followed by both Jason B and Mathew R spinning on the exit of the very next corner.
After all the drivers settled down behind the pace car, in readiness for the restart, the positions were Jady B leading from Jesse Reid and Russell Klaesson in the GS class. With James Stevenson leading from Eric Biggs and Joseph Peak in the ST class.
In the laps following the caution period, Trace McRae easily passed both Russell K and Jesse Reid to be right behind Jady battling for the lead.  With Jady having pitted on lap 8 and Trace on lap 17, it would be difficult for Jady to hold off Trace and his fresher tyres.  But, it wasn't till lap 37 that Trace was finally able to make the pass, and it was on the outside of Jady into Turn 7.
Back in the MX5 class, Giancarlo had made his way back into 6th position and was closing in on the battle ahead of him for third, with Kevin Buchholz leading Joseph Peak and Jarrett Lawson.  Jarrett was the first to make his move though, and got past Joseph to take 4th.  Then a few laps later Giancarlo was able to get past the #8 machine as well.  Then, on lap 43 exiting the final corner Kevin Buchholz lost control of his MX5 and subsequently down the order.
On lap 45 Giancarlo was able to take Joseph around the outside of Turn 5.  And, two laps later, managed to slip down the inside of Jarret Lawson into Turn 7 to take third spot in the ST class. This is how the positions remained till the finish on lap 50.
So, Trace McRae takes his first win of the series, followed by Jady B and Oscar Sahlin with a good solid drive to keep out of trouble to finish 3rd (in his first race of the series).  For the ST class James Stevenson took line honours with a 25 second gap back to 2nd place man Eric Biggs and the hard charging Giancarlo Lenzi.
In the championship standings Trace McRae now leads on 90 points, with Jady B. on 83 and Russell K. on 76 in the GS class.  James Stevenson is still out in front in the ST class with 110 points, and has a 40 point gap back to equal 2nd place drivers Ryan Worley and Giancarlo Lenzi.
GS Class Podium
1. Trace McRae #69
2. Jady Baumgardner #63
3. Oscar Sahlin #84
ST Class Podium
1. James Stevenson #11
2. Eric Biggs #16
3. Giancarlo Lenzi #02
No. of Laps completed by leader:  50
No. of Full-course Cautions: 4
No. of DNF's: 7
Fastest Lap (GS class): 1:37.845 – Trace McRae
Fastest Lap (ST Class): 1:41.102 – James Stevenson
Round 3 of the CESCS will be at Homestead-Miami Speedway on March 12th.
——————————————————————————–
The CESCS is an official iRacing league which mirrors the Grand-Am Continental Tires Series. It features the Mazda MX-5 Cup competing in Street Touring (ST) and the Ford Mustang FR500S competing in the Grand Sport (GS) class. It was established to provide a proper mixed-class racing experience for drivers of the MX5 and the Mustang beyond what is currently offered and especially to provide a true endurance series for drivers of both vehicles. The schedule aims to replicate the real-world series featuring timed endurance race distances run at the same tracks as the real series including Daytona, Mid-Ohio and, this season, Indianapolis!
You can follow our races streaming live over the internet through GlacierTV or via our Live Timing & Scoring app. Both links are located on our Schedule page here: http://www.wix.com/contienduranceseries/cescs#!race-schedule
If the summary of events excited you, watch the broadcast coverage with excellent commentary by GlacierTV.com in their archive section or here: http://youtu.be/hBsi8fJU-ZU?hd=1
---
You may also like...
---